Do you need to pick a gift for a longboarder in your life? It's a difficult task we give you that, especially if you don't know a thing about longboarding. How's that different from skating, you may ask? Well, they use longer boards, but that's beside the point. Longboarders often have a specific taste that's hard to guess from the top of the head. Teens are even harder to figure out, being in the years when their preferences change from one day to another. Don't worry, we are not trying to scare you but to help you!
We composed the following guide to save you some time and effort you would most likely spend wandering around the stores clueless what to get. We wrote the article after many hours of research, so you can shop confidently, knowing that you're going through some of the best gifts for longboarders. If you're ready, we can start right away with our product suggestions.
As an Amazon Associate we earn from qualifying purchases. We may earn a small commission for our endorsement, recommendation, testimonial and/or link to any products or services from this website. Thank you, your qualifying purchases help support our work in bringing you real daily gift ideas.
Quick Overview: Gifts for Longboarders
Triple Eight Bike and Skateboard Helmet for Ultimate Head Protection
Let's face it, skate and longboarders fall a lot. That's completely natural considering how much they jump around trying to develop their skills and cruising styles. However, for that reason, they need the best protective gear they can find. A helmet is definitely the number one item to look for because it protects the human's most valuable asset – the head.
So, what you can get for a longboarder in your life is the Triple Eight dual certified helmet. It's one of the best you can find on the market. The helmet features a sturdy and durable ABS shell along with an impact-absorbing EPS foam liner. That kind of construction ensures maximum protection for skaters and longboarders.
The helmet comes with two sets of removable pads for a perfect fit and an adjustable chin strap with the side-release buckle. Although most buyers say the helmet fits tightly, it's good to have an option to adjust the size.
Lastly, the helmet comes in 9 different colors and many sizes, so you shouldn't have any problems finding the perfect one for your longboarder.
The Triple Eight helmet is one of the best Gifts for BMX Lovers, skaters, and longboarders. It's safe, offers excellent protection, and proves to be very durable. You can even adjust it for a perfect fit. We say you can't go wrong with giving it as a gift!
Playshion Freestyle Longboard for Cruising with Style
A longboarder in your life might have a favorite riding item, but she or he would always be happy to get a new one, that's for sure. Imagine them having several longboards to cruise around – it's like a dream come true!
Playshion longboard is our favorite one. It measures 39 x 9.1 x 4 inches and weighs 7 pounds. The maple deck is strong yet flexible, featuring a concave in the middle for more stability and better control during the ride. The longboard can withstand up to 250 lbs.
When it comes to the wheels, they are quite large and offer a smooth ride. The large size gives more control over the board and makes it suitable for different roads. Overall, this longboard is super easy to use. The lightweight design also allows for excellent portability.
The Playshion longboard makes one of the best 18th Birthday Gifts for a Boy. Of course, you can get it for people of different ages, but just think about how an 18-years old boy will be happy about it. Such a beautiful and well-made longboard would make the best birthday gift ever!
4EST Shades Wood Sunglasses for Eye Protection and Fashionable Appearance
Are you looking for Adventurous Gifts for Him? Well, longboarders are known to be all about an active lifestyle already, so all you need to do is to get a stylish little accessory. Yes, you read our minds, we are talking about sunglasses!
The 4est Shades sunglasses are one of the most beautiful wood shades we have ever seen. They are handcrafted and eco-friendly, made from the real maple wood. Both the frame and the arms have an incredible level of detail, and you can even choose between black and brown colors.
What's even more important is the fact that these sunglasses have UV400 polarized lenses. That means they offer a high level of protection against the harmful sun rays. They also enhance the clear view thanks to the anti-reflective lenses.
Lastly, what every longboarder will perceive as a cool feature is the fact that these sunglasses float in the water! That surely makes them more durable.
If you want to compliment the outfit of a longboarder in your life, get these 4est Shades sunglasses. They are beautiful, with lots of details, and prove to be very well-made. Oh, and they even float in the water!
Adidas Women's Grand Court Sneakers for More Comfort
From all the Outdoorsy Gifts for Her, new shoes are probably the most useful one. She's going to walk, run, or cruise on the longboard for many hours, which demands a quality pair of sneakers!
You know that we have a soft spot for Adidas shoes. They are just incredibly comfortable and well designed. Things are not different when it comes to his particular model.
These sneakers are made from leather, and they have a rubber sole. They are lightweight yet sturdy enough to last for a long time. People say they are super comfy, and they wear them daily for work or sports. The design is beautiful too. You even get to pick a perfect pair from more than 30 available colors. You'll get lots of compliments regardless of which color you choose!
One is certain these shoes will get lots of compliments. They come in such beautiful vibrant colors that every woman would be thrilled to have them. Waste no time and get them for a very special longboarder in your life!
Champion LIFE Men's Hoodie for Classy Rides
You know how longboarders love oversized clothing. It's a new fashion trend that has gone viral over the past years. Therefore, if you're considering to get clothing as a gift for your male longboarder, we have a hoodie to recommend.
Champion is a well-known brand that produces all kinds of sportswear and accessories. The company did an excellent job with this particular piece of clothing too.
This hoodie is made of cotton and polyester. It has a pull-on closure and a large two-sided pocket on the front. The material is soft, comfortable, and machine-washable. It also doesn't shrink or wrinkle too much after the washes.
The hoodie fits perfectly, and it's loose enough not to restrict movements. You get to choose the size and color. The hoodie is available in more than 40 colors!
The Champion hoodie is a safe choice of gift for longboarders. No matter how many they have, they'll always be thrilled with a new hoodie. Besides, who wouldn't want to get a stylish and comfy hoodie like the one coming from Champion?
Skateboard Backpack for Easy Transportation
Do you know what else longboarders need in their lives? Backpacks, and specifically those that will allow them to transport their boards easier. We have just the perfect one in mind.
The Ronyes backpack is made of polyester and has a waterproof coating. That will ensure your things stay dry and safe regardless of the weather outside. The backpack is rather spacious with a capacity of 30l, and it can accommodate everything from laptops to little essentials. It has a buckle closure and adjustable board straps. That means you can use it to easily transport your skateboard or longboard. It even has a hidden net to carry sports balls and helmets.
Overall, the backpack is well designed. It's ergonomic, with S-shaped shoulder straps and built-in charging cable. That's something every longboarder will love! Also, all the straps and the back padding are breathable. The main, large pocket has two compartments. There are also 4 pen slots and lots of smaller pockets, either hidden or located on the front. The two side pockets are convenient for holding water bottles.
The backpack comes in blue and black. It's pretty simple, which makes it suitable for different outfits. It's also easy on the pocketbook.
This backpack is an excellent option for longboarders. It's sturdy, durable, and rather spacious. Buyers also say it's quite comfortable even on longer use. We highly recommend it!
Adidas Men's Snapback Cap for Perfect Appeal
The snapback cap is the last product coming from Adidas, we promise! It's just that we searched for the best caps one can give to a longboarder, and the Adidas one was by far the best pick. You'll soon see why.
The cap is made of acrylic, cotton, and wool. It's soft and comfortable yet sturdy enough to ensure a long lifespan. The cap has an adjustable closure, as well as the Adidas logo on the front. It looks gorgeous too!
You can choose the perfect cap from many available colors. Just use the dropping menu on the front page and scroll down through the colors until you find the ideal one. Although the description says this is a cap for men, we saw that many women wear it too. They are also incredibly satisfied with it! Therefore, you can even match the cap with the Adidas shoes we recommended above. That would make a perfect gift for a female longboarder.
Longboarders will love the Adidas snapback cap. It's a high-quality item made of durable materials, and it has impressive stitching. Even more important, it looks super stylish and you get to choose a perfect color for many available ones. It's hard to beat it for the price!
Conclusion
Whether you're searching for Christmas gifts for longboarders or you want to surprise someone for a birthday, all of these products are an excellent choice. We picked the gifts that would meet different budgets and sports preferences. As you can see, we included parts of gear, clothing, and accessories, so you can choose whatever you think a longboarder in your life would love to have.
Our ultimate advice is to follow your senses and pick a product that you think would make an excellent addition to the longboarder's gear. Think of the way you can improve her or his daily life and make the favorite hobby even more enjoyable. Hopefully, some of the 7 gifts for longboarders we picked will allow you to do so!
ESTIMATED TIME DESIGNING AND UPLOADING THIS ARTICLE
ESTIMATED TIME RESEARCHING AND WRITING THIS ARTICLE
Try our AMAZING GIFT FINDER TOOL! Find GIFTS with 1 CLICK!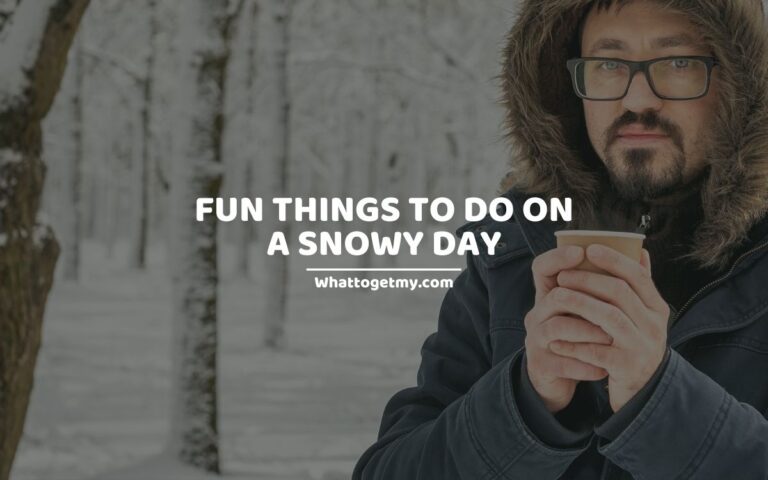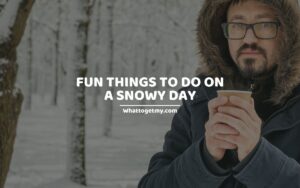 23 Fun Things to Do on a Snowy Day
23 Fun Things to Do on a Snowy Day WhatToGetMy Instructional Article It's that time of the year again; the skies have opened up and blessed us with the white goodness that is snow. Which, of course, is only good when it is of mild
Read More »