Snowmobiling is a winter/snow (extreme) sport which involves people riding on snowmobiles on any snowy surface that has a trail.

Snowmobiling is safe and legal for anyone above the age of 16.Depending on jurisdiction, there might be requirements to have a snowmobiling license. However, in most jurisdictions, the only requirement is that the driver should drive in permitted areas only and they should wear approved safety gear.
If you have a friend or family member who has taken up snowmobiling as a hobby, you might be aware of how incredibly expensive keeping up the hobby can be. From buying oils for the sled, to buying the recommended snowmobiling gear the expenses add up.
And that's where you come in. You care about them and can see how much joy this hobby brings them. You don't have to wait until a special occasion or for them to ask you,you can just give them snowmobiling gifts that will aid their hobby at any time during any time of the year. But now you have hit a wall, you do not have the slightest idea on what gift to get them. You can approach this in two ways;
Ask them what gear they need: This is the best way to know exactly what they need but it also takes away the element of surprise which is the foundation of gift giving: The element of surprise.

Read more

here

on how you can surprise your loved one with a gift.

You can read through this article and get

some snowmobile gift ideas

that have been well thought out and are very affordable. This allows you to surprise your loved one(s) and show them that you have some knowledge on this thing they do that brings them so much joy.
As an Amazon Associate we earn from qualifying purchases. We may earn a small commission for our endorsement, recommendation, testimonial and/or link to any products or services from this website. Thank you, your qualifying purchases help support our work in bringing you real daily gift ideas.
Quick Overview: Gifts for Snowmobilers
1. HELMETS:
One of the essential snowmobiling gears is the helmet. It helps protect the head in case of a collision or crash. This particular brand of Helmet is padded on the inside for comfort and also to minimize impact to the head in case of an accident.
Strong helmets that can withstand high impact collisions. They are safe to use and will protect your head from injury.
2. HEATED SOCKS:
These are the best snowmobile socks because they have a padded bottom, are absorbent and breathable. They can be worn on top of normal socks to maximize on heat generation and retention or on their own with snowshoes.
These rechargeable heat socks are soft and made specially for outdoor winter sports. They are guaranteed to keep your feet warm for as long as the battery is charged.
3. THERMAL UNDERWEAR:
Acts as a base layer for snowmobiling clothing and other gear. It comes in four different colors and it is unisex so it is a perfect gift for girl snowmobilers, too.
Thermal underwear made with thermal fabrics which help in heat retention keeping you warm through the winter without having to wear too many layers.
4. SNOW JACKET:
This jacket is very warm and the perfect gift for snowmobilers because they deal with very low temperatures. This will protect them from the snowy cold and also the windy cold that blows their way as they ride at higher speeds on the snowmobile.
Nice and thick winter jacket. It is waterproof and wind resistant which makes it ideal for snow sports.
5. HEATED GLOVES:
Perfect for riding because of how the mitten hands are separated from the index finger and the thumb which makes gripping easy and steady. They are the best in keeping and generating warmth because they are battery operated and as long as the battery stays charged, they will produce heat.
The gloves have a three level heating setting and dials which operate the settings. They are easy to use to grab things because they have the thumb and index finger separated from the mitten which makes it easy to grab and hold things without having to take the gloves off.
6. SKI GOGGLES:
These beautifully designed goggles are perfect for gifting because not only do they not fog up when you breathe, they are also safe to wear over prescription eye glasses.
These goggles have anti-fog lenses and they fit over glasses so they are safe to wear over your prescription glasses.
7. RATCHET STRAPS:
These are a great gift for snowmobile lovers because it is designed to keep their snowmobile strapped safely whenever they are being moved or transported.
The Rhino USA ratchet straps are strong. They have full bended "S" hooks and they come with a storage bag for the straps for when they are not in use.
8. FACE MASK (BALACLAVA):
Keeps out the cold while allowing normal breathing. It has the perfect balance between keeping the face warm and allowing normal ventilation which most of the other balaclavas lack. It has a great insulation lining which helps in retaining heat but not generating too much that it is uncomfortable.
This balaclava has a soft fleece lining on the inside which helps retain heat. It is easy to breathe in and out because it has breathable vents on the nose and mouth.
9. SNOWMOBILE COVER:
Ideal for covering snowmobiles when in storage, moving home, or transporting them.
Heavy duty fabric and waterproof cover is sure to keep your snowmobile safe when not in use. It also has metal hooks with rubber tips for your added safety.
10. BACKCOUNTRY ACCESS TRACKER:
This tracker helps track people in case of an avalanche. It is a great tool to have in case of emergencies. It is better to be safe than sorry and accidents do happen. If your friend should find themselves in a situation that requires emergency rescuing, this tracker will help to locate them in time to prevent (further) injury or even death. This is a great gift for snowmobilers because it could save their lives in emergency situations.
Useful tool to have in case of a snow avalanche.
11. WATERPROOF BACKPACK:
Perfect for packing items that the snowmobiler might need on their snowmobile trip. it can fit a helmet, jacket, and other accessories. It is also waterproof and can be strapped to the snowmobile so the rider is not weighed down by it.
A waterproof backpack specifically designed for automobiles. It easily sits on the snowmobile when strapped down and it is big enough to fit all the essentials that a rider needs.
12. GOPRO CAMERA:
What is an adventure without a hi resolution camera to capture all the action? Get them this camera that is specifically designed for adrenaline junkies so that they can capture their great adventures in high-resolution videos, and next-level image quality.
Adventure has never looked so cool than through the lens of a GoPro Hero4! It lets you create and edit short videos on the camera and send it to any of your devices instantly.
OTHER SNOWMOBILING GIFT IDEAS
T-SHIRTS: These long-sleeved t-shirts are a perfect gift for snowmobilers on their birthdays or during Christmas. They are unisex and come in a variety of colors.
MUG CUPS: The perfect gag gift for your coffee drinking, snowmobiling loving friend. It is dishwasher and microwave safe and holds up to 11 ounces of liquid.
FREQUENTLY ASKED QUESTIONS
Is snowmobiling bad for the environment?
There is an ongoing debate on whether or not snowmobiling is bad for the environment. Over the years, the snowmobiles have been changed and manufactured to be environmentally friendly. However, the machines still produce loud noises and this is known as noise pollution which can disturb and displace wildlife from their natural habitat.
Is snowmobiling easy for beginners?
Yes, snowmobiling is quite an easy sport and very beginner friendly. However, if you are thinking about starting out make sure you consult a professional and take a couple of lessons before you go off on your own. Do not rely 100 percent on internet searches although it is good to do some research so you know what to expect.
CONCLUSION
Snowmobiling is a costly hobby and sport that is loved by many, especially people who grow up in the Rocky Mountains and generally snowy places. If you are planning on surprising a loved one who has picked up snowmobiling as a hobby, then this list was made for you and we hope you have found one (or more) cool snowmobile accessories to give them as gifts.
ESTIMATED TIME DESIGNING AND UPLOADING THIS ARTICLE
ESTIMATED TIME RESEARCHING AND WRITING THIS ARTICLE
Try our AMAZING GIFT FINDER TOOL! Find GIFTS with 1 CLICK!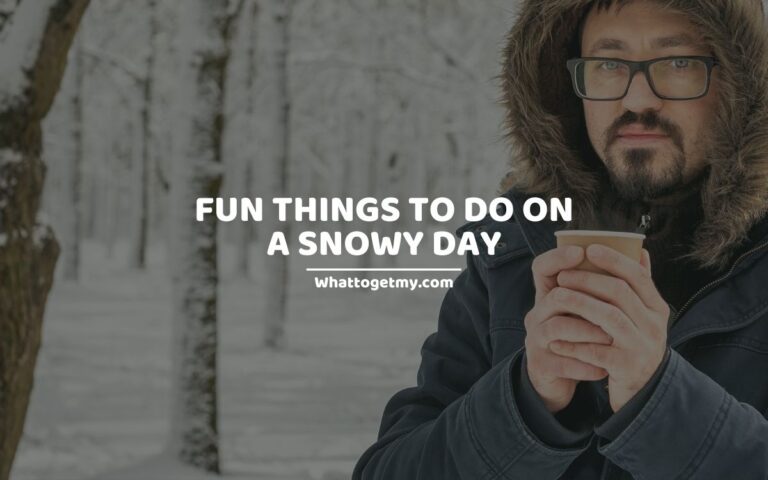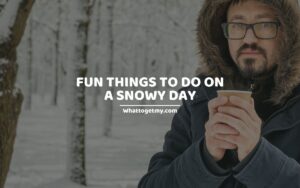 23 Fun Things to Do on a Snowy Day
23 Fun Things to Do on a Snowy Day WhatToGetMy Instructional Article It's that time of the year again; the skies have opened up and blessed us with the white goodness that is snow. Which, of course, is only good when it is of mild
Read More »