So you have that one friend that ridiculously enjoys skydiving? Maybe it's your boyfriend or husband who doesn't get to spend time in the sky as much as he would like. Some people don't get it at all, always wondering about what makes such dangerous sports so interesting. The thing is, those who live an active life enjoy the excitement and the rush of adrenaline as much as others like quiet walks and reading books. We are all different, so naturally, we like different things in life. Therefore, instead of questioning the motives of others, we should concentrate on the support we can give to our loved ones. You'll certainly accomplish that if you give a skydiving gift to a special man in your life.  
How am I supposed to know what to get, you may ask? It's a fair question, especially if you're not so much into skydiving yourself. Luckily, we are here to help you with some recommendations for the perfect skydiving gifts for him. All you need to do is to sit back, relax, and follow our article. Sounds good? Let's give it a try!
As an Amazon Associate we earn from qualifying purchases. We may earn a small commission for our endorsement, recommendation, testimonial and/or link to any products or services from this website. Thank you, your qualifying purchases help support our work in bringing you real daily gift ideas.
Quick Overview: Skydiving Gifts for Him
Allow Him to Record the Experience with GoPro Hero 7 Action Camera
One of the best Adventurous Gifts for Him is an action camera! The special man in your life can use it for all kinds of adventures and sports, not only for skydiving! That's the thing that makes an action camera a universal and incredibly useful gift.
When it comes to choosing one, we highly recommend GoPro Hero 7. It's a powerful device with excellent performance, designed to capture all your precious memories and adventures. The photo and video quality are rather impressive. The camera can burst up to 30 photos per second, which is quite convenient for skydivers. He can even connect the camera to his social media accounts and stream live videos! How cool is that?
Also, Hero 7 is so special because of its durable construction. The camera is waterproof and impact-resistant. It can withstand quite a lot of abuse, which makes it ideal for adventurers who don't want to worry about damaging pricey cameras. The package includes a rechargeable battery, a frame, a curved and a flat adhesive mount, a mounting buckle, and a USB cable. You'll also get a 1-year warranty in case you run into any kind of issue.
If you want to get something truly unique for your loved one, stick with Hero 7. An action camera is one of the best gifts for skydivers, and your special someone is going to be thrilled with it!
Memorable Videos With Contour+2 Video Camera
If you're looking for luxurious Birthday Gifts For Boyfriend Who Has Everything, we have just the thing for you. It's a first-class video camera that produces high-quality videos. Your loved one is going to need one for all his skydiving adventures, that's for sure!
The camera has a built-in mic as well as a GPS. It has a 170 degree wide-angle lens that rotates for 270 degrees. The housing is waterproof and quite resistant to impacts. Additionally, the camera connects to the mobile app and allows for live streaming.
Among the most luxurious skydiving gift ideas, the Contour 2 video camera is one of our favorites. It's useful, well made, and allows for keeping all those skydiving experiences in the form of high-quality videos. Who could ask for more?
Oakley Backpack for the Necessary Skydiving Gear
If you have an about-to-become-adult son, you're probably wondering what to get him for his birthday? What are the most Useful 18th Birthday Gifts for a Boy? Well, a backpack is one of the best you can get, of course! We have a pretty special one in mind. It's an Oakley backpack for outdoor enthusiasts.
The backpack is made of 100% nylon. It's extra-large, and it's able to accommodate all the necessary skydiving items. Buyers also love the padded panel for laptops that allows for easy access. Overall, the backpack is rather spacious. It even has a water bottle pocket and a front zip pocket for small items. The material is quality, durable, and machine-washable.
When shopping for skydivers, you could always go for skydiving clothes. However, a backpack proves to be more useful, and your son doesn't have to try it out for a perfect fit. You can't make a mistake with a backpack, especially when it's coming from Oakley!
Let Him Land With Confidence With Nike Air Force Sneakers
If you lack skydiving gift ideas for men, we are here to help. This particular product might be a solution for your numerous problems, including a tight budget and the lack of ideas for Meaningful Gifts For Him. We present you Nike Men's Air Force Sneakers!
Yes, they are a real classic! What makes them a perfect gift for skydivers? They are incredibly comfortable, of course! When parachuting, your loved one will need comfy shoes for painless landing, especially when there's running included in the process. Therefore, he'll need a pair of high-quality sneakers, and Nike ones prove to be one of the best choices out there.
Now, these are incredibly modern and classy. They come in many different colors, so you get to pick the one that complements your men's style. The low-cut design makes them unique and very comfortable. The leather edges also add to the entire sleek look. All in all, the sneakers are made only of the best available materials. They fit perfectly and provide enough support for outdoor activities, including extreme sports. They are durable, easy to maintain, and snug. Your skydiver will be overexcited!
Make no mistake, Nike sneakers are one of the best gifts you can buy for everyone, not only skydivers! They are ideal for every generation, with their modern and classy design, not to mention the level of support and comfort they provide. Waste no more time and surprise someone with a pair of Nike Air Force Sneakers!
Classic Wear With Converse All Star High Top Sneakers
Many people are not sure what to wear when they go skydiving. The first thing that every professional recommends is wearing lightweight clothes. Logically, it's more comfortable and also more convenient for flying in the air. Therefore, when choosing clothes as a gift for skydivers, consider light and thin things. For example, we have another pair of sneakers that is one of the best skydiving gift ideas for women and men – Converse All Star!
The sneakers are made of 100% rubber. They come in so many different colors that you're probably going to have a hard time picking the perfect pair! The best thing about them is a lightweight design. It's like you don't have anything on your feet, yet they are quite comfortable. That makes them perfect for flying and landing from parachuting. Also, Converse sneakers are super fashionable and they pair up with almost any style!
P.S. This is also an excellent choice for the couple skydiving! You can pair your Converse sneakers, mix the colors, and be super fashionable for the special day. Have fun!
Garmin Foretrex 401 GPS for Tracking Routes and Activities
Lastly, one of the essential things that every outdoor enthusiast needs in her or his gear is a GPS tracking device. Whether she or he goes out mountain biking, hiking, or skydiving, a GPS device comes quite handy. It allows for tracking routes and locations in every given moment. Our favorite tracking device for skydiving is Garmin Foretrex 401.
The device offers a highly sensitive GPS receiver with HotFix that provides excellent reception in every environment. You can track location in forests and canyons without any difference in the overall performance. All in all, the device is rather powerful. It allows you to trace routes, tracks, and waypoints. That's not all, of course. It will give you heart ratings too. The readings show on the convenient LCD screen, and they are easy to read.
The device works on AAA batteries, although you should keep in mind that you'll have to buy them separately. The battery life is quite impressive (17 hours), as well as the overall construction of the tracker. It can withstand quite a lot of abuse, which makes it perfect for outdoor purposes. Also, it has a built-in compass level for easy navigation and audible tones to let you know about the traveling specific. The box includes a wrist strap, a USB cable, and instructions. Who could ask for more?
If you want to surprise your favorite skydiver, waste no time and get him the Garmin Foretrex GPS tracker. It's a powerful device that is easy to use and built to last. Buyers all over the market are thrilled with it, and so will be your special someone!
Other Things to Consider
Here are a few things you may want to consider before you make a final decision:
Does your special one want practical things or experiences? Maybe he doesn't know 

How to Ask for Experiences Instead of Gifts

, but he prefers them over any material gift? In that case, consider providing skydiving lessons or new adventures for him.

Is your skydiver a professional who could use an upgrade to his gear? Try to figure out what he needs and buy a thing or two that will make his overall experience more enjoyable.

Are you giving a gift for a beginner skydiver? Someone who never had a chance to try out this extreme sport yet always wanted to? Plan things out so that your beginner skydiver can enjoy and remember the activity his entire life.

We also recommend a skydiving experience as one of the 

18th Birthday Adventure Ideas

. Of course, talk to your daughter or son first, see what they think about it. You can even go cruising the sky together as a family. That should be fun!

Determine your budget before you start searching for a particular gift. The skydiving gear can be rather expensive, so you'll need quite some cash to provide some things for your favorite skydiver.
Conclusion
We bet now you're ready to pick a perfect gift for a special man in your life! Don't forget, take a quick peek into his gear to find the missing parts. Once you figure out what he needs to complement the equipment, your decision will be way easier. Then you can also get back to our list, pick a gift, and be completely sure you made the right choice. We think you can't go wrong no matter which product you choose from our list of perfect skydiving gifts for him!
ESTIMATED TIME DESIGNING AND UPLOADING THIS ARTICLE
ESTIMATED TIME RESEARCHING AND WRITING THIS ARTICLE
Try our AMAZING GIFT FINDER TOOL! Find GIFTS with 1 CLICK!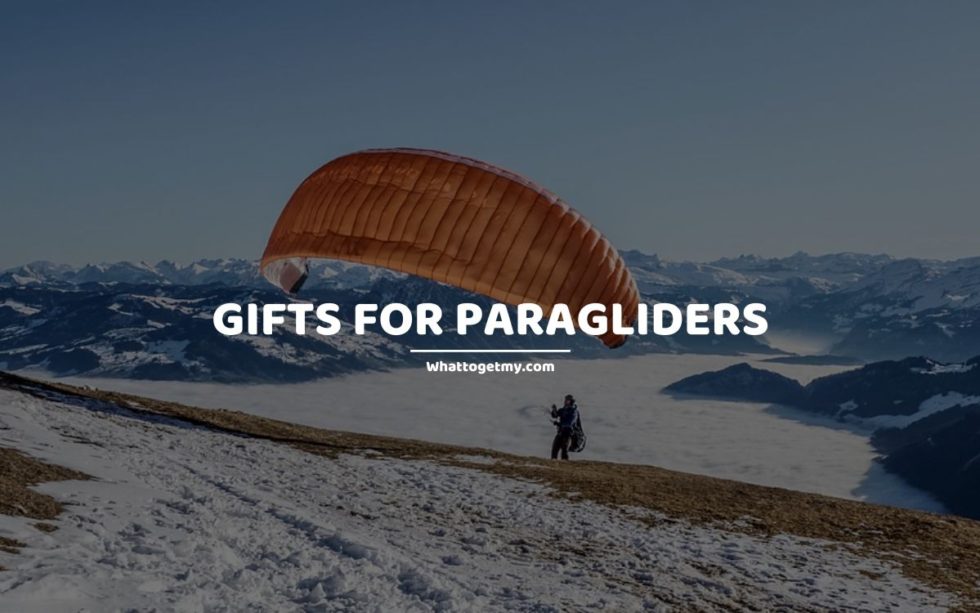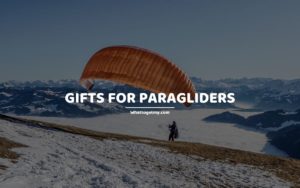 If you have a thrill seeker in your family or group of friends, she or he is probably into paragliding. It's an exhilarating activity loved by many adventurers. You get to soar through the sky and enjoy the sight of nature underneath and the feeling
Read More »