If you have a thrill seeker in your family or group of friends, she or he is probably into paragliding. It's an exhilarating activity loved by many adventurers. You get to soar through the sky and enjoy the sight of nature underneath and the feeling of air rushing through your hair. For all those who are not afraid of heights, paragliding is one of the best outdoor activities out there.
However, this activity requires special gear. You must have the proper equipment to safely cruize the sky, and that could require quite some money. Therefore, when searching for gifts for paragliders, you should get things to complement their gear. They'll most certainly appreciate new accessories and gadgets to improve the overall paragliding experience.
We know that shopping for paragliding equipment is not an easy task by any means. For that reason, we created an ultimate guide you can follow to find the best gift for your favorite paraglider. We hope you'll enjoy looking through our 8 unique picks for gifts for paragliders!
As an Amazon Associate we earn from qualifying purchases. We may earn a small commission for our endorsement, recommendation, testimonial and/or link to any products or services from this website. Thank you, your qualifying purchases help support our work in bringing you real daily gift ideas.
Quick Overview: Gifts for Paragliders
Record Adventures with GoPro Hero 7 Action Camera
If you're looking for Fun Things To Do With Your Boyfriend On His Birthday, paragliding is definitely one of the best options, especially if your bae is into it. Now, to spice things up, you can also get some paragliding electronics as a gift.
We recommend Go Pro Hero 7 action camera. It's a compact device built to last. The video and photo quality is unbelievable! That's the main reason why so many buyers are thrilled with this product. There are no blurry or damaged records with this camera – all your memories will be stored most beautifully. Additionally, the package includes a lot of extra items such as a rechargeable battery, the frame, an adhesive for mounting, USB cable, and more.
Go Pro Hero 7 action camera is one of the best paramotor gift ideas. Yes, it's on the expensive side, but it's worth every penny. If you want to treat your boyfriend paraglider for the following birthday, we say go with the action camera!
Measure Wind Speed with Kestrel 2000 Pocket Wind Meter
If you want to get some paragliding instruments for your friend or family member, a wind meter is among the most useful ones. Kestrel 2000 is our favorite model. It's an accurate pocket wind meter with a replaceable impeller and a temperature sensor. Along with wind speed measurements, the device also shows air, snow, and water temperature. Thanks to the large and intuitive LCD screen, you won't have any issues with reading the ratings. Also, the device is water and shockproof, so it will last for many upcoming years. You'll even get a 5-year warranty.
We recommend this instrument as one of the Gifts for Summer Campers too. A wind meter is super useful for paragliders, but also a wide range of other outdoor activities. You can't go wrong with getting it as a gift for an adventurer, especially not when you opt for a reliable model such as Kestrel 2000.
Lowepro Fastpack for Adventurers
Are you looking for Adventurous Gifts for Him? A quality fastpack is the thing you need. We have found just the perfect one, and it comes from Lowepro. The backpack features three large compartments where you can store all your electronic devices, accessories, and other parts of the gear. It will keep your stuff well organized and within hand's reach. There are also a lot of pockets you can use to store your essentials such as keys, pens, cables, and more. What we like the most is a padded and removable waist belt that ensures extra comfort.
The Lowepro backpack is perfect for those who need a roomy accessory to store all the paraglider supplies. We highly recommend it as a gift because it will significantly improve every traveling experience.
Track Locations with Spot Gen3 Satellite GPS Messenger
If you're looking for Unique Gifts for Someone who Likes to Travel, a GPS messenger is just the perfect thing. Sure, it's not classy and everything, but it's a safety device designed for emergencies! Most travelers don't even think about getting it, yet it proves to be handy, and it's most certainly smart to have it around.
When it comes to the specification, Spot 3 GPS Messenger has a lot to offer. First thing first, it's a GPS tracker that allows you to send S.O.S message no matter where you are. You can also send your location to all your contacts anytime. For the ultimate experience, even your contacts can track your progress using google maps. How cool is that? It's worth mentioning that Spot 3 is a compact device that easily fits backpacks and proves to be highly portable.
Spot 3 GPS Messenger is one of the most useful paragliding gadgets. Waste no time and get it for your paraglider, because keeping her or him safe is always the top priority!
Be Warm with Maks Thermal Jacket
So, here's the thing, whether you find it crazy or not, most paragliders will opt to fly in cold weather. There's nothing you can do about it, except maybe getting adequate paragliding apparel for the occasion. Every adventurer, including paragliders, need comfy and warm clothes for outdoor winter activities. Therefore, we recommend the Maks thermal jacket as a gift for the bravest sports enthusiasts.
The model is made of polyester and lycra. It's comfortable, comes in a variety of sizes, and proves to be super warm. The jacket is windproof and water reflective, which comes handy for paragliders. The material on the back is water-resistant, breathable, and features thermal insulation. That will keep the owner from catching a cold but also allow the skin to breathe. Overall, buyers are rather satisfied with the fit, and they like the jacket's design. You can pick a perfect one for 15 models in many colors.
We love this thermal jacket, and so do many satisfied customers. It's warm, comfortable, and looks incredibly good. That makes it a perfect gift for every sports enthusiast out there!
Comfy and Stylish Columbia Women's Jacket
This time we have an idea for Outdoorsy Gifts for Her. It's a Columbia winter jacket that's perfect for every outdoor activity. The jacket is made of nylon and polyester. The material is waterproof and breathable for more comfort. Additionally, the jacket features an adjustable hood, hem, and zippered hand pockets. It's incredibly stylish and available in over 30 different designs and colors. Your favorite paraglider will be thrilled with it!
If you want to get a piece of clothing for a female paraglider, the Columbia jacket is an excellent choice. It's super stylish and available in many colors that you'll easily find the perfect one. The jacket is also well made and durable, so it will last for many winters to come.
Keep Your Hands from Freezing with Savior Heated Gloves
You are not sure What To Get a Man Who Wants Nothing? If he's a paraglider, then a pair of heated gloves is an excellent gift. Flying in winter is tricky, and you need the best clothing to keep you warm. Therefore, get your paraglider quality gloves that will keep his fingers safe from freezing.
Savior Heat gloves are one of our favorite pairs. They are made of lambskin and polyester, which makes them wind and waterproof. Still, they are quite breathable and therefore, comfortable. The interior is made of soft cotton and features a thick insulation layer. The layer has heat elements and a pair of rechargeable batteries to keep your hands warm all the time. You even get to adjust the heating system according to your preferences, from low over the middle to a high level. How amazing is that? The gloves also feature fasteners over the wrists for more security, and they are easy to adjust. Overall, these gloves are one of the best options on the market, and you won't be disappointed.
Although you'll have to pay a pretty penny to get these gloves, you won't be disappointed once you try them out. They are incredibly comfortable and warm, and keeping your hands at the right temperature in winter is crucial. You can't put a price tag on safety! Besides, you'll find these useful for many outdoor activities, not only for paragliding.
Cover Paragliding Topics with Powered Paragliding Bible 5
Another thing you can get for every paraglider out there is a book! Yes, even the absolute professionals would enjoy and use a book about paragliding. Powered Paragliding Bible 5 is one of those books you'll want to take with you on the trip. Not only that it contains a lot of useful information, but it also has incredible illustrations. You can learn about new techniques from it, and have fun while revising the old ones you already know. What buyers loved the most is a comprehensive style that allows paragliders of different levels to easily engage in the content. Additionally, the book is well made and proves to be quite durable. You can pack it in the backpack and take it on your adventures!
Whether you're buying a gift for a beginner paraglider or a professional, this book is a must-have. It's fun to read, has all those beautiful illustrations, and proves to be of excellent quality. You won't be disappointed!
Conclusion
Those who enjoy paragliding say that this activity provides a unique form of freedom. It's enough to spot a paraglider on the sky to understand why is that so – nothing can compare to the feeling of flying, wind in the hair, and cool air in the lungs! That's why we envy birds so much and imagine superheroes with awesome flying powers. So, if your child, friend, or other family member is into paragliding, you shouldn't have a hard time understanding the reasons. Therefore, you should help her or him enjoy the favorite activity to the fullest. Complementing the gear with paragliding accessories is one of the best ways you can help. This activity requires a lot of things for the best results and most enjoyable moments. For that reason, we did thorough market research to find the most useful products you can buy for a paraglider. After hours and hours spent on the internet, we managed to pick 8 unique gifts for paragliders. We hope you are satisfied with our choices and that you have found something perfect for your favorite paraglider!
ESTIMATED TIME DESIGNING AND UPLOADING THIS ARTICLE
ESTIMATED TIME RESEARCHING AND WRITING THIS ARTICLE
Try our AMAZING GIFT FINDER TOOL! Find GIFTS with 1 CLICK!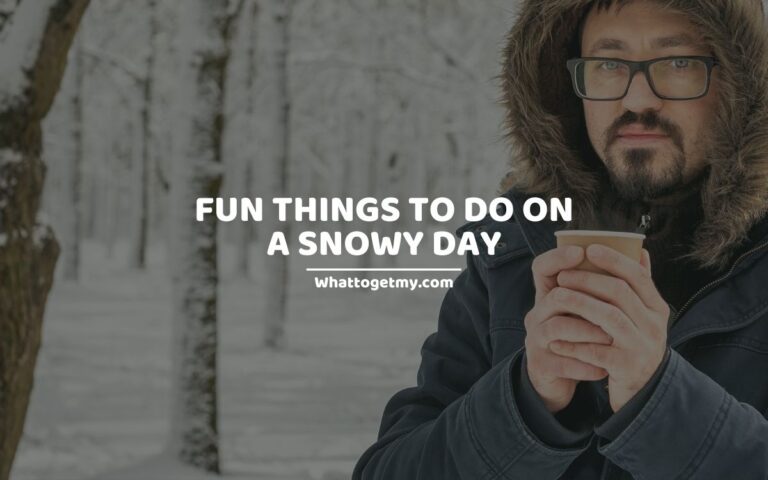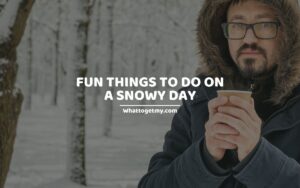 23 Fun Things to Do on a Snowy Day
23 Fun Things to Do on a Snowy Day WhatToGetMy Instructional Article It's that time of the year again; the skies have opened up and blessed us with the white goodness that is snow. Which, of course, is only good when it is of mild
Read More »