You have someone in your life that has developed a sudden fascination and interest in hang gliding. You feel that the perfect gifts for hang gliders would be items that are related to the sport or activity.
But before you can find some amazing hang gliding gifts for that special person. There are a few things that you need to understand about hang gliding.  To help you understand we will give you answers to some of the questions that are swirling in your head like:
What is hang gliding exactly?

Is it an expensive sport or activity?

How to get into hang gliding?

What is the basic equipment needed for hang gliding?

What sort of clothing do you wear?
What is hang gliding exactly?
I am sure that you have seen a couple hang gliders in action while driving past or even on the television. If you have, then you have a slight idea of what hang gliding is all about. But if you have not, a simple way of explaining it is:
Hang gliding is a type of air sport where the hang glider who is a pilot launches a super light hang glider that does not have a motor off a hilltop.  They do this by running as quickly as they can with their hang glider towards the edge of the hilltop to launch in the air.
Once in the air, they then leverage the rising air masses to stay airborne for long periods.
The pilot is strapped with a harness to the glider's flexible wing, hanging under it (hence the name "hang gliding") controls it by shifting the weight of their body appropriately which is one of the things taught during a lesson.
Is it an expensive sport or activity?
Hang gliding is an expensive sport to get into at first with all lesson fees and the price of a hang glider and all the other items and accessories that are required. But the benefits of such an experience are priceless and well worth the upfront cost of it all.
The cost of a new hang glider, helmet and harness can set you back anything from $5,000 and up. A solo lesson alone can cost you from $160.00 and up. Which will also depend on the hang gliding school you choose to go to and the type of lessons are required. What will help a little is if there are lesson packages available at a discount.
How do you start with hang gliding?
Before the hang glider in your life can enjoy their new-found sport, they'll have to take some lessons to get them to pilot status. This usually is about a 10-day training course but can vary from one place to the next.
It can also be a difficult task to find a hang gliding school or instructor close to where you live. You will need to do some research in your area to find the best available option.
You can research hang gliding clubs and for other hang gliders as they will be happy to assist you in finding the appropriate places for the lessons that you need, hang gliding equipment and anything else that you might want to know about hang gliding.
When you do attend the lessons, they will first start you off with lessons that will help you get to grips with handling your hang glider properly. During this time the qualified teacher will guide you through short and low flights. Once you have mastered the control and steering of the hang glider, you'll then move up into performing higher and longer flights. 
Once all your lessons are complete and the qualified instructor is happy with your performance, you will receive your pilot ranking and will be ready to fly completely solo.
Here are some of the top hang gliding schools that we found:
Kitty Hawk Kites, NC, FL and Virginia Beach, VA

Lookout Mountain Hang Gliding, Rising Fawn, GA

Nice Sky Adventures, locations around Utah

La Jolla, California, 

Morningside Flight Park, Charlestown, NH 

Mission Soaring Center, Tres Pinos, CA

Wallaby Ranch, Orlando, FL
If you are looking for more schools, take a look at www.flightschoollist.com › hang-glider-schools where they give you options to find a school in or close to your area.
What equipment do you need for hang gliding?
As a beginner to hang gliding and while you are completing the different lessons, some hang gliding schools provide equipment for you to use and others you will need to rent. But eventually, you will want all your own equipment to use. Some of the basic items and equipment that you will need are:
A hang glider obviously but to start, a beginner's hang glider will do but make sure that it is good quality

A great quality helmet

A harness that is strong, durable and flexible

A top quality parachute

Goggles or sunglasses

for eye protection and glare reduction

A variometer

that measures altitude, air pressure and more

A way to transport your hang glider which could be a car rack, a van or truck

A place to store it when not in use
Some other tracking equipment that will very useful to you as a hang glider which are:
GPS – great to track an aerial route and monitor your flight

Altimeter – to keep track the altitude of your flight

Radios – Allows you to communicate with the people on the ground or your position with other fliers in the sky.
What sort of clothing do you wear?
The clothing that you choose to wear will depend a lot on the season. It is best to layer up with light close-fitting tops and bottoms to keep warm but not too thick and bundled up. This will cause some issues with the harness that you will need to strap yourself into.
Another option is to invest in a flying suit that can be worn over normal clothing but also covers the entire body. This will make things easier for you as they are comfortable and well insulated that you will not require too many layers of other clothing.
The other item is shoes or boots which should be lightweight and flexible with a good grip on them to ensure that you don't slip and slide when launching or landing. Hiker shoes or boots would make a good option.
Now that you know a little more about hang gliding, it should make it easier for you to find an adventurous type of gifts that make perfect gifts for hang gliders. You could choose from items that they would need like a great quality helmet, hiking shoes or even a handy tracking device like a variometer or a wind meter. 
You could even choose a good pair of sunglasses that will help reduce the sun's glare and protect their eyes or something they could wear, like an amazing hang gliding t-shirt.
As an Amazon Associate we earn from qualifying purchases. We may earn a small commission for our endorsement, recommendation, testimonial and/or link to any products or services from this website. Thank you, your qualifying purchases help support our work in bringing you real daily gift ideas.
Quick Overview: Gifts for Hang Gliders
Lucky Bums Snow Sport Helmet
This stylish helmet might be called a snow sport helmet but it is also perfect for many other types of sports like hang gliding. It offers a warm, comfortable fit that is well ventilated, great ear padding for protection from the wind and an easily adjustable chin strap to properly secure the helmet in place.
Customers that purchased this Lucky Bums Snow helmet love the design and glossy finish. They find that it is comfortable to wear and have confidence that the helmet will protect their heads.
Hardtop Ultra Polarized Sunglasses
These polarized sunglasses make the perfect gift for hang gliders. The plastic frame and lenses make them light and comfortable to wear. The frame grips securely around your head without making them feel uncomfortable. Other features of this amazing pair of sunglasses are the nose pads that are soft on the nose and the polarized lenses that minimize the glare of the sun, giving you a clearer view of the things around you.
Customers who have purchased these Hardtop Ultra Polarized Sunglasses are impressed. They find that they are light and comfortable to wear and they do an excellent job of decreasing glare and enhancing visibility.
Knixmax Men's Women's Hiking Shoes
These men's and women's hiking shoes are a wide shoe that is lightweight and comfortable. They make a perfect gift for hang gliders as the anti-slip rubber sole gives the grip that they need when landing on the ground. They also offer easy to adjust laces and insoles for extra added comfort.
The majority of customers that have purchased these Knixmax Men's or Women's Hiking Shoes say that they are comfortable to wear. They also found that they are a wide shoe with an excellent grip which makes them perfect for hiking or hang gliding.
Hang gliding T-shirt
This t-shirt makes a great gift for anyone that loves to go hang gliding. Its eye-catching logo and vibrant colors make a great conversation piece for when they're not in the air. It is also available in 5 amazing colors that you are sure to find the perfect one for the hang glider in your life.
Those customers that have already purchased this hang gliding t-shirt couldn't be happier. They find the t-shirt to be comfortable, lightweight and is perfect for the sports that they love.
Flyte Park Nanovario Audio Variometer
This compact little device makes an extremely useful gift for a hang glider. They will be able to turn it on, fly and it will provide information about lift conditions. There is also a choice from 16 pre-sets that will provide all the information that they will need while up in the air.
Customers that have purchased this Flyte Park Nanovario Audio Variometer find that it has really nice tones and good battery life. They also mentioned how useful it is to them that they use it on every flight.
Kestrel 3000 Pocket Wind Meter
This well-made waterproof Kestrel 3000 pocket wind meter is the perfect gift for a hang glider. They will be able to measure the wind speed, wind chill, humidity and others making it safer for them to enjoy their favorite sport. This useful handheld device also includes a coin cell battery, a neck lanyard, and a slip-on protective cover.
Customers that have purchased this Kestrel 3000 Pocket Wind Meter that it is well made and gives accurate readings. They find that it is an extremely useful device that measures wind speed, different temperatures and is waterproof.
When looking for and deciding on some perfect gifts for hang gliders it is best to think of the different items that they will need. Choose items that will either help them get this expensive air sport off the ground or items that will help protect them while they are flying.
ESTIMATED TIME DESIGNING AND UPLOADING THIS ARTICLE
ESTIMATED TIME RESEARCHING AND WRITING THIS ARTICLE
Try our AMAZING GIFT FINDER TOOL! Find GIFTS with 1 CLICK!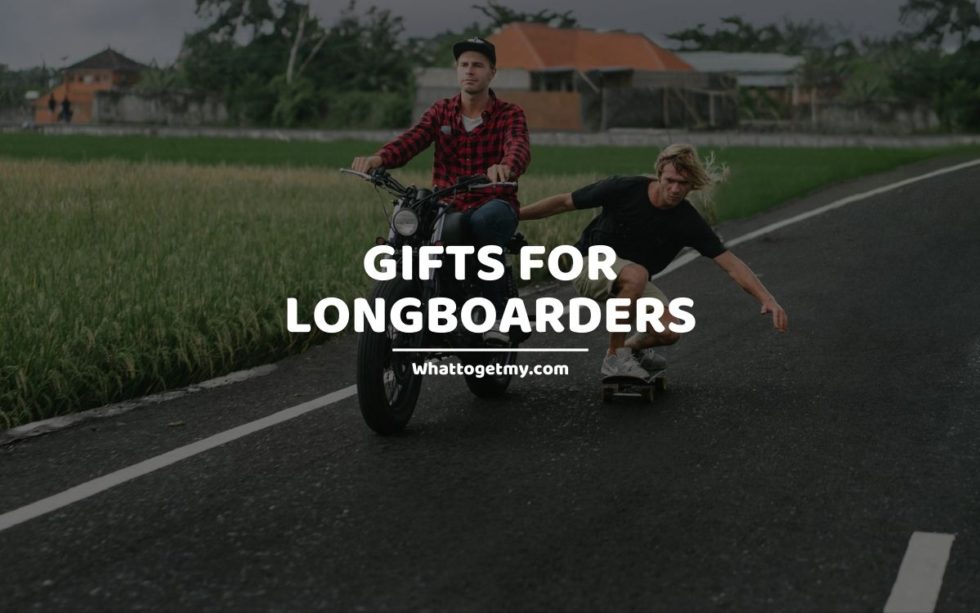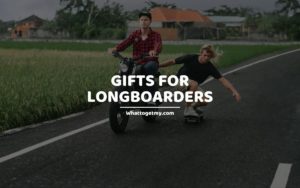 Do you need to pick a gift for a longboarder in your life? It's a difficult task we give you that, especially if you don't know a thing about longboarding. How's that different from skating, you may ask? Well, they use longer boards, but that's
Read More »