Shopping for wake surfers can be quite challenging. A gift for a wakeboarder should be well thought out. You should find not only a good looking item but also a useful one. When they are out there, enjoying their favorite sport, wake surfers need many things. Except for regular equipment, there are different items that can make their lives easier, and also more comfortable. However, deciding on a particular one, the one that would make a perfect gift, is not that easy at all.
To help you find the best gifts for wake surfers, we composed the following article. The guide contains not only some of the most useful products for wake surfers but also some extra tips to help you decide what would make the perfect gift for a particular sportsperson in your life. We will guide you through the entire shopping process. All you need to do is to sit back, relax, and scroll down through our suggestions!
As an Amazon Associate we earn from qualifying purchases. We may earn a small commission for our endorsement, recommendation, testimonial and/or link to any products or services from this website. Thank you, your qualifying purchases help support our work in bringing you real daily gift ideas.
Quick Overview: Gifts for Wakesurfers
SWELL Wakesurf Creator 2.0 Surfing Wave Surfer Shaper for Ultimate Experience
The wave generator is by far the best gift for a wake surfer. It's a device that creates perfect waves for surfing, so you can enjoy your favorite sport properly.
SWELL Wakesurf Creator is among the most popular and best-rated ones. It's a well-made device that creates larger, longer waves for the ultimate sports experience. The materials are UV-resistant, and the stainless steel construction ensures a long lifespan. The wave creator attaches to the boat in a breeze, and you can remove it within a few moments too. The device floats in the water, and it's highly visible thanks to the bright white color. Also, what makes it a perfect choice of gift is the versatility. The wave creator is universal and works on all kinds of boats.
Do you know what every wake surfer wants? Perfect waves! That's sometimes hard to accomplish without a wave creator, which is why SWELL Wakesurf Creator comes rather handy. It's also a device that proves to be easy to use and durable. We highly recommend it for personal use as well as for giving it to other people.
Stay Safe with O'Brien Impulse Neo Life Vest
If you want to make sure your favorite wake surfer stays safe all the time, you should get him or her a life jacket. O'Brien Impulse Life Jacket is our personal favorite. It offers a comfortable fit and has a zip closure. There are also 2 belts for more security, so it will most certainly stay on no matter what. The jacket is made of quality materials that are breathable and environmentally safe. It also dries fast, which makes it perfect for water sports. Additionally, the segmented panels and wide armholes allow for a better range of motion, so you won't feel restricted in any way. You'll also be pleased to hear that the jacket is coast guard approved.
The life jacket is also one of the Best Gifts for Paddleboarders. In fact, you can get it to everyone who enjoys water sports. The O'Brien life jacket is well made, durable, and incredibly comfortable. You can't go wrong with giving it as a gift.
O'Neill Men's Reactor Wetsuit for All Water Sports
Are you looking for a cool gift for a wake surfer? We have a perfect one in mind! It's a full wetsuit coming from O'Neil. Without a doubt, every water sports enthusiast should have one. If your favorite wake surfer doesn't have one, waste no time and get him the O'Neill wetsuit. It's a high-quality item with zipper closure. The fabric is stretchy, and the stitching is flawless. The suit works perfectly in keeping the cold water off and body warm. You also get to choose a perfect one from five different colors.
It's hard to beat the O'Neill wetsuit for the price. It's an excellent entry-level suit made of quality materials. Every wake surfer will be thrilled to have it! The suit keeps the body warm, comfortable and proves to be quite durable. It's just perfect for all water sports.
P.S. For more similar ideas, you can take a look at our article about Great Gifts for Boat Lovers. We included some amazing products you should definitely check out!
Better Control with AIRHEAD Spectra Thermal Wakeboard Rope
Here's another useful accessory that will come in handy for every wake surfer. It's the Airhead Spectra wakeboard rope that allows for fully enjoying the sport. The rope is stiff and rigid, which means it doesn't wrinkle or twist. It also doesn't stretch too much, allowing for instantaneous response. The rope is 70-foot long and has a 5-foot long handle as well as a 4-section mainline. The handle is extra coated for a secure grip and more durability. There's also a rope keeper in the package, so you can store the item and transport it easily.
Airhead wakeboard rope is an accessory that provides excellent stability. It's rigid, doesn't wrinkle or twist, and it proves to be quite durable. Who could ask for more?
Sea to Summit Big River Dry Bag for Every Outdoor Enthusiast
A dry bag is among the most useful wake surfing gifts. Every surfer needs a storage bag for all her or his essentials, and the Sea to Summit one is just the perfect one. It's available in five different colors and comes in many sizes, from 3 to 65 liters. You can pick the one that suits you the most. 
The bag is made of high-quality nylon fabric. It's wear and abrasion-resistant and proves to be quite durable. Of course, it's completely waterproof, double-stitched, and reinforced. There are also Hypalon lash loops for attachment or stacking. All in all, the bag is well made and proves to be quite handy. Your favorite surfer is going to love it!
The dry bag is one of the best Gifts for the Sailboat Enthusiast as well as any other adventurer. It's waterproof, durable, and allows for transporting your stuff securely. We highly recommend it as a gift!
SHARKBANZ 2 Magnetic Shark Repellent Band for All Ocean Sports
Are you searching for thoughtful gifts for wake surfers? Here comes a unique one! It's a shark repellent band to keep your favorite wake surfer safe during her or his adventures.
A shark repellent is not something people usually buy for themselves. That makes it quite a perfect gift. The one coming from SHARKBANZ is very popular. It's a simple band without batteries you need to charge or maintain in any way. It's always on, on guard, keeping the user safe in the sea. The band features an ergonomic design, high-quality materials, and it proves to be completely waterproof. Also, it's very cost-effective, so you won't break the bank on the gift for your surfer.
Keep your wake surfer safe all the time with this shark repellent band. You can't put a price tag on safety, and this item is just the thing you want to have on every vacation or during watersports. Besides, it's made of quality materials, so it will most certainly last for quite a while.
Skin Protection with All Good Sport Sunscreen Lotion
If you're not sure what to give to a particular wake surfer and you can't quite figure out what she or he needs, we have a solution. You can get her or him a sunscreen. Skincare products are an excellent option because those who enjoy watersports constantly need them. They are always exposed to harmful sun rays, and they usually don't pay much attention to protecting themselves. Therefore, this is a well thought out gift that will also be easy on your pocketbook.
We would like to suggest All Good Sport Sunscreen Lotion. It has a light formula that contains organic green tea, rose hips, and buriti oil. It doesn't only protect, but also repairs damaged skin. The lotion has SPF 30 UVA and UVB protection, and it repels water for up to 80 minutes. How impressive is that? The lotion is not greasy, yet it applies to the skin easily.
If you're searching for Gift Ideas for Seafarers, All Good Sport Sunscreen Lotion is an excellent one. It's a budget-friendly gift that will protect your favorite sportsperson and keep it safe under the harmful sun. You can't go wrong with giving it as a gift!
Rainleaf Microfiber Towel for More Comfort
If you're on a tight budget, yet you want to give something useful for a wake surfer in your life, we have a suggestion for you. It's the Rainleaf Microfiber towel. We know what you're thinking, it's just a towel, how special can it be? Well, quite some, we say! This one is super absorbent and dries incredibly fast. You can use it several times within a short period, which comes rather handy for those who enjoy water sports. Also, the material is skin-friendly. It feels soft and proves to be very comfortable.
Another thing that makes this towel special is a compact design. It's lightweight and easy to store, so you can bring it with you wherever you go. The carry bag is also included in the package, along with the lifetime warranty. Awesome, right?
Who doesn't need a towel during water sports? Rainleaf Microfiber Towel is not just any kind of towel. It's a high-quality one that dries quickly and ensures comfort during your adventurers. If you're looking for a gift for a sportsperson or any outdoor adventurer, we say go with Rainleaf!
Conclusion
Now you're all set to pick a perfect gift for a wake surfer in your life! How do you like our suggestions? We tried to include only the best rated and most popular products. Of course, our main goal was to pick the ones that will prove to be useful for the wakeboarder in your life. Hopefully, we succeeded and saved you some time and effort you would otherwise spend on market research.
In the end, when picking some of these gifts for wake surfers we suggested, make sure to go for the one that will meet the needs of a certain individual. Not all wake surfers are the same, and you should aim for the things that will make the one in your life happy!
ESTIMATED TIME DESIGNING AND UPLOADING THIS ARTICLE
ESTIMATED TIME RESEARCHING AND WRITING THIS ARTICLE
Try our AMAZING GIFT FINDER TOOL! Find GIFTS with 1 CLICK!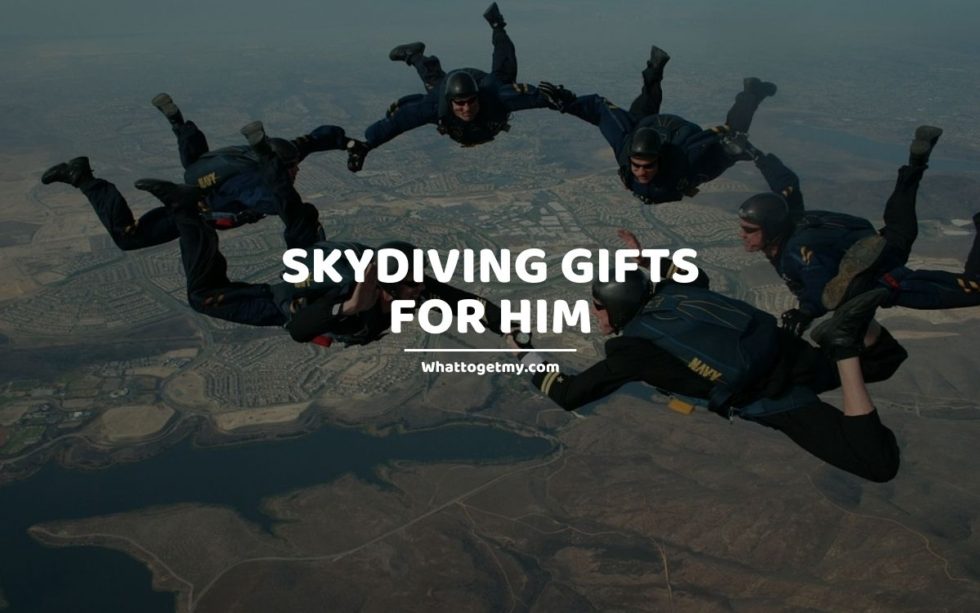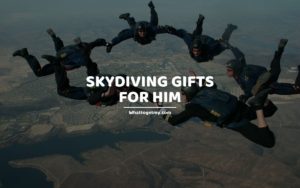 So you have that one friend that ridiculously enjoys skydiving? Maybe it's your boyfriend or husband who doesn't get to spend time in the sky as much as he would like. Some people don't get it at all, always wondering about what makes such dangerous
Read More »