4 Focus Points for How to Throw a Teenage Party Without Alcohol
WhatToGetMy Instructional Article
Teenagers are at the stage of their lives where they are not little kids anymore. They are also not quite adults yet either but would like to be treated like them.
This is a difficult stage as they are trying to figure out where they fit in. Due to this uncertainty, they face an extreme amount of pressure from their peers. 
They want to gain the respect of others or become popular amongst their peers. They think that the only way to do that is to throw a teenage party that offers a high level of entertainment. These parties are either just for fun or to celebrate their birthday. With this, they are led to believe that a party can only be fun and entertaining with extreme amounts of alcohol. 
To them, this is seen as being "cool". Being cool will help them to gain that respect or popularity that they are looking for from their peers.
But as a parent, all you want is for your teenager to be happy. To fit in with their peers and have some fun before they become adults. Before they will be forced to take life seriously and except all the responsibilities that adulthood brings with it. 
So you want to throw them a cool and fun party, but you are looking for ideas on how to throw a teen party without alcohol?
Any successful party whether it is for small children, teenagers or adults is all about keeping your guests happy and entertained. If your guests are well-fed, they have something to drink and are kept busy with exciting and fun activities, they will enjoy themselves.
But for this to happen you first have to create the mood for the party. This is usually done by: 
Choosing an exciting and fun theme for the party. 

Decorating the party according to the theme and 

Making sure that you have an excellent playlist for the party.
The best way is by getting your teenager involved in the planning and organizing of the party. They will know exactly which themes and music are popular and which ones are not for their age group. This will also give you the opportunity to discuss with them the importance of not allowing alcohol at the party. You can also explain to them that alcohol is not needed to have a great time.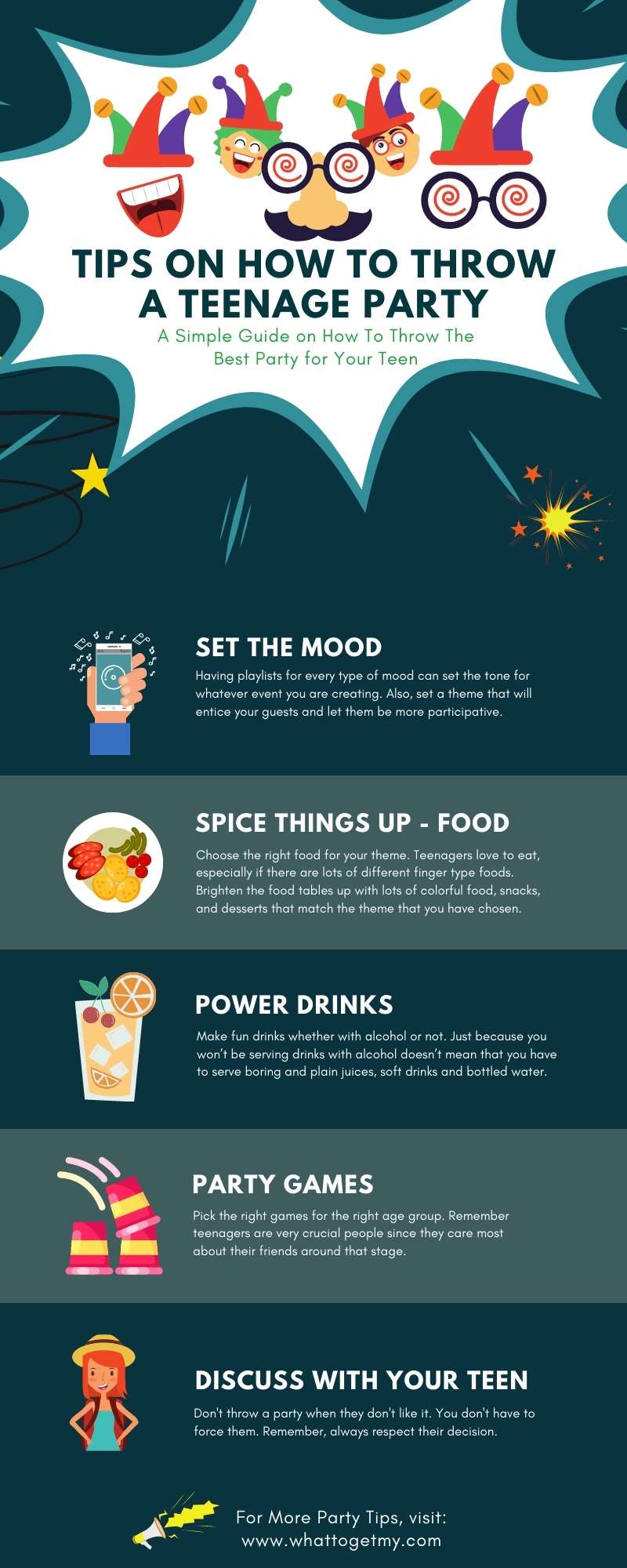 Source Link: https://whattogetmy.com/how-to-throw-a-teenage-party-without-alcohol/
1. Setting the mood
Setting the mood of any party is the most important part of throwing a teenage party without alcohol. To set the right kind of mood, you need to choose a fun and interesting theme. 
Decorate your party area according to the theme with great decorations and amazing lights. Then make sure that you have the right kind of music that everyone will enjoy.
Choosing a theme
Some theme ideas are:
All teenagers love their music and a theme that is based around the top of the charts artists is entertaining and fun for their guests. You can combine this theme with a karaoke theme which will help liven up the party up even more.
Guests can dress in Hawaiian clothing and you can hand out bright and colorful leis to each guest.
This is a theme that can be based on popular games or you can choose to organize it in different creative ways. Either way, your guests will have lots of fun
This fun theme is all about fun and mysterious fortune tellers, tarot card readers and horoscopes. 
Pool Party Theme with some glamour
Pool parties are always a lot of fun, especially in the summer months. You  can add some glamour to it by turning your pool into a scene of a 5-star hotel that is fit for the rich and famous
This is a more relaxed theme for a teenage party that takes place outdoors. It is a theme that is used to get groups of teenagers to sit around the bonfire, communicating and connecting with each other.
A popular theme is the escape room theme where you lock your guests in a room that they must work to get out of. They will need to solve riddles, puzzles and find hidden items that would lead to the unlocking of the door to escape 
Instagram or other social media party theme
Social media is the lifeline of all teens so why not have a theme based around their favorite social media platform. Add fun decorations and backdrops for the perfect shots for Instagram or other social media accounts.
Music
For the best music for your teenage party without alcohol, you have two options. You can hire a DJ or you can create an awesome playlist with your teenager. Either way, they will both play all the most popular songs that teenagers will love.
2. Lots of delicious food
Teenagers love to eat, especially if there are lots of different finger type foods. Brighten the food tables up with lots of colorful food, snacks, and desserts that match the theme that you have chosen.
Some ideas for finger food dishes are:
Mini corn dogs

Cheese and bacon fritters

Tapas

Cheese balls

Fried chicken legs

Hot wings

Bite-sized pizza

Ham and cheese pinwheels

Sliders

Tacos

A variety of different party skewers
Some ideas for finger dessert dishes are:
Mini Cheesecakes

Mini Muffins with a variety of different flavors

Cinnamon Rolls

Cupcakes

Strawberry or apple pies

Mini doughnuts

Different flavored homemade cookies
3. Serve fun and interesting drinks
Make serving drinks fun and interesting for your teenager and their guests. Just because you won't be serving drinks with alcohol doesn't mean that you have to serve boring and plain juices, soft drinks and bottled water.
Although it is a good idea to have soft drinks, juices and bottled water as an alternative option. You will have a couple of guests who will uninterested in other out of the ordinary beverages.
Some ideas for alcohol-free drinks are:
Fruit cocktails like mojitos, daiquiris, fruit sparks, and others

Fruit punches

Alcohol-free ciders and beers

Smoothies

Different flavored iced teas
If you are looking for some ideas, here is a video we found of 6 great Mocktail recipes that you could try.
4. Fun activities and party games
One of the biggest tips for throwing a party without alcohol is to organize fun non-alcoholic party games and activities that will help keep your teenage guests entertained.
A fun idea is to choose games that either go with the theme of the party or can be adapted to the theme of your teenage party.
But when selecting these games, it is important to choose games and activities for groups. This way everyone has the opportunity to get involved and it leaves little or no chance for anyone being bored.
When planning and organizing party games and activities, you also need to remember that these are a group of teenagers. Teenagers do get bored very easily so you need to make sure you choose things to do without alcohol that are sophisticated enough for them to be fun.
If you are looking for fun activities for a teen party, some ideas are:
Depending on how many guests there are,
Split your group of teenagers up into smaller groups of let's say 3 or 4 people. 

Select 3 or 4 judges to choose a winner

Give them about 15 to 20 minutes to prepare a dance

Let each group perform

Announce your winner
To make it a little more fun, offer some small but interesting prizes that they can win. This will help motivate them to put some effort into the dance routine.
Capture the flag is one of the most popular group games there is. It is also a game to be played outdoors that is so much fun. The basic way to play this game is as follows:
Players are divided into two teams

Each team needs a flag

A territory must be set up for each team that outline the borders

Each team then places their flag in their own territory

Each team selects their attackers and their defenders

The attackers are the ones that need to sneak into the other team's territory and retrieve their flag without being caught.

The job of the defenders is to capture the players of the opposing team by tagging them before they can get to the flag and throw them in jail

Team members of the captured players can set them free by sneaking across and tagging them
The Truth or dare balloons game
To play this game all that is needed is a bunch of balloons and truth and dares that have been written onto small pieces of paper. One piece of paper with either a truth or dare is placed into a balloon before you inflate it.
Then have all the teenagers at the party in an area with enough space for them to be able to bounce the balloon that they have chosen in the air while they are dancing. 
When the music stops or they allow it to touch the floor they will then need to pop the balloon and complete the truth or dare that is inside. This carries on until there are no more balloons left. 
This one is if you don't like the balloon truth or dare game but still want to have a daring type of game to play. Before the party, make a bunch of fake money for each player to earn by doing different dares throughout the party.
At the end of the party, each guest can use the fake money that they have earned to buy certain items. To make it fun you will need small items that aren't that expensive but are also what teenagers will like.
This is a fun and interesting game to play outside and in the dark. It works exactly like the original treasure hunt game, the only difference is that it is in the dark.
Colored water fights or war
Another fun game for teenagers to play is colored water fights or war which works very similar to paintball. Ask your guests to wear old clothes preferably light colors. 
Then divide the teenage guests into about four teams depending on how many guests you have. Give each team a color, water guns or they can fill balloons with water that has been dyed with their team's color.
Make sure your play area is outside, big and filled with plenty of places where they cover. The players will then shoot the members from the other teams with their water guns or balloons while avoiding getting shot themselves. If you are hit, you are out and the last one standing will be the winner.
Spin the bottle and give a compliment 
This is another popular game that can be played indoors. I am sure almost everybody knows this game as it is exactly what the name says. The only thing that is required is groups of teenagers that know each other at least a little.
Divide all the teenage guests into groups consisting of at least about 8 players. Ask each group to form a circle and then give each group a bottle to spin. Each player will spin the bottle and once the bottle stops, instead of doing truth or dare, they must give that person a compliment that the bottle points to.
So if you are wondering how to throw a teen party without alcohol. All you need to do is discuss the importance of not allowing alcohol at the party with your teenager. Then get them involved in the planning and organizing by making sure your main focus is on the food, alcohol-free drinks, music and activities as they will keep the guests entertained all through the party.
ESTIMATED TIME DESIGNING AND UPLOADING THIS ARTICLE
ESTIMATED TIME RESEARCHING AND WRITING THIS ARTICLE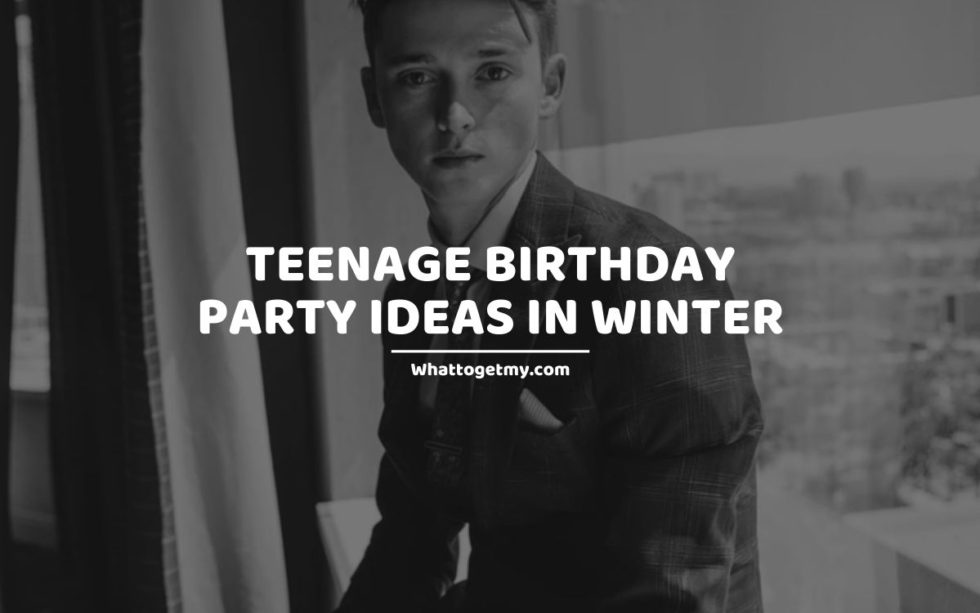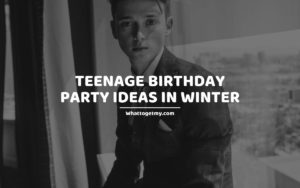 21 Fun Teenage Birthday Party Ideas In Winter
21 Fun Teenage Birthday Party Ideas In Winter WhatToGetMy Instructional Article Winter birthday parties can be as fun as summer birthday parties with the right winter birthday party themes. In this article, we give you 21 Fun Teenage Birthday Party Ideas In Winter including how
Read More »