4 Favorite Inexpensive Tween Birthday Party Ideas
WhatToGetMy Instructional Article
Tweens are at a difficult age as they are no yet a teenager but also not a little child anymore. They want to have fun especially on their birthday and with their friends.
Coming up with tween birthday party theme ideas is not that difficult. Not if you get their input about the type of things that they like. But if you have a specific budget and would like to come up with some inexpensive ideas, you would need to be careful not to get carried away and go overboard. This is especially true if you are looking for double trouble birthday party theme ideas.
The best way to plan and organize an amazing birthday for your tween. From the theme, decorations, food, and the tween birthday party games is to have the party at home. To help cut costs is to limit the number of guests that you invite and to do most of the work yourself.
Below is a list of 4 favorite tween birthday party themes for you to choose from.
Birthday Party Theme Ideas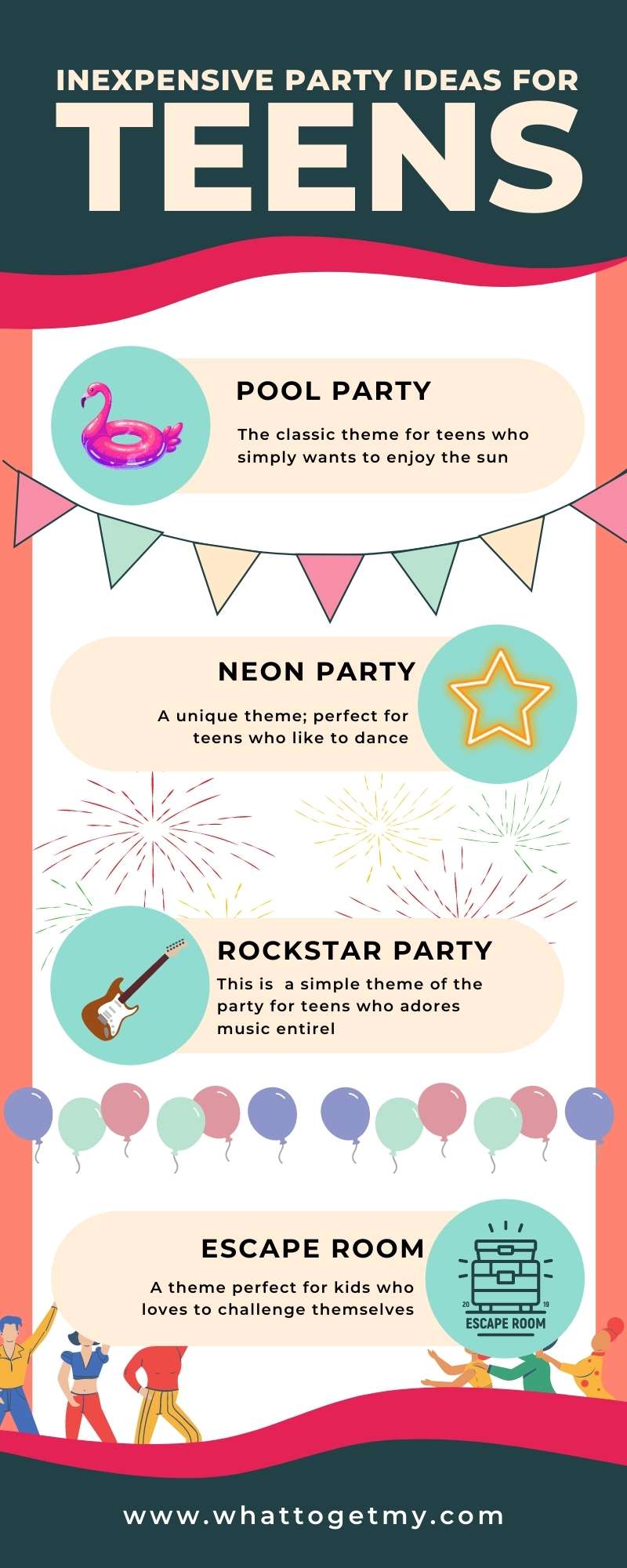 Source Link: https://whattogetmy.com/inexpensive-tween-birthday-party-ideas/
Pool Party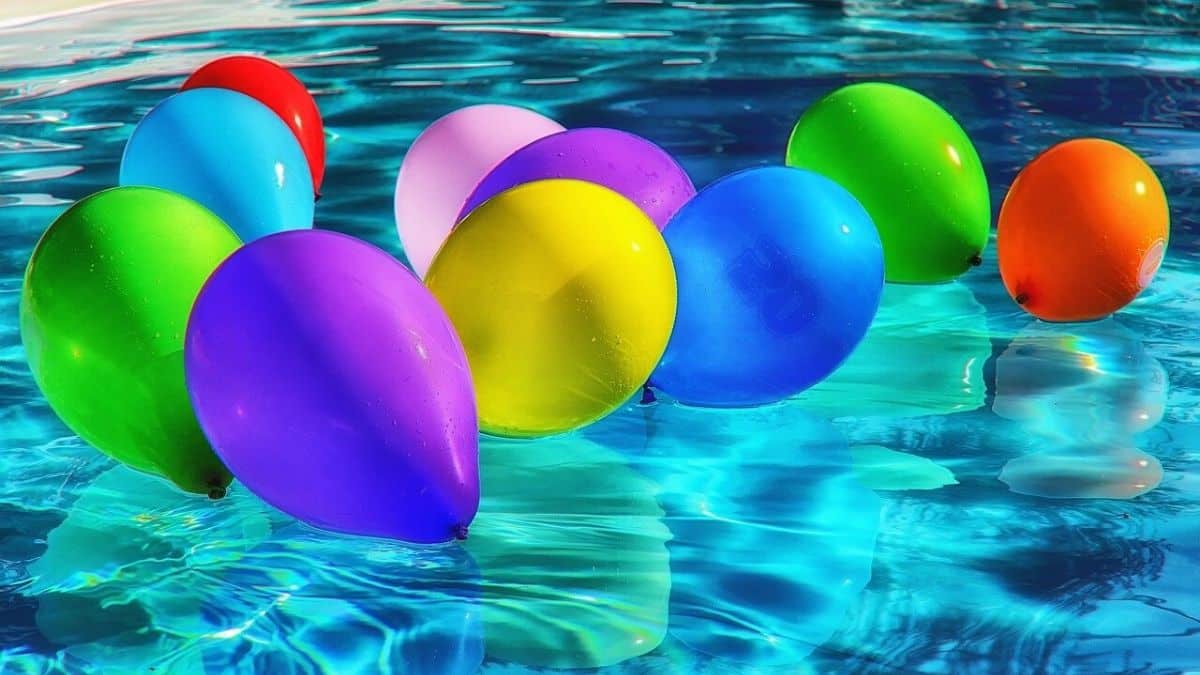 This one is for a tween birthday that takes place during the hot summer months. It is the type of party that is inexpensive, easy to arrange and can be a lot of fun. Kids of all ages love the pool so then why not organize an amazing pool party for them.
All that is needed is:
A clean swimming pool, 

Some decorations that you can make yourself, 

Pool floats and air balls, 

Delicious cake

Snacks and refreshments
Choosing a theme 
Choosing a theme for a pool party is easy and you can be as creative as you would like. A pool party theme can be anything to do with being in and around water. Once you have chosen a theme everything else will fall into place. Like the decorations, you will use, what snacks to have, what party games that they will play. And anything else you plan on organizing for the party.
Some ideas for pool party themes are:
Under the sea

Water world

Shark Tank or Week

Ocean creatures

Fun on the beach

Well known tropical islands
Snack ideas:
Choosing what snacks to have at a pool party will depend on the theme you have chosen. Here are some ideas that will work with most themes:
Flip flop and sunglasses cookies

Colorful Popsicles

Sandwiches cut with a sea creature's shaped cookie cutter.

Mini hotdogs and hamburgers for a quick bite

A shark-shaped watermelon

Pool Candy – for pool noodles (different colored licorice), Beach Balls ( use gumball) and for Pool Floats (gummy rings)
Pool party games ideas:
Organizing pool party games and activities don't have to cost a lot of money if any at all. There are so many different ones to choose from, some are old-fashioned favorites and others you may need some props. But one thing they all have in common is that they are all so much fun.
Some ideas are as follows:
Play the game of Marco polo

Cannonball contest for the biggest splash

Underwater treasure hunt

Pool volleyball with beach balls

Swimming and relay races

Sharks and minnows

Beach ball squirts contest which involves beach balls being squirted with squirt guns
Once everything is planned and organized for a pool party. All that is left to do is to worry about the safety of the kids in and around the pool.
A Neon or Glow Party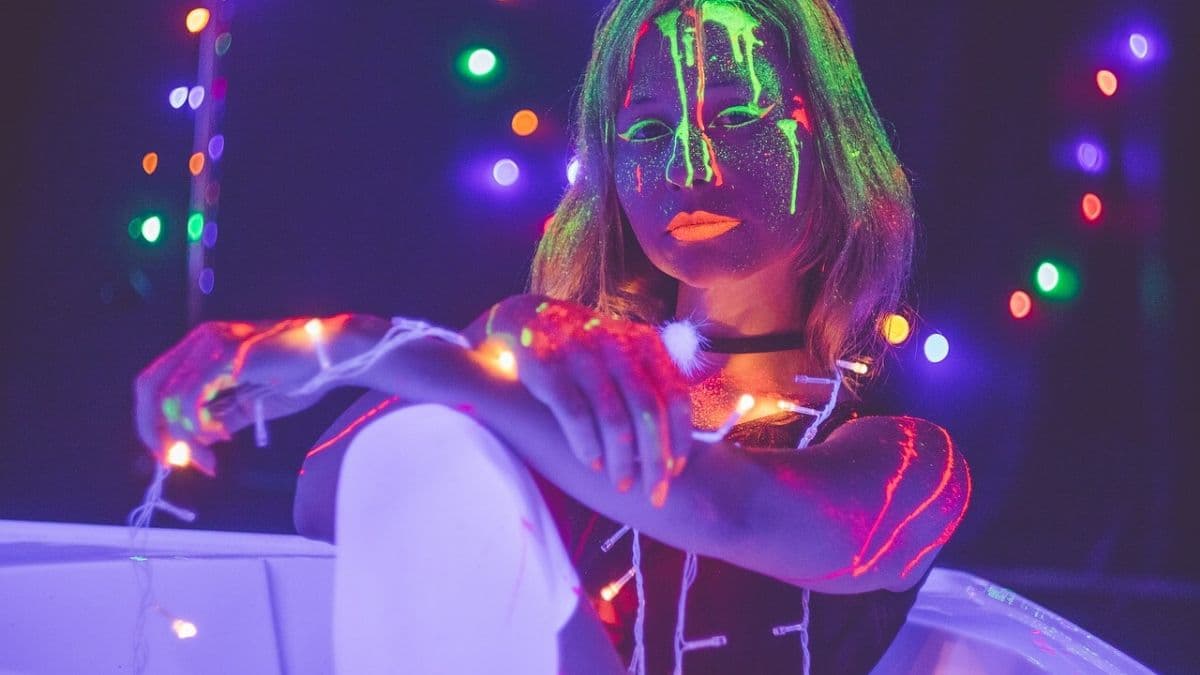 Tweens love to have fun with friends in the dark. Organize a neon or glow birthday party at night. Ask your guests to wear white or black shirts as this is best for some extra glow fun.
All that is needed is:
Black lights

Get glow sticks of all types like necklaces and bracelets

Get fluorescent pens and paper.

Get cheap, brightly-colored accessories. Like neon plastic sunglasses

Body glow paint

Neon or glow in the dark balloons
Decorations
Neon or glow decorations are easy to find and are inexpensive if you buy items in bulk. From neon or glow in the dark props, streamers, balloons, neon paint and lights.
To decorate, you can choose a room and black the windows and doors out with black plastic garbage bags. Choose a dark corner to set up a table, decorate it with glowing props for the snacks and drinks.
Then set up your glowing decorations with your black lights, glowing streamers, balloons that are specifically labeled as neon or are extremely brightly colored. You can also make a birthday banner using fluorescent pens or highlighters
Some Snack ideas:
Every party needs to have something for your guests to eat and drink. Even if it is just a couple of different snacks and treats. For this type of party, it is best to stick to finger foods as it can be difficult to eat a meal in the dark.
Here are some ideas:
You can make party platters with cheese, crackers, cured meat, and bite-sized sandwiches.

Glow in the dark food coloring on cupcakes and cookies

Glowing jello with tonic water and a little sugar

Serve your guest glowing drinks in plastic cups
If you are using a black light then you could use food that is white as it will be reflective under a black light and will appear to be brighter. Food like:
Pasta

Marshmallows

Sugar

Rice Krispies
Glow or Neon party games ideas:
Many of the kid's classic games can become so much more interesting and fun in the dark and by using glow or neon accessories. Games like:
Tag

Hide-and-seek

Charades

Glow ring toss with glow hoops and balls

Glow twister

Glow bowling

Neon truth or dare and balloons

Neon face painting or t-shirt decorating with highlighters

Water balloon fights by placing glow sticks inside the water-filled balloons
Rock Star Party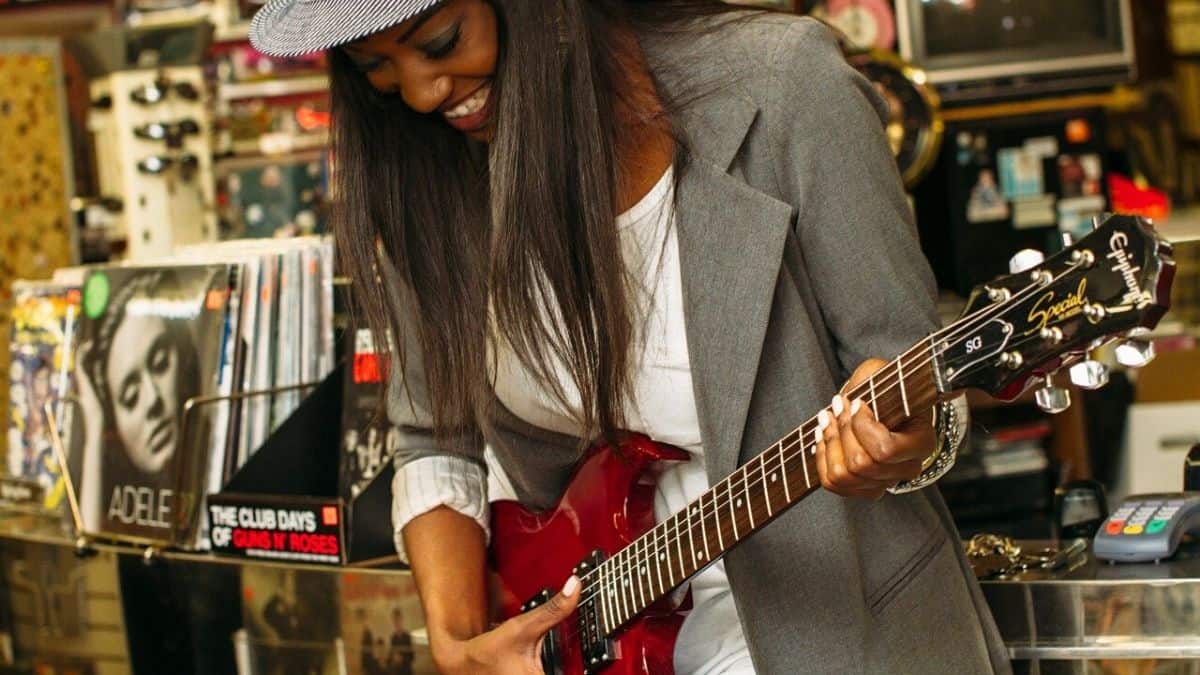 There is nothing a tween loves more than music. Plan a rock star party for them with a twist by adding some karaoke of their favorite songs. You can ask your tween's guests to dress up as their favorite rock star or singer.
All that is needed is:
A karaoke machine ( if you don't have one use a microphone and a sound system)

Guitar, microphone and star posters that you can print online for free

Balloons and streamers

Props for rock star photoshoot
Decorations
To make decorating easier let your tween choose the colors. Once you have the colors in place everything else will come together naturally.
For the food table you can:
You can then make your own backdrop using the colors that they have chosen.

Then place a rock star poster, a star, a microphone or even some song notes in the center of the backdrop.

Scatter several smaller stars, microphones or song notes over the food table

Set up a table with a sign "Dressing room" with items for the guests to add something extra to make themselves rock stars

On one side of the room, you can set up a stage with room for the rest of the kids to dance in front of

Set up the karaoke machine and give each one a turn to sing, be part of the band and part of the audience

You can lay down a red carpet (using cardboard or material) leading up to the stage or food table.

Set up an area for them to have photo ops with some rock star props
Some Snack ideas:
Snacks for a rock star party are quick and easy to prepare and to make and will be a huge hit for a group of tweens.
Here are some ideas:
Pizzas with star shape cheese on top

Cupcakes that are decorated with either one large star or a couple of smaller ones.

Star or microphone cookies or brownies

Marshmallow microphone pops

Popcorn with melted chocolate and smarties

Fruit cubes in plastic champagne glasses

Microphone ice cream made with cones and ice cream that have been rolled in sprinkles

Soda served in plastic champagne glasses
Rock Star party games ideas:
For rock star party games everything will revolve around music, whether it is singing, dancing or guessing the name of a song. The games can also include what it is like being a rock star. Games like:
Paparazzi tag

Freeze dance where everyone dances till the music stops

Who am I where each guest chooses the name of a famous rock star from a box or bowl and all the other guests must ask yes and no questions to guess who they are?

Having fun with the karaoke machine. You can give each child or group of children a chance to straight out sing. Or you could turn it into a contest where they do a whole performance with dance moves and everything.

Guessing the name of the song and artist.

Song writer's game for tweens that love being creative. Divide them into groups, give them each a title to write their own songs.
Escape room and Treasure hunt Party
An escape room and treasure hunt party can be great fun for your tweens if you make it challenging and exciting for them. It is an inexpensive party that you can have at home and it will be one that their guests will love.
Start the party off with an escape room that they need to find clues to get out of the room. They need to solve a series of clues while racing against a clock which is usually about 30 minutes to an hour.
Then once they get out of the room they are hit with more clues and riddles which send them on a treasure hunt. Place various items in various places and have clues that'll lead them from the one to the next.
You can give each child a party favor bag to collect their treasures or you can decide on having one big prize at the end of it all. It is yours and your tween's choice.
If you don't want to use varies items, you can change it up by having them do quick activities of a couple of minutes each before moving onto the next clue. The one that completes the most activities wins the grand prize.
All that is needed is:
A room to use as an escape room

Clue and riddle cards to solve the mysteries and to find the treasure

Mystery solving props and posters which you can easily make yourself

Crepe paper, streamers 
Decorations
Decorating can be clues, signs and riddles posters. It can be pictures of treasure and treasure hunting or mystery solving accessories. 
Some ideas are:
You can use red crepe paper to use as a laser maze for your treasure hunters to get through. 

Hang thin tassels for cobwebs

Burnt pages of paper placed (The burning of the paper should be safely done by an adult)

Walls clocks or pictures of wall clocks

Treasure maps
Some Snack ideas:
For this type of party, finger snacks would be the perfect solution. While your guests are busy solving mysteries and trying to escape from a room, they can grab a snack on their way to the next challenge.
Here are some ideas:
Platters of meatballs and mini sausages to be used as explosives and bombs 

Sandwiches cut into spy glasses

Escape room and treasure hunt cupcakes

Puzzle-piece sugar cookies

Popcorn or cheese crisp boxes with a clue inside at the bottom of the box
Party games ideas:
There would be no other party games that you would need to plan and organize as the theme of the party is the games.
When looking for Inexpensive tween birthday party ideas it is best to get the input of your tween. Plan to have the party at home, limit your guest list and make as much of the items that are needed yourself.
ESTIMATED TIME DESIGNING AND UPLOADING THIS ARTICLE
ESTIMATED TIME RESEARCHING AND WRITING THIS ARTICLE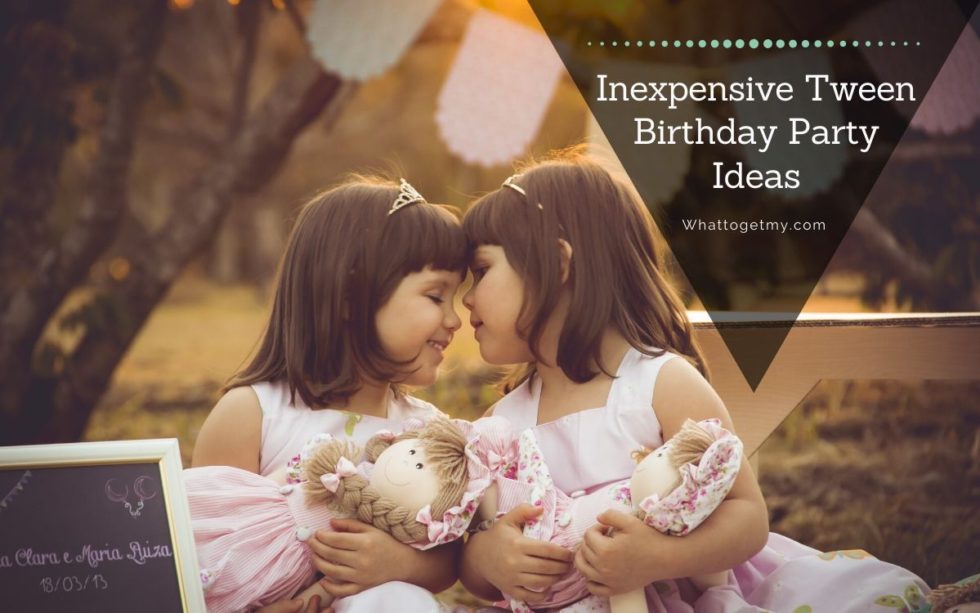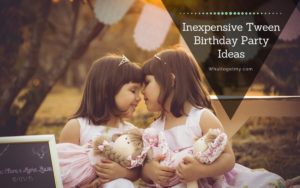 4 Favorite Inexpensive Tween Birthday Party Ideas
4 Favorite Inexpensive Tween Birthday Party Ideas WhatToGetMy Instructional Article Tweens are at a difficult age as they are no yet a teenager but also not a little child anymore. They want to have fun especially on their birthday and with their friends. Coming up
Read More »