Double Trouble Birthday Party Theme
WhatToGetMy Instructional Article
When it comes to picking and planning a double birthday party it can be quite a challenge. But it is important to make sure that both children feel special as they are both celebrating their birthdays but it should not mean double the work for you.
When twins are still young and are in elementary school they generally have the same friends and the same interests, so it is perfectly acceptable to host a combined birthday party. They might even agree on the same theme if you are lucky, but if not, there are always ways to go about it like, you can organize a  party with the themes combined or a double themed birthday party.
Before you decide on a double trouble birthday party theme there are a few things that you need to consider:
Don't overplay the identical thing unless they are into it.
Throwing a double party where everything is identical is incredibly cute when it is their first or second birthday, but when they get older they may not be into it because it tends to undercut their individuality.
Get input from the birthday twins.
Once your twins are old enough to decide what they like and don't like about certain parties, it is best to talk to them and get their input of what type of party, the kind of activities, entertainment and their favorite food that they would like.
Find something that makes them both happy
If each of your twins would like something different, this is where you will need to get very creative with your twin party ideas and find a way that you can join the two themes together and make it into one exciting party for them.
Add something unique and special for each child.
If you are lucky enough and they have agreed on the same theme for their party, then it is best to try and make each child feel special by ensuring you have their own separate cakes, party favors or activities that are unique to each of them.
Consider accommodating both ideas
If there is no way of combining both twins party themes or ideas because they are both so way out there, then it is best to have separate celebrations. If one twin would like a fun-filled party and the other one would like something more relaxing and quieter, like going to the cinemas with only one or two friends, then do try to accommodate them both.
It does not matter if you are looking for a theme that is something neutral, for boy and girl twins, girl twins or boy twins. Below are some double trouble birthday party theme ideas that are both fun and unique and will celebrate both of the twins, making them each feel very special.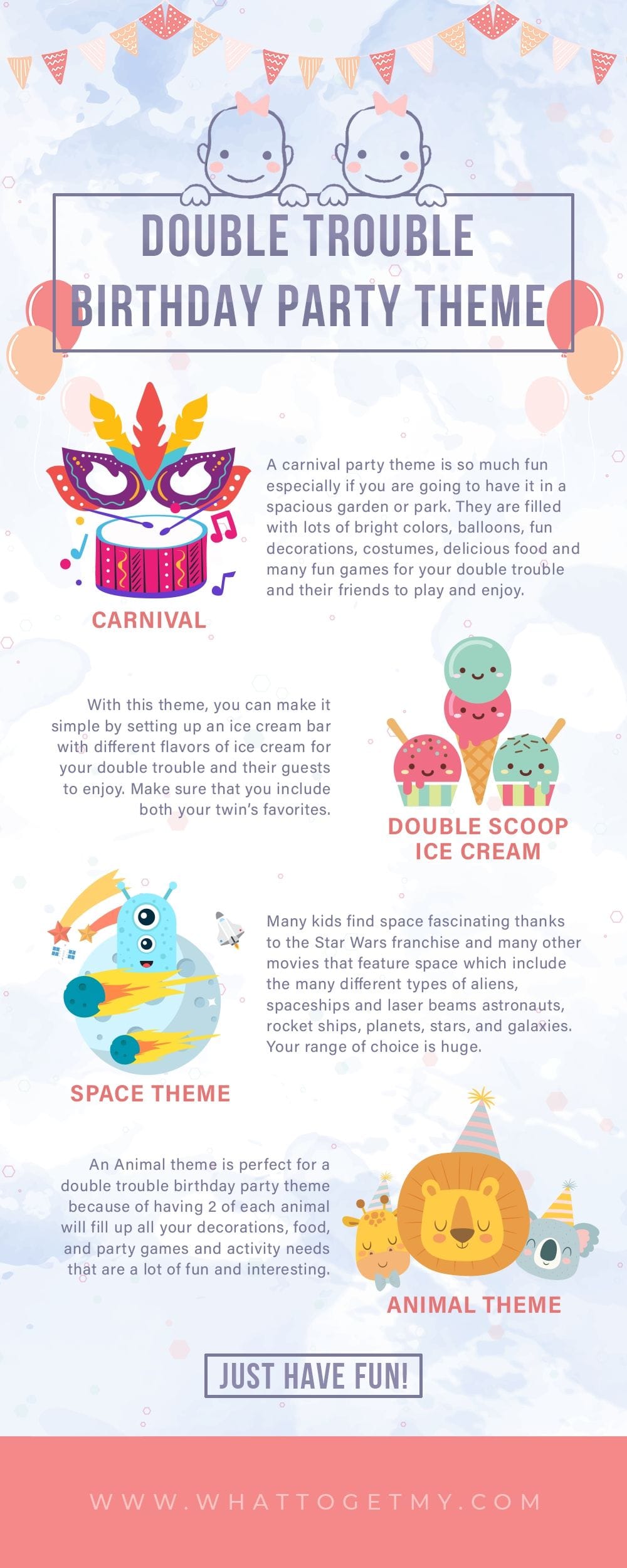 Source Link: https://whattogetmy.com/double-trouble-birthday-party-theme/
Neutral Twins Birthday Party Theme Ideas
Carnival birthday party
A carnival party theme is so much fun especially if you are going to have it in a spacious garden or park. They are filled with lots of bright colors, balloons, fun decorations, costumes, delicious food and many fun games for your double trouble and their friends to play and enjoy.
Decoration ideas:
You can make colorful signs to hang above each game booths and food stands with plenty of bright red, yellow and blue balloons and streamers. Another fun idea for great decorations is to have a ticket stand filled with a huge roll of tickets where all kids at the party can use to play the different games and to even get their food and drinks as well as a carnival photo booth for some amazing photos.
Food Ideas:
Cotton Candy

Popcorn

Ice Cream

Caramel Apples

Corn Dogs

Hot dogs

Nachos

Snow Cones
Games and Activities Ideas:
For a carnival theme party, there are so many exciting games and activities that your twins and their guests will enjoy. Some ideas are:
Bouncy House

 

Face painting

Balloon Animals

Ring Toss or/and Ping Pong Ball Toss

Duck Pond Grab

Guess How Many colorful candies are in a jar

Water Balloon Darts

Fortune Teller stand
Double or two Scoop Ice Cream Party
With this theme, you can make it simple by setting up an ice cream bar with different flavors of ice cream for your double trouble and their guests to enjoy. Make sure that you include both your twin's favorites. The decorations can be done in so many different ways because nowadays ice cream is available in so many different colors and flavors so you can make it very colorful or let your twins choose their favorite colors.
Decoration ideas:
You can make a colorful ice cream balloon backdrop for your cake or food table which could be two ice cream cones made from different colored balloons. Another idea is making ice cream garlands to hang up all around and of course some Happy Birthday Banners.
Food Ideas:
Ice Cream Cone sugar cookies

Ice Cream Cupcakes

Different Flavored ice cream with a selection of toppings

Ice Cream Sundaes

Waffles

Hot dogs made to look like banana boats
Games and Activities Ideas:
Bouncy House

 

Face painting

Balloon Animals

Ring Toss or/and Ping Pong Ball Toss

Duck Pond Grab

Guess How Many colorful candies are in a jar

Water Balloon Darts

Fortune Teller stand
Noah's Ark or Animal themed party
A Noah's Ark is perfect for a double trouble birthday party theme because of having 2 of each animal will fill up all your decorations, food, and party games and activity needs that a lot of fun and interesting.
Decoration ideas:
With Noah's Ark theme you will be able to easily find cute banners, posters, tableware, and amazing animal cut-outs and print outs as well as beautiful rainbows that you can use as decorations along with your usual brown and yellow balloons. An idea is to make either your driveway or your front door as the ramp leading into the ark with sets of different animal prints along the way for your guests to see as they walk by.
Food Ideas:
Animal crackers

Cut sandwiches into animal shapes

Animal Pizza Bites

Rainbow Cupcakes

Pigs in blankets

Fresh Fruit and Vegetable trays cut into slices to look like a rainbow
Games and Activities Ideas:
3 Legged Race

 

Noah's Animals Scavenger Hunt

Noah's Animal Charades

Animal Relay Races

Pin the Elephant Trunk on the Elephant
Boy/Girl Twins Birthday Party Theme Ideas
Peter Pan and Tinkerbell Party
Peter Pan and Tinkerbell themed party are perfect for boy and girl twins. Everyone can have lots of fun with the games and activities that they can all be played together. You can set up your party with different areas just like Neverland like the Mermaid Lagoon, the Indian Encampment and the Pirate's Cove.
Decoration ideas:
The decorations for a Peter Pan and Tinkerbell party are easy to do and are a lot of fun. You can decorate with lots of trees, flowers, plants, vines, and even rainbows. Silhouettes of the characters can be made and placed on the walls with plenty of green, brown, pink and purple streamers. You can have a great sign at the front entrance that says "Welcome to Neverland!
A tent, tree house or a playhouse covered with green and brown streamers can be used as a Lost Boy's hideout. For the Mermaid Lagoon, you can decorate a kiddie's pool and for some props, you can give each child fairy wings and a wand for the girls and a green hat and play swords for the boys.
Food Ideas:
Pixie sticks

Cut sandwiches, cookies or brownies into star and butterfly shapes

Breadsticks as swords

Mini strawberry and raspberry fruit skewers

Pixie marshmallows on wooden skewers

Tinkerbell and Peter Pan cupcakes

A Pirate and Tinkerbell cake
Games and Activities Ideas:
Treasure Hunt for pirate's treasure

Walk the plank

Pixie Dust Relay

Face Painting

Pin the feather on Peter Pan or wand of Tinkerbell

Find the Fairy
Cowboy and Cowgirl Party Theme
Cowboy and Cowgirl party theme is another great double trouble birthday party theme for girl and boy twins. There is so much you can do with this one from hiring real-life horses or making your own pictures to placing bales of hay everywhere to give it the feel of a ranch.
Decoration ideas:
The decorations can be posters of farm animals, rustic or pastel-colored tassels and cow balloons everywhere, bales of hay placed around your party area with metal buckets filled with flowers, sweets, and treats. You can have a display table with cowboy and cowgirl boots, hats, bandanas, ropes, and saddles.
Food Ideas:
Cowboy and Cowgirl hat and boot cookies

Apple crumble cookies

Chocolate dipped shortbread

Cowboy and Cowgirl cupcakes

Corn on the cob

Beefy Burgers

Chicken Bites
Games and Activities Ideas:
Pin the tail on the cow

Treasure Hunt In The Hay Bale

Sifting For Gold

Wheel Barrow Race

Sack Race
Boy Twins Birthday Party Theme Ideas
Most boys love airplanes, rocket ships, spaceships, astronauts, aliens, and laser beams. Coming up with a theme for twin boys is easy especially if they each love at least one of the items mentioned above, making it easy to combine the themes together.
Space Themed Birthday Party
Many kids find space fascinating thanks to the Star Wars franchise and many other movies that feature space which include the many different types of aliens, spaceships and laser beams astronauts, rocket ships, planets, stars, and galaxies. Your range of choice is huge.
Decoration ideas:
For decorations, you can cover the walls with black paper, fill them up with stars and planets or use banners and posters of spaceships, astronauts, planets, stars, galaxies, rocket ships, and space backdrop. You can place some props of laser beams, glow in the dark sticks or miniature rocket ships.
Food Ideas:
Moon rocks by using popcorn or pieces of honeycomb

Star-shaped, rocket-shaped cookies or sandwiches

Rocketship cupcakes or cake pops.

Cheese or meatballs to represent the planets

Flying saucer Pizzas

Planet Burgers

Rocket Ship skewers with banana slices, grapes and strawberries made into a cap
Games and Activities Ideas:
For games and activities you can let them play:
Hunt an alien after you have hidden one or a couple of aliens for them to find by leaving clues and trails leading to it.

You can wrap small rocks in silver foil and get the kids to do the same with the Moon rock hunt.

UFO Challenge, throwing Frisbees or bean bags through different targets made from hula hoops

Meteor fight with water balloons
Double Agent Spy Party
A boy's double agent spy birthday party is a perfect theme idea for twin boys as most boys love mystery, the cool gadgets used and catching the bad guys in the end.
Decoration ideas:
You can use the colors red, black and white and decorate with "Top Secret" Signs, "Authorized Personnel Only" or "Restricted Access" signs and Crime scene tape, chalk outlines of victims or chalk footprints of the bad guys. You can use life-size silhouettes cut out of large sheets of black paper or cardboard and stick them to the walls in your house or in the garden with some wanted posters.
Food Ideas:
Detective Dogs which is hot dogs

Mission Impossible pizza

Binocular mini sausage rolls, two stuck together

Secret sandwiches with various fillings

Black sunglass shaped cookie

Spy cupcakes

Mystery boxes that are filled with a variety of mini sweets and treats
Games and Activities Ideas:
Obstacle Course with a laser beam maze

Laser Challenge

Super Spy Treasure Hunt

Find the Bomb and defuse it

Spy test by blindfolding them in turn where they must guess who is standing in front of them.
Girl Twins Birthday Party Theme Ideas
Frozen Theme
For twin girls, it is a great idea to a have a birthday party theme taken from the popular Disney movie Frozen with snowflakes and snowmen everywhere giving the birthday girls an icy but fun adventure.
Decoration ideas:
To create the right atmosphere you can hang paper snowflakes and snowmen on the walls and ceiling of your party area if inside and decorate with the colors white and blue, garland tassels to give it the icy effect or you could choose warmer colors of dark purples and pinks. A good idea is to hang a picture of Elsa, Anna, and Olaf with a Happy Birthday message at the snack and treats table as a backdrop. Decorate the tables with "Frozen" plates and cups and reindeer standees or snowmen as centerpieces with a balloon attached to each one of the colors you have chosen.
Food Ideas:
Cupcakes with picture toppers of the "Frozen" characters

Sugar coated popcorn in your color scheme

Olaf Marzipan and Snowflake Cookies

Popsicles

Jello Ice Cubes

Cheese Sticks

Star or Snowflake sandwiches

Pizzas
Games and Activities Ideas:
Ice Block Races

Draw and Decorate Queen Elsa's Crown

Pin the Nose on Olaf 

Frozen Scavenger Hunt

Olaf Bowling Game
Some more ideas for girl twin's birthday party themes are:
Princess Party

Barbie Party

Hello Kitty Party

Mermaid Party

Rainbow Party

Dance Party

Harry Potter Party

Wonder Women Party

Minions Party

Glitz and Glamour Party
When it comes to with a double birthday party ideas and their theme it is best to get some input from both twins, find something that is unique to each of them, that will make them both feel special and happy, and you will be sure that they will both have a blast on their coming birthday.
ESTIMATED TIME DESIGNING AND UPLOADING THIS ARTICLE
ESTIMATED TIME RESEARCHING AND WRITING THIS ARTICLE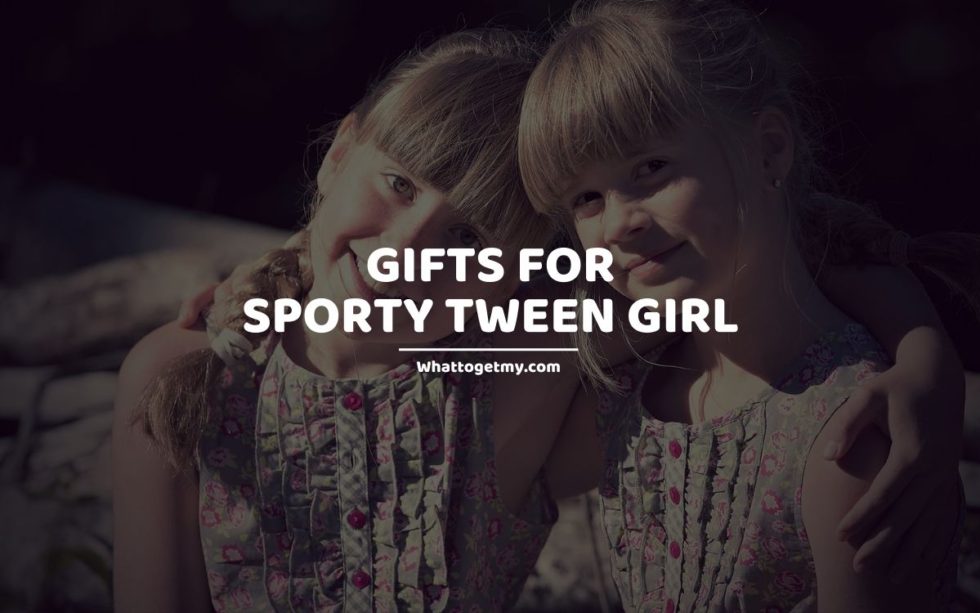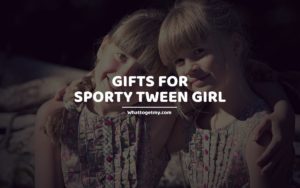 Shopping for tween girls is not easy. Well, it's not easy to pick the perfect gift for any boy or girl of that age. You try to avoid products designed for kids but also those made for adults. Then you get into the situation of
Read More »