Shopping for tween girls is not easy. Well, it's not easy to pick the perfect gift for any boy or girl of that age. You try to avoid products designed for kids but also those made for adults. Then you get into the situation of not knowing what to get at all!
Tweens are known to be picky. Their preferences change rather quickly, and with all that technology, their social life is evolving pretty fast. Still, the thing with most tweens is that they are physically active. They either enjoy sports or spending time outdoors, involved in an active lifestyle. That might actually help you find the perfect gift!
To ease some shopping stress for you, we did a thorough market research searching for the best gifts for a sporty tween girl. Hopefully, that will save you quite some time and effort!
Things to Consider Before the Purchase
Before you start with reviewing our recommendations, there are a few things you might want to consider if you're to buy the perfect gift:
Sports of Preference
First of all, you should consider what activities a tween girl prefers. Does she like skating with her friends? Maybe she plays volleyball, soccer, or other sports? This will help you determine the gift type. Depending on the activity of preference, you'll be able to pick clothes, accessories, and other parts of the sports gear.
Addition to the Gear
If you want to improve a girl's sports gear, you should aim for the stuff she doesn't have already. For example, if she wears her old sneakers for training, get her a new pair. Think about the new things you can buy to make her life easier or at least things that would improve her existing gear.
Accessories
Don't hesitate to buy accessories, even if those things are not primarily related to the girl's favorite sports. For example, you might have difficulties buying things for a girl who likes soccer. What should you get, a ball, new clothes? Still, you can go for alternatives and buy earbuds and make her training more fun.
We gave you some basic stuff to think about. Once you consider it, you're all set up to check out our 7 gifts for a sporty tween girl. We are ready when you are!
As an Amazon Associate we earn from qualifying purchases. We may earn a small commission for our endorsement, recommendation, testimonial and/or link to any products or services from this website. Thank you, your qualifying purchases help support our work in bringing you real daily gift ideas.
Quick Overview: Gifts for a Sporty Tween Girl
Source Link: https://whattogetmy.com/gifts-for-sporty-tween-girl/
Censi Noise Canceling Headphones for Music Enthusiasts
If you're looking for universal sporty gifts for girls, noise-canceling headphones are an excellent option for you. Everyone enjoys music, and this device will allow the ultimate listening experience. It's especially useful for those who have active lifestyles.
For tween girls, we recommend this super cute noise-canceling headphones coming from Censi. What makes them so special is a cat-ear design that will make every girl so happy! Of course, the headphones are also well built and produce high-quality sound. The noise-canceling feature is quite good and allows for an excellent music experience in any environment. Buyers also like the extra padding that makes these headphones super comfortable even during extended use.
The headphones connect to phones, laptops, and other devices by Bluetooth. That allows for hands-free handling and free movements. You'll get the headphones in a handy storage case for more protection when traveling. You can even fold them down for easy storing.
Noise-canceling headphones are a perfect gift for a tween girl, especially this cat-like model. She'll be able to enjoy her favorite songs wherever she goes and whatever she does. We highly recommend it!
Tacking Activities with Fitbit Versa 2 Health & Fitness Smartwatch
Are you looking for a Christmas present ideas for tween girls? We have a perfect thing to recommend. It's a smartwatch that everyone running an active lifestyle would like to have.
Fitbit Versa 2 is one of the most popular smartwatches on the market. The device has Amazon Alexa built-in the system, so you can use it for quick access. With it, you can quickly check the news and weather, set timers and alarms, and much more. You even get to control other home devices, whether by buttons or by voice commands.
The best thing about smartwatches is the tracking option, that allows you to trace heart rate, time asleep, calories, activity ratings, and more. This way, you get to keep track of your life quality. Amazing, right?
That's not all, of course. Fitbit Versa 2 allows you to control the Spotify app and Deezer playlists. The device can work continuously for up to 6 hours, and it recharges rather quickly. Also, it's available in 6 different designs, and each one of them is equally stylish!
Fitbit Versa 2 is one of the best Sports Gifts for Teenage Guys and girls. Actually, the device is perfect for everyone! You can't go wrong with giving it as a gift, especially to those who have active lifestyles.
Herschel Supply Co. Heritage Select Backpack for All Sports Stuff
In case you need to make a quick pick on a limited budget, getting a backpack is a simple solution to all your problems. Every sporty person would use an extra bag to carry her or his belongings. Also, most tweens are obsessed with fashion these days, so you get to give them something related.
Our personal favorite is the Herschel backpack that comes in over 35 different designs. Yes, you read it right! You'll probably have a hard time deciding on a particular model. The backpack is made of 100% polyester and features polyester lining. It has a big interior compartment and a front zippered pocket. It's quite spacious, and it can fit notebooks and laptops. The shoulder straps are wide and extra padded for more comfort. All the zippers prove to be sturdy and durable.
If you're on a tight budget yet you want to find some unique Birthday Gifts for a Niece, the Herschel backpack is a perfect choice. It's stylish, useful, and durable, which makes it an ideal gift for every tween.
The Best Walk with Reebok Aztrek Shoes
When it comes to gifts for an athletic teenage girl, we always recommend sticking with clothes and other accessories necessary for training. For example, a pair of shoes is a universal gift that every athlete needs!
For stylish tweens, we recommend unisex Reebok Aztrek shoes. If you haven't seen the commercial with Cardi B, make no mistake, all tweens have! Imagine a girl's surprise when she opens the package and finds the shoes that Cardi B wears? She'll be thrilled with the gift!
Aztrek comes in over 15 different colors, so you can pick the one you like the most. The shoes are made from synthetic materials and have a rubber sole. They are incredibly comfortable. With them, it's like walking on the clouds! Additionally, the low-cut design gives them a sleek look and also increases mobility. They are perfect for all sportspersons out there!
We are totally busted! Aztrek is one of our favorite models. However, we do have many reasons for choosing them over other shoes. They are sophisticated, well made, and durable, not to mention the level of comfort they provide. So, if you're wondering What to Get a Girl on Her Birthday, for Christmas, or any other occasion, Aztrek is an excellent choice!
If you're shopping for a girl who enjoys outdoor activities, you should aim for something that will keep her cool or warm, depending on the season. This time, we have to recommend a winter jacket for winter. 
Gemyse offers an insulated jacket that is perfect for outdoor activities such as skiing, snowboarding, hiking, camping, etc. Thanks to the inner soft fleece lining, it's super warm. The outer fabric is of high-quality, wear and water-resistant. The reinforced stitching also adds to the durable design. Buyers like the sturdy zippers and pockets that are also waterproof. This way, neither you nor your essentials will get wet during winter activities. The jacket is available in 5 beautiful colors.
This is one of the best Outdoorsy Gifts for Her. The jacket is soft, warm, and rather resistant to winter weather threats. It's also fashionable, which makes it a perfect gift for tween girls.
Roller Derby Candi Roller Skates for a Stylish Girl
Do you need more gift ideas for tween girls? This time, we have to recommend roller skates that will make every girl happy. We are talking about Roller Derby skates that come in unique vintage design. They are available in 6 vibrant colors and many sizes.
skates feature a suede leather interior. The heel and toe are reinforced for more durability. The skates are very comfortable, especially because of the extra tongue padding. They have aluminum chassis with metal trucks that are sturdy yet lightweight, allowing for more control on the ice. The wheels are smooth and fast, as well as the brakes. All in all, these skates are well made, and you won't be disappointed.
Roller skates are one of the best gifts for sporty tween girls, especially the pair coming from Roller Derby. They are comfortable, allow for perfect control, and come in several beautiful colors. Who could ask for more?
LifeAround2Angels Bath Bombs Gift Set for Relaxing Moments
Lastly, if you can't get through all the tween stuff and you're low on cash, we have a perfect suggestion for you. The one thing that every sports person enjoys the most after demanding workouts are baths! Therefore, we recommend getting a set of 12 bath bombs for a favorite sportsperson in your life, whether it's a tween girl or an adult.
The set we have in mind contains unique bath bombs. They are made from natural ingredients that smell lovely! The bath bombs have a therapeutic and moisturizing effect on normal and dry skin.
The set of bath bombs is an inexpensive gift that every sports person will enjoy. Also, it's perfectly packed so you can give it as a gift right away!
Wrapping It Up
We hope our list gave you some new ideas on what gift for a sporty tween girl to get. We tried to include only the most popular and best-rated products. Our main goal was to save you some time and effort in shopping for gifts. Let us know how that worked out for you!
ESTIMATED TIME DESIGNING AND UPLOADING THIS ARTICLE
ESTIMATED TIME RESEARCHING AND WRITING THIS ARTICLE
Try our AMAZING GIFT FINDER TOOL! Find GIFTS with 1 CLICK!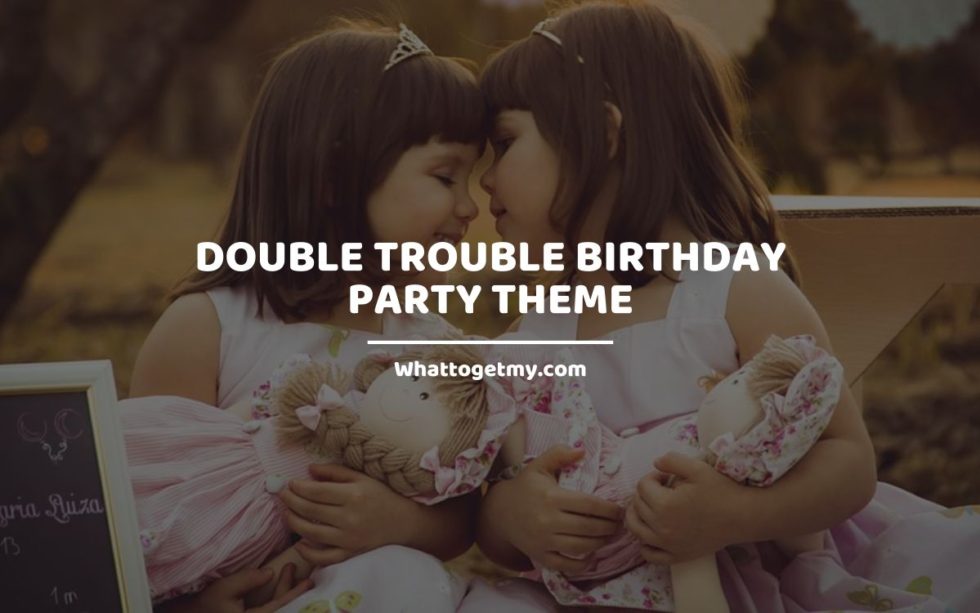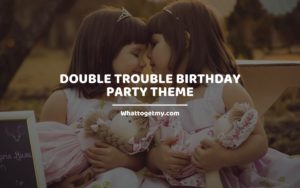 Double Trouble Birthday Party Theme
Double Trouble Birthday Party Theme WhatToGetMy Instructional Article When it comes to picking and planning a double birthday party it can be quite a challenge. But it is important to make sure that both children feel special as they are both celebrating their birthdays but
Read More »