You're probably sitting at your desk scrolling through endless pages of gift recommendations that don't help you decide what to buy a tween for her birthday. This is not one of those articles. We'll give you a list of cool tween gifts but we'll keep it short and simple. You probably only need an idea for a gift and not a wall of text. We'll give you our recommendations and a  brief summary of the products, so you can make a fast but informed decision.
Before you scroll to the gift ideas, we have a few tips about shopping for tweens:
The first thing to do when you're shopping for gifts is establishing a budget. When you have a set price range in your head you're more likely to find a fitting gift without spending an excessive amount of money.

Clothes and make up are a great option, but everyone else is going to pick those items, so you should opt for something different.

Instead of buying her a material gift you can get her "an experience". Go-karting, horseback riding, and other

things you can do

would make a memorable gift.
As an Amazon Associate we earn from qualifying purchases. We may earn a small commission for our endorsement, recommendation, testimonial and/or link to any products or services from this website. Thank you, your qualifying purchases help support our work in bringing you real daily gift ideas.
Quick Overview: Birthday Gifts for Tweens
Beleev Kick Scooter for Kids
Everyone is riding a scooter these days and tweens are not an exception. This 3 wheel scooter has an adjustable handlebar, which means it can be suitable for kids of all ages, tween girls included. It has LED wheels that are motion activated. The wheels light brighter the faster she goes!
Beleev scooter is equipped with a non-slip deck and 3 high-quality wheels that help the scooter go fast and smoothly but remain stable. The deck is very wide providing additional safety because kids can't slip and fall so they'll be free to ride all day long!
This scooter is very convenient for kids. They can just hop on and off because it's safe and stable, so there's no need to worry whether they'll hurt themselves while riding. Beleev scooter is available in various colors, so go ahead and pick the best one for your tween girl.
Nintendo Switch with Neon Blue and Neon Red Joy‑Con
You can never go wrong with the Nintendo brand! Kids of all ages, even adults, love their consoles! This version of the Nintendo Switch gaming system is made for home play and gaming on the go with handheld mode. The battery life depends on the games you play and it can last from 5 to 9 hours. There are a lot of free games to download and you can get more from the store because all the classic Nintendo games are supported.
The screen of the set is large enough but very fragile. It's the same as any tech device, just handle it a bit more carefully and always put a screen protector on. The console also includes access to apps like Hulu and YouTube which is crucial for any tween girl out there.
If you're looking for cool birthday gifts for tweens, Nintendo is your thing. It's a well-known and reliable brand for gaming consoles, so you can be sure of the quality you would get. Include some of the classic games in your gift and you can make any tween happy.
Unicorn Hooded Bathrobe
Unique and cute, this unicorn bathrobe is the best gift for a tween who has everything. Let's face it, you're totally out of ideas because she doesn't need anything in particular. That's why you should get her something stylish like this robe.
The hooded bathrobe is made of high-quality polyester, so it's very safe for sensitive skin. It's very soft and comfortable. It has a belt attached in addition to the snap above the waist so you can easily close the robe. There are adorable slippers included in the set too, so your tween can be warm and cozy after a bath.
Unicorn bathrobe is something any tween girl would be lucky to have. It doesn't just look good, it's soft and comfortable. If you want a gift that will be useful and last a long time, this is it.
Tablet 10 inch, Android 8.1
It's way better to get a tablet for your tween than a phone. Why you might ask? Well, tablets offer more options than phones and don't operate slower if you stuff it with a lot of apps (like any tween would do). Tablets are the best portable tech device, besides laptops of course. Tweens can take them anywhere they want, which is essential in their age.
This tablet has a 5 MP camera, perfect for taking photos, recording videos, etc. It has 2.4GHz WiFi, which means you can make phone calls and surf the internet at ease. The battery will give you up to 5 hours of entertainment. You'll get quality performance at a reasonable price which is just enough for any tween.
Some of the things girls want for their birthdays include tablets and cellphones. Supposedly your tween already has a cellphone, then it's time to get her tablet for those various apps. If you don't want to spend a lot of money then check out this one. You won't find a better one in this price range, that's for sure.
Cute Mini Leather Backpack
There isn't a chance that a tween girl wouldn't like this stylish backpack! It's cute and simple and has a bowknot for the trendy look. It's durable and large enough for tween girl's needs. She will love shiny zippers and internal pockets. The backpack comes in black, blue, pink, red and white color, so be sure to pick your tween's favorite!
Backpacks are great tween girl birthday gifts! She probably tore her previous one and needs a new sturdy backpack to carry her things. Pick this stylish and cute one which is perfect for everyday use.
Sharpie Permanent Markers Ultimate Collection
Tween girls are always making some sort of arts & crafts. They are drawing cute things, journaling, writing catchy lyrics, etc. Get your tween these permanent markers so she can draw in style! These high-quality markers dry quickly, so they won't leave stains. They also won't fade easily. You can use them on paper, plastic, metal, almost every surface.
The best thing about the set: versatile tips! You can choose different markers to leave bold marks or ultra-thin ones. Sharpie marker set includes 32 fine tip and 29 ultra-fine tip markers in vivid colors, 5 neon markers, and 6 shimmering metallic markers. With this much diversity, you have absolute control over the details of the drawing.
Sharpie markers are made for drawing on anything, from paper to plastic surfaces! This colorful set will bring so much joy to your tween. Especially the luminous neon markers, she will adore them!
Bullet Dotted Journal Kit
All birthday gift ideas for tween girl include at least one cute journal. Most sites recommend the one with the "girly" covers. Instead of shiny and colorful jornal we opted for a simpler one because we were focused on the whole package. Girls love to write journals but they also like to draw, color, etc. That's why we picked the entire journal kit! This set contains a bullet notebook, 15 colorful pens, sticker sheets, tapes, and much more stuff for being crafty. The notebook has a bookmark ribbon that helps you keep track of where you left off.
More flexible than the traditional journal, this planer allows you to customize your bullet format. Your tween probably won't use this set for planning and organizing her time, but she will surely have a blast in playing "pretend office" or writing her thoughts.
The Complete Chronicles of Narnia
Tween years are the best time for further exploration of kid's literature. We recommend "The Chronicles of Narnia" because it's very accessible to children. Let Aslan guide your tween through many, many adventures.
This set contains seven books with classic black and white illustrations. The books are small, which makes them great for packing them in a bag and carrying around. You can be sure every girl is going to take it with her, so she can read it on the bus, at lunch break, etc.
Send your tween on a literature adventure through the world of Narnia. A fantasy world full of magical and mythical creatures, brave children and talking animals will encourage your tween's creativity.  When you see her going through book after book, you'll be so glad you've got her this set.
Frequently asked questions about what to buy a tween for her birthday
What age is considered a tween?
A tween is a child between the ages of 9 and 12. Tween is in between two age groups, no longer a little child but not yet a teenager.
What can you do with a tween?
Fun things tween enjoy: playing video games, playing sports, swimming, going to the indoor trampoline park, watching movies, and much much more. You can join them in any of these activities.
Conclusion
What to buy a tween for her birthday is not an easy question at all. Tweens change all the time and you can't be sure what they are into these days. That's why it's best not to follow the trends and get them a gift that will last. We hoped that our list has sparked a few ideas in your mind, so you'd have a birthday gift idea.
Every child is different, so you need to shop to fit his/her personality. Some kids are outdoorsy, some are shy and introvert. You shouldn't get a scooter for a bookworm that doesn't leave his room and vice versa.
If you have, for example, a tween girl that's into sports you can buy her gifts we recommended in the article Gifts for sporty tween girl. Be sure to check it out!
ESTIMATED TIME DESIGNING AND UPLOADING THIS ARTICLE
ESTIMATED TIME RESEARCHING AND WRITING THIS ARTICLE
Try our AMAZING GIFT FINDER TOOL! Find GIFTS with 1 CLICK!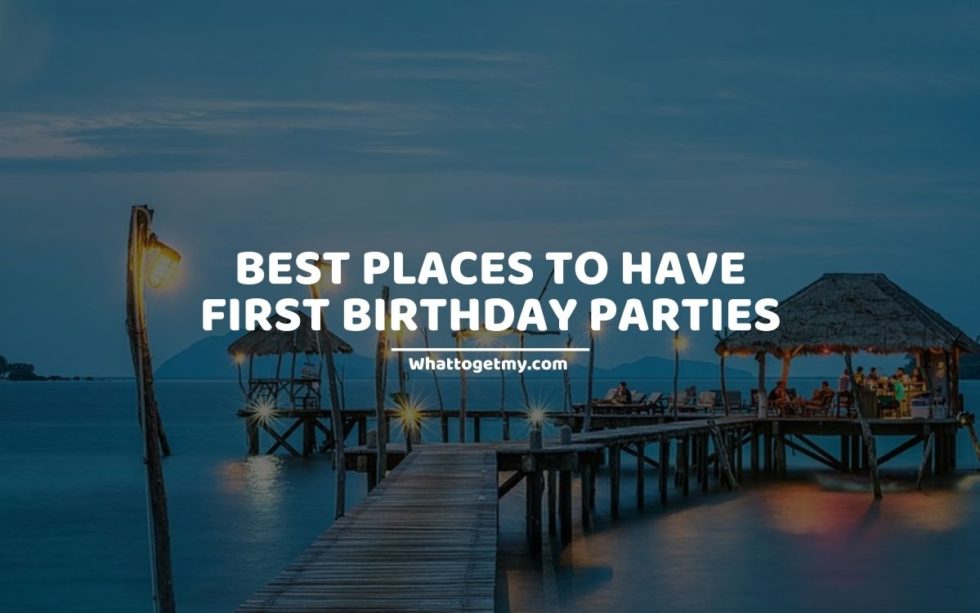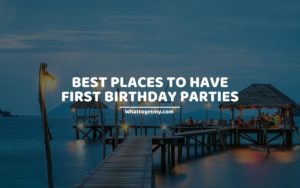 9 Best Places to Have First Birthday Parties
9 Best Places to Have First Birthday Parties WhatToGetMy Instructional Article A baby's first birthday party is a milestone that most parents celebrate. This is because, as of 2010 in the USA, 6.15 percent of every 1,000 births end up dying before the age of
Read More »