Choosing gifts for Indian grandparents can seem overwhelming to some people because of the uncertainty of what their grandparents like or need. This is due to the significant age difference between the grandchild and grandparent.
Grandparents play a vital role in their grandchildren's lives in every culture and corner of the world. They all love them unconditionally and are by their side through all the ups and downs that they may go through. They are there to comfort them and give them advice when the grandchildren feel that they cannot turn to their own parents in fear of being misunderstood.
Many Indian families try to maintain their Indian traditions, where the extended family members all live together in one large household. Usually, the grandparents are the head of the household and very involved in their grandchildren's upbringing, which also enables the children to become just as close to their grandparents as they are to their parents.
While the children are in the Indian grandparents care, the grandparents commonly perform the following roles:
Indian grandparents

are looked up to and respected as they share their experiences, knowledge, tradition, cultural customs, and rich history to their grandchildren.

By growing up in large families, the grandchildren are taught to share, treat everyone with respect, and care for others, especially for their family members.
It is only natural for grandchildren to want to give grandparents something special in return to show their affection and appreciation for all they have learned from them.
Indian grandparents may have strong beliefs and traditions but also enjoy household items that make their lives a little more pleasant, just like any other grandparents.
In today's modern world, there has been a considerable amount of changes in the lifestyle of the newer Indian generations. Many end up relocating for better opportunities to find work or for school. They are forced to break away from their families and live in other countries far from home, leaving the grandparents alone at home.
These changes also bring other adjustments to their lives, leading to some of today's youth losing their strong traditions and cultures. Some of them marry outside their Indian society, going against the Indian culture of an arranged marriage, which causes changes to their lifestyle.
These Indian families have learned to adjust, and they become more modernized than their grandparents. However, some still hang onto their strong traditional upbringing and tend to connect with their cultural roots from time to time. As a result many young Indians these days find it difficult to find a special gift for their grandparents because they are not that close or because they are scared that their grandparents might find the presents culturally inappropriate or unauthentic.
When deciding on what sort of gift you would like to give your Indian Grandparents, you will need to think about the grandparent's personalities, likes, and dislikes, etc. Only you would know what type of gift they would prefer you to give them, especially if you have spent a significant amount of your childhood with them. You will have to decide whether you want to get them more traditional gifts, or more practical ones for a more modern world, all while keeping in mind that they are very conservative and would not appreciate any expensive gifts
Below is a list of gift ideas for Indian grandparents that we have put together. The gifts are split into two categories (the traditional gifts category and the modern, more practical gift category).
As an Amazon Associate we earn from qualifying purchases. We may earn a small commission for our endorsement, recommendation, testimonial and/or link to any products or services from this website. Thank you, your qualifying purchases help support our work in bringing you real daily gift ideas.

Our Gift To You: Find out how to download This Free Printable Card For Your Grandparents at the End of This Article.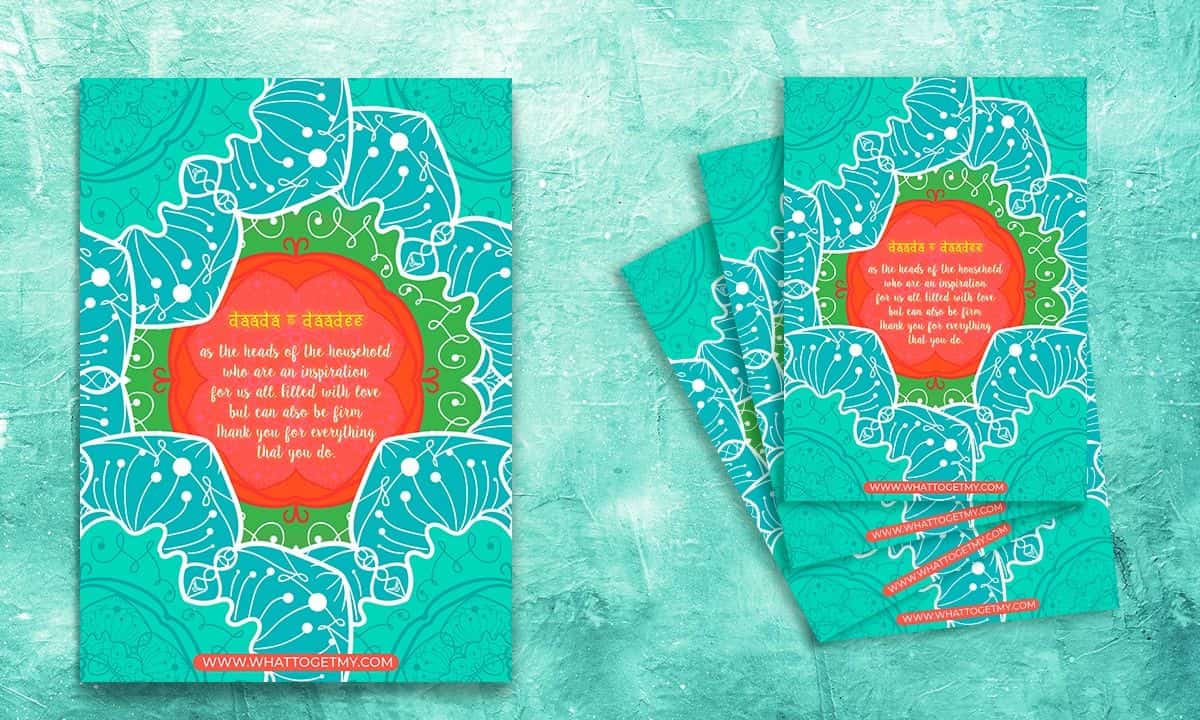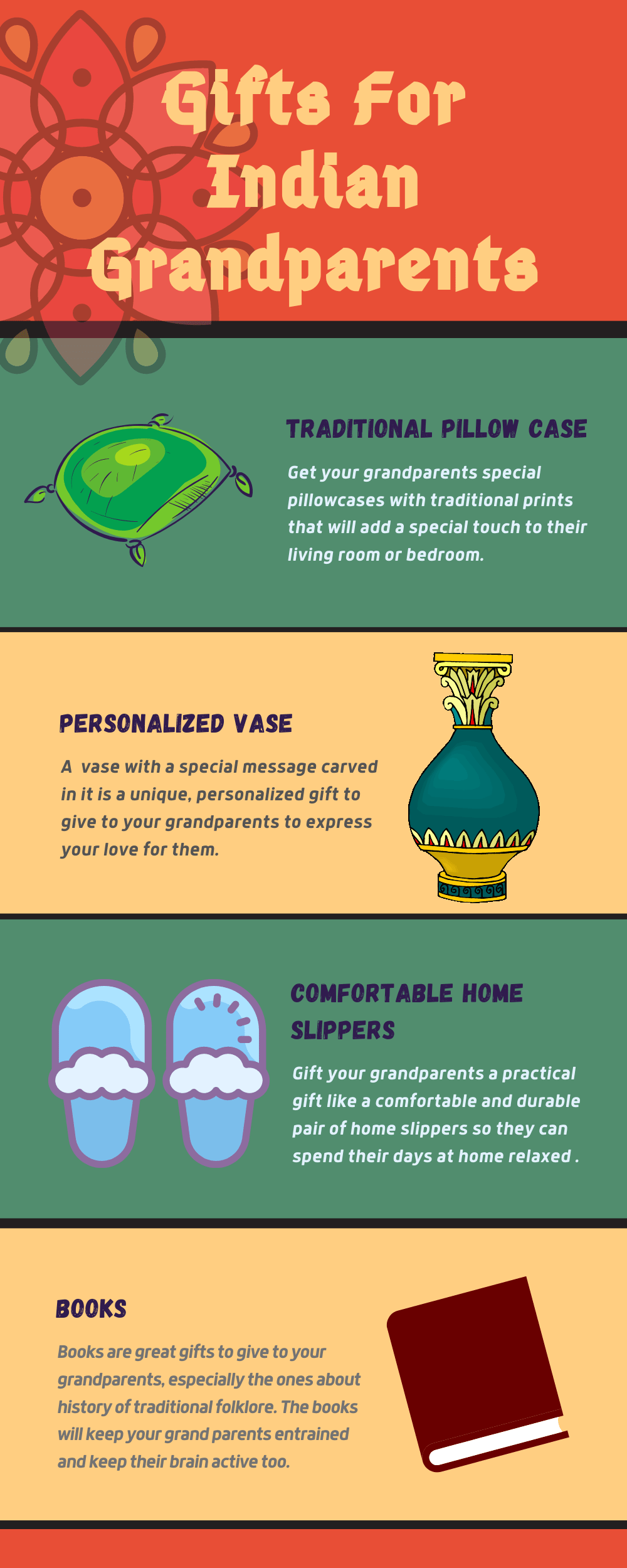 Source Link: https://whattogetmy.com/gifts-for-indian-grandparents/
Traditional Gifts for your grandparents
The more traditional types of gifts would be items like Indian pillow covers or a wall hanging tapestry for their home or a good book about the struggles of an Indian man.
Ambesonne Mystic Fairy Tree of Life Enchanted Forest Mystical Lights Digital Printed Wall Hanging Tapestry
Give this unique and beautiful Ambesonne Mystic Fairy tree of life wall hanging tapestry as a gift to Indian Grandparents to transform any room in their home, giving the room a colorful and new look. They will love that it creates a mystical atmosphere that is relaxing and peaceful to a room and makes you feel like a fairy or something magical will pop out from the glowing light at any moment.
Customers that have purchased this Ambesonne Mystic Fairy tree of life wall hanging tapestry have had positive things to say as it is exactly the same as the product picture. They have reported that it is of great quality and has a silky feeling to it.
Krishna Mart India 2 Orange Embroidery Sequin Patchwork Indian Sari Throw Pillow Cushion Covers
If you want traditional Indian gift ideas then go for these amazing and decorative 2 piece Orange embroidery sequin patchwork Indian sari throw pillow cushion covers will brighten up your grandparent's living area. They are something different that will give a whole new look to their home as they look elegant, gorgeous and are very colorful.
Customers who have bought these Orange embroidery sequin patchwork Indian sari throw pillow cushion covers previously have had positive things to say as they are beautiful pillow covers that help brighten up any room.
The " Namesake " Jhumpa Lahiri -Paperback
This book "Namesake" by Jhumpa Lahiri is a great gift for Indian grandparents who love reading books about traditional Indian customs and how Indian immigrants cope and live in America. This book follows a man's life with all his struggles in accepting who he is, so he spends his life attempting to reinvent himself, his name and his heritage.
Those customers that have already purchased this book "Namesake" by Jhumpa Lahiri have had positive things to say as this book is a fine novel, well structured, rich in detail, captivating and very realistic.
The more practical and modern types of gifts.
These types of useful gifts for Indian grandparents would be items like soft slippers for grandparents to wear around the house or a great massager to help grandparents relax, a beautiful vase or a beautiful scarf to give to grandma.
Women's & Men's Comfort Memory Foam Slippers
These HomeTop Women's and Men's comfy fuzzy wool plush slip-on foam slippers are a great gift of comfort and style to give to grandparents. They can slip them on after a long hard day at work or while in the kitchen helping to soothe the aches and pains while keeping their feet warm and comfortable.
Customers who have purchased these HomeTop Women's and Men's comfy fuzzy wool plush slip-on foam slippers have had positive things to say as they love how comfortable they are and that they can be worn all day indoors and outdoors.
Zyllion Shiatsu Back Neck Massager – Kneading Massage Pillow with Heat
This Zyllion Shiatsu Pillow Massager makes a perfect gift for Indian Grandparents to enjoy as it works incredibly well. It's size, shape, and features contribute to its ability to target specific areas of the body, relieving pain and loosening tight muscles. This little massager will leave them feeling relaxed, and much happier. This thoughtful practical massager is one of the best gifts for Indian grandparents who have everything.
Join the many satisfied customers that have purchased this Shiatsu Pillow Massager as they have had positive things to say as they love how well it does its intended job from the comfort of your own home and it saves a lot of time and money by not needing to go to a massage parlor.
Clear Glass Vase with Custom Engravement
Give your grandparents this to show your love and appreciation for them with a simple yet special gift. The vase is made from clear glass, and you can engrave whatever message you want in it to give it a personalized touch. The vase can be placed anywhere regardless of your grandparent's house decor thanks to its minimal design.
This vase is a super simple yet elegant gift to give to your Indian grandparents. They will appreciate the gesture and the personal engravement. They will remember you every time they put flowers in this beautiful vase and remember your eternal love for them.
LERDU Women's Scarf Necklace Ladies Gift Idea Versatile Unique Pendant Scarfs Infinity Scarf with Jewelry Accessory
This LERDU Women's soft infinity loop scarf is a perfect combination of a scarf and jewelry in one. It's made from lightweight polyester making it soft and wonderful against the skin and is a great and unique gift for an Indian Grandma to add a sense of elegance and beauty to any outfit she wears.
Customers that have purchased this LERDU Scarf have had positive things to say as they love how elegant it looks with the beautiful teardrop pendant, quality, and durable material, and it can be worn with almost anything. This scarf is the ultimate gift for Indian grandma who has everything.
Some Interesting facts about gift-giving occasions in India for those who don't know.
Diwali is the most celebrated holiday and is the Hindu festival of lights. It is a five-day celebration filled with family gatherings.

Rakhi is a special occasion that celebrates the bond and love between a brother and a sister.

Housewarming party for which the best gift to bring is bread, spices, sweets, candies, or flowers.

Birthday parties which are more popular among Hindu children than the adults and the most common gifts are toys, candies, and new clothes.

Christmas for Indians is not a religious event but more of a fun gathering of family and friends. Bringing food is always great on this occasion.
Finding gifts for Indian grandparents can be made an easy task once you figure out what your grandparents are interested in or want at that moment. If you are still unsure of what to buy your grandparents, you can go to your parents for help as they will probably have good suggestions. Finally, always remember your grandparents will always appreciate the gesture and the thoughts behind the gift and that by itself is as important as the gift itself.
Related articles:
Get This and So Many More Free Gifts on Our New Marketplace, Spark Resort!
ESTIMATED TIME DESIGNING AND UPLOADING THIS ARTICLE
ESTIMATED TIME RESEARCHING AND WRITING THIS ARTICLE
Try our AMAZING GIFT FINDER TOOL! Find GIFTS with 1 CLICK!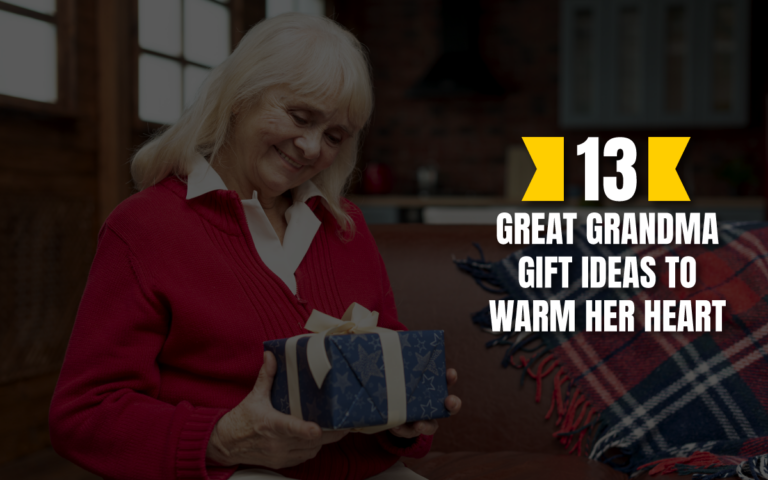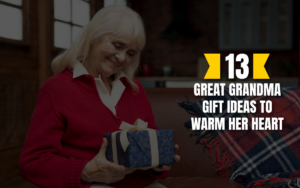 13 Great Grandma Gift Ideas To Warm Her Heart (2022) If you're among the bunch that forgets to gift your grandma on her special days, we're here on pro bono duty: To remind you in advance so you can get her a meaningful gift. Who
Read More »