Most teenage guys who participate in a sport tend to love their sport so much that they take it seriously that all they do is live, breath and sleep their favorite sport. Finding gifts for athletic teenage guys can be difficult because they would already have the basics of what they need for their favorite sport.
All that sporty teens are really interested in at the moment is to improve their skills because they do understand at this age that most sports are a team sport and the last thing that they want to do is let their teammates down.
With this, they also know that the only way that they can become a better player is to improve their skills and to do that they need to practice and train as much as possible. They also know that they need to make sure that they have the right mindset to be able to achieve their goals as well as the goals of the team.
It is just as important for them to have the right mindset as it is the physical capabilities and skills to do well in a certain type of sport because at this age athletic teens do not realize how much their thoughts and attitude can affect their performance while training and even while playing a game. Negative thoughts can increase their stress and anxiety resulting in a poor performance, which then causes a lack of motivation and confidence in themselves that often results in them wanting to quit playing the sport altogether.
If they have confidence in themselves and in their abilities, teenage guys tend to have more drive and energy and are a lot more focused on the actual game or skill that they are training for and are able to recover from the mistakes that they have made a lot easier.
To help them prepare mentally, you can help them learn some self-centering techniques to use before a big game or whenever they are doubting their abilities that will help them to calm down, relax and think positive thoughts. It will also help if you get them to visualize the game in their minds and then imagine any possible situation that could cause things to go wrong, then try to work out how to recover from them successfully.
If he has the correct mindset then another great way for you to help them is by giving them gifts that can help them practice and train in their spare time or offseason. These gifts for athletic boys can be training equipment or tools that can help them improve their swing speed, foot speed, lateral quickness, agility, coordination, and overall balance that they would need for most types of sports.
As an Amazon Associate we earn from qualifying purchases. We may earn a small commission for our endorsement, recommendation, testimonial and/or link to any products or services from this website. Thank you, your qualifying purchases help support our work in bringing you real daily gift ideas.
Our Gift To You:
Find out how to download This 
Free Printable "Never Give Up" Card
For Sporty Teenage Guys at the End of This Article.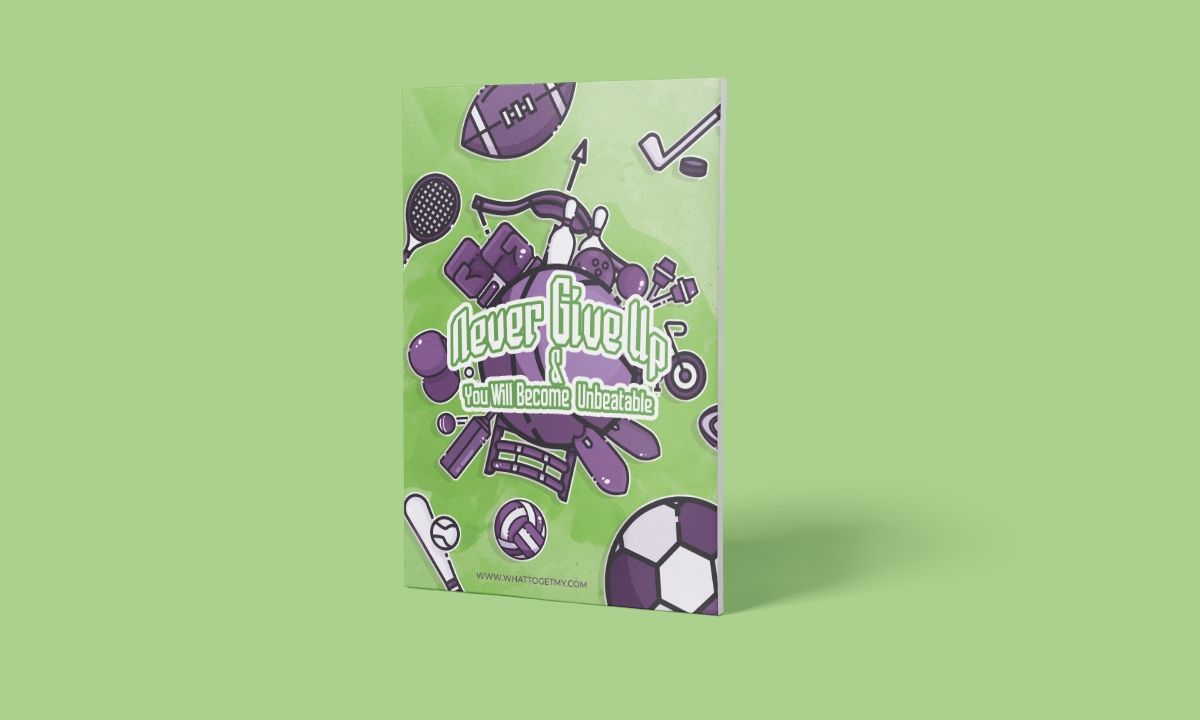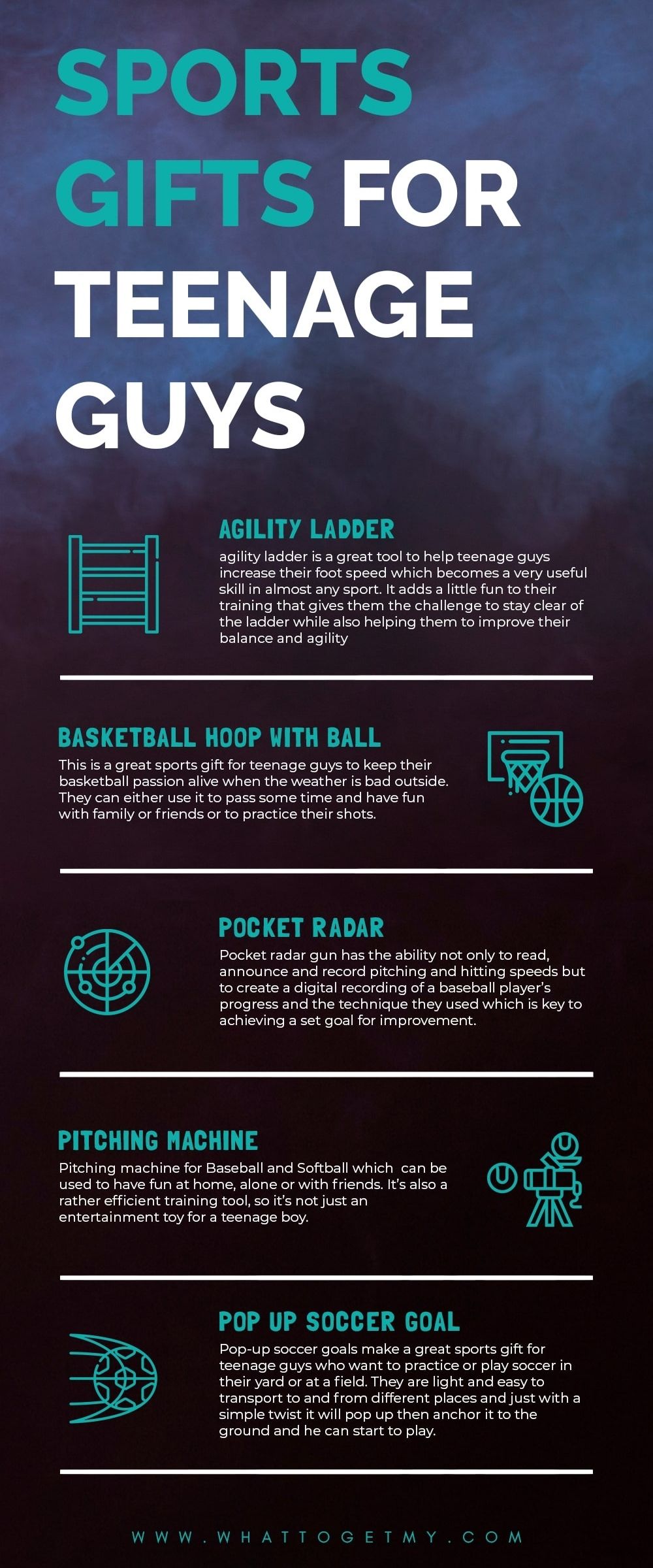 Source Link: https://whattogetmy.com/sports-gifts-for-teenage-guys/
Training Tools And Equipment That Can Be Used For Most Sports
Yes4All Speed Agility Ladder with Carry Bag – Multi Choice: 8, 12, 20 Rung
The Yes4All speed agility ladder is a great tool to help teenage guys increase their foot speed which becomes a very useful skill in almost any sport. It adds a little fun to their training that gives them the challenge to stay clear of the ladder while also helping them to improve their balance and agility.
The majority of customers that have purchased the Yes4All speed agility ladder find that it is a great addition to any fitness routines. It is one of the most practical fitness gifts for athletic teenage guys because it is simple and effective, great for all ages and comes with a carrying bag.
For Basketball Players
Basketball is the most popular sport for boys to participate in, and there are certain skills that are required to play the sport well. The five top basketball skills are Dribbling, Passing, Shooting, Rebounding and to be able to play good defense. Sports gifts ideas for teenage guys to help them practice could be a  basketball that lights up to practice at night or an indoor hoop so that they can practice when the weather is bad outside. Good gifts for athletic guys in this category include a glowing basketball or an indoor basketball hoop.
GlowCity Light Up Basketball-Uses Two High Bright LED's
This unique full-sized light up basketball makes a great sports gift for teenage guys because they will not be limited to daylight practicing or game playing with their friends. Even if he is on his own, he will still be able to put in extra practice time as he will be able to see where the ball goes from a distance.It is also so much fun and very exciting to watch the orange glowing ball fly through the sky towards the almost impossible to see basketball hoop.
Many customers that have bought the GlowCity Light Up Basketball loved it as it is so much fun playing basketball in the dark. They have admitted to getting more exercises than usual because they can play or practice longer. This lighting basketball is one of the most unique and practical sports presents for boys who are into basketball.
This is a creative sports gift for teenage guys to keep their basketball passion alive when the weather is bad outside. They can either use it to pass some time and have fun with family or friends or to practice their shots. This mini basketball hoop is a good quality product that is easy to set up, it is sturdy and will last for a long time.
Those customers that have already purchased the SKLZ Pro Mini Basketball Hoop W/ Ball. 23″x16″ Shatter Resistant have found it to be an excellent indoor hoop that is of good quality but they do recommend using a foam ball to keep the noise level down.
For Baseball Players
Baseball is another popular sport for boys but the specific skills of hitting, throwing and catching the baseball require a significant amount of practice to acquire. To help them improve is to give them a gift that will help measure their hit and pitch speed.
Pocket Radar Smart Coach/Bluetooth App Enabled Radar Gun Allows Remote Display and Speed in Video
This pocket radar smart coach radar gun has the ability not only to read, announce and record pitching and hitting speeds but to create a digital recording of a baseball player's progress and the technique they used which is key to achieving a set goal for improvement. Your teenage guy can pair the radar to his mobile phone, set it on the continuous mode and then concentrate on his pitching or hitting skills.
Join the many satisfied customers that have purchased The Smart Coach Radar as they are impressed with how easy it is to use, the accuracy and the many added features it has which helps them to track and improve their performances.
For American Football Players
Although many teenage guys and their parents are turning away from the sport as they believe it to be too much of a dangerous contact sport. There are those that have the right skills, coach and equipment to keep on doing it.
Skills required for the American football are agility, the ability to change direction, balance for difficult catches, tackles and to blast a block or sustain a blow, which all require a lot of practice.
JUGS Lite-Flite Machine for Baseball and Softball
This JUGS Lite-Flite Machine is one of the most fun gifts for you football players. You can use it to have fun at home, alone or with friends. It's also a rather efficient training tool, so it's not just an entertainment toy for a teenage boy. Actually, the machine is suitable for everyone older than 8 years. Great, right? It makes an excellent gift for an entire sports family.
The machine is lightweight, portable, and easy to use. Still, the compact design doesn't come at the expense of power. JUGS offers excellent range and throwing speed, and it ensures reliable performance.
The JUGS machine is one of the best gifts for boys who love sports and needs to practice more. It's a powerful device that will help him develop some serious skills and also have lots of fun!
For Soccer Players
Soccer is the fastest growing sport for teenagers because it is easy to play and can be played as a pastime in a park with others. Soccer is a sport that has become popular worldwide and played on an international stage. The skills that are required to play soccer are power, speed, and agility and having a great footwork technique.
GOLME PRO Pop Up Soccer Goal – Two Portable Soccer Nets with Carry Bag – Sizes 2.5', 4' and 6'
These pop-up soccer goals make a cool sports gift for teenage guys who want to practice or play soccer in their yard or at a field. They are light and easy to transport to and from different places and just with a simple twist it will pop up then anchor it to the ground and he can start to play. Once done twist again and it will collapse for easy storage.
Majority of customers that have purchased this GOLME PRO Pop Up Soccer Goals find that they are great portable goals for your backyard to practice with. The quality of the goals seems to be very high and when the goals are staked in, they do not seem as if they are going anywhere.
Frequently asked questions
How do you reduce the risk of picking a useless sport gift for teenage guys?
You will have to do some research before you buy a sport related gift to avoid buying an outdated gift or a gift that won't help improve their performance. If you are close to the teenager, you can ask them questions about what they like or look for in their equipment. However if you can't talk to them, then you can search for information online or ask their coaches, parents etc.
Conclusion
Finding gifts for a sports fanatic does not have to be difficult because you know that if they take their sport seriously like most of them do, then they will already have all the basics to play the sport. The only other thing that they are truly interested in is to improve their skills which you can help them with by giving them training equipment or tools to use in their spare time or offseason. Also remember that for them to be successful in any type of sport, they also need to have a positive attitude and have the right mindset.
Get This and So Many More Free Gifts on Our New Marketplace, Spark Resort!
ESTIMATED TIME DESIGNING AND UPLOADING THIS ARTICLE
ESTIMATED TIME RESEARCHING AND WRITING THIS ARTICLE
Try our AMAZING GIFT FINDER TOOL! Find GIFTS with 1 CLICK!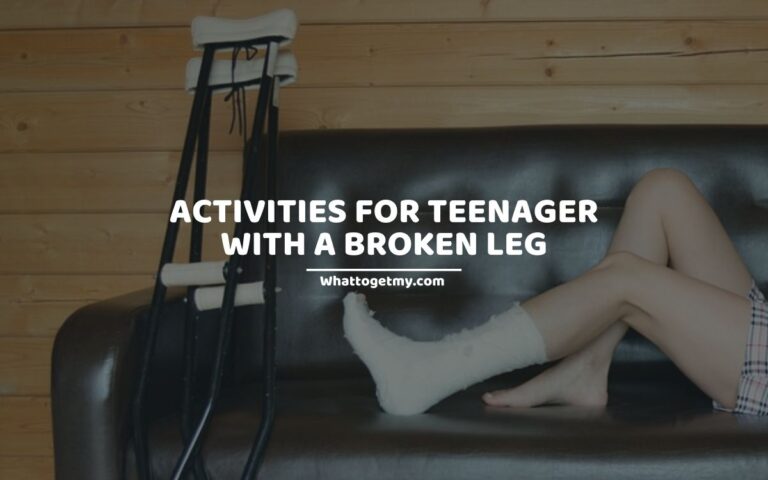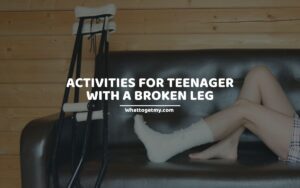 11 Activities for Teenager with a Broken Leg
11 Activities for Teenager with a Broken Leg WhatToGetMy Instructional Article A study conducted in 2010 by the Center for Disease Control (CDC) showed that bone fractures accumulated the majority of Emergency Room visits with the numbers ranging between 3.5 to 4.4 million (the data
Read More »