Teenage tomboys are all different and have different interests and hobbies that define their personality, knowing these interests and hobbies can make the task of finding a gift for them a little bit easier
This article has tried to take into account the different hobbies and interests that are common amongst the average teenage tomboys, however, this is not a representation of all tomboys.
Enjoy the selected 11 gifts for teenage tomboys listed below:
Teenage tomboy girls often feel left out when it comes to getting gifts because not many people know what to get them that isn't stereotypically for girls or for boys. This article will give you gift ideas for tomboys that aren't gender-specific and that they will enjoy playing with, wearing, or getting creative with. As a rule of thumb, always remember to know people's interests and hobbies before you proceed to buy them gifts – because when you know what a person likes and dislikes, it is going to be easier for you to narrow down which gifts they would enjoy and appreciate more.
As an Amazon Associate we earn from qualifying purchases. We may earn a small commission for our endorsement, recommendation, testimonial and/or link to any products or services from this website. Thank you, your qualifying purchases help support our work in bringing you real daily gift ideas.
Quick Overview: Gifts for Teenage Tomboys
Great Gift Ideas for Tomboys
1.

SWEATSUIT
A sweatsuit is the best of both worlds when it comes to buying tomboy stuff because you get both sweatpants and a hoodie for the price (and style) of one! Sweatsuits are big and comfortable – which often makes them comfort-clothes for tomboy girls because they do not accentuate any features of their changing albeit growing body.
Product Summary: This tracksuit comes in 8 different (solid) colors to choose from. It has a long-sleeved hoodie and matching sweatpants made of polyester and spandex.
2.

SMARTWATCH
Let's face it, who doesn't like a smart anything these days? A smartwatch is one of the best gifts you can give a teenage tomboy who is also interested in fitness and is overall active as it helps them keep track of their fitness activities.
Pros.
It has a long-lasting power battery (up to 7 hours per 24-hour charge)

It has an adjustable band that is soft and flexible which makes it easy to use 

It is lightweight and waterproof 

It is long-lasting and durable
Cons.
You may experience some difficulties connecting some of the software to your phone especially if your phone doesn't support said software

Some customers received their watches broken due to poor packaging and delivery
Product Summary: This smartwatch is a touch screen with HD resolution. It can read your health data, monitor your heart rate, blood oxygen, and stress status data among other things. It requires you to download an app that keeps track of all your data thus making it easy to keep track of things such as the exercises you are doing and how much sleep you are getting.
3.

CONVERSE SHOES
Another great present for tomboys is converse shoes. Typically, most tomboys do not like or care for high heel shoes or open-toe sandals. Your best bet in getting them a shoe they will love and wear often is getting them flat closed shoes that are multifunctional – for walking, running, and the occasional skating (if they are into that sort of thing). It is a shoe that helps keep them active while staying comfortable.
Pros.
They are comfortable walking in

They are long-lasting and durable

They are made from great quality material

They are beautiful and stylish
Cons.
The shoes run a size smaller so be sure to go up a size when making a purchase

They may be uncomfortable for someone with wider feet

Some of the colors aren't as described which may be misleading
Product Summary: These converse shoes come in 9 different colors to choose from. They have both a synthetic and rubber sole which makes them comfortable to walk in.
4.

BEANIE HAT
Fourth on our list of gifts for young tomboys is the beanie hat – on a good day, a tomboy will want to manipulate their hair as minimally as possible and that's where the hat comes in because they can only detangle and/or brush the hair that is showing and hide the unkempt roots in the hat – and no one will be the wiser because beanie hats also serve as a fierce and daring fashion statement.
Product Summary: This beanie comes in 20 different colors to choose from. It is unisex and easily adjustable to fit one's comfort.
5.

GOPRO CAMERA
This is a good gift for tomboys who like outdoor extreme sports activities such as dirt bike riding, hiking, surfing, bungee jumping, and skydiving. The camera, which can be strapped to their body gear can take great videos in HD from the first person point of view.
Product Summary: This GoPro camera is perfect for both day and nighttime shooting with either still or motion pictures. It even lets you playback your videos and pictures at a pace that you are comfortable with. Additionally, it lets you save or delete pictures in the camera before transferring them to a third party.
6.

SKATEBOARD
A classic gift for a classic tomboy – the skateboard. Every tomboy, at a point in their life, will go through a skating phase and when this happens, getting them a skateboard of their own will be the best thing you can do for them. You may even go as far as getting it customized with their name or the name of a band that they like. Trust us, it will make them smile.
Product Summary: This WhiteFang skateboard comes in 6 different colors and styles to choose from. It comes fully assembled so you do not have to put it together yourself, and it holds up to 130 lbs of weight on it.
7.

LASER TAG
Everyone enjoys laser tags but none like the teenage tomboy who is also into playing video games. Laser tags are the thing they use to simulate all the crazy cool moves they saw and did in the various video games that they play.
Pros.
It is easy and fun to play with

It is high quality

It is safe to play with children (always remember to supervise your children as they play)

They are lightweight
Cons.
You need to buy AAA batteries for the vests and guns to work for a total of 24 AAA batteries 

Sensors don't work when the batteries run out
Product Summary: This laser tag set is great for kids and teens to play with their friends at home. It comes with 4 guns and 4 vests and has invisibility mode, night mode, flashlight, and voice-guided instructions.
8.

NINTENDO SWITCH
A great gift for a teenage tomboy who is into video games, the Nintendo switch. It is portable which means they can play high-quality video games whenever and wherever.
Product Summary: This console has 3 play styles; it can be played through the TV, Tabletop, or handheld. It has a battery life of up to 9 hours of uninterrupted play and can connect to multiple players through wifi which makes it an interactive console. 
Gifts for a Tomboy Girlfriend
9.

DRONE
If you are dating a tomboy and looking for gift ideas for a tomboy girlfriend, the drone is a great idea because not only do drones provide the perfect aerial view pictures, they also are great for perfecting motor skills.
Product Summary: This drone is user-friendly, safe to use, steady and trackable, and has gravity control.
10.

LED STRIP LIGHTS
Another good gift for your tomboy's girlfriend is the LED strip lights. They are fun and stylish and have different colors which can be switched that have hidden codes (thanks to TikTok) depending on the colors that are dominant at any given point. They are a fun way to bring ambiance to your significant other's bedroom without doing too much to it.
Pros.
They are unique with their microphone function

They are high quality

They are long and can be easily installed

They come with a remote for easy control
Cons.
They may be considered too bright for some people, even at their lowest settings

They are not durable

They may cause fuse problems with your socket
Product Summary: These LED strips range from 20ft to 82 ft in length. They have multiple modes to control the color and intensity of the lighting. They also have a microphone function that detects voices and pulsates along to the rise and fall of the pitch – this is a great function for playing music videos.
11.

HEADPHONES
Every teenager loves their music and they love it loud – what better way to give them the gift of music than through a noise-canceling set of headphones?
Disclaimer: Listening to loud music in headphones for too long can cause damage to a person's hearing.
Pros.
It has a touch sensor that controls the volume, activates your assistant, and skips tracks

It charges very quickly and has a 30-hour battery life

It automatically reduces the volume when in conversation

It is comfortable to wear for long periods of time
Cons.
It makes noises when it is windy

The swipe controls can be glitchy
Product Summary: These Sony wireless headphones have dual noise-canceling technology.
Frequently Asked Questions
What to get a tomboy for her birthday?
When you are looking for a present to give to a tomboy on her birthday, it is important to assess their likes and dislikes. Teenagers are fickle and they may change their interests very often, however, there is usually a theme that surrounds their interest at any given time – finding out what that theme is can make a huge difference in how you approach gift purchasing for a teenager because if their theme is music, then you can just select gifts that are musically inclined – whether it requires them playing musical instruments or just listening to some good songs that they find interesting at the moment. Remember, every teenager is different and there isn't one gift that can fit all of the teenage tomboys, however, if you are looking for specific gift ideas, then look at our list above and have a pick at a gift you think she may like or find interesting.
Conclusion
In conclusion, getting a gift for the teenage tomboy in your life doesn't have to be such a task when you get to observe them and know their hobbies and interests. Do not treat all tomboys as a monolith or as stereotyped in a lot of media – learn the needs of your teenage tomboy and getting them a gift they will love and appreciate will become an easy task to do.
ESTIMATED TIME DESIGNING AND UPLOADING THIS ARTICLE
ESTIMATED TIME RESEARCHING AND WRITING THIS ARTICLE
Try our AMAZING GIFT FINDER TOOL! Find GIFTS with 1 CLICK!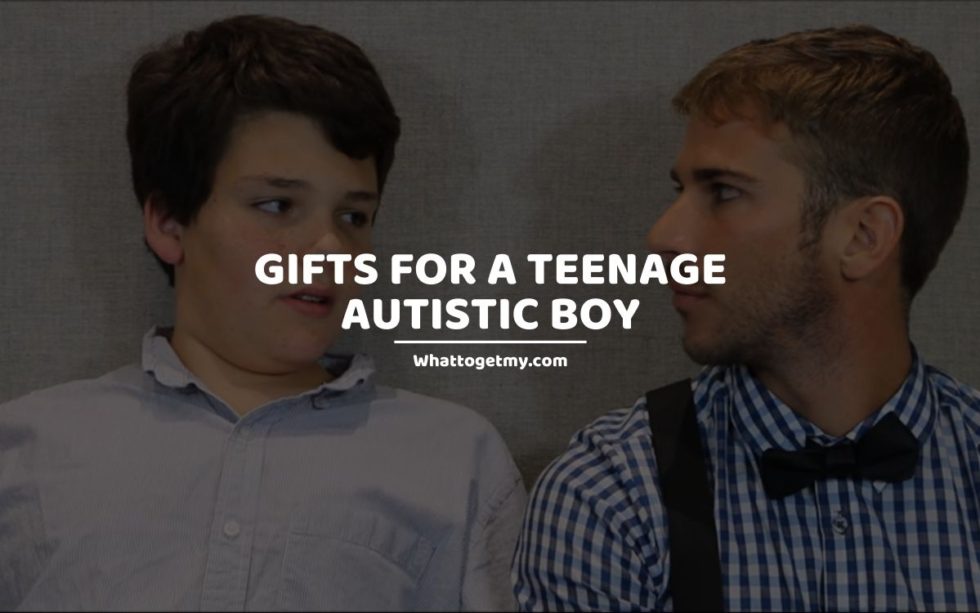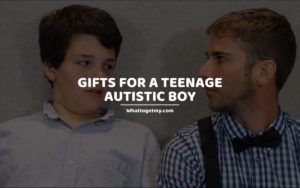 Gifts For a Teenage Autistic Boy
Buying presents for any teenager is tough! With an autism diagnosis added, you're in a puzzle about what to do. You might want to choose useful gifts for a teenage autistic boy that will make him relax in everyday situations. Stress relief is essential when
Read More »