21 Fun Teenage Birthday Party Ideas In Winter
WhatToGetMy Instructional Article
Winter birthday parties can be as fun as summer birthday parties with the right winter birthday party themes. In this article, we give you 21 Fun Teenage Birthday Party Ideas In Winter including how to go about planning your teen's winter birthday party.
Watch the video version of this article:
Summertime is understandably a preferred time for any birthday party, including a teenage birthday party. But even winter birthday parties can be fun too, with the right winter birthday party themes. This article will help you with fresh, exciting, and fun teenage birthday party ideas in winter, for an unforgettable teenage party that will even forget the concept of a summer teen birthday party.
What To Do For A Teenage Winter Birthday Party – Birthday Party Ideas For Teens In The Winter.
For your teenage winter birthday party, it ultimately boils down to the tastes and preferences of your teen. Whatever their tastes and preferences, given that it is wintertime, keeping warm has to be a top priority because you also don't want them falling sick after the birthday party. And this means that whatever party ideas you have, has to be executed indoors or at least in a space that is confined enough to keep the temperature warm and conducive.
Having the party indoors does not mean it can't be fun and exciting. And to make it fun and exciting, having a winter birthday party theme is always best. These fun winter birthday party themes will be a hit for a teenage winter birthday party.
The beauty of all these themes and what makes them perfect winter birthday party themes is that they can all be done indoors without reducing the fun in any way. Have fun with any of these exciting winter birthday party themes.
1. Slumber Party.
This one is a favorite because which teen does not like their sleepover where they can stay up all night doing all that they love doing. The venue for this themed party will be at your house.
To make it fun for them have fun activities lined up that can include a cooking and baking competition and other teen fun games. Given the theme, the party outfit will be pyjamas and onesies. Everyone will be warm and having fun at the same time and you will not be too far off to keep an eye from a distance if you want. A perfect win-win party for everyone.
2. Scavenger Hunt Party.
This theme will revolve around the loved scavenger hunt game. You can make it more mature for them by incorporating the use of smartphones in trying to find the clues and win.
3. Anime Party.
Most teens love anime. With this theme, you decorate the party venue with their favorite anime characters and even the cake will be shaped like an anime character. The party costumes will also be anime-themed. A teen that loves anime very much will love this winter birthday party theme.
4. Birthstone Party.
A birthday party themed along the color of the birthstone of their birth month. This is especially a great birthday party idea for a teenage girl in winter. You can buy her a stunning birthstone necklace to wear with her birthday costume/outfit. The rest of her friends will then wear costumes with colors of her birthstone.
5. Game Show Party.
Make it a game night, but not just any game night but one themed along popular game shows such as 25 Words or Less,  American Ninja Warrior, and Beat Shazam. To make it more relatable and fun for them, the game shows should be game shows they love and enjoy. It will also make it exciting to try as much as possible to recreate the game show set-up such as having a hot seat if the game show normally has one, and labeled cards.
6. Spa and Manicure Party.
This is another great birthday party idea for a teenage girl in winter. It is one that she will also love. Have a complete spa and manicure arrangement set up either at home or at their party venue. Don't forget to have slices of cucumber to complete the spa treatment feeling. And then of course towels and bathrobes and other spa essentials.
Or if you prefer you can book them for a spa and manicure treatment (although it may not have the same fun effect as doing it themselves), and then give out manicure sets as party keepsakes.
7. Winter Wonderland Party.
This is the perfect theme for a winter birthday party that happens to fall during the Christmas festive season. With this theme, your imagination is your only limitation. Your teen can create their winter wonderland and you recreate that wonderland in their party. And if you are looking for winter wonderland party decorations, Amazon has a good selection that you can check out here.
8. Treasure Hunt Party.
Have a massive treasure hunt with exciting prizes to be won and a lot of entertainment and refreshments for an exciting treasure hunt themed party.
9. Halloween Party.
You don't have to wait for Halloween to bring the scare on at a party. Halloween is a favorite theme because you can play around with it however you want, from Halloween costumes to a Halloween-themed menu and Halloween-themed games. It will be a fun winter birthday party for sure.
10. Holiday Party.
This one is themed along your teen's favorite holiday of the year. If Christmas is their favorite time of the year, for example, you can have reindeer and 12-days of Christmas mementos as decorations and the likes. This theme allows them to relive their favorite holiday on their birthday, which is a cool way of killing two birds with one stone.
11. Disney/Nickelodeon Party.
Almost every teen loves Disney, and if they don't, they will certainly love Nickelodeon. With this theme, they get to dress up as their favorite Disney or Nickelodeon character. If it is a Nickelodeon show, they can choose which parts of the show are their favorites that they would like to recreate at their birthday party.
12. Around the World Party.
This is an international birthday party idea/theme that is basically you choosing your favorite international culture outside of the U.S and having the birthday themed along with as many aspects of that international culture as possible. It's a fun way to bring diversity to a teen winter birthday party.
13. Camping Party.
The difference between this theme and the slumber party is that this one is in the form of actual camping with camping activities and experiences. It will need the usual camp equipment like camp tents and outdoor grilling equipment. You can have this party in your backyard or any open space in your compound that is big enough to accommodate a camping set-up.
14. Candy Party.
Like the name says, this is a party with an assortment of candies, candies, and more candies. Even the outfits can be made in the shape of candies. This is the perfect teenage birthday party theme idea for the teen with a serious sweet tooth.
15. Music Star Party.
Teens have their favorite music star(s), and with this party theme, they get to be their music star and have mementos of their music star around them at their party. All their friends also dress up like this music star and they play their favorite jams from the musician. You can also build games around that music star and their life and music to see how much they know about their favorite music star.
16. Pirate Party.
We all love pirates. Why not recreate pirate vibes in your winter teenage birthday party with this cool eccentric theme.
17. Charity Party.
If you are looking to encourage your teens in engaging in generosity activities like giving and/or donating to charities, this is a good teenage birthday party theme idea. The idea of this theme is to raise funds that will eventually be donated to a charity of their choosing. You can have drawings and hangings of the charity and the causes they stand for at the party.
18. Bonfire Party.
Bonfire themed parties are a hit for any winter birthday party. You can recreate a bonfire indoors in your garden and have roasted marshmallows and s'mores and cool bonfire games and activities to make for a fun and enjoyable winter birthday party.
19. Karaoke Party.
Another exciting theme where they get to sing all their favorite hit songs and singles. Have a good karaoke set with their favorite songs and let the fun begin. The sound of some of the worst singers will make this a fun party for everyone.
20. Runway Ramp Party.
This is another cool birthday party idea for a teenage girl in winter that will be perfect for the fashionista teenage girl that loves modeling and runways. Find out what her fashion theme would be and then set up a runway-like stage and have her and her friends model their outfits along the chosen theme.
21. Beach Party.
Don't worry, you don't need to go to the beach to have a beach party. You can still have a beach party indoors by having a beach-theme to your party with beach-themed decor and food items and game activities.
How To Plan A Teenage Birthday Party In The Winter.
These are the 5 top things to think of in planning your teen's winter birthday party.
1. Venue.
You will need to find suitable winter birthday party places that will provide warmth and still have room to enjoy the party.
Your home will obviously be top of the list of possible venues. Other possible winter birthday party places in case you wanted to give them a different feel, are:
An indoor or outdoor ice skating rink;

An arcade;

A bowling alley;

A restaurant; or

A recreational hall.
Another important thing to remember when it comes to the venue is setting it up and decorating it. These will be informed by the party theme chosen.
Related article: How To Throw A Teenage House Party.
2. Fun Activities.
The right mix of fun party activities is what will make the difference in whether the party will be fun and enjoyable. These are a few fun party activity ideas that you can incorporate into the party:
This one is a simple but fun game that involves nothing else but hula hoops and trying to make the most hoops before the hula hoop drops. It will be a favorite, especially at a teenage girl's birthday party.
This is a fun game that involves lots of skittles, straws, and disposable cups. The game aims to try and pick as many skittles as possible with the straw and transport them to the disposable cups without dropping them, within a very short allocated time.
This is another fun game that will test their resilience. The goal is to pick up papers from the floor with their mouth and without touching the ground with their hands. They are then to carry the paper once they've picked it, without dropping it, to the end of the room. Their hands remain tied up throughout.
This is a great game especially if the theme of the party is the Music Star theme. It entails writing out popular words from their popular songs on different cards. The group is divided into two or three or however many. When a team draws a card, they must sing as many songs as they can remember that have that word. They are to do so within a 30-sec time frame. Any team that is unable to sing any songs or has the least amount of songs loses. It is a fun and engaging teenage birthday party game.
This game will need 36 disposable cups and should build a pyramid that is stable and doesn't fall over. The base of the pyramid has to be built with only 8 disposable cups and then from there, each next step must be one disposable cup short until they are down to one cup in the stack. The goal is to see who builds their pyramid the fastest within a very short time. The pyramid must not fall apart for a team to win.
This one is funny because it is a slight twist to the usual hide and seek. One person hides, and the rest of the team has to spread out to find them. When each member of the team finds that one person, they have to join them in hiding until there is only one person left who has to find the rest of the team for the game to be over. If they are unable to find the rest of the team, they lose. It's fun and exciting, especially where the party venue may be a recreational park or wide garden.
Be sure to also read our related article on How To Make A Teenage Party Fun for more fun and exciting ideas to make the teenage birthday party fun.
3. Entertainment.
Entertainment is also another important consideration for any teenage birthday party. The following entertainment components should be top of the list:
Do you want to have full meals or just finger foods? Finger foods and snacks however work best for a teenage birthday party. They are a lot easier to manage in terms of logistics and are also more affordable.
What kind of drinks do you want to have? Would you want to have alcoholic or non-alcoholic drinks at your teen's birthday party or just hot drinks because it is winter?
You may be surprised at the suggestion of alcohol at a teen's birthday party, especially since the legal age for taking alcohol is 21. But it would seem that about 70% of parents in America are okay with their underage teenagers having alcohol at their teen's party, at least according to a 2012 finding by the National Center for Biotechnology Information.
Teen Parties: Who Has Parties, What Predicts Whether There is Alcohol and Who Supplies the Alcohol? (U.S., 2012). Source: NCBI​
While this is not advisable, it is probably best that you are aware of the alcohol content of the party especially if you are not going to be around to supervise it. You can almost be sure that in your absence they may experiment with some alcohol.
And if you want no alcohol, our article on How to throw a teenage party without alcohol will be a very useful read, as it provides all the answers you need on how to achieve a teenage party without alcohol.
Good music is another important feature of any birthday party. Exciting music sets the tone and vibe for the rest of the party. And if you are not sure what genre of music will be best, we are here to provide the answer based on surveys done amongst teens in America. A 2012 survey and 2018 survey were pretty consistent in the fact that Pop music and Hip-hop are the favorite music genres of teenagers in America.
Favorite music genres among consumers in the United States as of July 2018, by age group. Source: Music Biz​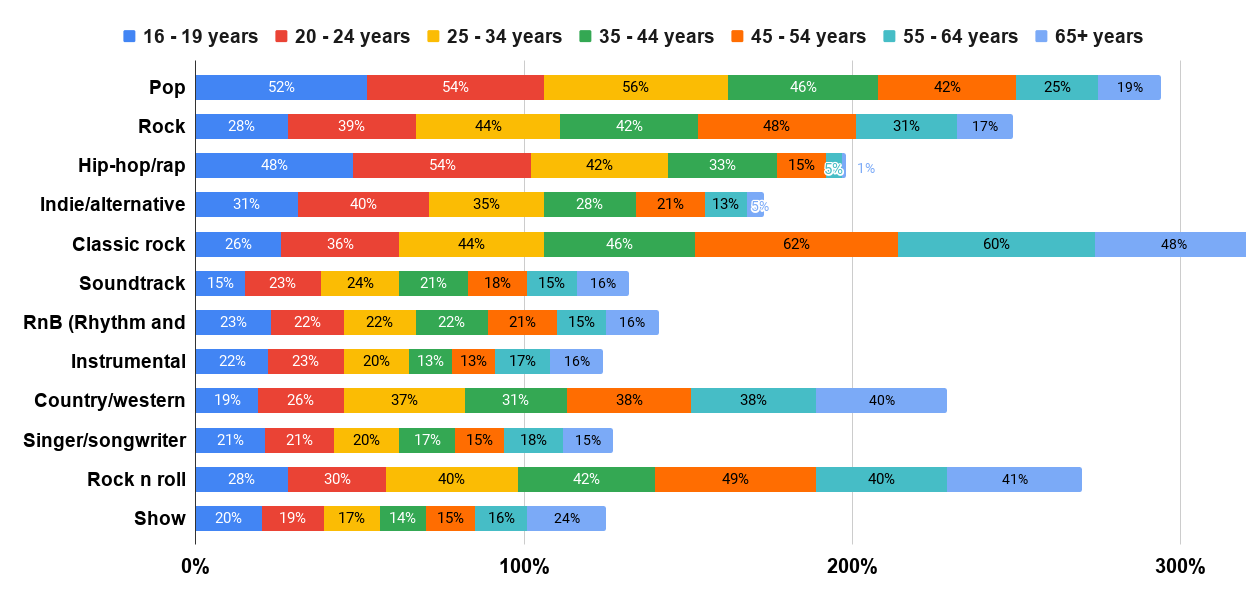 And if all else fails, you can just ask your teenage son/daughter what their favorite songs are and which ones they'll like at their party.
4. Do you want to supervise or let them have fun with no adult supervision?
It is probably best to supervise them from a distance, especially if you're a little worried about them being on their best behavior at the party. Your presence will serve as the needed deterrent.
5. Finally, plan the party with your teen so that it is tailored to suit their taste.
Run your selected list of themes by them and find out which ones they would love or prefer. Also, find out what type of music and food and games they will enjoy at the party. It is best to have a party that reflects their interests and hobbies, because only then will it be fun and enjoyable for them.
Frequently Asked Questions.
What should I do for my 13th birthday party in the winter?
You can have a birthday with a winter birthday party theme. This article helps with fun 21 winter birthday party ideas that would make your 13th birthday party in the winter fun and enjoyable.
What are some good ideas for a teenage birthday party?
The ideas in this article are all good ideas for a teenage birthday party. If the party is in the summer, you can tailor the ideas here to suit a summer set-up. So, for instance, if you decide to go for a Beach Party theme, you can have the party at an actual beach rather than indoors.
What do 13 year olds do for their birthday?
A 13 year old can still do all the ideas in this article for their birthday.
What do 15 year olds do for their birthday?
A 15 year old can equally use the birthday ideas in this article for their birthday.
What are good teenage party ideas at home?
All 21 teenage birthday party ideas in this article can be done at home.
How about winter birthday ideas for 14 year olds?
The winter birthday ideas in this article can also be used by a 14 year old.
Where are some places a 14 year old can have a birthday party?
You can make use of any of the winter birthday party places listed in this article for a 14 year old's birthday party.
Conclusion.
Having your teenager's birthday party in the winter does not have to be boring at all. With all the 21 fun winter birthday party ideas in this article, you are sure to have a fun and exciting teenage winter birthday party. Don't forget to follow the 5 helpful tips also listed for a fun and eventful birthday party.
ESTIMATED TIME DESIGNING AND UPLOADING THIS ARTICLE
ESTIMATED TIME RESEARCHING AND WRITING THIS ARTICLE