You probably know that photography is an expensive hobby. Keep that in mind when you're browsing gifts for teenage photographers. A young photographer can't afford to get all the equipment at once. You should get him/her something useful that you know he/she doesn't have. It's even better if you pool your money with others, so you can buy one high-quality piece of equipment or accessory. That will encourage him/her to pursue this wonderful hobby and maybe go professional.
We've made a list of much-needed gifts. You can find budget-friendly gifts as well as expensive ones, so you'll have a lot of options to choose from. Keep in mind that every gift would be greatly appreciated because your loved one just started with photography and he/she could use any help you can provide.
Helpful tips when you go shopping for gifts related to photography:
Most photographers have the basic equipment, so try to buy something a young photographer might not have. For example, a useful accessory will always be welcomed.

If the photographer's gear is a bit worn-out, your gift can surely be a new high-quality piece of equipment.
As an Amazon Associate we earn from qualifying purchases. We may earn a small commission for our endorsement, recommendation, testimonial and/or link to any products or services from this website. Thank you, your qualifying purchases help support our work in bringing you real daily gift ideas.
Quick Overview: Gifts for Teenage Photographers
Source Link: https://whattogetmy.com/gifts-for-teenage-photographers/
Qipi Camera Bag
A durable and sturdy backpack that's specially made for securing the camera, lenses, and other gear is one of the best gifts for a young photographer. If he/she just started to be interested in photography, a quality bag is probably needed a lot.
The Qipi's camera bag is designed to fit photographers' needs. It can hold a digital single-lens reflex camera or a mirrorless camera with a standard lens. You can, of course, pack extra lenses and flash units because the backpack is very spacious. Best think about it? It's super comfortable to carry! The shoulder straps are padded with soft materials that allow you to carry heavy equipment everywhere you go.
This camera bag is a great gift for photography enthusiasts. It will allow them to safely take equipment anywhere! It even has a waterproof rain cover included, so their equipment can be safe in any weather conditions
Samsung Galaxy Tablet
Tablet is a nice piece of technology that allows photographers to store and edit the pictures. A young photographer can even use the tablet to practice getting shots "on the move". The photos might not be of the best quality but the tablet is very convenient and easy to carry. It's handy for occasional pictures but its primary purpose is photo editing.
In addition, a teen can use the tablet for various other things such as reading e-books, browsing the internet, playing games, etc. The quality-price ratio of Samsung's products is very satisfying, so you can be sure that you're getting a highly functional device for any purpose.
Store and edit photos on this Samsung Galaxy Tablet. It comes with a Micro SD Card which means you'll have a lot of memory space for various apps as well as photos. It's a needed accessory for anyone interested in taking and editing photos.
Neewer LED Video Light with Adjustable Tripod
Encourage the young photographer to experiment with the light effects on photos by getting him/her this amazing gift. Neewer LED light comes with an adjustable mini tripod for the real professional photo sessions. You'll also get a white, red, blue and yellow filter with it.
The small LED light is 180 degrees adjustable. The brightness can also be controlled. With various shooting angles, different degrees of brightness, and 4 kinds of filters, you can make various lighting experiments with photos.
These lights can be connected with a USB plug, so you can use them anywhere. They will provide perfect lighting and a lot of shooting choices. Overall, this is one of the best gifts for people who like photography and like to experiment when taking photos.
SanDisk Memory Card
For photographers, there are never enough photos, so of course, they always lack storage space. A young person that just started developing interest in photography would love the option to do a back-up of his/her photos. SanDisk's memory cards are a perfect way to do that.
SanDisk brand is known to provide great value for the price of their products. The only choice you need to make is about the size. If you think that 128GB of storage space is a lot, choose a more fitting card. Consult with the person you're buying a gift for, he/she will surely appreciate your asking.
SD memory cards might seem out-of-date, but they are very reliable and can't be easily damaged. For a great price, you'll get a high-quality storage room that any photographer would greatly appreciate.
Fujifilm Instax Mini 9 Instant Camera
Instant cameras are not just photography gifts for kids. Teenagers and young adults will also love them! They can use an instant camera to practice their photography skills and have fun while learning. Fujifilm Instax mini camera is very convenient to use, even for selfies.
Fuji film cameras have a close-up lens and additional modes for altering the brightness of the photos. You can adjust the settings and pick a feature that is suitable for your environment. Take indoor pictures or nature landscapes with perfect ease. Instant printing of the photos allows you to check the quality of your work right away! It's also fun to use at parties because you can instantly share pictures with others and pass them around.
Practice capturing landscapes and unique moments with an amazing Fujifilm camera. If you don't know what to buy a photographer, check out this cute camera! He/she can capture incredible memories in a breeze with this incredible accessory.
Regetek Travel Camera Tripod
A list of gifts for a young photographer should include a high-quality tripod. Regetek offers a very flexible one with 360 degrees rotation and a 180 degrees tilt angle. It has a load capacity of 8.8 lbs. Due to the compatibility with all DSLRs, digital and mirrorless cameras, you can be sure it would fit any device your loved one has. It even has an adapter for mobile phones! Adjust it as you like to enable the "perfect shot".
The camera is easy to install on a mounting bracket which guarantees stability. Aluminum legs have rubber feet to prevent shaking. After you finish with the photo session, you can simply fold the tripod and put it in a bag.
An adjustable tripod is crucial for a perfect portrait or a landscape. You can't go wrong with this gift even if you don't know the specifics of the equipment your loved one is using. It's compatible with the most video cameras, digital cameras, projectors, smartphones, etc.
Canon SELPHY CP1300 Wireless Compact Photo Printer
A wireless photo printer is a great gift for a teenage nephew, niece, cousin or child interested in photography. Every young photographer would like to develop his/her own photos with just one click. Canon printers can make high-quality photos that are water-resistant. The photos will keep the quality throughout the years, similar to the one developed by professionals.
The printer is very simple to use. You just need to connect it with your phone or tablet and install the app for printing. You can also print directly from USB or a camera's memory card. The printer even has a small LCD screen that allows you to preview and edit photos before printing. It's perfect for beginner photographers.
Stylish and compact design allows you to carry this portable printer around. With an optional battery, you'll have the ability to share your memories anywhere you go. You can even make a photo booth at the next party you attend and share this fun device with others!
Pro Hand Grip Strap for Mirrorless Camera
You know how enthusiastic young photographers can be. They spend entire days walking around and trying to catch perfect shots. A day like that would be much more enjoyable if they wouldn't worry about their camera's safety. This strap is specially designed for securing a mirrorless camera.
Fotasy's strap is adjustable, so it can fit any hand size. It's very comfortable because it's padded with a cushion with air holes. It's breathable and supportive, so you can use it for hours and not feel hand fatigue.
Forget about the possibility of a camera slipping out of your hand. Protect your wrist and your camera with this strap and enjoy your photo shooting in peace.
Digital Photography Complete Course
A book about digital photography is a perfect gift for a beginner. It will teach him/her the basics and encourage him/her to experiment more with the new hobby. The book has everything: from advice about holding the camera properly to stunning photos that can stir up the imagination. Filled with incredible detail, it really is a must-have book for someone interested in photography.
This step-by-step course will guide you through every aspect of digital photography. This book is full of great advice and beautiful images that could help you master the basics in just a couple of months.
Conclusion
We hope that our list of useful gifts for teenage photographers has made your shopping easier. There are a lot of options out there, so you need to think carefully about the present. Observe the person you're shopping for and you'll definitely notice what piece of equipment or accessory he/she needs. Remember that the best gift is the one that can fill the needs of the receiver. A useful gift doesn't have to be a surprise. Just go ahead and ask your loved one what he/she wants. Someone that just started an expensive hobby such as photography will be thrilled if you do that!
Getting someone a gift that fits his/her hobby is the perfect way to show your love and care. It says that you've noticed his special interest and it even encourages him/her to be more creative with their hobby. If you're having trouble finding a gift for a teenager, try learning more about his/her interests and hobbies and choose your gift in accordance with that.
ESTIMATED TIME DESIGNING AND UPLOADING THIS ARTICLE
ESTIMATED TIME RESEARCHING AND WRITING THIS ARTICLE
Try our AMAZING GIFT FINDER TOOL! Find GIFTS with 1 CLICK!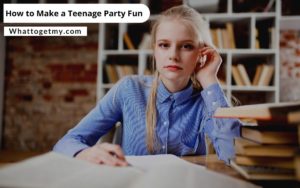 How to Make a Teenage Party Fun
1 Amazing Way to How to Make a Teenage Party Fun WhatToGetMy Instructional Article To make a teenage party fun will depend on a couple of important things. It will depend on the theme that you choose, the decorations, the music. And, of course, the
Read More »