Buying presents for any teenager is tough! With an autism diagnosis added, you're in a puzzle about what to do. You might want to choose useful gifts for a teenage autistic boy that will make him relax in everyday situations. Stress relief is essential when you're trying to help an autistic child. You can calm them and make their life a bit easier. We tried to find the gifts for that purpose, so make sure to keep scrolling.
First, we'd like to note a few things about this topic:
Although autistic children communicate differently and enjoy odd things, they are still children! When you're choosing

gifts for autistic teenagers

, you'll need to browse through the usual 

teenage interests and hobbies

, teenage trends, latest movies, and video games.

Keep in mind that you're shopping for someone you know quite well, so be sure to personalize your gift. Pick the gift from our list that can suit your teenager best.

Always ask the teenager what he wants. You need to validate his opinion, his likes, dislikes, and wishes.
As an Amazon Associate we earn from qualifying purchases. We may earn a small commission for our endorsement, recommendation, testimonial and/or link to any products or services from this website. Thank you, your qualifying purchases help support our work in bringing you real daily gift ideas.
Quick Overview: Gifts For a Teenage Autistic Boy
Source Link: https://whattogetmy.com/gifts-for-a-teenage-autistic-boy/
COWIN E7 PRO Active Noise Cancelling Headphones
If your autistic teenager has a tough time with noises, you might need to get a good pair of noise-canceling headphones. Cowin headphones allow you to focus on what you want to hear and ignore the background noises! Enjoy music, movies, and videos in peace. You can also use them in wireless mode, which is perfect for an autistic teenager.
The sound quality is superb and the battery life is amazing (more than 30 hours of playtime per charge)! These Bluetooth headphones are equipped with soft ear cushions that provide durability and comfort. You can wear them all day long if you want!
If you need gifts for teenagers with autism wireless noise-canceling headphones are your thing. A person who has auditory processing disorder or other sound issues struggles with excessive noise in the environment. Cowin headphones offer silence and solitude, so your teenager can find some peace.
Hammock Sky Brazilian
When you're thinking about gifts for a disabled teenager, a hammock comes to mind. It's cozy and comfortable, so it's amazing for relaxation. This hammock is big enough for two people and it's pet-friendly too! High-quality thread ensures safety, so you don't have to worry about your teenager getting hurt.
This hammock is portable. You can easily pack it in a bag and take it anywhere, from the backyard to the camping in the woods. You can even place it indoors, in a sensory room perhaps.
These cotton hammocks are woven with long-lasting thread that provides maximum relaxation. Whether your teen will use it indoors or in the backyard, alone or with a pet on his lap, you can be sure that he'll be calmer in it!
OWAYS Massage Chair 3D Full Back Massager
Relaxation is one of the best gifts for special needs teenagers you can get. A massage is a great way to achieve that. Oways chair's eight massage rollers provide you with back and neck massage on intensity levels according to your needs.
Kneading and tapping functions can work on a specific area like back or legs, but you can also get full body massage simultaneously. You can even control the massage spot with remote control. There's a detachable massage pillow that comes with a chair. Its height and massage intensity can also be adjusted according to your needs.
This easy to control chair is perfect for relaxing. It gives you comfort and helps you get away from everyday stress. If your autistic teenager has a problem with anxiety, you should definitely get him this chair.
ArtCreativity Classic Pin Art Game Set
To boost your teenager's creativity get him this pin art set. He can spend hours arranging pins and you can join him because the set contains two pin boards. It's a toy that encourages creative thinking. There are so many 3D designs he can create with the metal pins, so you can be sure he'll be occupied for an extended period. After he's created a stunning design, you can put it on display in the living room. The frame is made of plastic, but it's durable and the metal pins won't rust or bend.
One of the classic stress relief activities is making art. Encourage your autistic teenager to express himself with ArtCreativity's pin art game set. He can make designs on his own that you can later put on display in your home! If he enjoys sensory items, he'll definitely love this art set.
Quility Premium Adult Weighted Blanket & Removable Cover
A weighted blanket may help the people who have sensory issues or anxiety sleep an entire night. The unique structure of the cotton layer and polyester padding provides optimal temperature control. The blanket set has a removable cover which is soft and ultra-comfortable! You can unzip it to be cool in the summer and equip it again in the winter. A nice quality blanket is like a warm hug!
Quility's heavy blanket provides comfort and warmth so you can get a good night's sleep. If your teenager has trouble falling asleep, then pick a color and size because this is your gift. Try it out and you won't regret it.
JA-RU Stretchy Carrot Sensory Toys
You won't find better stress relief gifts for autistic young adults than squishy toys. Ja-Ru's stretchy carrot toys are so soft but still durable. They won't tear, no matter what you do. You can even wash them with water and they won't get damaged. Stretch, squeeze, and use them in any way to cope with anxiety and stress.
Squishy stress relief carrot can stimulate your hand movement and help you relax. Stretch them however you like and just pat them to restore original form. It's simple, easy and fun.
LEGO Architecture Chicago
Lego is timeless and ageless! Getting lost in building lego items helps people calm down and relax. This detailed model of the Chicago skyline might be a needed challenge for a teenager. You can also be there to assist, but we're sure he can manage it on his own. No matter what he'll have a lot of fun building it while being focused and relaxed.
This Lego set contains more than 400 pieces to help you build 7 inches high and 8-inch wide skyline. It also includes a collectible booklet containing architecture and historical facts about the building. Architecture building legos are compatible with all lego construction sets, so you can add them to your collection of legos for creative building.
Lego architecture set is one of the best gifts for autistic young adults. They can spend hours building in peace and having so much fun at the same time!
Monkey Pod Games Six Puzzle Gift Set
Puzzles are a great way to encourage an autistic teenager to engage in creative intellectual activities. They are fun and relatively easy to solve. This set is made of 100% wood and it contains several different puzzles.
Each puzzle comes with a cheat sheet to help you solve each puzzle if you get stuck. However,  it's better to let your little puzzler try to solve it himself before you give him the key.
A well-built puzzle set can nurture teenager's problem-solving skills. It's fun and simple, so he shouldn't have much problems with solving the puzzles himself. It has a cheat sheet included and you can also help him out if needed.
Jellyfish Night Light
The night lamp might not be one of the typical gifts for a teenage nephew (son, cousin) but it's a great gift for the people who react to sensory items. With Jellyfish night light you'll get an ocean in your room. Soothing light makes a calm ambient and helps you relax while activating your sight sense. You can easily adapt to the soothing presence of sea life. You don't need an actual aquarium that you need to take care of because this lamp imitates the colorful beauty of an aquarium. All you need to do is set it up.
Watch the jellyfish swim in a perfect imitation of an aquarium. The lamp's shining helps you relax and be comfortable in a soothing environment. Overall a great gift for a sensory room, living room or any other room you want to light up a bit.
Frequently asked questions about gifts for teenage autistic boy
What is a good gift for a boy with autism?
Sensory toys, puzzles, books, video games, and educational games are great gifts for a boy with autism.
What are the sensory items?
Sensory toys are specially designed toys to engage a child's attention (both cognitively and physically) by stimulating one or more of the five senses: sight, sound, touch, smell, and taste.
What is the sensory room?
A sensory room is a special room designed to develop a person's sense, usually through special lighting, music, and objects.
How do sensory rooms help autism?
By providing a calm and comfortable environment, sensory rooms help children learn to self-regulate their behaviors and their bodies.
How do you calm a child with autism?
Be empathetic and make them feel safe and loved.

Focus on your child, not staring bystanders.

Break out your sensory toolkit.

Teach them coping strategies once they're calm.
Conclusion
Quality gifts for a teenage autistic boy are not so easy to find. We tried to list some relaxing ones and a few fun presents too. It's best if you choose a gift you can enjoy together with him like a Lego set you can build together or a hammock where you can both relax. The best gift is actually quality time spent together. No matter what gift you choose, be sure to give him the gift of time. We all have busy schedules but it's essential to find at least an hour a day for playing or just hanging around together.
If you need ideas, you can see our recommendation of activities for an autistic child. We gave a few examples for a younger child, but autistic teens are almost the same when it comes to spending quality time with families.
ESTIMATED TIME DESIGNING AND UPLOADING THIS ARTICLE
ESTIMATED TIME RESEARCHING AND WRITING THIS ARTICLE
Try our AMAZING GIFT FINDER TOOL! Find GIFTS with 1 CLICK!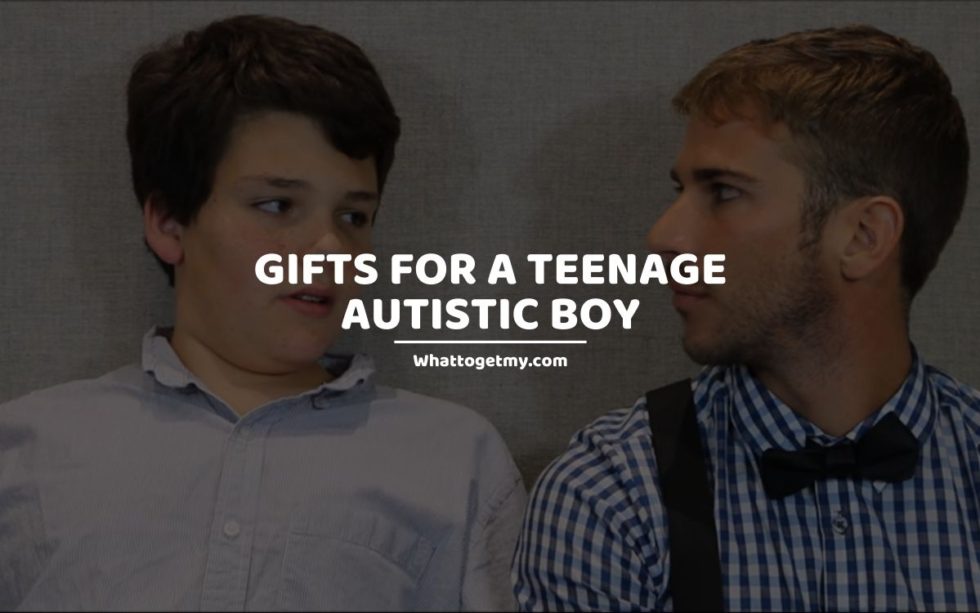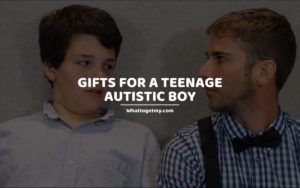 Gifts For a Teenage Autistic Boy
Buying presents for any teenager is tough! With an autism diagnosis added, you're in a puzzle about what to do. You might want to choose useful gifts for a teenage autistic boy that will make him relax in everyday situations. Stress relief is essential when
Read More »