Asperger's syndrome is on the Autistic Spectrum Disorder (ASD) and therefore shares some of the same difficulties that people on the Autistic Spectrum face more especially when it comes to language.
Most people with Asperger's have difficulties in understanding and processing things that they hear or things that they read.
People with Asperger's can sometimes feel like the world around them is overwhelming and this may cause them to experience anxiety and even develop anxiety disorders. They are more likely to experience isolation and social exclusion because they do not feel connected to anyone and they struggle to communicate these feelings.
Aspies prefer to have set routines that make sense to them because often the world around them does not. They have little tasks that they can control and they like doing things in a particular order.
Getting a gift for a child on the autistic spectrum can be quite a daunting task because unlike other kids, Asperger's kids may not always want or like what the latest trend is in music, style of clothing, and toys and this can prove to be quite the task. As an adult who cares very deeply about these kids or has one of your own, you want to give them a present that they will enjoy and take pleasure in owning that will also make them happy. It is important to remember that a gift doesn't have to always be something that you buy, it can also be something that you make or time that you spend with the child that they value more than a store-bought toy.
Routinely, most of Asperger's kids will have a thing (toy, or otherwise) that they are currently interested in. if you know what this thing is, get it for them. Approach every Asperger's child as an individual and find out what they like or what they are currently finding comforting, fun, and calming. If the child with Asperger's is your own or you live with them, chances are you already know what they are into at the moment and if you do not, worry not! We have come up with a list of well thought out gifts you could give your child with Asperger's:
As an Amazon Associate we earn from qualifying purchases. We may earn a small commission for our endorsement, recommendation, testimonial and/or link to any products or services from this website. Thank you, your qualifying purchases help support our work in bringing you real daily gift ideas.
Gifts for Asperger's Toddler and Child
1. DIMPL BABY TOY:
This is a great toy for children on the spectrum because it enhances their sensory and motor skills. It also enables them to learn cause-and-effect, which is an amazing tool for a child with Asperger's because it has repetitive patterns.
The dimpl is a simple bright and colorful toy that pops dimples and makes sounds. Kids love pushing the dimple buttons and hearing the 'pop' sounds. It is portable so your kid can carry it wherever they go.
2. SNUGGLE SWING:
This is a great therapy tool for Aspies children. It helps them with their motor skills and self-awareness. The hammock lets them swing, balance, or just sit and relax with the back and forth motion.
This hammock provides sensory pleasure and allows your child to become more aware of themselves and the spaces they occupy
3. STACKING TRAIN TOY:
Children, and people with Asperger's, are fascinated by trains because of their predictable motions and especially how they can be organized into different sizes and models. This toy stacking train toy is perfect for gifting an Aspie kid because it allows them to build their own train and they decide how long/short it is going to get.
This train toy allows your child to explore their creativity and imagination. It also comes in a variety of colors so it doubles as a great learning tool, too!
GIFTS FOR ASPERGER'S TEENAGERS
4. FIDGET SPINNER:
This is a perfect gift for teenagers with Asperger's because it increases their focus, concentration, and observation. Fidget spinners are great for relaxation and distressing. The circular motions of the spinning object are fascinating and grab the attention of an Aspies teen.
This fidget spinner glows in the dark and also emits light when spinning in the sunlight. It rotates for approximately four minutes before needing to be spun again.
5. BEAN BAG CHAIR:
The bean bag chair serves a similar purpose as the snuggle swing except this is more appropriate for teenagers.
This bean bag chair is great for relaxing and allows your Aspies teen to stimulate their senses.
GIFTS FOR ADULTS WITH ASPERGER'S
6. SENSORY LIGHT PROJECTOR:
This is a great gift for Aspies because the light projection which projects water waves is very soothing. It is helpful for Aspies who are afraid of sleeping in the dark but don't want to keep the lights on all night.
The LED provides an ocean blue light that is soothing and gentle and helps to improve sleeping quality and quantity.
7. WEIGHTED BLANKET:
This is a perfect gift for an adult with Asperger's because the weight helps promote healthy sleeping patterns which is something that most Aspies struggle with most of their lives.
The blanket is designed to target sensory processing issues and fix them so that a person can have good sleep.
8. LIQUID MOTION TIMER:
This is a great gift for Aspies because it works as a calming gift and also a sensory stimulus. The colors bubbling around will catch their attention and the motion will relax them.
This timer is great for relaxation and distraction with its mesmerizing colors.
CHRISTMAS GIFTS FOR PEOPLE WITH ASPERGERS
9. SENSORY BOXES:
These boxes make for great gifts because they contain several neural and sensory-stimulating objects that help to calm down and keep and Aspies mind occupied.
All the toys in the box are eco-friendly and safe to use for both children and adults.
10. BOARD GAMES:
With board games, the best thing to do is find out what kind of games your Aspie child is into. Buy them a game they will enjoy playing and that will make them happy and not what you think they will enjoy. When in doubt, always ask.
11. CONCERT TICKETS:
Another great gift for a child with Asperger's is taking them to see their favorite band.  You can buy some tickets and make a road trip out of it. Have fun along the way and also this will allow you to bond with them, and this is important for the relationship that you share with an Aspies person.
GAMES FOR CHILDREN WITH ASPERGER'S
1. TIMBER PLANKS: Building timber planks is a game that enhances motor skills, sensory skills, and spatial awareness in a child with Asperger's. It is a great game you can play with them or have them play with (an)other children.
2. PING PONG: This is a great game for Aspies because it enhances their focus and allows them to concentrate on the ball. It is also a very good cause-and-effect game in that it teaches them that for every action, there is a reaction. In this case, every time they hit the ball, the ball will 1) make a sound and 2) go into whatever direction they have hit it into. And at the same time, every time they do not hit the ball it will not move until they do. These small lessons can be very useful in the long run especially during their teen and adult years.
3. CHESS: Chess is a game that requires patience and precision and these are behavioral qualities that can help your child with Asperger's. it will help them to practice patience and not be impulsive when doing or saying things – at least not all the time.
ACTIVITIES FOR PEOPLE WITH ASPERGER'S
1. COLLECTING STUFF: Most people with Asperger's will have a hobby that they are obsessing over in different periods of their life. a fun activity to do therefore would be to collect whatever it is that they are obsessing over and before you know it you have a collection of cars, coins, trains, rocks, and all sorts of things. Not only is this a fun and great bonding activity for you and your Aspies person, it is also a great way to reserve memories of all the things that they had once found comfort in and had been dear to them at some point in their life.
2. MUSIC: Music has so many varieties and genres and it is enjoyable by everyone. Listening to music, playing music, writing and reading music, are all activities that Aspies people can enjoy just for the fun of it. Additionally, they can also be used as a form of self-expression and identity formation. The same can be said about other forms of Art such as painting, drawing, poetry, and photography.
3. SWIMMING: This is another fun activity that also helps improve mortar skills and coordination. Additionally, most people on the spectrum find water or water bodies quite calming and relaxing.
4. VIDEO GAMING: Video games are known to improve neurological skills and help with critical thinking and decision making. Of course, this depends on the type of game and if the person with Aspies is interested in those types of games. However, there is a game out there for everyone and even if they are not into the more advanced games, they can still play the games that they like and enjoy because not every game they play has to account for something with their mental capacity. Sometimes, they just want to have silly fun too, and that is okay. Read this article to learn how you can monitor your child's love for video games so it doesn't escalate into an addiction.
5. READING: Reading is such a great activity because it is a solo activity that involves nothing but the imagination. Most people with Aspies use reading as a form of escape from the real world into fantastical realms where anything is possible and there are characters who are like them. This is extremely important especially for a developing young child because they often might feel alone especially when they are the only ones in the household with Asperger's. reading allows them to learn about others just like themselves and therefore makes the world seem a little less lonely.
FREQUENTLY ASKED QUESTIONS
How common is Asperger's syndrome?
Asperger's syndrome is quite common; studies show that 1 in every 100 people has Asperger's. Anyone can get Asperger's and at any different points in their lives.
Is Asperger's treatable?
The first step to treatment is getting a proper diagnosis. Once you have been diagnosed by a professional (do not self-diagnose) you can start your journey to managing the symptoms. Unfortunately, there is no cure for the disorder. There are different forms of therapy that are quite helpful for people with Asperger's and this will depend and vary from person to person.
CONCLUSION
Asperger's syndrome is a mental disorder that askew peoples view of the world. Aspies are prone to anxiety because they often feel like they are alone and no one understands them but they do not know how to communicate this. Because the world is chaotic, people with Asperger's like to have routines and an order in their personal lives. This is important to note because when getting someone with Asperger's a gift, it is better to get them something that they will enjoy and something that will not overwhelm them. If you get lost and are not sure on what they would like, ask them what they want so that you can make an informed decision.
ESTIMATED TIME DESIGNING AND UPLOADING THIS ARTICLE
ESTIMATED TIME RESEARCHING AND WRITING THIS ARTICLE
Try our AMAZING GIFT FINDER TOOL! Find GIFTS with 1 CLICK!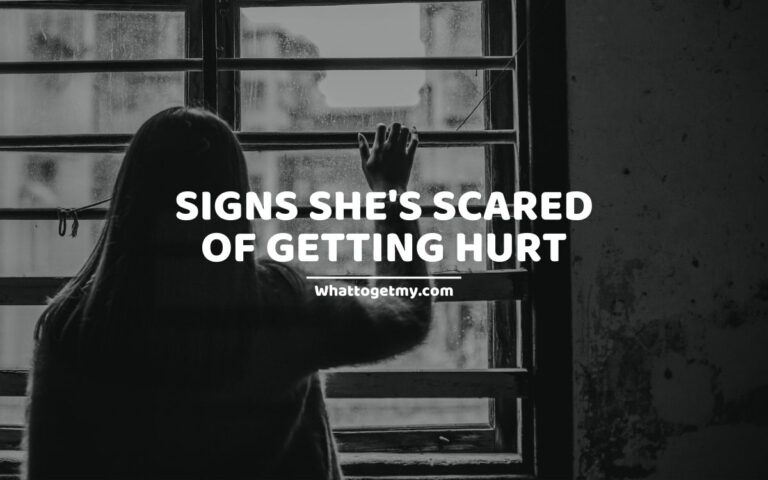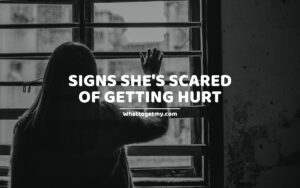 19 Signs She's Scared of Getting Hurt
19 Signs She's Scared of Getting Hurt WhatToGetMy Instructional Article The girl that is scared of commitment either has been hurt before in a previous relationship or is afraid of getting hurt in a relationship. In this article, we will be showing you all the
Read More »