Birthday Ideas for Boyfriend with no Money
WhatToGetMy Instructional Article
Sometimes, you have to be more creative when celebrating someone's birthday, especially on a low budget. Organizing a big event is quite easy and it doesn't demand extra creativity. On a low budget, however, you have to come with some alternatives. Invitations, food, drinks, decorations, and all those things are rather expensive. You have to give up on all these things and consider other options. But what options do you have? Celebrating a special event without money seems like an impossible thing. How are you supposed to impress and do something special for your loved one with an empty wallet? Believe it or not, it's possible to make a perfect birthday surprise without spending money, or at least, with spending only a small amount. We're here to help you with that!
If you're looking for creative ways to celebrate boyfriend's birthday with no money, all you need to do is to follow our article! We'll list some unique and budget-friendly options for you. Scroll down, explore, and pick an option that works best for you. It's that simple!
Before you start scrolling through our suggestions, take a look at these extra tips:
If you still want to throw a birthday party but you want to save some cash on decorations, indulge in some DIY activities. You can make a lot of great stuff out of plastic and paper, without spending a single penny!

If you're worried about spending too much money on food, we have a few simple suggestions. You can throw a perfect birthday party by serving simple dishes such as hot dogs, quesadillas, chips and salsa, nachos, and more.

Lastly, a fancy cake could be the reason for spending a lot of money on someone's birthday. If you don't have the means and time to make it, try with some alternatives. We suggest fruit, doughnuts, s'mores, cookies, and similar budget-friendly and quick options.
Inexpensive Gift Ideas
You can get some very cool gifts for your boyfriend's birthday without spending too much money. Here are our suggestions:
Inexpensive items for everybody
You can find a lot of small gifts at a low price to surprise your boyfriend and make his life easier. We'll give you a couple of examples just so you see what we have in mind. You can then choose a gift according to your boyfriend's hobby and personal preferences.
If your boyfriend is an outdoor enthusiast, you can get him a lot of useful gifts that would be easy on your pocketbook. For example, adventurers always need small items such as flashlights, keychains, headlamps, mugs, beanies, gloves, etc. These things are small and inexpensive yet very useful, and outdoor enthusiasts would love to have them!
You can follow this pattern for every hobby. If your boyfriend is a cooking enthusiast, get him something for the kitchen. If he enjoys gardening, get him some low-cost tools and pots. See now what we mean? Also, you can find small universal gifts for everybody: earbuds, notebooks, pens, calendars, etc.
Crafts
If you want to give your loved one a more personalized gift, we have a suggestion for that too. One of the best ideas for your boyfriend's birthday is to make him something on your own. All you need to do is to invest some time and effort and you can make a perfect little gift to show your partner how much you care about him. Gather up some of your old and new photos and make an album or a poster for his room. You can also make origami and write some funny or romantic notes on it. The possibilities are endless, so feel free to express your creativity and have fun!
Here's what we have in mind:
Budget-Friendly Experiences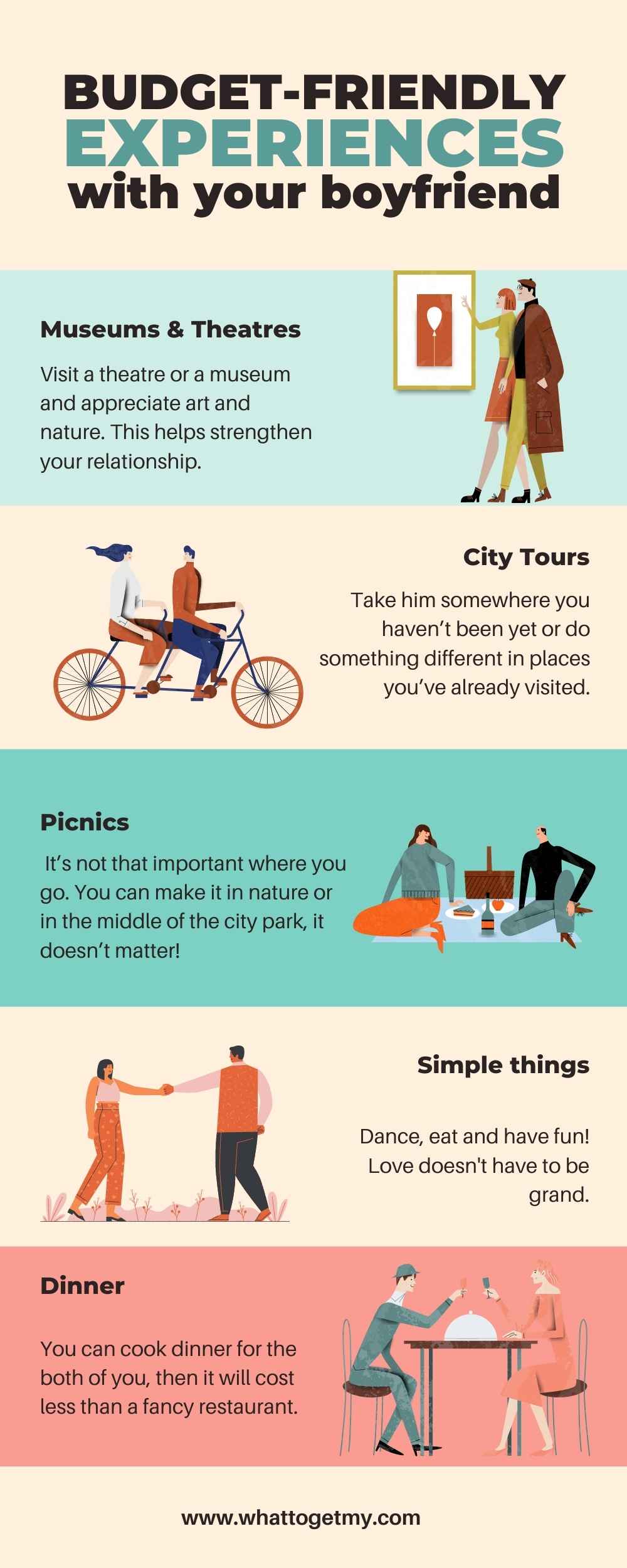 Source Link: https://whattogetmy.com/birthday-ideas-for-boyfriend-with-no-money/
People think they can't give experiences instead of gifts if they're on a low budget. We beg differently! There are a lot of things you can do with your loved one without spending a penny, and we listed some of them below.
Museums and Theatres
We know what you're thinking "It's my boyfriend's birthday and I have no money, I can't do anything!" That's not true. There are a lot of fun things to do with your boyfriend on his birthday without spending large amounts of money. For example, you can visit museums and theatres and have so much fun. Organize a tour, check the available exhibits and shows, and give your boyfriend an experience he'll remember for life!
City Tours
One of the simplest and most beautiful things you can do for your boyfriend for his birthday is to take him on a city tour! We know what you're thinking. What's so special about walking around the city we both know? Well, it's about you making the experience special! Make sure to do something different and not to repeat the things you do regularly. Take him somewhere you haven't been yet or do something different in places you've already visited. Try different food, drinks, and snacks. In a word, have fun! Set up a plan for all the new things you can try and do in your city and stick to it. That will ensure a new and super fun experience!
Picnics
So, if you wanted to come up with places to take your boyfriend for his birthday but you concluded you don't have enough means to do it, we have an alternative for you. Don't go in debt trying to take your boyfriend on a luxurious journey around the world. Sometimes, the simplest things are the best ones! For example, we recommend you to take your loved one on a picnic. It's not that important where you go. You can make it in nature or in the middle of the city park, it doesn't matter! All it matters is that you organize everything, bring your boyfriend's favorite food, drinks, and music, and that's it. You two will have a perfect, romantic celebration!
Simple Things
If everything listed above doesn't fit your needs, take a look at these everyday activity suggestions. You'll surely find something interesting!
Breakfast in Bed
Breakfast in bed is one of the most creative ways to celebrate your boyfriend's birthday with no money. It's also very simple and doesn't require too much time and effort. All you need to do is to get up early, make a unique meal, and serve it! You can make anything your boyfriend likes, eggs, French toast, pancakes, cereals, etc. Your boyfriend will appreciate the effort and fully enjoy his morning! Just don't forget to decorate the plate to make things more romantic.
Dinner
You just can't go wrong with cooking a meal for your boyfriend. We recommend a romantic dinner! No, you don't need lots of cash to prepare it. You can go with simple dishes. They are just as tasty as fancy meals, and we're sure your boyfriend won't even notice the difference! He'll be so thrilled you spend some time preparing a romantic dinner for him that he won't even pay attention to anything else. Remember, love and effort are the things that count, not how much money you spent on someone's birthday.
Love Notes
If you two are romantics, don't miss writing love notes and letters to your boyfriend. You can use famous quotes or your own words of love and appreciation. We recommend leaving them all around in his apartment so he can explore them all day long. Of course, you can wrap the notes together and give them as one gift or organize a scavenger hunt. The choice is all yours, just remember that you have options!
Spa Night
Spa night is one of our favorite ideas on how to celebrate a birthday with no money. If you don't have the means to take your boyfriend to the spa, organize one at home! Give him a massage, let him relax and ease the stress from everyday duties. He'll be grateful and love you for it!
Coupons
If you can't decide what to do for your boyfriend on his birthday, let him choose! Make coupons for your boyfriend and write activities on them (e.g. watch a movie, play a game, give a massage, etc.). Your boyfriend gets to choose what he wants to do and when. It's one of the most generous things you can do for him on his birthday!
Birthday Party Ideas on a Low Budget
If you're looking for inexpensive birthday party ideas take a look at some of the following suggestions. We included inexpensive alternatives that will be easy on your pocketbook and also knock your boyfriend out of his feet!
Surprise Party
How to make my boyfriend feel special on his birthday, you may ask? It's easy. All you need to do is to organize a good old surprise party! Call his friends (to help you out and to attend the event), set up a few DIY decorations, and make some food. That's about it! Your boyfriend will be thrilled to see all his good friends in one place and spend the night with them. It's a simple yet perfect way to celebrate a birthday.
Scavenger Hunt
There's one more simple thing you can do if you want to surprise your boyfriend on a budget. You can set up a scavenger hunt for him. Hide little notes all over your or his place and lead your boyfriend from one to another. He'll have so much fun while wandering around and discovering little notes, not to mention how much he'll appreciate the effort!
Movie Night
A good old movie night! You can't go wrong with organizing one for your boyfriend's birthday. Pop some corn, get beer and chips (or wine or any other drink and snacks), and play one, two, or a marathon of his favorite movies! He'll love to spend some time with you, snug, and watch his favorite movies in the company of the loved one!
Game Night
Not sure how to celebrate a birthday in a unique way? We have one more great suggestion for you! Organize a game night with your boyfriend. You can invite yours and his friends too or just spend the night together. There are so many board games you can play in two (or in large groups)! You'll only need some chips and drinks, and that's about it!
Conclusion
See? We told you we have lots of fun and interesting birthday ideas for a boyfriend with no money! You don't have to break the bank to surprise and impress your loved one. With a little time and effort, you can make his birthday truly beautiful. No matter which option you choose, he'll appreciate it. Your loved one will see how much effort you put into the idea and that you have done that from the bottom of your heart. That alone is enough to surprise your boyfriend and make him happy!
In the end, we only want to remind you of one small thing. Although it's important to surprise your partner for birthdays and other special occasions, don't forget to do something special for him daily. We don't mean you should give gifts and experiences every day. Just make him feel special occasionally, without any reason. It's nice to get little signs of love out of nowhere! You can read more about the topic here.
ESTIMATED TIME DESIGNING AND UPLOADING THIS ARTICLE
ESTIMATED TIME RESEARCHING AND WRITING THIS ARTICLE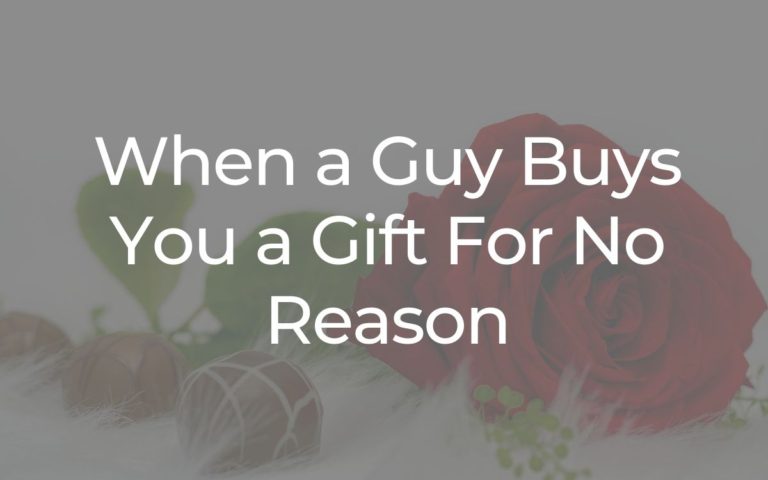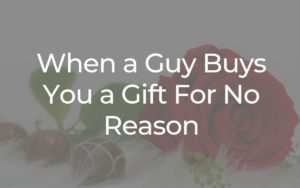 When a guy buys you a gift for no reason
When a Guy Buys You a Gift For No Reason WhatToGetMy Instructional Article You are in a relationship that is new, maybe it has only been a couple of months. But the guy you are dating is always buying you gifts without giving you a
Read More »