Activities For 2 Year Old Autistic Child
WhatToGetMy Instructional Article
Having an autistic 2-year-old child  might make your everyday life seem stressful, and it can become very overwhelming because you are unsure how and when to connect and communicate with them. Thankfully there are many support groups, professionals, and information websites that can help, and they all say that one of the most effective ways is to find activities for autistic toddler that you can do together.
All kids love to play and take part in certain activities on their own or with other people, which helps encourage them to communicate better with you and with other children. It will gain their trust and build relationships. There are certain types of activities to do with  autistic toddlers that can help with their learning and physical motor abilities as well as improve their sensory skills.
But how do you know when to initiate an activity with your little one and when to leave it alone until their mood is a little better, which at times can be very difficult to read. The best way is to look for certain signals that your child might be interested in doing some activities, and these are:
Their eye contact

Verbal communication or speech like the sounds that they might make

Your child touches your arm or hand with their hand

Your child seems interested in what you are doing or looking at as you join them
When your child shows any of the above signs, then it is okay to go ahead play a game or do an activity. But if your 2-year-old autistic child seems irritable and not happy, it is best to leave it alone for the time being and either join them in what they are currently doing or wait until they show interest in something that you are doing.
When your child's mood is better, and they show you some signs that they are ready to engage in new 2 year old child development activities, you can chooses one of these activities to do with a 2 year old autistic child to do with them.
Activities for a 2-year-old Autistic Child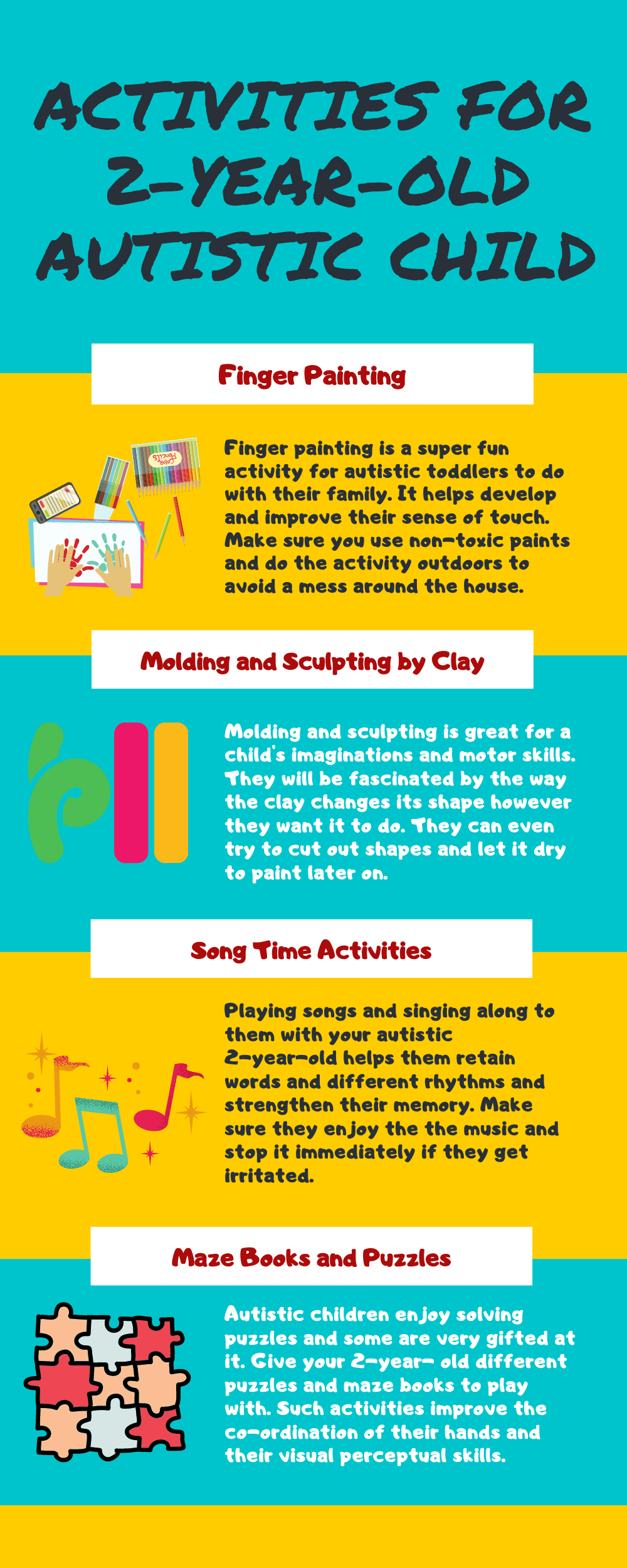 Use this graphic for free, just source us with this link:
Use this graphic for free, just source us with this link:
Source Link: https://whattogetmy.com/activities-for-2-year-old-autistic-child/
Making and Matching Shapes or pictures
This is a fun activity that introduces puzzles by matching two halves of a picture or shape together. With this activity, you can use craft sticks with only one half of a shape on each one or use animals or any other pictures you think are appropriate.
Get your little one to find the stick with the missing half and place the sticks, side by side to complete each one or to place the matching stickers to the correct placards.
Another idea for this type of activity is to use a Shape Sorting Cube, which is available in wood or plastic. It is a cube with different shapes cut out of it and has matching pieces that fit into each cut out shape. When the correct shape is dropped into their holes, they make a clinking sound, which is perfect for expanding sensory experiences.
Make Number or Shape Rubbings
This number or shape rubbings activity is an activity that a 2-year-old will love because they will have fun rubbing different colored crayons over the paper to reveal numbers or shapes. They will be able to work the small muscles in their hands and improve their eye-hand coordination while experimenting with different surfaces and practicing some numbers or shapes.
It is an activity that is really easy to set up and only requires some cardboard, glue, crayons, and paper. Using the cardboard, write out the letters, or draw some shapes with the glue, allow it to dry.
Once they are dry slip one under a blank sheet of paper and give it to your little one with the crayons and ask them to rub the edge of a crayon over the number or shape until they can identify what it is.
Finding Toys:
This is another activity that helps improve your child's sensory skills by touching and feeling various items.
For this activity take a large plastic container and fill it up with beans or different color beads.

Take as many small toys as you can and hide them inside the container, mixing it up well.

Then ask your little one to put their hand inside, without looking and take out or identify a toy by feeling each one.
Finger Painting
Finger painting is not only loads of fun for a 2-year-old autistic child, but it is also an excellent way for them to work on their sense of touch, and it helps in the development of them moving their hands and fingers from the paint to the paper. Finger painting is a great way to develop their creative and thinking skills, and it also helps them with color recognition.
Finger painting is a messy activity, so it is best to take it outside in an area that is easy to clean up by protecting the area you want to use. You can have a bowl of clean water and a drying towel nearby for them to clean their hands when and as they would like to.
Make sure that you use the right type of non-toxic paint that does not irritate their skin, a couple of sheets of large paper, and the appropriate clothing, and they will be set for a really fun activity mixing different colors and drawing with their fingers.
Mold and sculpt clay, silly putty or play-dough
Molding and sculpting clay, silly putty, or play-dough into anything you can think of is a really great and a fantastic way to boost your little one's motor skills. Kids love this activity as it is a lot of fun, and they love the feeling of pulling and squishing the clay in their hands while they mold and sculpt their amazing creations. These sensory activities for children with autism will also help them use their imagination, and it helps to improve and enhance the experience of pulling, kneading, and squishing.
The store-bought dough can be really expensive, and it does not seem to last very long. If you want to make your own play-dough, here is a simple and natural recipe:
Ingredients
1 cup of flour

¼ cup of salt

1 Tbsp cream of tartar (optional)

½ cup of warm water

A selection of different Natural food coloring
Instructions
Take the flour, salt, and cream of tartar and mix it all together in a bowl of some sort.

Take one color of the food coloring and add a couple of drops to a ½ cup of warm and mix together.

Then mix the food coloring mixture slowly in with the flour mixture, stir while you are pouring until it is all combined into a dough. Then knead the dough with your hands until the flour has entirely absorbed the color. If you find the dough is too sticky, just add some more flour until it does not stick at all anymore.

Then repeat the above for each of the colors that you would like to make.
Colorful Pool Noodles
Colorful pool noodles are cheap and can be used for creating so many fun activities for a 2-year-old autistic child. Here are some ideas:
Make fun obstacle courses out of pool noodles

Cut them up into little pieces and use as building blocks

Cut them up to make any small form or shape like different animals, insects, letters, numbers, etc.
Songs time activities
Often Children like songs that are sing-along type songs or that have the repetition of verses in a song because it makes it easier for them to learn the words. You can pick a couple of children's favorites or make up your own songs to teach them how to do certain tasks like dress themselves, brush their teeth, or tie their shoelaces. Such activities are great communication activities for an autism.
If your 2-year-old autistic child cannot speak, you can get them to play an instrument like homemade drums, shakers, or a piano or you can get them just to hum to the song or make their own tune whichever they prefer. You can also play different musical games that you think that they might enjoy.
Create sensory bins
A sensory bin or table is a place designed for squishing, sifting, sorting, digging, and pouring. Children of any age love the opportunity to get messy, to play, and to discover while engaging with their sense of touch, their hearing, and their sight.
To create sensory bins, you can either use your own plastic tubs or purchase play tables and fill them up with fun items like:
Rice or grain

Rainbow water beads

Aquarium Gravel

Moon dough

Tissue paper pieces

Pool noodle pieces

Buttons

Sand
Bouncing Ball Art
This activity is just as if not messier than finger painting but it is so much fun for a 2-year-old autistic child, it encourages a lot of movement and it is a great sensory experience.
For this activity, it is best to go outside. All that is required is bouncing balls, paint, and paper so that they can have fun bouncing the paint-filled ball onto a work surface that you have protected and taped down. Warning! They will be chasing these balls that are covered in the paint all over the place, so be sure to cover an area large enough for such a mess if you don't want paint everywhere.
Make an obstacle course
An obstacle course for children with autism can build gross motor skills while developing important processing skills. It is a course that is a sequence activity that requires attention and memory. It involves the ability to understand or to process information and they will learn to follow directions, especially spoken requests which can be very challenging for many autistic kids.
You do not need expensive equipment to make an obstacle course for a 2-year-old autistic child. You can make a simple one letting them do some of the following activities:
Put balls in a container

Balance beam with taped lines

Jump rope

Bean bag tossing

Crawl through a tunnel

Slide

Step in and out of a box

Step in and out between the rungs of a ladder

Shake maracas or pom poms
You can also include fun things that almost everyone has done as a child, things like moving or walking like a certain animal for example:
hop like a frog

gallop like a horse

slither like a snake

crawl like a puppy

wiggle like a worm

jump like a kangaroo

walk like a crab
Activity Maze books, word searches, and eye spy puzzles
Children with autism enjoy solving puzzles and in actual fact, they seem to be brilliant at it. Make sure that you always have a few on hand as different types of puzzles, maze books, word searches, and problem-solving type activity books are a lot of fun and they can be used to teach kids about almost anything with ease. They also help with the coordination of their hands as well as their visual-perceptual skills.
Sensory and calm-down bottles
It's hard for a child to make sense of strong emotions. This calm-down bottle provides a way for a child to take a calming break for clarity and focus on their own senses. It can help lessen stress and anxiety, calm tantrums, teach patience, and improve their attention span.
These sensory and calm-down bottles can be purchased, and there is a wide range of selection to choose from, but they are much more fun for you and your little one to make them together.
All that is needed is some sort of container or water bottle, fillers of your choice like water, hair gel, water beads, sand, salt, the objects you want in them, glitter, and some food coloring.
The items and theme that you and your little one choose could be anything from alphabet beads, seashells, rainbow-colored buttons to little dinosaurs, or even something as simple as paper clips with a magnet so that you can move them around in the jar.
When looking for ways to connect and communicate with your little one, one of the most effective ways is to play and take part in activities together. But before you initiate any activities for a 2-year-old autistic child be sure to look at the signals that they may be giving you as these will let you know whether they are ready or interested in something new or not.
ESTIMATED TIME DESIGNING AND UPLOADING THIS ARTICLE
ESTIMATED TIME RESEARCHING AND WRITING THIS ARTICLE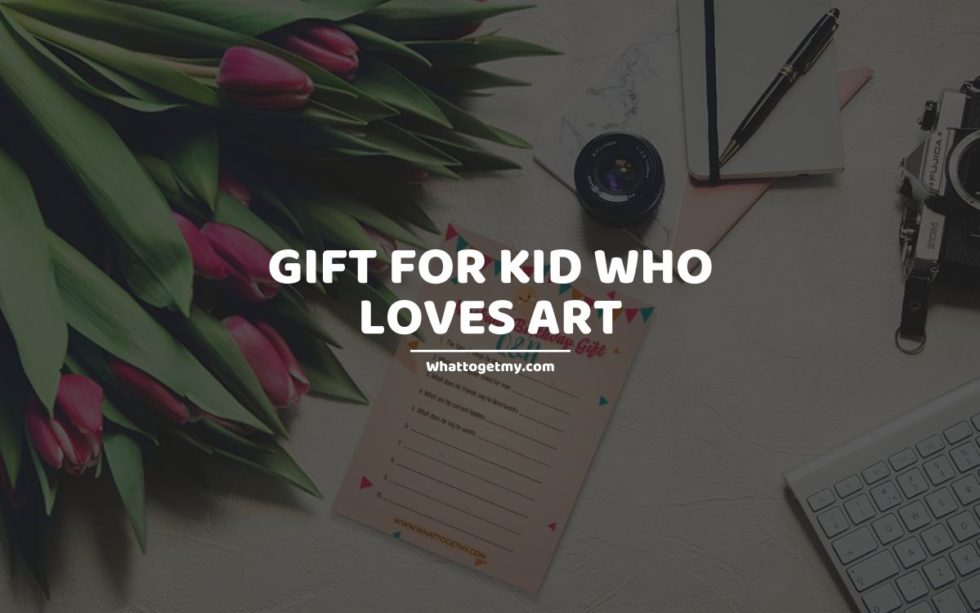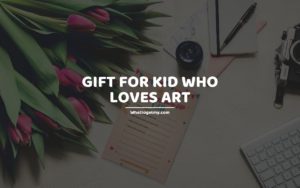 If you have a young aspiring artist in your family, it's like your ultimate duty to inspire his or her creativity. Artistic souls are incredibly sensitive (especially young ones), and they need all the love and support you can give. They might not feel understood
Read More »