What to bring to a bachelor party?
WhatToGetMy Instructional Article
What to bring to a bachelor party isn't just a question about the things you need to have fun. You also need to consider travel arrangements, events you plan to visit, etc. Some people say that you need to create a list of bachelor party must-haves to have fun. However, you don't need a bunch of stuff to party, just a positive attitude.
There are some things you could use, but it wouldn't be the end of the world if you forget them. With the right company, any bachelor party can be a success. That being said, let's go through some things you need to keep you in check.
Before you get further down the article, we have two DOs and two DON'Ts for the bachelor party:
Do make the party fit the groom's taste, personality, and interests. He shouldn't be the organizer, of course, but try to get his approval of things.

Do keep the groom in check. Contrary to the popular belief the bachelor party isn't an excuse for the groom to cheat on his future wife. Take care of him, so you can all have a blast!

Don't do something dangerous/stupid. Alcohol can influence everyone's judgment, so the party should have at least one sober person. That's usually the best man whose job is to keep the groom away from dangerous situations and injuries.

Don't assume everyone has an unlimited budget. Although renting a penthouse in Vegas sounds amazing, your friends might not have that much money to burn on one weekend. Discuss the ideas with other guys, so you can find something fun (and on the budget) to do together.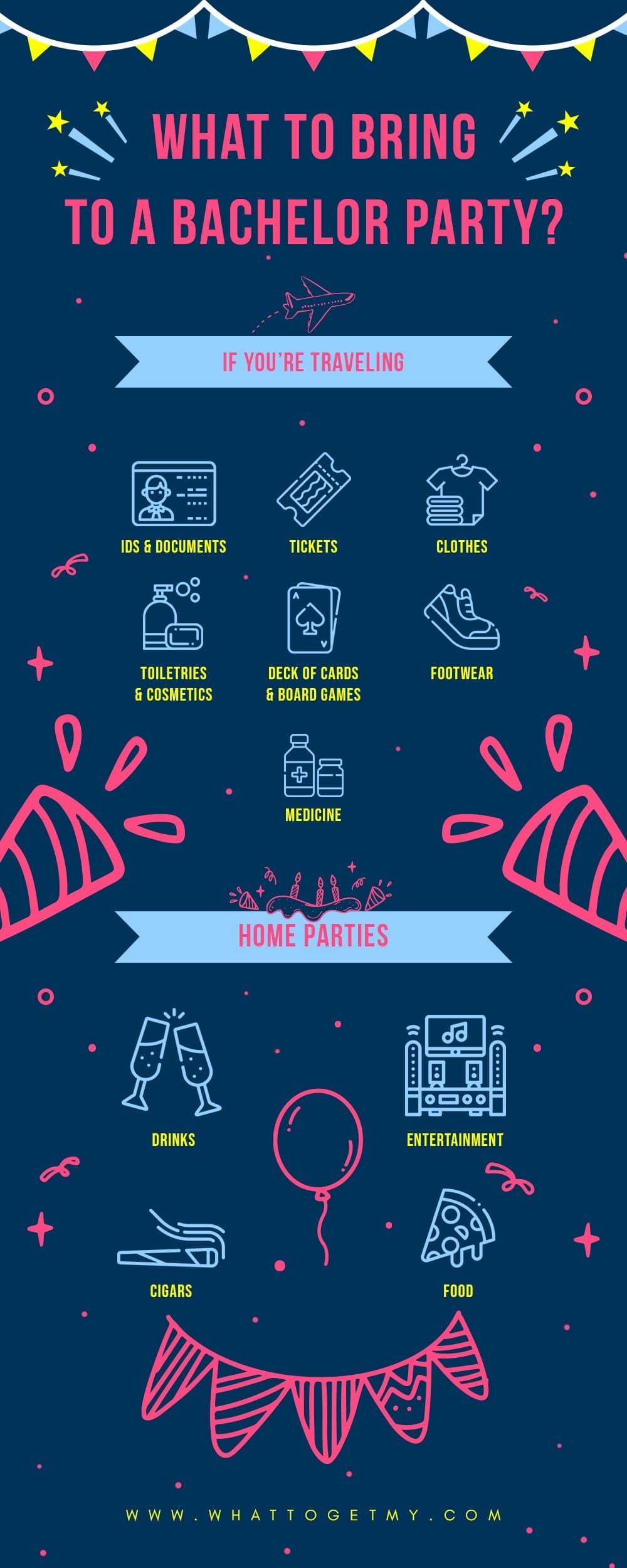 Source Link: https://whattogetmy.com/what-to-bring-to-bachelor-party/
If you're traveling
We'll start discussing bachelor party necessities in case you're going on a "stag weekend". The weekend is going to be filled with adventure, fun, and wild experiences, so you need to be prepared for the unexpected. On the other hand, you need to stay mobile and pack light.
There are some things you shouldn't forget to pack and other bachelor party stuff that should be left behind. For example, you don't have to pack bachelor party novelty items because you can buy them in your destination for little cash. Pack only the essentials, starting with documents, plane tickets, and clothes.
IDs and documents
Don't forget your ID, driver's license, passport, and other essential documents you need to have on hand. Passport is a must if you're traveling abroad (Europe, Asia, etc). In other cases, you can leave it at home. Your weekend is all about the party, so why risk wasting hours with the authorities to explain the reasons you don't have your identification documents.
Tickets
If you already booked the hotel and made travel arrangements, the worst thing you can do is forgetting the tickets at home. It's just too expensive to get new ones at the airport, so pack them first. It's also good to make copies (or take a picture with your phone) just in case you misplace them.
Clothes
Packing light means you don't have to bring a different outfit combination for each day. You could just pack a few pairs of socks and boxers in addition to 2-3 shirts and one extra pair of pants. Even if you'll be spilling drinks, you just need one back-up item to wear until the other dries, right? Adapt as you go! Depending on the weather, you should also pack one jacket/coat or, if you plan to visit a beach, a bathing suit.
Toiletries and cosmetics
Do we even need to go through this? Pack all-in-one shower gel and bring your toothbrush. The hotel has everything else, we assure you. Naturally, if you think you need something else, feel free to pack it. Just remember, you're going for 3 days, not 3 weeks.
Footwear
One extra pair of shoes, that's all you need. Maybe you can also pack a pair of sleepers if your hotel has a pool. Otherwise, you don't need excessive footwear in your bag.
Deck of cards and board games
Your main activity, of course, won't be sitting in a room playing games. However, when you're tired after all-night partying and need to recharge, you should have some activities to pass the time.
Deck of cards doesn't take a lot of room in your bag and can come very handy. You can also bring some board games for drinking like Drink-a-Palooza, Beeropoly, etc. For games with dark humor check out Cards Against Humanity or Joking Hazard.
Medicine
One of the bachelor party essentials is medication. Sure you can go to a local pharmacy and get everything you need, but it's good to have at hand some painkillers, eye drops, a few bandages, etc. In the case of an emergency, all you need to do is take a deep breath and get your first-aid kit
Don't forget
We must mention, just in case, that you shouldn't forget to pack your phone (and a charger!) and bring enough cash to get you going the entire weekend.
The key to proper packing for a bachelor weekend is knowing what you'll be doing. We don't mean you should plan every detail, but it's good to have a vague plan in mind, so you can know what to pack. If you're planning to take a trip for 7 days or longer, you might want to pack more clothes.
Home parties
Now that we covered the checklist for a weekend trip, let's talk about the things to bring to a bachelorette party you'll be throwing at home. You need to bring more things for a home party because a bunch of things won't be provided like in a hotel.
Drinks
First thing – booze. Naturally, if the groom doesn't consume alcohol (due to medical or religious reasons), you should skip this part. Otherwise, grab a pencil and paper and start writing a booze shopping list. You can't just sip whiskey the entire night! You need to have a variety of options, so get vodka, gin, tequila, bourbon, rum, wine, and of course, beer.
Even if you're not a pro in making cocktails, you can use the liquids for mixing such as club soda, tonic water, cola, etc. You can even spend a part of the night trying out different combinations. You can easily find classic cocktail recipes online. And if you buy enough ice, we're sure you won't have a problem channeling your inner bartender. Here some of the classic ideas to get you started.
The amount of alcohol you need is always a mystery. The only advice we can give you is to always get more than you think you need. At least 50% more! Running out of beer in the middle of the party is a disaster.
Cigars
Cigars are not good for your health, but neither is drinking. However, bachelor parties need both! Enjoying expensive cigars is almost a tradition, so make sure you have quality cigars for your home party.
If the guests don't smoke often, you might want to get something mellow. Do a bit of research, so you can find the best cigars for your group. You can start by checking out the video below.
Food
The best kind of food for the bachelor party is the one all guests like – pizza. Even if it happens, that someone doesn't like it, just order a burger for that person. You can also bring some exotic food, but don't go overboard. Most guys don't even care about the variety of food available as long as it's tasty and goes great with drinks.
Entertainment
You need to bring some forms of entertainment for the bachelor party. You won't just sit and drink the entire night, right? It would be best to bring a laptop with quality Bluetooth speakers. You can watch movies, listen to music, etc. You can always just talk and share embarrassing stories about yourself or the other guys. It would get everyone to laugh and loosen up a bit.
Everyone's favorite activity for a home bachelor party is, of course, playing poker, so don't forget to bring cards and chips. Depending on the mood you can play other party games like Drunk Jenga, Shot Roulette, Cards Against Humanity, Loaded Kings, etc.
Accessories
For a home party, you don't need silly accessories but you can bring them just in case the night evolves and you end up hitting the bars. You can get matching shirts for all the guys or some ridiculous hats. You want to make your group stand up and be unique, so don't be afraid to experiment a bit.
Night out
When you're going out the first thing you're going to need is cash. Whatever you plan on doing, you'll need money for it. As for other bachelor party things, bring anything your friends might enjoy. The more ridiculous accessories are, the better!
Usually, the night starts with a casual dinner with drinks. After that, you can either hit the bars, check out local clubs, or go for some gambling. However, if you want a more unorthodox night, you can go to a sporting event, play laser tag, try rock climbing, skydiving, or bungee jumping. When you do more extreme activities, you might want to leave alcohol for later.
It's a good idea to try challenges on your night out. Make a list of silly daring things and challenge each other to do it. You can make a custom challenge T-shirt for everyone and when you finish a task, cross it on your shirt. The usual challenges revolve around messing around in bars but if you plan on doing something else, you can create different challenges. If you lack inspiration, there are always "dare" cards. Draw and go, simple as that!
Remember that people are different. While some men would enjoy the "standard" bachelor party, others might want to do something unusual. Always run your ideas with the group and especially the groom. If he doesn't like your plans, make new ones.
Maybe the groom's idea of an ideal night with the guys revolves around drinking and playing video games? In that case, all you need to bring to a party is some good old booze and the newest games on the market.
Also take into consideration his personality before planning the party. If he's an introvert and doesn't like to talk to strangers a lot, don't force meeting new people the entire night.
The most important – party attitude
All you need for a successful bachelor party is an enthusiastic attitude. Everything else is less important if you're able to lift the group's spirit and set the party mood. Once you do that, just keep the group's momentum and get the party moving. You can go from one club/bar to another or you can go play some darts, who cares! As long as you're all having fun and nobody gets hurt, that's all that matters.
Frequently asked questions
What can you do at a bachelor party?
You can do anything the group (and especially the groom) enjoys: hang at a pool, beach or the lake, go to a sports game or a concert, have a nice dinner, hit the bars, check out the casinos, etc.
Who usually pays for a bachelor party?
The groom usually doesn't pay for anything at his bachelor party because the best man covers all the expenses. However, if you're traveling or having an expensive party, the group can share the costs.
Should a bachelor party be a surprise?
The bachelor party should include things the groom actually wants to do. It's okay for the best man to throw a few surprises along the way but the date, location and activities should be run by the groom for approval.
Conclusion
You probably got the basic idea about what to bring to a bachelor party. Just remember to not stress too much about it! Communication is everything, so don't hesitate to go through all details with the groom and your friends together. We're sure you'll find lots of fun things to do.
ESTIMATED TIME DESIGNING AND UPLOADING THIS ARTICLE
ESTIMATED TIME RESEARCHING AND WRITING THIS ARTICLE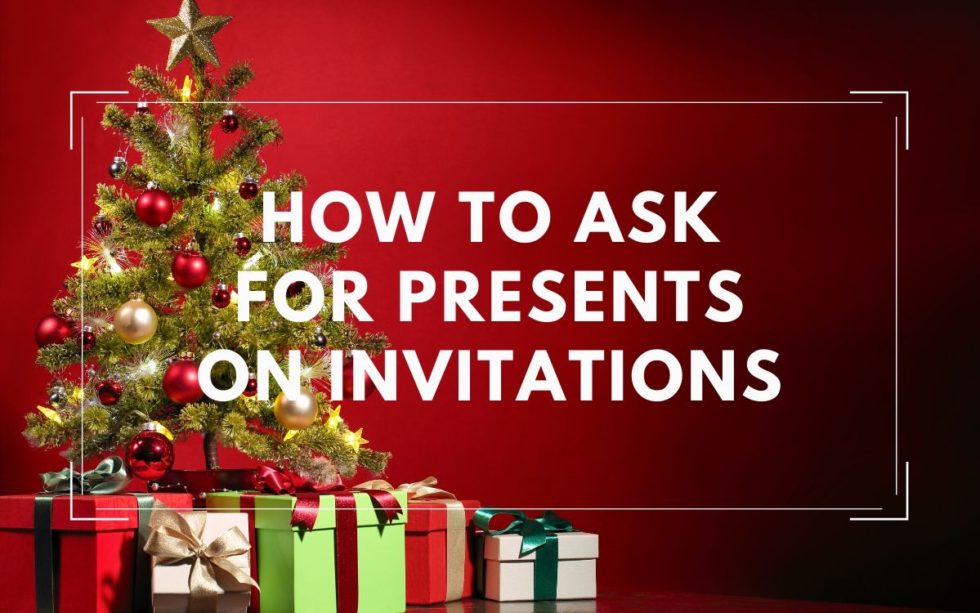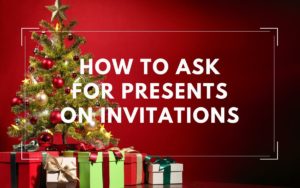 How to Ask for Presents on Invitations
3 Polite Ways on How to Ask for Presents on Invitations WhatToGetMy Instructional Article Whether you should ask for gifts or not is a delicate question. Some people think it's rude, while others think there's nothing wrong with doing it. In most cases, people have
Read More »