3 Easy Ways to Break Down the List of Things You Need for a House Party
WhatToGetMy Instructional Article
You are looking to throw a house party but are feeling a little lost about where to start. You want to know how to plan a house party and all the things that you need for it to be a successful one.
Well, you don't have to look too far, we've put together all the basics of the house party essentials that you will need for an amazing house party.
To make things easier for yourself, break the event down into three main sections. Include a house party list of items that you will need in each section. Then start to work on each section one at a time. These sections would be as follows:
Before the party – This section would be the section where you will write down a list of all the decisions that you need to make.

For the party – This section can be broken down further into subsections. Subsections like decorations, food, drinks, music, and other entertainment. Add a

house party shopping list

to each subsection.

After the party – it would be the section where you will return your house to its normal state by cleaning up. 
Before a house party
Before you can begin with planning your house party, there are a couple of things that you first need to decide on. They are:
What is the reason for the house party?

Will there be a theme? If so what will it be? 

Decide if you would like the guests to dress up to suit the theme, for example,

50th birthday dress-up themes

How many people will you be inviting?

The date and time of the house party

Decide if you will supply all the drinks or if your guests should bring their own

Decide on the type of food you will serve your guests (best option is finger foods)
Your next step would be to think about your guest list. Things to think about are: 
The number of people, this will give you an idea of how big or small the party needs to be.

The age group of the guests, this plays a big role in deciding on the type of entertainment, food, and drinks for the party. 

Your relationship with them. Are you close friends or work colleagues?

Think about how you can make them comfortable by making sure that there is enough space for them to move around in. You can have separate spaces for dancing, drinking, and eating.
Once you know the answers to these things, your planning will go a lot easier for you.
You can then create and organize your invitations for the house party but before you do, you need to decide how you will be sending them to your guests. 
Decide how you will be sending out your invitations. Will it be via email, by using one of the many social media platforms or will you print them out yourself for hand-delivering them to your guests.
You can use any of the free available templates online that are easy to use for creating your own invites.
For a house party
Now it is time to plan and organize everything for the house party. An easier way to do this is to break it down into different subsections for each different part of your planning.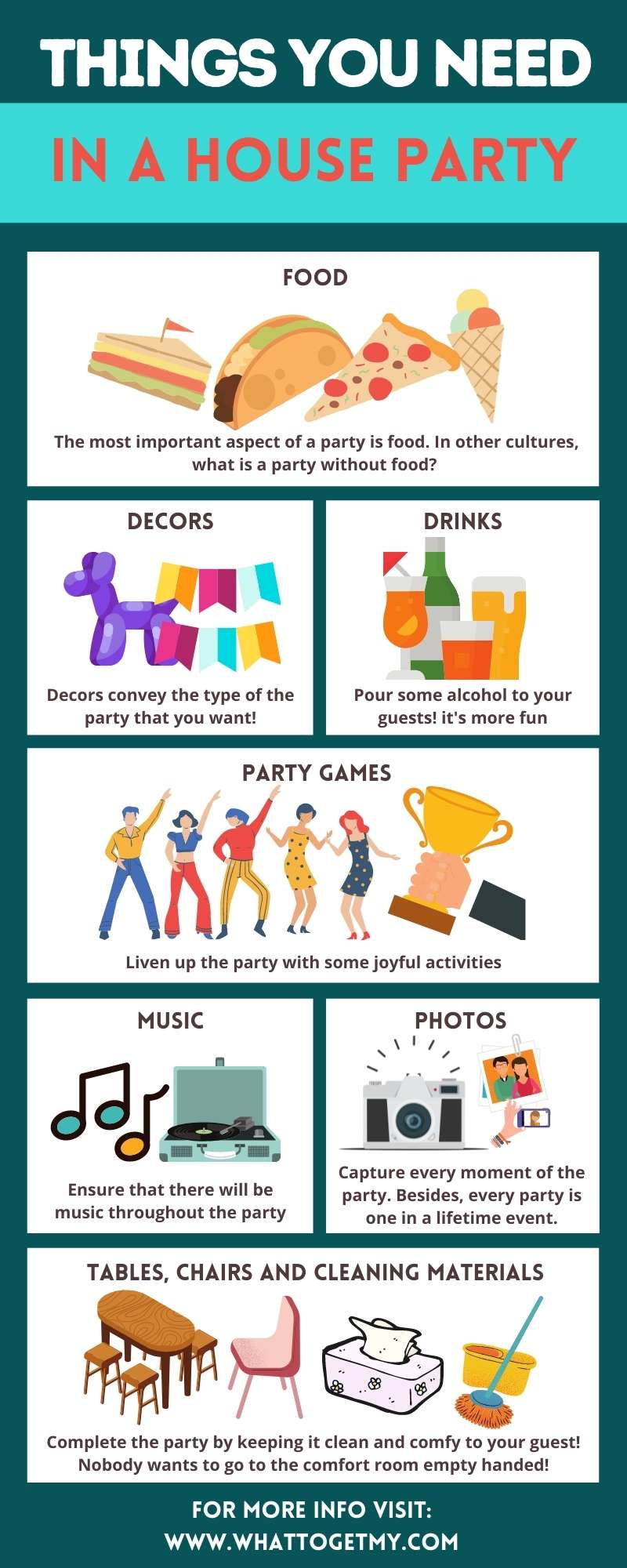 Source Link: https://whattogetmy.com/things-you-need-for-a-house-party/
1. The things that you need to have available for different areas in your house
Items for the bathrooms:
Enough toilet paper to last the duration of the party for all your guests

Hand towels

Hand soap
Items for designated sitting and food areas:
Chairs and chair cushions for all your guests

Tables for your guests as well as for the food

Tablecloths

Drinking cups and plates (it is advisable to use plastic)

Eating utensils

Serving utensils

Paper napkins 

Serving trays and bowls

Garbage bags and cans for guest to use

Coolers and ice buckets
2. House party things that you will need
Decorations
Decorations are a great addition to a house party especially if you are trying to convey the theme of the party. Here are some decorations that you would need:
Banners and wall decorations

Balloons

Ribbons

Streamers

Confetti

Garlands

Display or centerpieces for the food tables

Lighting (fairy lights, flameless candles or disco lights)
Food
The food at any party is the most important part especially if there will be alcohol involved. But for a house party, it is best to serve a variety of different finger food dishes. This way your guests will be able to help themselves any time they feel the need to munch something.
Having finger foods displayed in different areas of the house also helps your guests to keep their stomach lined so that they can continue drinking and partying without disrupting the other guests by causing a drunken scene.
Once you have a final headcount it then should be easy to plan your menu with the different types of finger food dishes that will accommodate all your guests.
Decide on the dishes that you would like to serve then make a list of all the ingredients that you would need to make each of them before you go shopping.
It is also a good idea to place different snacks and crisps around the house in different areas that are not close to the food tables which will also help in keeping your guests nibbling during the party.
Some ideas for finger food dishes are:
Cheese balls
Ingredients that you would need are:
Cheddar cheese

Cream cheese

Green onions

Dried parsley

Ground black pepper

Garlic powder

Dried oregano

Worcestershire sauce and hot sauce

Chopped pecans
Bite-sized pizzas
Ingredients that you would need are:
Pizza dough

Pizza or Pasta sauce

Salt and pepper

Garlic

Cheeses for toppings

Bacon, ham, sausage, pepperoni for toppings

Tomatoes, onions, green peppers, artichokes, olives, mushrooms also for toppings
Ham and cheese pinwheels
Ingredients that you would need are:
frozen puff pastry

Cheese

Ham

Mustard (Dijon)

Parsley

Salt and pepper

Chives
Sliders
Your ingredients will depend on the type of sliders you would like to make. A favorite is a Bacon cheeseburger slider (baked)
Ingredients that you will need are:
Slider buns

Cheddar cheese

Ground beef

Bacon strips

Onions

Tomatoes

Garlic

Mustard (Dijon)

Worcestershire sauce

Salt and pepper
Kebabs on skewers
Decide if you would like to make chicken, beef, steak, lamb or pork. For this one, we have decided to go with chicken.
Ingredients that you would need are:
Skewer sticks

The meat of your choice (boneless chicken)

Salt and pepper

Olive oil

Dried oregano

Soy sauce

Garlic cloves

Lemons

Different colored peppers
If you are looking for some more ideas, here is a great video that we found for 8 delicious dishes for you to try.
Drinks
The type of drinks and how many you have will depend on how many people you invite to your house party. It would also depend on whether you are willing to offer your guests their preference in alcohol or if you would ask them to bring their own.
If you do decide to offer your guests drinks yourself, then it is best to have the most common ones available
Wine – red and white

Beer

Cocktails and cocktail mixes

Soft drinks

Water

Whiskey if the majority of your guests drink it

Punch – You can offer a large bowl of alcoholic punch as this could work out cheaper

Plenty of ice
Ingredients that you would need to make a fruity party punch are:
Lemonade concentrated

Fruit punch concentrated or a variety of fruit juices

Vodka

Light rum

Club Soda

Slices of fruit for garnish
Music
Music is another important part of a house party. The best way to ensure that there is music playing throughout the party is to create a playlist.
For those of you who would like to know how to create the perfect party playlist, we have put together some tips to help
The first step is to know the atmosphere you want to create with the sound

Choose a total amount of 200-250 songs to last the entire party

Make sure you choose songs that you like as well as songs that you know your guests will like 

Have a good variety of classic, fast, slow and dance songs

Add songs that are lesser-known in between popular ones

Arrange your playlist that it starts off slow and leads up to the big hits later on as the party starts to liven up.
Things that you would need:
Playlist that you created on Spotify, Google play music, Sound Cloud or YouTube.

A great Sound system with smart-speakers to control it from your phone
House party games
If you looking for something else to help liven up your house party, pull out some of your favorite drinking games or other party games like:
Beer Pong

Never have I Ever

Quarters 

Flip cup

Drink-A-Palooza

Drunk Jenga

Head's Up

Cards Against Humanity 

Reverse Charades
Capture every moment
It is impossible for any host to be everywhere to capture every moment of your guests during a house party. A solution for this would be to place some disposable cameras throughout the house and ask your guests to take photos for you.
If you don't like the idea of handing out disposable cameras to your guests because guests who are tipsy can become unreliable. Then another great idea is to create a game out of capturing special moments or items from the house party.
You can make a list of all the things that you would like photos of and give each guest a turn to capture something on your list with your digital camera.
This will need to be done early in the party before your guests have had one too many drinks.
Some Ideas for the perfect photos are:
Guests arriving at the party

A certain type of decoration

Their favorite food dish

The drinks table

Guests who are wearing something on their heads

Guests shoes that you love

Guests outfits that you love or don't love

A surprise photo of the hostess

A group photo

The person with the funniest dance move

Guests who are laughing

Guests who are eating

Guests leaving the party
After the house party
When the house party is over you will need to start cleaning up. You will need the following cleaning supplies:
House cleaning soaps

Mops

Brushes

Brooms

Washing cloths

Drying cloths

Rubber gloves

Garbage bags

Vacuum cleaner
Knowing the things you need for a house party can be easy if you plan ahead of time. On your plan, you can break down each part of your party down into sections and under each section list the things that you need to do to bring the house party together. Then write down all the things that you need to make it possible.
ESTIMATED TIME DESIGNING AND UPLOADING THIS ARTICLE
ESTIMATED TIME RESEARCHING AND WRITING THIS ARTICLE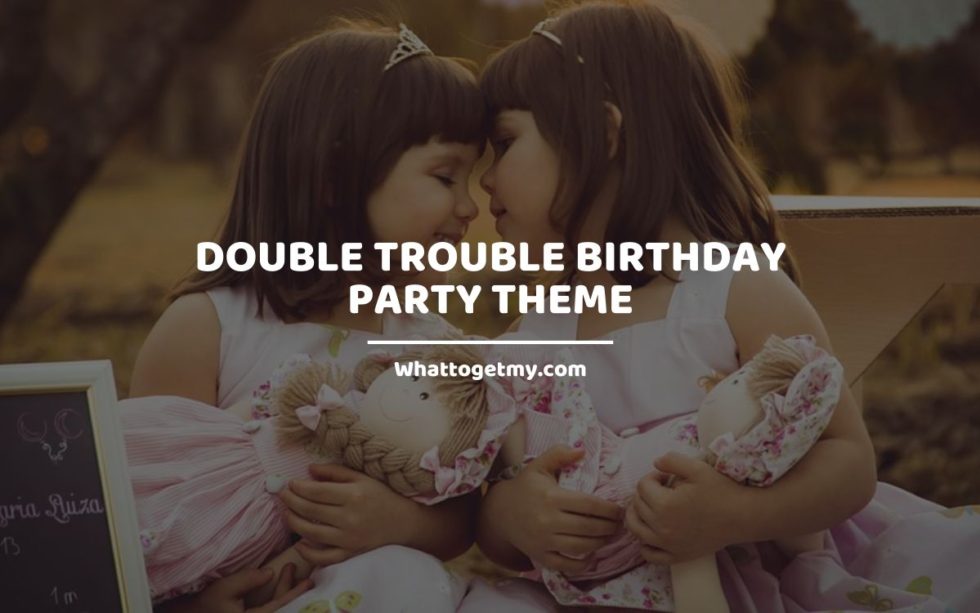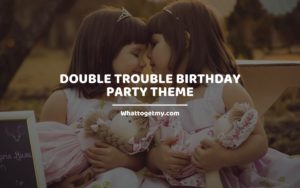 Double Trouble Birthday Party Theme
Double Trouble Birthday Party Theme WhatToGetMy Instructional Article When it comes to picking and planning a double birthday party it can be quite a challenge. But it is important to make sure that both children feel special as they are both celebrating their birthdays but
Read More »