Are you looking for gift ideas for campers? You're in the right place because we made a list of the best summer camp gift ideas for the camping fans. We all have passionate travelers in our families and among friends. Finding the best gifts for them can sometimes be rather challenging. If you already run out of ideas when it comes to personalized gifts, you'll have to move on to the more generalized ones. Complementing their gear is the smartest thing you can do. Not only will camp gifts make them super happy, but it will also be very useful in the future. They'll stay cool, occupied with fun games and accessories, and enjoy every bit of summer camping days.
Now, before you move on to the actual gift ideas, you should first consider a few things regarding the person you're about to surprise.
To whom are you buying a gift? Is it a girlfriend or a boyfriend? Maybe you want to surprise your kids for the next family trip? Or you want to complement the gear of your best friend for his or her camping journey? Although there are quite some universal gifts you can give to any camper out there, they won't be all equally thrilled with every present. Kids will love games more than adults, for example. Your grown-up friends and family members will most likely enjoy having a useful piece of equipment more than having to play with something.

Take into account the needs of the person you're buying a gift for, but don't forget personal preferences. Most campers do need the same stuff. They love to get tents, backpacks, clothes, food, and similar stuff. However, they don't all have the same taste, so you should carefully pick the design and style of every gift. You want to make sure that it will match the other things in the

camper's gear

.

Don't forget to pick a gift according to the camping location and weather conditions. For example, during hot summer days, every camper could use cooling towels. When the trip includes diving and swimming, everyone wants to have as much waterproof stuff as it can get. Think about these little things before you make a final decision!
If you went through these simple steps, you're all set to look for the perfect summer camp gifts. To make your life easier, we picked the 9 products to make every camper happy. You should be able to find at least one that is perfect for your purposes.
As an Amazon Associate we earn from qualifying purchases. We may earn a small commission for our endorsement, recommendation, testimonial and/or link to any products or services from this website. Thank you, your qualifying purchases help support our work in bringing you real daily gift ideas.
Quick Overview: 9 Best Gifts For Summer Campers
Source Link: https://whattogetmy.com/gifts-for-summer-campers/
Coleman Sundome Tent
If you have a friend, a coworker or a family member that always talks about camping but never had a chance to take it, getting a tent for them is the best thing you can do! There's no better way to motivate them to get out and enjoy the things nature has to offer.
The Coleman Sundome Tent is perfect for summer campers. It's made for hot and rainy days, keeping its residents protected from the sun and rain. This sleep away camp gift can be set up within 10 minutes. An entire family or three adults can enjoy its coziness!
Coleman offers a roomy tent for summer campers. It's easy to set up, comfortable, and it accommodates an entire family. With the weather protection it provides, it's perfect for camping in nature.
Wise Owl Outfitters Hammock
One of the perfect gifts for summer campers is a hammock! Most people don't like sleeping in a tent during the summer. It could be too hot and stuffy inside, so sleeping under an open sky is an excellent alternative. Not to mention how romantic it is for couples who can cuddle under the moon! If you're getting a gift for your boyfriend or girlfriend, you can't go wrong with a hammock.
Wise Owl Hammock is spacious and cozy. The material is strong and durable yet soft enough to keep you comfortably snugged. The setup is easy, you only need to wrap and knot the rope around something stable. You even get to adjust its height. The package includes a storage bag as well. Once folded, the hammock doesn't take too much space, so you can bring it wherever the road takes you.
If you are not a fan of a tent, a Wise Owl Hammock is what you need! It's easy to pack, mount, and store. You can put it in your backpack and hit the road. The hammock is comfy, breathable, cool during the summer, and perfect for sleeping under the open sky!
Teton Sports Scout 3400 Internal Frame Backpack
Here comes a universal gift you can get to any camper out there! Yes, they all already have bags and other pieces of luggage, but they'll always use a new backpack. It's always great to have alternatives when going camping, right?
Teton Sports is perfect for camping. It's unisex and comes in three colors. The backpack is quite roomy, with a capacity of 3400 cubic inches. It also has a multi-position torso adjustment to fit different body types and sizes. It's very comfortable, although it might get heavy according to the things you'll pack inside. All in all, the backpack is strong, durable, and it'll withstand heavy-camping use.
Teton Sports Backpack is one of those items you can adjust at your convenience. It's comfortable, adapts to the body shape, and gives a lot of storage space. Whether you're summer camping, hiking, or biking, Teton is a perfect choice!
Sukeen Cooling Towel
If you're on a tight budget yet want to find gifts to send to summer camp, you can't go wrong with cooling towels! They are very convenient for all activities on a summer camp, as they are designed to lower down the body temperature. Campers will be thrilled with this little essential!
Sukeen offers a pack of 4 cooling towels. They are made of breathable and soft material that stays cool for up to 3 hours! How awesome is that? Further on, it's chemical-free and safe to put on bare skin. One can use it not only for hot camping but also for sports and other activities making it a perfect summer gift idea. All 4 towels come in separate bags and are easy to store.
Sukeen Cooling Towels are perfect for summer camping, but they are used for other purposes as well. They are designed to cool the body down due to extreme sports activities or high temperatures. Therefore, these towels are a perfect gift for everybody, not only summer campers!
Embrava Water Bottle
Another thing that every summer camper should have is a water bottle. No, we are not talking about just any plastic, disposable bottle. Campers are active all day long, and they need to be well hydrated. However, plastic water bottles are either too small or inconvenient to be carried around. They tend to bend and leak as well. If you get a sturdy, durable bottle for a camper, you'll make his or her life a lot easier!
Emberava bottle is free of toxic materials. It complies with all law regulations, so you're perfectly safe to get it as a gift. The bottle is ideal for camping as well as for other purposes. With the proper maintenance, the bottle will last for many years. Thanks to the shatterproof material, it can withstand accidental falls and impacts. And god knows how often these things happen to campers!
Having a safe water bottle during camping is a must. Emberava is one of the best you can find on the market. It's chemical-free, safe for use, durable, and quite stylish. We highly recommend it!
AKASO EK7000 Waterproof Camera
Did you know that you can get a budget-friendly waterproof camera? It's hard to believe, but it's true! Therefore, we strongly recommend getting one to surprise a camper fan. It's ideal for hot summer days when campers get to swim and dive, while also making a memory of these beautiful moments!
AKASO is an inexpensive waterproof camera that proves to be of high quality. It takes clear shots and videos, catching your best memories in high-resolution. Also, it easily connects to the phone by the Wi-Fi signal. The camera is very sturdy and durable, which makes it ideal for camping and all recreational activities.
AKASO EK7000 Waterproof Camera is a must if you want to allow for someone to take clear, high-resolution photos. It's one of those inexpensive devices that shows surprisingly good results. Most summer campers are thrilled with it, so you can't go wrong with giving it as a gift!
Fujifilm Instax Mini 9 Instant Camera
An instant camera is perfect for summer camp gift boxes! It's a gift suitable for every camper out there, regardless of the age and personal taste. For the youngest ones, it makes camping much more fun, and for the older ones, it brings back delightful memories!
Fujifilm Instax 9 is one of the most popular instant cameras on the market. It's easy to use, fast, and reliable. It even has a selfie mirror! The photos come out within 60 seconds and they turn out to be of high quality.
Those who are on a tight budget yet want a camera for summer camping usually go for Fujifilm Instax 9. It's a mini yet reliable camera that allows for taking a lot of pictures. People love the camera's user-friendly and stylish design. It makes a great addition to the summer camping gear!
Mattel Games: The Official Uno Tin
Those who need gifts for kids who like to camp should consider getting a card game. In summer camping, nothing compares to staying up late and playing a card game with friends and family. Make no mistake, adults love card games as well!
One of the most enjoyable card games to play on camping days is Uno! It's easy to learn and super fun. Don't worry, the package includes instructions, so you'll get a handle on it very fast. People like it mostly because it's suitable for children as well as for adults. Everyone can play it!
There's no camping without fun games, and Uno is a perfect candidate! Countless players of this game praise its amazing design. They say it's incredibly fun to play it, and find it irreplaceable when it comes to traveling. We say, give it a shot!
The Camping Logbook
If you wondered what do you put in a summer camp care package, we have an answer! Yes, you should add things like towels, pieces of clothing, snacks, and other everyday essentials. But you also have to think about the fun stuff! We recommend including a diary so a camper can record all adventures. 
The Camping Logbook is super cute. You can get it for your kids, friends, family members or partners, regardless of their age. The papers have creative entries such as destination, date, location, and more. One can fill in these sections, and also write down the notes in a blank area. What also makes this notebook a perfect gift is a stylish look! Both adults and children will love it.
People all over the market are thrilled with this cute logbook. It's designed to record the best camping memories, and it looks amazing! If you're looking for a summer camping notebook or diary, this is an excellent choice.
Other Ideas
If you're wondering about what activities you can do when on camping, we are here to help. Here are three simple and super fun ideas:
Make a list! Every camper will enjoy a list of movies to watch during long camping nights. You can copy the movies on a USB flash drive, wrap it up in a nice paper, and voila! A perfect gift for every camper out there.

Campers will also be excited over a music list. You can do the exact same thing we recommended for movies, or you can opt for a subscription for a music channel. This way, the camper will have full access to all his or her favorite music.

If you are taking your family, a group of friends or coworkers camping, you'll need to be creative. It's not easy to get gifts for all of them. We recommend organizing games with

summer camp prizes

. The winners could get boxes of little essentials such as headphones, water bottles, towels, and other stuff. Every participant will enjoy playing games with prizes, which will make a summer camp a complete success!
Frequently asked questions
Are these gifts suitable for both genders?
Yes they are perfect for men and women, you just have to pick the colors of some of the items depending on the gender or even just the general preferences of the person you are buying the gifts for.
Can I make a camper gift package with these items?
Yes! These gifts are going to be great additions if you want to make a summer camp gift basket, and if you want to make it a care package you can add the self care items included above and add some toiletries, travel size amenities etc.
Conclusion
We have one ultimate advice for you: don't forget to think about the needs and aspirations of the person you're buying a present for. This is super important to remember if you want to get a perfect gift and make a camper happy. Hopefully, our list made this task a lot easier for you. We tried to include only the best gifts for summer campers we could think of!
ESTIMATED TIME DESIGNING AND UPLOADING THIS ARTICLE
ESTIMATED TIME RESEARCHING AND WRITING THIS ARTICLE
Try our AMAZING GIFT FINDER TOOL! Find GIFTS with 1 CLICK!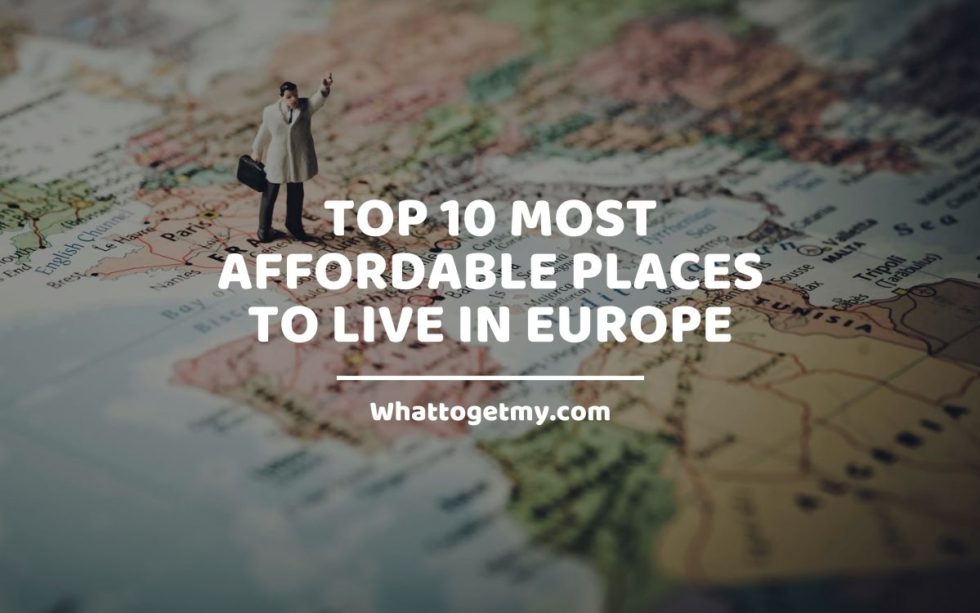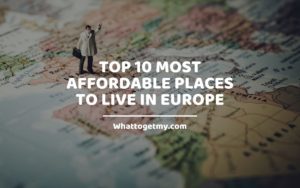 Top 10 Most Affordable Places to Live in Europe
Top 10 Most Affordable Places to Live in Europe WhatToGetMy Instructional Article The cost of living in different parts of Europe varies. We've found 10 most affordable places to live in Europe according to popular opinions. Some people move to Europe to retire. Others need
Read More »