Personalized Gifts for Large Groups
WhatToGetMy Instructional Article
You are on the hunt for personalized gifts for large groups because you have a large group of people in mind that you want to buy gifts for. The only problem is that you are looking for something unique but not too expensive then all of a sudden it hits you, nothing says unique like personalized gifts.
For you to give gifts that are personalized to a large group of people, you would need to make sure that you buy enough gifts so that each person will receive a gift. Before you run off to the shops tally up how many people are in your group. The larger the group the more expensive gift buying can become if you are not careful.
Here are some tips to keep in mind when gifting large groups:
Set a realistic budget for yourself
Work out a budget that you can afford and then calculate an amount of what you can spend per person and stick to it.
Buy in Bulk
Buy a couple of items in bulk because buying in bulk can save you a lot of money. Take the items and split them up into a package for each person.
Buy Goody bags, boxes, tins or glass jars in bulk
When you break up your bulk buy as above, you will be able to pop them into a cute little goody bag, gift box, tin or a glass jar which allows you to put your own personal touch on each gift.
Why personalized gifts?
If you are buying a large group of people gifts and you buy in bulk, that means that every gift will be exactly the same and it will not feel like anything special to the recipient and they will end up tossing it.
Personalizing each gift adds so much more value to the gift than just the price tag, it ensures that the gift is truly unique and is something that the recipient will appreciate and treasure. A personalized gift lets the recipients know that you took the time to think about each person individually and not just as a nameless person from a group.
Personalized gifts for large groups of people can have some benefits such as:
Personal connection
You automatically strengthen your personal connection with a person when you give them a gift that has been personalized. It shows that you have put some thought and care into choosing a gift for them. A personalized gift also shows that you know the person extremely well and have gone out of your way to make sure the gift is something they will love and treasure.
Personalized keepsake gifts also tend to have a story behind them and remind people of a happy time, making them even more special. They stir up a certain level of excitement and laughter between the two of you, allowing you to build new memories that bring your relationship closer together.
Perfect for any occasion
Personalized gifts are suitable for any occasion, be it a wedding event, a baby shower or even as a farewell gift.
Suitable for all ages and genders
Personalized gifts are suitable for anyone, no matter their age, gender or the relationship you may have with them. You may not know the recipient very well or at all, a personalized gift will make the gift a little less awkward if it features their name or a special quote of some kind.
Great marketing strategy
Many companies use personalized gifts as a marketing strategy. They will give gifts at the end of every year to their customers as a token of appreciation, thanking them for their business. Many customers enjoy and appreciate such gestures as they feel valued and tend to keep offering them their business to these companies.
Deciding on what personalized gifts to buy
When it comes to deciding on exactly what personalized gifts to buy for the large group of people you have in mind. You need to look at who are the people in your group as this will make your buying gifts a whole lot easier.
Your group of people could be:
Coworkers
Employees
Business Clients
A family of all different ages
Friends
Students
Wedding Party
Baby Shower guests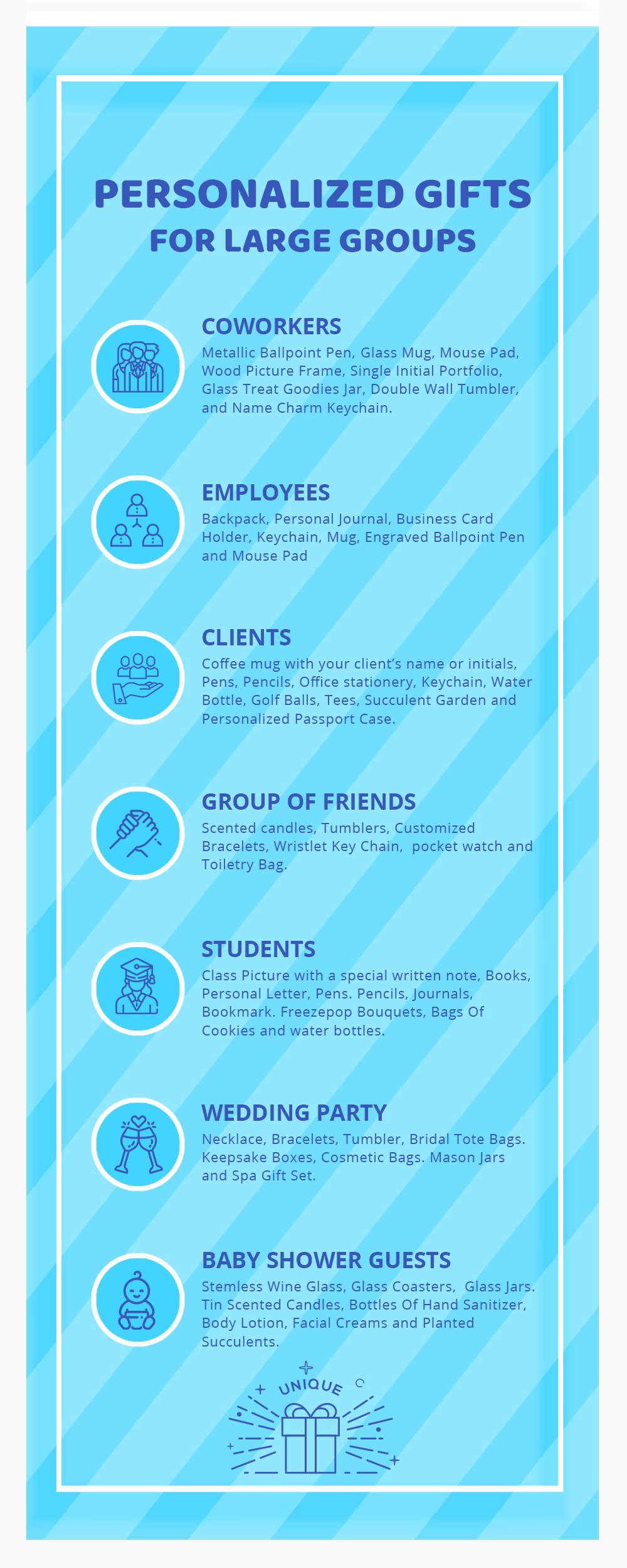 Source Link: https://whattogetmy.com/personalized-gifts-for-large-groups/
Personalized Gifts for Coworkers
You spend almost every day with your coworkers, some you adore and are even friends with and others not so much. When it comes to handing out gifts to coworkers, it is never a good idea to single out the great ones in front of the rest.
It would be best to buy gifts that are all the same for everyone and personalize them in some way for each person. This way you will avoid any conflict or bad vibes aimed at you from any of your coworkers and maybe even create a more amicable working relationship with those that you do not get along with.
Some ideas for personalized gifts for your coworkers are:
Engraved Name Metallic Ballpoint Pen
Engraved Initials Glass Mug
Personalized  Mouse Pad
Personalized Initial and Name Mug
Personalized Wood Picture Frame
Engraved Single Initial Portfolio or journal
Engraved Glass Treat Goodies Jar
Personalized Name Double Wall Tumbler
Name Charm Keychain
Personalized Gifts for Employees
Giving gifts to your employees after a long hard year is a way for you to show your appreciation for all that they have accomplished during that year. Adding a personal touch that displays their name automatically increases the value of the gift, making it feel more special.
Employees will be grateful that your business has taken the time and has made the effort to personally recognize them. They may proudly display the gift in a place where others can see, giving your company a reputation of being a company that really appreciates it's employees for the work that they do.
Some ideas for personalized gifts for your employees are:
Business Backpack & Personal Journal
Personalized Glass Business Card Holder
Employee Personalized Keychain,
Personalized Name mug,
Name Metallic Gray Engraved Ballpoint Pen
Personalized Mouse Pad
Personalized Gifts for Clients
As a business owner, you may be looking to show your gratitude to your loyal clients by giving each of them a gift. With your gifts, you would want to impress them and a great way to do this is to give them something truly unique by personalizing each gift for each client.
If you choose a gift that acknowledges their tastes and interests, the gift that you give them will get used and not just get thrown to one side with all the other un-useful gifts that they have already received from other companies.
Some ideas for personalized gifts for your clients are:
Personalized coffee mug with your client's name or initials on
Personalized pens, pencils, and office stationery with their name on it
A personalized keychain
Custom Water Bottle
Custom Golf Balls & Tees
A Terrarium or Succulent Garden
A personalized passport case for clients who do a lot of traveling
Personalized Gifts for a large group of friends
If you are part of a large group of friends and want to give each friend their own personalized gift. It is a good idea to check how many men and how many women are in your group and buy gifts according to gender.
Try to find gifts that in some way would relate to their interest or something that they would enjoy. Once you have decided on the gifts, you can then personalize each one with either the name of your friend or with a special message to each one.
Some ideas for personalized gifts for your friends are:
For the Ladies
Personalized scented candles
Personalized Tumblers,
Bulk name bracelets,
Customized Hand Stamped Bracelet,
Personalized Wristlet Key Chain,
For the Men
Gunmetal engraved personalized pocket watch
Personalized Keepsake Bracelet for men
Personalized Leather Toiletry Bag for men
Personalized Wristlet Key Chain
Personalized Gifts for students
Teachers often look for gifts for their students to give them at the end of a school year to thank them for all their hard work. It is also a sad event for the teacher because she is saying goodbye to her students as well.
When buying gifts for your students, you need to consider age-appropriate gifts that are simple and affordable and try to keep their interests in mind. Personalizing the items does not mean that you have to have each item professionally engraved, you can personalize a student's gift with inspirational notes or phrases.
Some ideas for personalized gifts for your students are:
Class Picture with a special written note to each student on the back of the picture.
Beach Ball Signatures the students go around the room and get signatures and notes of good wishes from their classmates.
Books that your students enjoy reading with a Personalized Note
Write a Personal Letter to Each Student
Personalized Pens or pencils for each student
Personalized Journals
Create a personalized bookmark for each student
Freezepop bouquets with a tag attached with something like "You're so cool"
Bags of cookies with a label that reads something like "You're one smart cookie"
Personalized water bottles
Personalized Gifts for your Wedding party
Your wedding party has been with you every step of the way, from the planning of your wedding to the pre-wedding parties. Show your appreciation for all their support and hard work to your bridesmaids, groomsmen, flower girl and ring bearer with a unique and personalized wedding party gift.
Some ideas for personalized gifts for your wedding party are:
For your Bridesmaids
Large Initial Necklace
Monogram Bracelets
Hidden Message Chain Bracelet
Personalized Bridal Party Plastic Drink Tumbler
Bridal Tote Bags with a huge variety to select from
Heart Full of Love Keepsake Boxes
Personalized Cosmetic Bags
Personalized mason jars,
Bridesmaid Spa Gift Set
For Your Flower girl
Sterling silver necklace with a heart pendant
Jewelry Box
Mini Tote
Personalized Compact Mirror
Silver Charm Necklace
Sterling silver bar bracelet
For Your Groomsmen
Wood Boxed Whiskey Stones and Shot Glass Set
Incredible Whiskey & Cigar Lovers Box Set
Grilling Tools with Personalized Golf Bag Holder
Vintage Whiskey Barrel – Made into a Watch
Personalized Stainless Steel Flasks
His Favorite Scotch, Bourbon, Gin, or Whiskey in a Custom Engraved Box
For Your ring bearer
Personalized Baseball Bat
Personalized Wooden Yo-Yo,
Boys Gunmetal ID Bracelet
Sports Quilted Duffle Bag
Kids Ring Bearer Guard Rings Cute Boys Wedding T-Shirt
"Ring Bearer" Shades
Ring Bearer Pinback Button
Personalized photo frame
Personalized Gifts for your Baby Shower Guests
Giving all your guests a baby shower favor to thank them for attending and for the gifts that they have given you and your baby is always a great thing to do. But to make the baby shower favor even more special and memorable is to personalize each one for each guest.
You do not have to spend a fortune in buying fancy personalized gifts, you can package your favors in glass jars or tins and have beautiful labels made or you can make them yourself. There are plenty of websites on the internet that offer free printing of labels.
Some ideas for personalized baby shower favors are:
Personalized Stemless Wine Glass
Personalized Glass Coasters
Personalized Glass Jars which can be filled with anything from candies to mini body lotions
Tin scented candles with a personalized label
Bottles of hand sanitizer, body lotion, facial creams or scrubs with personalized labels
Pretty planted succulents can be packaged in any container that you can place a personalized label on
When buying personalized gifts for large groups, it does not have to be a costly event, all you need to do is set a realistic budget for yourself, buy in bulk and either get each gift professionally personalized or be a little creative and personalize the gift yourself.
ESTIMATED TIME DESIGNING AND UPLOADING THIS ARTICLE
ESTIMATED TIME RESEARCHING AND WRITING THIS ARTICLE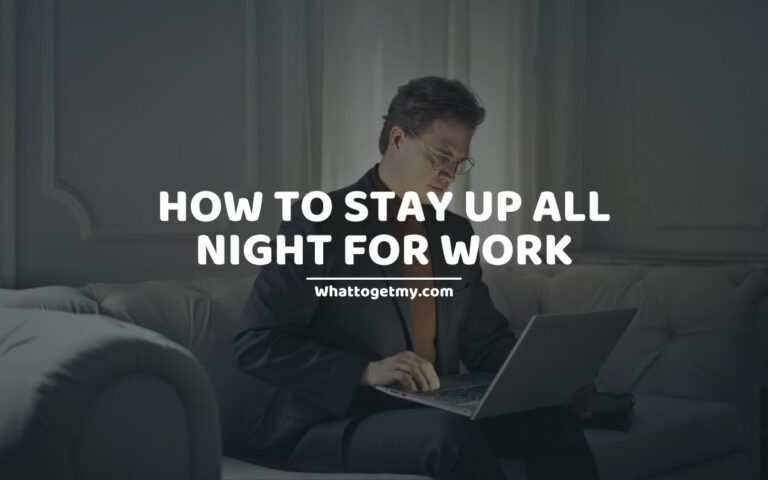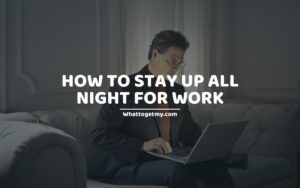 20 Tips on How to Stay up All Night for Work.
20 Tips on How to Stay up All Night for Work. WhatToGetMy Instructional Article As much as we do not look forward to it, staying awake for work is sometimes necessary to finish some tasks especially in our world today where it seems like there
Read More »