When leaving their old job or moving away, most people find themselves in doubt. Do you give gifts when leaving a job? Are you supposed to throw a party and do something special? It's a tough question and there's no simple answer. The truth is, you can buy gifts or organize an event but you can also skip all of that. It's completely up to you.
Still, if you spent several years on your job and got close to your coworkers, chances are you'll want to get a little something for the office. If you are to leave a friend behind, you'll definitely want to get a gift. To help you with that, we picked 10 products and divided them into 2 categories. The first one would be for your bosses, coworkers, and other people at work. The second one would be for friends, family, and other close people in your life. We hope this helps you decide on a gift easier, and save you some time and effort. Since you probably have to start packing, let's begin right away with our 10 creative gifts to give when you are leaving.
As an Amazon Associate we earn from qualifying purchases. We may earn a small commission for our endorsement, recommendation, testimonial and/or link to any products or services from this website. Thank you, your qualifying purchases help support our work in bringing you real daily gift ideas.
Quick Overview: Gifts to Give When You Are Leaving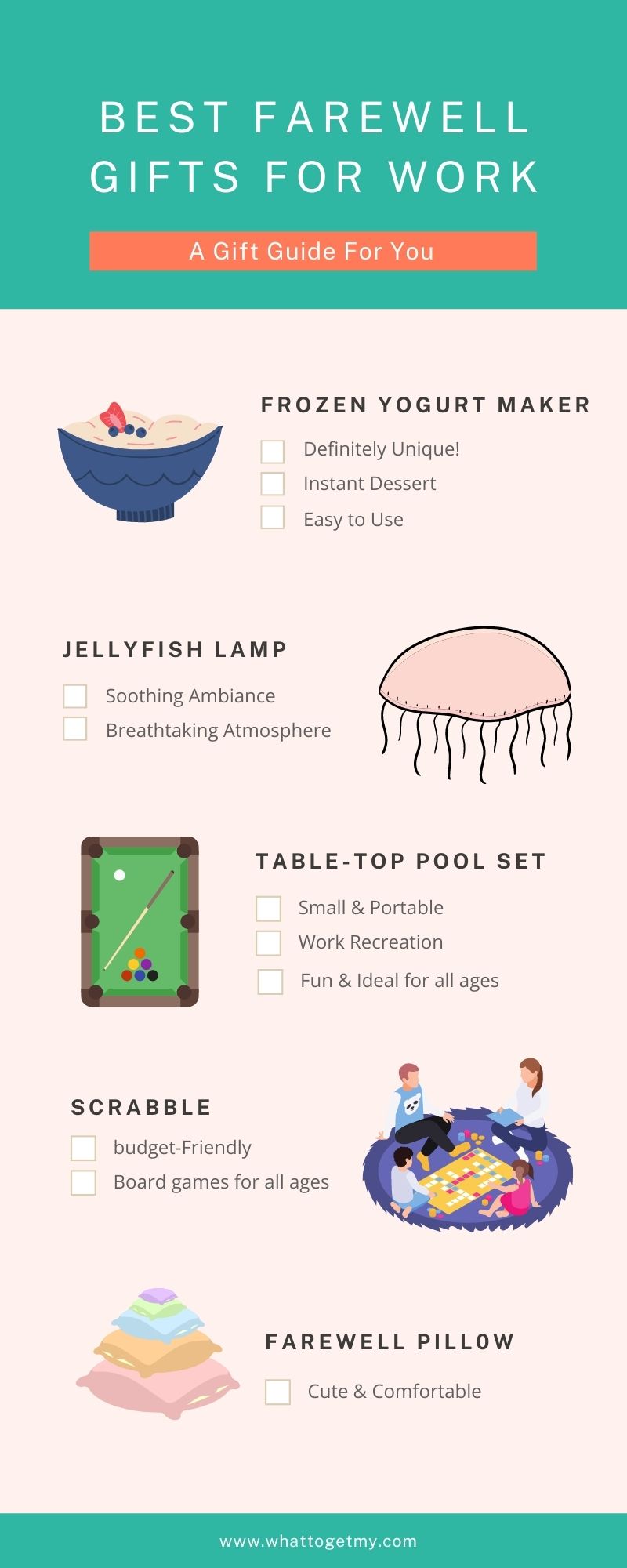 Source Link: https://whattogetmy.com/gifts-to-give-when-you-are-leaving/
Work-Related Gifts for Office Buddies
Cuisinart ICE-21 Frozen Yogurt-Ice Cream Maker For More Enjoyable Working Days
If you are looking for gifts for colleagues when leaving work, we recommend something for the entire office. You don't have to buy a gift for every single coworker. Instead, you can get an item they can all use.
We recommend an ice cream maker. Your office probably has a coffee maker, a microwave, and some of the other appliances. An ice cream maker is an excellent addition. Besides, it will make long working hours way more enjoyable.
The Cuisinart ice cream maker prepares frozen desserts within 20 minutes. It offers a large capacity and a double-insulated freezer bowl to eliminate the need for ice. The device also has a transparent lid with a large spout for easy use. Additionally, the maker comes with a 3-year warranty.
The device is powerful, and it prepares all kinds of desserts in record time. It makes frozen yogurt, ice cream, frozen drinks, and more. It's perfect for every office as it will make long working hours more bearable, but we also recommend it for personal use.
Lightahead LED Fantasy Jellyfish Lamp for the Office
One of the best office farewell gifts is a lamp! Of course, it's not just any type of lamp but a unique one. We are talking about a realistic jellyfish lamp that creates a breathtaking atmosphere in every environment. Because it's soothing and peaceful, we think it's perfect for stressful situations at work, but it's also very beautiful in general. 
The jellyfish illusion seems so real that you'll feel like you have a small part of the ocean in the office. When it comes to the overall lamp quality, there's nothing to worry about. Thanks to the 18 LED lights, the lamp is quite bright and allows for 5 color adjustments. It's available in two sizes (32 or 14 inches tall), and it even has an auto shut off feature for more safety.
The jellyfish LED lamp is perfect for every interior, including home and office. It's a beautiful, soothing, and long-lasting item. Therefore, if you want to make a surprise with Non-Food Gifts For Coworkers, this would be the best choice.
Have Fun with Winning Moves Tile Lock Scrabble
If you want to get gifts for colleagues when you leave, we have a perfect one in mind. In case you are on a limited budget, and you can't afford to give a gift to each coworker, we recommend a game for the entire office. 
For example, you can get this astounding Scrabble board. It's designed for groups of 4 people and includes 100 plastic letter tiles. It's also quite portable, so your coworkers can play it anywhere. Also, buyers love the unique tile-lock design that prevents words from slipping and sliding away from the board. Lastly, the package includes 4 plastic tile racks, 1 tile bag, and a manual.
The Scrabble board is an excellent gift for coworkers, as they'll be able to bond over the game and spend some quality time together. It's also an inexpensive option for you, yet you get to give a gift to the entire team. You can also join the game before you leave the office! For more ideas on how to spend time with your coworkers before you leave, you can take a look at our article about 8 of The Best Funny Things to Do on Your Last Day at Work.
Relieve Stress with Mini Tabletop Pool Set
The mini pool table is a perfect gift for your coworkers and bosses, whether you or they are leaving the office. It's small, portable, and therefore convenient for places where you don't have enough room for a large billiard table. The wood construction feels and looks very realistic, and it's also quite durable. The table is convenient not only for adults but for children too. It's super fun, and every recipient is going to love it. For more similar ideas, you can take a look at our 3 Amazing Ideas on What to Do For a Coworker Leaving.
Almost every buyer on the market is excited over this mini pool table. They say that it looks awesome, complements the interior design, and brings fun in every environment. If you want to get it for your boss or coworkers, we say go for it. It's one of the best gift ideas for someone leaving a job we have for you. For more of them, you should also take a look at our article on Farewell Gifts For Female Boss.
Meaningful Gifts for Friends and Family
Oh, Susannah Pillow for the People You'll Miss
Whether you're about to move far away from your girlfriend, boyfriend, friends, or family, you'll have to buy them something special as a gift. We recommend a pillowcase with a cute saying "hug this pillow until you can hug me". It's adorable, right? The case is quite soft and breathable thanks to the quality microfiber material. All buyers like it because it's very comfortable and easy to maintain. It's wrinkle-resistant, machine washable, and dries quickly. All in all, it's a perfect gift for the occasion.
The pillowcase is incredibly cute and also very comfortable. It's perfect for every person you'll be missing when you leave.
KindNotes Glass Keepsake Gift Jar for Incurable Romantics
We have an ideal gift idea for the incurable romantics! Kind Notes offers a 31-note jar filled with love and beautiful words. All the notes are different, so your loved one gets to open one by one every single day. Also, they come in the decorative envelopes, and the jar has a gorgeous ribbon. The jar is available in more than 30 colors, so you can pick the one that you like the most. No matter which one you choose, you'll get it in an adorable gift box.
As we mentioned above, the jar is perfect for romantic souls who want to show love to the closest people in their lives. We highly recommend it to all people who are moving out or going far away.
Pioneer Photo Albums to Record Memories
The photo album is our favorite. It allows you and your friends to make a selection of your favorite photos, and never forget a moment from your life together. We find a Pioneer album an excellent choice. It comes with sturdy and stylish covers, holds 200 photos, and it even has a memo writing area. It's also worth mentioning that the album is perfectly safe and won't damage your photos.
If you want to get your friends and family something meaningful, this would be it. It's a quality album perfect for storing pictures and catching all the memories. We also recommend it for those who are looking for sentimental gifts for coworkers.
Friendship Reminder with Poster by Kathy Box Sign
If you need something cute and meaningful that will remind your friend about you, then this poster is just a perfect option for you. It comes in rustic black and white color and has an adorable print. Also, we are not talking about a flimsy poster but the one made of high-quality wood. Whether your friend decides to hang it on the wall, put it somewhere in the room or any other place, it will last for many years.
The poster is made of quality materials, and it proves to be quite durable. It's also incredibly sweet with that saying! We find it's an ideal gift for friends, but you can also get it for your coworkers.
Memory Bear Gift by The Patchwork Bear
If you want to surprise your friend or family member, you should consider getting a memory teddy bear. It's a unique toy you get to make of your clothes. Yes, you read that right. You need to send your pieces of clothing to the company, and they'll use it to make a cute teddy bear. Isn't that adorable? This way, you can give a memorable gift to your friend and feel less guilty for leaving. Besides, the bear is so cute, well-made, and quite durable that it will make your friend very happy.
The Patchwork Bear is that unique gift you were looking for, that's for sure. It's cute, made of quality materials, and makes a meaningful gift. Who could ask for more?
EFYTAL Friendship for Eternity Necklace
Here's a unique idea, how about you and your friend get a friendship necklace? If you haven't thought about that, you should consider it now. EFYTAL offers a cute and classy necklace that celebrates friendship. It's made of silver, gentle and safe for the skin, and proves to be very durable. Additionally, you'll get a 5-year warranty in case you run into any issue.
The friendship necklace is handmade and beautifully designed. It's perfect for friends, family members, and loved ones who don't get to see each other so often.
Final Thoughts
We hope our guide helped you find the perfect gift for your friends, family, coworkers, and other important people in your life. We know that you want to give them something special and memorable before you leave.
Now, if you want to make your last day at work more fun, or the last day before moving out or for any other occasion, consider throwing a party. It doesn't have to be a big-time event. You can gather a group of friends or coworkers for lunch, organize playing board games, or even bring food to the office. It's only important that you have fun that day, and that you all manage to forget about your last day at the place, even for a little while. Combined with our list of gifts to give when you are leaving, we hope you'll get through the day easier than you originally thought.
ESTIMATED TIME DESIGNING AND UPLOADING THIS ARTICLE
ESTIMATED TIME RESEARCHING AND WRITING THIS ARTICLE
Try our AMAZING GIFT FINDER TOOL! Find GIFTS with 1 CLICK!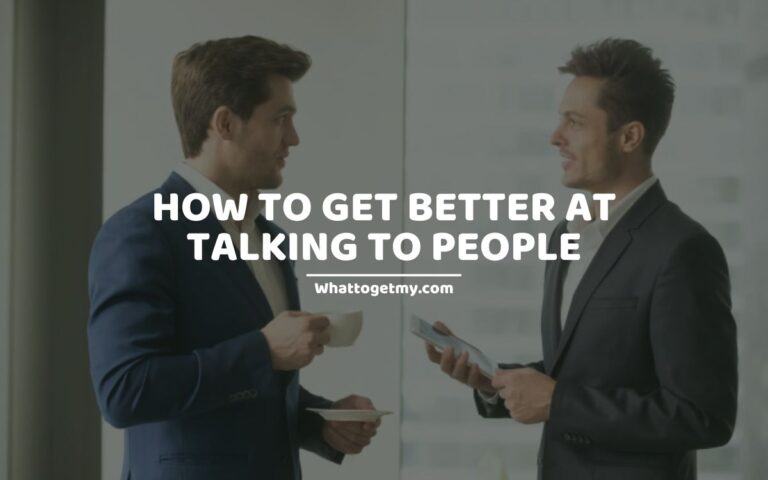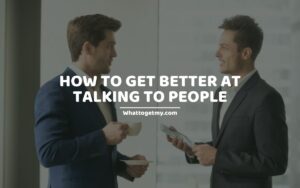 How to Get Better at Talking to People
How to Get Better at Talking to People WhatToGetMy Instructional Article I get the impression that I am uninteresting. When I chat with people, I feel like I bore them to death and I often find myself struggling to keep conversations alive. I also get
Read More »