Most employees don't like office events. No matter how amazing the team is or how well organized is the party, they often feel uncomfortable. Yes, it's because of the gifts. Only the fact that you have to bring a present to the event, whether you know a colleague or not, might cause some stress and discomfort. That's why people don't like Secret Santa and similar games. It's bad enough that you have to think about social norms when buying gifts for coworkers, buy getting one for a random person is a whole other level of stress.
However, things don't have to be so stressful if you have a plan and someone to back you up with gift ideas. We did our best to be there for you and help you find the best presents for your colleagues. This time, we have a guide for those who need sentimental gifts for coworkers. That's right, if you are buying a thing for your office mate, who became your close friend over the years, we are here to help. You can finally say goodbye to all those meaningless gifts we give every year, and that never get used, forgotten in the drawers of the office desk. We have meaningful little gifts to show your coworker how much he or she means to you.
Here are some things you might want to consider before you decide on a particular gift:
First and foremost, keep in mind that not all people enjoy sentimental gifts. Here's the thing. Although sentimental items don't always have to do with romantic ones, people might see it that way. Those who are not sensitive at all might feel uncomfortable with this type of attention. Consider it before you opt for any item. 

Try to catch any hint regarding gifts and personal preferences of a coworker. We know that this might be difficult in some situations, especially if you're not working in the same office. Still, do your best to notice anything that might seem like a sign for personal preferences. 

Another thing might happen – you have a crush on a coworker, and you want to get a sentimental gift to show your affection. That is completely fine, but still, be careful when choosing a gift. You don't want to be too pushy with the message it sends.
As an Amazon Associate we earn from qualifying purchases. We may earn a small commission for our endorsement, recommendation, testimonial and/or link to any products or services from this website. Thank you, your qualifying purchases help support our work in bringing you real daily gift ideas.
Quick Overview: Sentimental Gifts for Coworkers
Paper Junkie Notebook to Make Someone's Days More Beautiful
Finding parting gifts for coworkers is not an easy task, but we got you covered. Paper Junkie offers a set of 12 notebooks with amazing inspirational quotes. Although we find Happiness design the best option for sentimental gifts for coworkers, there are also 3 more available patterns. They include adventure and travel, funny, and millennial phrases designs.
All notebooks are lightweight and highly portable. That, however, doesn't mean they are less durable. The covers are still quite sturdy, and the pages are thick to prevent ink bleeding. The phrases on all notebooks are just incredible. They are so beautiful that your coworker will most certainly bring them everywhere he or she goes.
The Paper Junkie set is a perfect sentimental gift for your office mate. Whether you know a person well or you don't, he or she is going to love it. There's no way that somebody can remain indifferent to these beautiful inspirational notebooks.
LINKEDWIN Our Adventure Book for Besties In and Outside of the Office
The adventure book made it to the top of our list for gifts for colleagues when leaving work. It's a unique book, with beautiful covers and quality design. The front cover is painted in several covers and states Our Adventure Book, while the back cover has the phrase "To be with you is the greatest adventure". Also, you'll get 8 postcards and 2 sheets of photo corner stickers. If you and your coworkers are close friends, this might be a perfect gift for her or him.
The adventure book is perfect for every occasion, from Christmas to birthdays. It's a universal yet unique gift that will leave your coworker speechless. You get to write down all your adventures, from those at work to all your exciting outdoor activities. How cute is that?
Pop-Open Cards by Compendium to Inspire and Make Your Coworker Smile Every Day
Are you looking for small gift ideas for coworkers? We have a perfect little thing for you, and your coworkers will love it!
Compendium offers a box with 20 pop-open cards. Each card has a wonderful inspirational quote. Also, the cards come with blank notes to write personal thoughts and impressions. This way, you get to say your coworker how much he or she means to you. The box itself is very pretty, and it makes an excellent first impression.
If you want to get something meaningful for your coworker, this might be the perfect thing. It's a beautiful box with all those inspirational quotes to make people happier. Also, if you're looking for Farewell Gifts For Female Boss yet you're on a limited budget, we highly recommend pop-open cards. It's a meaningful gift that she is going to love more than any high-end expensive thing.
Make Working Hours More Enjoyable with Jar of Smiles by Julie
Here we have another super cute thing that also meets the needs of those looking for inexpensive gifts for coworkers. We are talking about Jar of Smiles by Julie. It's a box that contains 31 beautiful inspirational quotes. The notes are stored in a classy jar one can open at his or her convenience. They are all astonishing, and they range from simple happy thoughts to make days more enjoyable to strong motivational messages.
If you want to show a coworker how much you value your friendship, get the jar of smiles. It's also a perfect gift for those who already have a lot of stuff. For example, we recommend it for Gifts for Executives That Have Everything. You'll make them happy, more motivated on a daily basis, and they'll most certainly be thrilled with the gift!
ZeenArt Ring Dish for Stylish Coworkers
If you're looking for unique office gifts for coworkers, this is a perfect one for women. It's a ring dish with a beautiful phrase Believe in Yourself. We think it's incredibly cute and stylish. It's made of quality glazed ceramic for more durability. Your coworker can use it for storing necklaces, earrings, and all kinds of other jewelry. Also, the company packs the dish into the beautiful purple gift box with silk ribbon and a greeting card. How amazing is that?
The ZeenArt Ring dish is a perfect sentimental gift for a female coworker. It's cute, well-made, and comes all wrapped up, ready to be given as a gift. For more similar gift ideas, you can take a look at our article Unique Office Desk Gifts For Her.
Unibedding Animal Pillow Covers for Nature Lovers
Although we can't offer you funny gifts for coworkers in this particular article, we do have ideas for cute ones! If your coworker enjoys nature and adores animals, a cartoon pillowcase makes an excellent gift.
Unibedding offers over 30 different pillowcases. They are all adorable and very well made. You get to pick the print with cats, dogs, birds, fish, and much more. Oh, and the pack includes 4 pillowcases.
This pillowcase is just adorable. It's perfect for nature and animal lovers. Also, if you can't think of Secret Santa Gift Ideas for Managers, we recommend sticking with these cute pillowcases.
Other Ideas: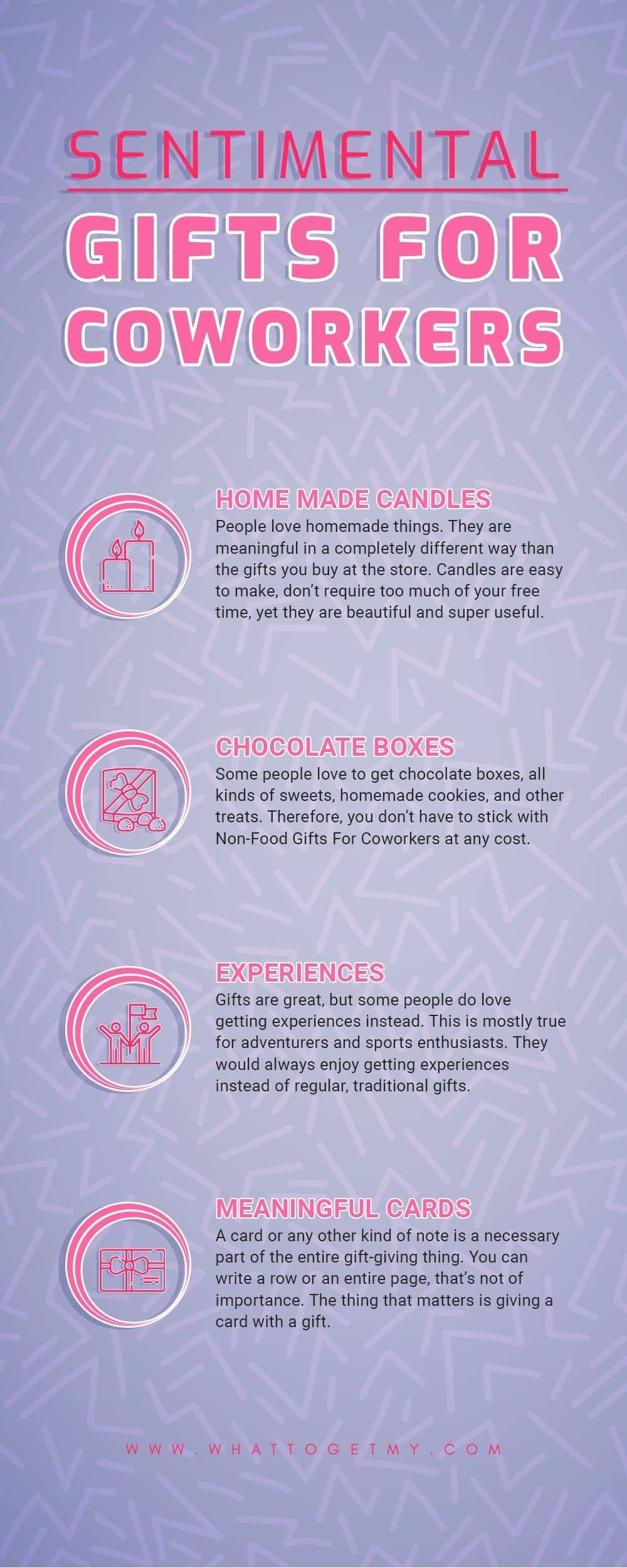 Source Link: https://whattogetmy.com/sentimental-gifts-for-coworkers/
Homemade Candles
Those who want to find some work for their inner DIYers can always opt for homemade gifts for coworkers. People love homemade things. They are meaningful in a completely different way than the gifts you buy at the store. Of course, it's because you make them on your own, but also because you put some extra thought and effort into the ideas.
Now, if you want to make something for a coworker, we recommend candles and soaps. They are easy to make, don't require too much of your free time, yet they are beautiful and super useful. You can also make some elegant gift boxes and first-aid food kits.
Take a look at this video if you like the idea with homemade candles and soaps:
Chocolate Boxes and other Sweets
People tend to avoid chocolate boxes and other food gifts for their coworkers. They think food gifts are dull and not cool at all. That's not quite true. Some people love to get chocolate boxes, all kinds of sweets, homemade cookies, and other treats. Therefore, you don't have to stick with Non-Food Gifts For Coworkers at any cost. If you want to get your coworker something tasty or something you know he or she will love, go for it!
Experiences
Gifts are great, but some people do love getting experiences instead. This is mostly true for adventurers and sports enthusiasts. They would always enjoy getting experiences instead of regular, traditional gifts. Therefore, consider your coworker's hobbies and then maybe opt for some alternatives. You can pay for a road trip, get plane tickets, reserve a hotel room, and much more. Here's an article that could help you out with some extra ideas: 5 ways for How to Ask for Experiences Instead of Gifts.
Meaningful Cards
If you thought that a sentimental gift can go without a card, you were wrong! In most cases, a card or any other kind of note is a necessary part of the entire gift-giving thing. You can write a row or an entire page, that's not of importance. The thing that matters is giving a card with a gift. If you need more instructions on the topic, you can look into our article about Things to Write in a Boss Day Card.
Final Thoughts
Picking sentimental gifts for coworkers is not an easy task. There are a lot of things to consider such as coworker's area of interests, hobbies, occasions, and much more. All of these things are easier with friends and family, especially if you're not so close to a person at work. Still, if you follow our tips listed above, you shouldn't have difficulties finding a perfect sentimental gift. We hope our 6 top picks also help you with the choosing process. We tried to include only the best and highly rated products in order to cover a wide range of interests and different personalities. The main goal of our research was to save you some time and effort as well as to help you find the perfect sentimental gifts for coworkers.
ESTIMATED TIME DESIGNING AND UPLOADING THIS ARTICLE
ESTIMATED TIME RESEARCHING AND WRITING THIS ARTICLE
Try our AMAZING GIFT FINDER TOOL! Find GIFTS with 1 CLICK!