When searching for gifts for executives that have everything, you have to find the perfect balance between form, functionality, and usability. The greatest challenge is to find a special something that your executive didn't think of. Most of them already have everything they need, and they have bought it all on their own. 
Picking a gift for people who have everything can be pretty difficult. It takes a lot of time and effort to find the perfect thing. You can't just get your executive another luxury, expensive thing, because they probably have it already. You have to think of something unique! To help you out with this difficult choosing task, we picked 6 products you can give to every boss and coworker out there. After reading our article, you'll be all set to pick a particular gift and make your executive happy!
As an Amazon Associate we earn from qualifying purchases. We may earn a small commission for our endorsement, recommendation, testimonial and/or link to any products or services from this website. Thank you, your qualifying purchases help support our work in bringing you real daily gift ideas.
Quick Overview: Gifts for Executives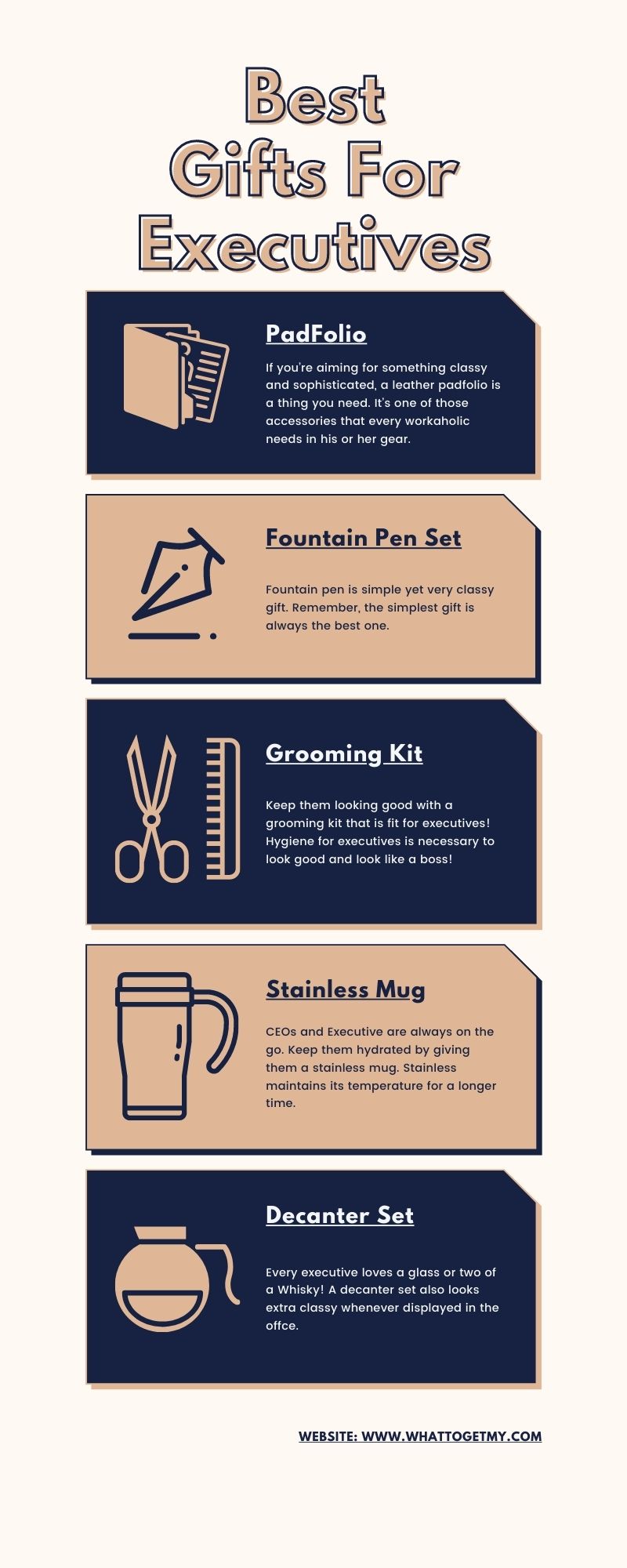 Source Link: https://whattogetmy.com/gifts-for-executives-that-have-everything/
Bose QuietComfort 35 II Wireless Bluetooth Headphones
If you have some extra bucks to spend on your executive gift, we recommend noise-canceling headphones. Everybody loves this amazing gadget! It's not only that it cancels the noise, but it also produces high-quality sound for a music enthusiast to fully enjoy the experience. Getting it as a gift is the smartest choice you can make this year!
Bose Quiet Comfort is probably the best product in the category. It offers three levels of noise cancelation for the best experience. The headphones have Alexa voice command as well as convenient button commands. There's a microphone, a Bluetooth connection, and the Bose Connect app. It's also worth mentioning that the sound on these headphones is truly amazing. The bass is deep and allows for a unique experience in any environment.
Bose Quiet Comfort is one of the best products on the market when it comes to noise-canceling headphones. It delivers quality sound, deep bass, and reduces noise in any environment. We highly recommend it for personal use as well as for gifts. If you're looking for high-end executive gifts, Bose Quiet Comfort is just the thing you need!
Gallaway Leather Padfolio
If you're aiming for something classy and sophisticated, a leather padfolio is a thing you need. It's one of those accessories that every workaholic needs in his or her gear. Therefore, giving it to your executive is an excellent idea. To find more unique gifts for someone who has everything you can look at our article Luxury Gifts for Men Who Have Everything. It will give you a whole bunch of new ideas! 
The Gallaway padfolio is thin and compact. It's made of high-quality leather and has a smooth exterior. It looks very stylish, so it makes a great first impression no matter where you are. The interior has enough room for a pen, writing pad, business cards, notes, and other necessary stuff. Additionally, the padfolio comes in a classy black box, so it's ready to be delivered as a gift!
Gallaway padfolio is one of the best leather accessories you can find on the market. It's useful, spacious, and incredibly stylish. Every workaholic will love it!
BEILUNER Luxury Fountain Pen Set
You probably thought already about giving your executive a pen, but gave it up because you assumed that it would be too simple. Have you considered that a simple gift is sometimes the best one? Of course, we are not talking about just any pen you can buy in the store. If you buy a classy one, we are sure that your executive will love it! 
We recommend Beiluner, a black fountain pen made of stainless steel. The pen has a contoured shape for more comfort, and it feels great in hand. You can write with it on any paper thanks to the convenient nib that runs smoothly over the surface. It's worth mentioning that this beautiful item comes in a classy case with 6 ink cartridges. It's a perfect gift for any occasion!
Beiluner offers a luxury pen at an attractive price. It's a stylish little item perfect for gifts, especially because of the classy case, and 6 included ink cartridges. Of course, the pen itself is quite stylish, and it writes beautifully. If you liked the idea, but you're not so much into getting a pen, you can take a look at our article Unique Office Desk Gifts For Her. You'll find some interesting gift ideas there, and they could inspire you to get something special to your executive!
Remington PG6025 All-in-1 Lithium Powered Grooming Kit
So, you're wondering What To Buy When You Have Everything? We have an idea for all men out there! Whether you're growing a beard or you need to style your hair, a trimmer is a perfect device for the job. However, you can't just pick any available trimmer. We recommend sticking with reliable brands, such as Remington! 
The device coming from Remington offers 14 settings for all grooming needs. It's a trimmer that allows not only for shaping the beard but styling the hair as well! The steel blades are extra sharp, and they are built to last. The lithium battery works continuously for up to 70 minutes, which is long enough for all operations. Additionally, the attachments are easy to wash, and the device comes in a storage pouch.
The Remington grooming kit is perfect for every man out there. It offers 14 different settings, comes with several attachments, and it's very efficient. If your executive is a man, we highly recommend getting him this trimmer!
Thermos Stainless Steel King Travel Mug
If you're looking for gifts for female CEO, we have a perfect one in mind! Actually, you can get this one to both your female and male coworker or boss. We are talking about a convenient insulated bottle coming from Thermos.
Thermos Stainless Steel King  is one of the most popular insulated bottles on the market. It features stainless steel construction that meets all safety regulations for human consumption. It's available in 8 different colors to match every style. The most innovative thing about it is a built-in hook designed to hold tea bags. The most impressive thing is the longevity – the bottle keeps drinks hot or cold for up to 10 hours. That makes it super versatile and perfect for every occasion.
Thermos Stainless Steel King is one of the best choices when it comes to insulated water bottles. It keeps liquids hot or cold for many hours, and it can be used for different purposes and a wide range of drinks. All in all, the bottle is ideal for every occasion, and you can't go wrong with giving it as a gift! If you need more ideas like this for your female executive, don't miss to check out Gifts for The Impossible Women.
James Scott 5-Piece Decanter Set
If you need luxury gifts for men who have everything, we recommend a decanter set! Sure, you can get it to a female executive as well, but we can't promise that she'll love it. 
The James Scott set includes a decanter and 4 stylish glasses. It looks classy and matches every interior style. The set is made of fine crystal, and it's perfect for drinking whiskey. It will complement every home and office, and make alone nights and parties way more enjoyable!
The James Scott Decanter Set is the thing that everybody needs in their home and office. Whether you have your friends coming over or you are home alone enjoying a good movie, you need a quality whiskey set to drink your favorite beverage. James Scott is one of the best you can find!
Home Hero Chef Knife Set
So, talking about gifts for people who have everything, do you know whether your wealthy executive loves to cook? If he or she does, there's your chance for a perfect gift. You can choose one of the countless cookbooks, or you can stick with our recommendation and get this amazing Home Hero Knife Set.
Home Hero set includes 5 stainless steel knives, a sharpener, a finger guard, and a cutlery stand. You get everything you need for safe and efficient operation in the kitchen. All knives are made of high-quality material, and they have a smooth grain finish with sharp blades. Additionally, it's inexpensive, so you won't have to spend a fortune to get a high-end knife set!
Every cooking enthusiast will be excited over this amazing knife set. It includes 5 different knives for various situations, and improves cooking skills! Besides, having a stylish set of knives complements the look of your entire kitchen!
Picking a gift for an executive could be tricky. Most of them already have everything they need. How are you supposed to know those little details from their lives to find out what to buy? Truth be told, the fact that they already have a lot of things might be easier for you. It might not seem so, but that allows you to give them inexpensive little gifts, small details of attention. Those things would be seen too impersonal or inappropriate in other situations, but not for people who have everything! 
There are only a few things you should consider before buying a gift for your executive:
Consider the things she or he enjoys, like traveling, hiking, writing, watching movies, exercising, etc, and then opt for a particular gift. 

Don't think that you have to spend a fortune on a gift. Essentials and little things are just fine, as long as they have a purpose and look nice. 

Don't forget to write a card or a note that will go with the gift. You don't want to sound too impersonal, even if you're not too close to your executive. 
Keeping this in mind, you're all set to get back to our list and finally decide on a particular gift. You probably have a favorite or two by now! Hopefully, our list helped you with your troublesome search and saved you a lot of time. We did, after all, included only the best gifts for executives that have everything.
ESTIMATED TIME DESIGNING AND UPLOADING THIS ARTICLE
ESTIMATED TIME RESEARCHING AND WRITING THIS ARTICLE
Try our AMAZING GIFT FINDER TOOL! Find GIFTS with 1 CLICK!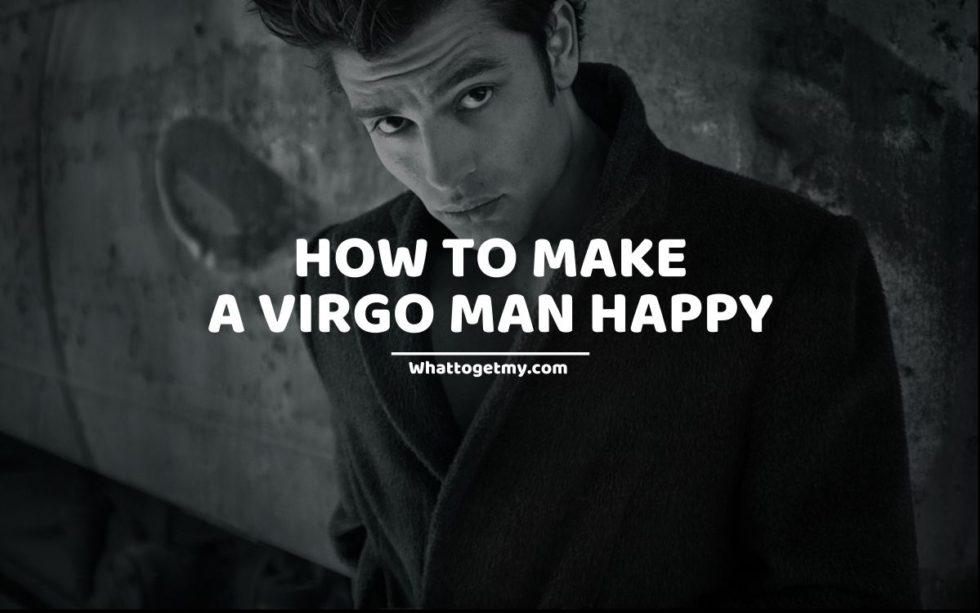 How to Make a Virgo Man Happy WhatToGetMy Instructional Article Making a Virgo man happy may seem like a big ask. After all they are perhaps the most complicated of zodiac signs. But since it takes two happy people to be in any healthy relationship
Read More »