Fun Things to Do with Coworkers Outside of Work
WhatToGetMy Instructional Article
Having good relationships with your coworkers is very beneficial to your psychological health. You would feel comfortable in your work environment and your job might not be so stressful. The best way to make friends with the people you work with is spending time together. We found some fun things to do with coworkers outside of work that would help you bond. You'll get to know each other better while also having exciting experiences.
Adding some fun to the work environment can motivate people to be more productive. Working with friends is also known to be more fulfilling. Group activities for coworkers will nurture team spirit in the office and they can be beneficial for improving job performance. We've selected some team building activities outside of work that can help you relax and have some fun with your coworkers, so be sure to try them out.
Before you get to the recommendations for things to do outside of work, we have some ideas about office activities.
Team lunch. Instead of eating alone at your desk, invite your team for lunch in the common area. Order a pizza or share your homemade lunch, put on some music and spend the break chatting. This doesn't have to be an everyday activity but it would be fun to do it once in a while. You'll create a bond and get to know each other in a relaxing setting.

Fun games to play at work with coworkers

should be quick and simple. You can organize a 15-minute trivia game. Split into teams and have some fun answering questions from pop-culture, history, or any other category. A little competition will bring you closer to your coworkers.

If you're the new guy/girl at the office or if someone new started working with you, play some ice breaker games. They will surely help you get to know each other better.
Why are team-building activities important?
These activities encourage people to socialize with their coworkers. If you get to know your colleagues better, there's a high chance you would be comfortable in your workspace. You would be satisfied with your surroundings and even your job if you feel there's unity between the workers.
Team-building activities build trust which is an important aspect of the successful team. How can you do your best if you don't think your team will do the same. You need to put confidence in your team, so you don't hold back and limit everyone's abilities.
You can also improve workplace projects that require teamwork. After getting to know the members of your team, you will understand each other's strengths, weaknesses, and interests. You'll know how to organize actions, so people would be productive. Then, the end results of the projects will be a lot better.
Remember that you all benefit from solidarity and unity in the long term. Together you are stronger and you can ask for benefits or raises when you deserve them.
Team-building activities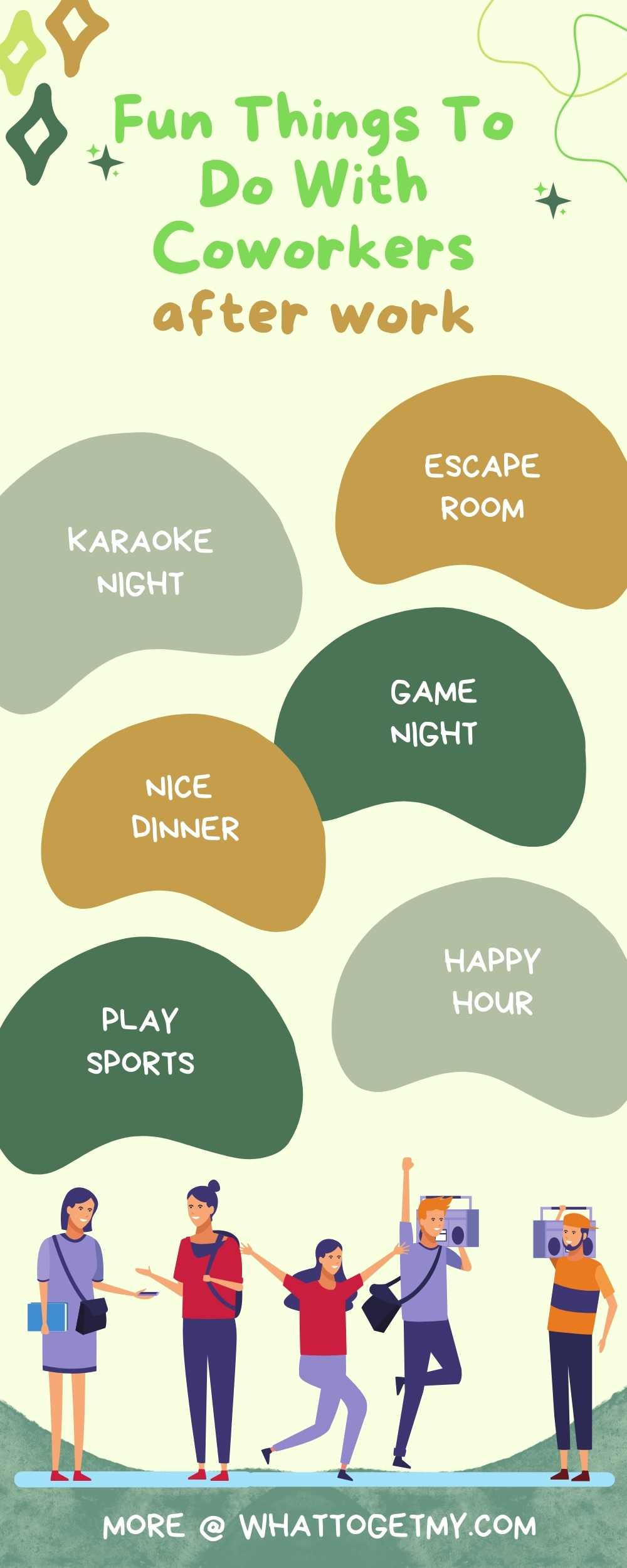 Source Link: https://whattogetmy.com/fun-things-to-do-with-coworkers-outside-of-work/
These days a lot of companies are organizing after-work activities for coworkers. Try to participate as much as you can in these scheduled bonding activities. Most of the time they are really fun and result in opportunities for friendships and new acquaintances.
Activities that don't make people feel awkward are usually the best ones. You should be able to start some interesting conversations while also enjoying the activity on its own. Some activities encourage team spirit and improve communication skills too. We'll give you some examples of the most common team-building activities.
Escape the room
Fun outings with coworkers can include this game. Your team gets locked in a room and you need to figure out how to get out. Solve a series of cryptic puzzles and clues to exit within a certain time limit. You and your colleagues would have to put all your problem-solving skills to work. Also, you need teamwork to win, so this is a great activity that helps you bond.
Karaoke Night
This is just a classic activity for coworkers. You'll be surprised how quickly people open up after stepping out of the office environment. Add a drink or two and you'll have an amazing activity for relaxing after a stressful week.
Let your talents shine and take the stage with pride! Everyone has a favorite song, so don't be afraid to cut loose. Maybe even partner with someone and sing a duet. Share some laughs and show your coworkers your true colors.
Game Night
You don't have to organize the typical game night as you do with friends. Maybe even go out and play some foosball, ping pong, or pool. There are a lot of bars that even offer board games, so sign up your team for friendly competitions. You can even visit a nearby game room and play something silly like Super Smash or Mario Kart.
Interesting and simple games
You can always take the time to play games. For example, Truth and Lies is a simple game designed to get the people to open up. The team gathers in a circle and each member shares three truths and one lie about himself/herself. The other members have to guess which sentences were honest. "Lies" can get some hilarious statements from players, which improves the group's mood and draws out some laughs.
Pictionary or similar guessing games are also good for building a team spirit. Divide your colleagues into two teams. The winner is the team that can guess more words within the limited time range. "Losers" should buy the next round of drinks or do something silly like cracking jokes.
Try to put a jigsaw puzzle together. Puzzles are always fun problem-solving challenges that require a lot of teamwork. You can split the coworkers into teams and race to see who can finish the puzzle first. Grab several copies of the same puzzle and turn a simple activity into a contest.
Just make sure to choose the size of the puzzle wisely. You don't want to get something time consuming and tiring. A 1000 piece puzzle might be too much for a group of five people, so pick something simple.
Playing sports
Fitness activities are great options when you want to spend time with your colleagues outside of work. Some companies even encourage employees to be more physically active by giving discounts to nearby gyms and classes. Sign up for a spin class or pilates and invite a couple of coworkers. We're sure you'll have a lot of fun and bond while working out together.
Another great idea is encouraging your colleagues to participate in a charity race. When there's a generous motive behind the activity, a lot of people would be happy to join. You can also do a lot of other generosity activities for adults like volunteering or raising money for charity.
If only a few people in the office are in good shape, it would be wise to start slow. Practice by running two or three miles and over time increase the distance. You need to make a weekly habit of exercising and you won't have problems with finishing a 10k together.
After these practices go for a coffee or tea together. You can even relax and chat in the nearby park. Everyone would feel a lot more comfortable with each other if you share nice experiences like these.
A great alternative to exercising or playing sports is watching a professional game. You can attend sports events like basketball or hockey games. Grab a soda and just chat with one another while watching the game.
A nice dinner
Going out to dinner as a group is a great way to bond. You can go for some burgers at the local diner or choose an exotic restaurant. Some places even offer various experiences like chefs making the food in front of you or a band playing wacky music. Pick something with a casual atmosphere though. You don't want to be formal when you're not in the office, right?
Family-oriented activities
Balancing personal and professional life isn't always easy. Sometimes these two spheres can merge and you can meet your coworkers' families. It's good to put faces with the names and stories you hear about all the time.
Family-friendly activities should include something simple like mini-golf or bowling. You can even go on a small field trip or a picnic. Throw a cook-off or a potluck party too. The possibilities are endless, as long as you all organize events together.
Be outdoorsy
Spending time outdoors is great when you're alone, but it's even better with friends. As we already mentioned, you can organize outdoor events with families, or you can just invite a small group of friends from work. Spend the day exploring nature! Hiking, cycling, or even rollerblading are all fun activities to do with coworkers.
The workplace can feel so overwhelming and stressful, so going outside will definitely help you blow off some steam. As much as you need to get away from the office, your coworkers need that too. Take the time to enjoy nature with them and you'll feel much more relaxed.
Brunch
Everyone loves brunch! Breakfast food with refreshing beverages makes mornings special. It even brightens your whole day. Invite the entire office for weekend brunch and make sure to find a location that is convenient for most people.Iif brunch becomes a weekly or a monthly ritual, you'll have a gathering activity for the entire office all the time.
Happy hours
The most common after-work bonding is definitely going for a drink or two at the local bar. You just can't go wrong with the happy hour. Everyone will be relaxed and you can keep things casual with light conversations.
Frequently asked questions
Where can I go with coworkers?
You can go anywhere you want, as long as everyone feels comfortable with the choice. You can go out to dinner and drinks, sport or music events, workout or cooking classes, etc. It's a great idea to explore a brand new place like a different city or a small town nearby.
How do I have fun with my coworkers?
If you make your workplace enjoyable, you can have fun all the time. Play short games, organize team-building events, or just chat and laugh with your colleagues.
What causes low morale at work?
Some of the most common causes of low employee morale are:
Inconsistency in employee treatment

Lack of discipline for problem employees

Lack of effective communication

Lack of encouragement and awards for working hard
How can I boost morale at work?
The key is communication. Ask what's wrong and give feedback to your coworkers. Show appreciation with praises and compliments. Have some fun with team-building activities. This will all lead to a more productive and encouraged community.
Is having fun at work really a good idea?
Having fun will improve employees' emotions. This means they will be more productive at work. You'll also improve teamwork, build trusting relationships and increase employee retention.
What to do for a coworker leaving?
The most important thing is saying goodbye. You can throw a party, go out for drinks or give gifts. Just make him/her feel appreciated by everyone.
Conclusion
There are a lot of fun things to do with coworkers outside of work. You just need to pick the ones that suit your colleagues' personalities. If everyone is enthusiastic about spending time together it really doesn't matter what you do. Just don't take someone who isn't interested in sports to a workout class and you'll be fine.
If you want to bond with your colleagues, you can also consider surprising them with small gifts. Check our article to find some quick and inexpensive gifts for coworkers.
ESTIMATED TIME DESIGNING AND UPLOADING THIS ARTICLE
ESTIMATED TIME RESEARCHING AND WRITING THIS ARTICLE