How are you supposed to shop for someone when you don't know anything about his/her hobby? Sure, you know it's a fun activity, but what else? Whether a person enjoys skiing, snowboarding, or any other activity, as long as you don't know enough about the hobby, you'll have difficulties finding the right gift for him/her. On top of everything, your budget might be tight or you just don't have enough money to afford gear for expensive sports your friends and family enjoy. We know this is a common problem, so we did our research. To help you out we put together these suggestions cheap gifts for skiers. Don't stop scrolling and you'll surely find what you need!
Skiing, just as snowboarding, is the activity that consumes you, because the adrenaline rush is just too high. You can be sure that your friend comes from a trip completely thrilled! He/she might try to share the experience, but can't really explain it with words. Although you might not understand how he/she feels, you can participate in his/her hobby with your gift. Try to make his/her experience better! We already covered gifts for snowboard lovers and now it is time to let you in on some awesome gifts ideas for skiers!
Stop just for a second and think about a few things because these tips might help you choose a perfect gift:
It's important to know what the person you're choosing a gift for likes and dislikes. You can accomplish that by carefully listening when someone talks about personal wishes and needs. A person will reveal a lot of things about the hobby, which should help you buy a perfect gift.  

You can always ask his/her ski partners for suggestions.  They should know what piece of equipment is worn out, or what accessory he/she might be missing.

If you are totally unfamiliar with winter sports, it might be a good idea to learn more about skiing (techniques, terms, equipment). Shopping is easier when you know the basics.

When shopping for sports enthusiasts, it's always better to get them something useful, rather than something funny or cool. A gag gift might be funny at  the moment, but a useful gift will be appreciated more in the long run.
As an Amazon Associate we earn from qualifying purchases. We may earn a small commission for our endorsement, recommendation, testimonial and/or link to any products or services from this website. Thank you, your qualifying purchases help support our work in bringing you real daily gift ideas.
Quick Overview: Cheap Gifts for Skiers
Jomst Electric Heated Socks Rechargeable 3.7V 2200mAh Battery Powered, 3 Heating Settings Thermal Sock for Men & Women
When you are out in the cold the entire day, you need to find a way to keep your body warm! Skiers manage to do that with various accessories, with one of them being a pair of electric heated socks. Jomst electric heated socks won't let your feet get wet and cold, so your friend can stay comfortable during all his/her snow adventures.
Jomst socks are made of 78% cotton, 12% polyester, and 10% elastin. They are quick-drying and soft, so the feet can "breathe". Heels and toes are extra padded for more comfort and warmth. The heating pad is located in the toes and the battery on it lasts up to 6 hours! The socks are unisex, so they can be a perfect gift for a boyfriend who likes to ski, or a girlfriend, mom, uncle; they are for everyone!
If you want to prevent a skiing enthusiast's feet from freezing, electric heated socks are a perfect gift. They are simple, yet powerful. You can say they are made for long-lasting hours outdoors. Give your friend a warm winter!
Winter Ski Gloves Men Women – Windproof Warm Touch Screen Design for Outdoor Sports
Every outdoor enthusiast needs quality items, so you can't make a mistake with skiing accessories gifts. If you can't afford to get your friend exquisite equipment, it might be better to find some accessory instead. You can get, for example, these high quality gloves. They might seem expensive at first glance, but when you compare them with others, you'll see that you get the best value for the price. On top of that you'll get a product with superb quality.
Gloves will keep your friend's hands warm. This particular pair of gloves is amazing, because you don't have to take them off to answer your phone! Touch screen design in the thumb and forefinger allows easy access to the phone. You know that this pair of gloves will be ideal for your "always-texting" friend. These gloves are thick, windproof and warm. They have a small pocket for keys, cards, cash, and other small necessities. With adjustable buckle and wrist strap, they are perfect for both men and women.
A nice pair of ski gloves is just the thing a skier needs. This pair is perfect, because it's very warm, and your friend can use his/her phone without taking the gloves off.  On top of that, there's a small pocket, so he/she doesn't have to take his/her wallet on the ski track.
JobSite Mighty Dry Boot Dryer with Timer and Fan
Every skier has a problem with wet boots once in a while. This problem can be easily avoided with the JobSite boot dryer. While drying the boots, this mighty dryer also gets rid of all-day skiing odors. On top of that high temperature prevents the growth of bacteria and fungus.
JobSite dryer isn't just for boots though. Your friend can use it for shoes, gloves, hats, etc. It can even fit a pair of large boots and a pair of gloves at the same time! The timer can be set up to 3 hours, so your friend might opt for a 15 minutes quick dry or full time dry for soaking wet boots.  This product does everything your friend will need, so you can be sure you'll get your money's worth!
This boot dryer is something every skier should pack when going on a trip. Why should he/she wait for the boots to naturally dry when there's an easy solution for soaking wet boots? And he/she will surely want to avoid bad smell in their small hotel room, right? Think about this and you'll know that it's great to give your friend a present that will make his/her trip more pleasant!
HYDRO CELL Stainless Steel Water Bottle
The imperative for active people is to drink enough water and stay hydrated. Every skier needs a durable bottle to get refreshed after exhausting activities. Hydro cell water bottle is just the thing your friend lacks! Instead of spending money on the water and piling up more and more disposable plastic bottles, you should get him/her one quality bottle. He/she wouldn't have to get anything else on the tracks.
This water bottle is made of stainless steel that is resistant to corrosion and oxidation.  It has a cap which creates an airtight vacuum seal, so there won't be any spills and leaks in the sports bag. The bottle is double-walled, so there'll be no condensation and the temperatures will stay the same. Hydro cell keeps the temperature of the drinks, whether they are hot or cold. Cold liquids will be cold for an entire day, e.g. 24 hours, and hot beverages will stay hot for up to 8 hours. Impressive, right? It's long enough for all sports activities, whether performed indoors or outdoors. It's all he/she will need from now and on!
You can't find a better bottle for this price! It's made of high-quality materials that make sure your friend's drink stays hot or cold. With protection against spills and sweat, it is perfect for any outdoor activity. Skiing is no exception, and your friend will love it, that's for sure!
Zipline Ski Pole Hand Guard
We know your friend has skiing poles, but does he/she have a durable pole hand guard made of thermoplastic? We bet, he/she doesn't, so don't wait and get zipline ski pole hand guard! The material of this hand guard is sturdy and protects the knuckles and hands from impacts. The hand guard is made for poles from 14mm to 18mm diameter and it's very easy to attach. It's perfect for any weather condition and it can't be damaged easily. Don't get an expensive replacement, when there's a perfect on the budget hand guard available.
Zipline Ski Pole Hand Guard is one of those very much needed skiing accessories gifts. Over the years hand guards get worn out, so it's a great idea to replace them with new ones made of high-quality material. The trick is to find the ones which are not too expensive but still do the job, and we found those just for you.
HotHands Hand & Toe Warmers
Tell a friend you care about him/her by getting an amazing product that prevents frostbites. Keep his/her hands and toes warm with these awesome warmers. This particular pack contains 10 pairs of hands and 6 pairs of toes warmers, so it's a great value for the money. The HotHands warmers contain iron, carbon and water, which means the heat source is stable and long-lasting (up to 8 hours). This is also a great gift for teenage skiers because they often forget to dress accordingly, so you can help them out with these warmers. Remember that you can't make a mistake when you get someone a gift he/she needs!
HotHands warmers are air-activated and safe to use. They are small but very effective. The temperature will stay high the entire day, so you don't have to worry about one pack being enough for your friend's ski trip. You can be sure you're getting the best price, even if the pack contains only 16 pairs of warmers.
Super Hot Sauce, All Temperature Ski and Snowboard Wax
Boards and skis should be maintained properly. Most skiers take good care of their equipment. That's why they always lack something simple as wax, because they use it all the time. That's exactly why this is a perfect gift for your friend. He/she will get the control and speed with this wax because the formula works by interacting with the snow.  This wax can be applied either hot or cold. The process is quite simple. You can put it on with an iron heat, or simply rub it on if you're in a hurry.
Super hot sauce ski wax is made to function in all weather conditions, especially extreme ones like snow and blizzards. So if you see your friend getting ready for a trip, you can buy him/her ski wax. It doesn't matter if you don't know where exactly he/she is going this time. You can be sure he/she will use this amazing wax!
Super hot sauce ski wax has a unique formula that works in every weather condition. It's safe and easy to use, and you won't find a better wax for this price. You can be sure of that!
PHOOZY Apollo Thermal Phone Case
Would there be anything worse than your phone freezing which leads to a dead battery? You could be stuck on a ski track with no one to call.  Or you could see a wonderful view, which couldn't be captured with dead battery! We're sure your friend fears experiencing these moments, so you should help him/her prevent the inevitable. Get him a phone case that keeps the device warm and consequently saves its battery life!
The Phoozy thermal phone case protects the phone's battery in cold conditions and saves the phone from overheating in the sun. Your ski enthusiast can use it in the winter, and also in the summer when practicing different sports. This phone case has a thermal barrier that insulates the phone with an ultra-light and slim design. It's even shock-proof (up to six feet), so you don't have to worry about dropping your device from high heights.  If you drop it into the snow, it wouldn't be a problem, because it is water-resistant. The case won't interfere with Bluetooth or Wi-Fi signals, so your friend can always be online and connected to the world! What better gift can you get someone?
The Phoozy Apollo thermal phone case is the thing every outdoor enthusiast needs but always forgets to get. Think ahead and give your friend this protective case, so his/her phone can't get wet, overheated, or damaged.
Conclusion:
We tried to fill our list with products that would fit the needs of people shopping for skiing enthusiasts. Every gift choice depends on the person who is getting the gift. We picked products which would be great for both men and women, and if you want to surprise a significant other, you can check our guides which already covered that. So be sure to scroll through Outdoorsy gifts for her or Adventurous gifts for him to find what you need.
There are so many ideas, and we took only interesting ones, which will of course, fit your budget. You might have noticed some products were a bit pricey, but when you compare it with others, you'll see we found the ones which give the best value for your money! It's hard to find cheap gifts for skiers and we hope we made things a bit easier for you.
ESTIMATED TIME DESIGNING AND UPLOADING THIS ARTICLE
ESTIMATED TIME RESEARCHING AND WRITING THIS ARTICLE
Try our AMAZING GIFT FINDER TOOL! Find GIFTS with 1 CLICK!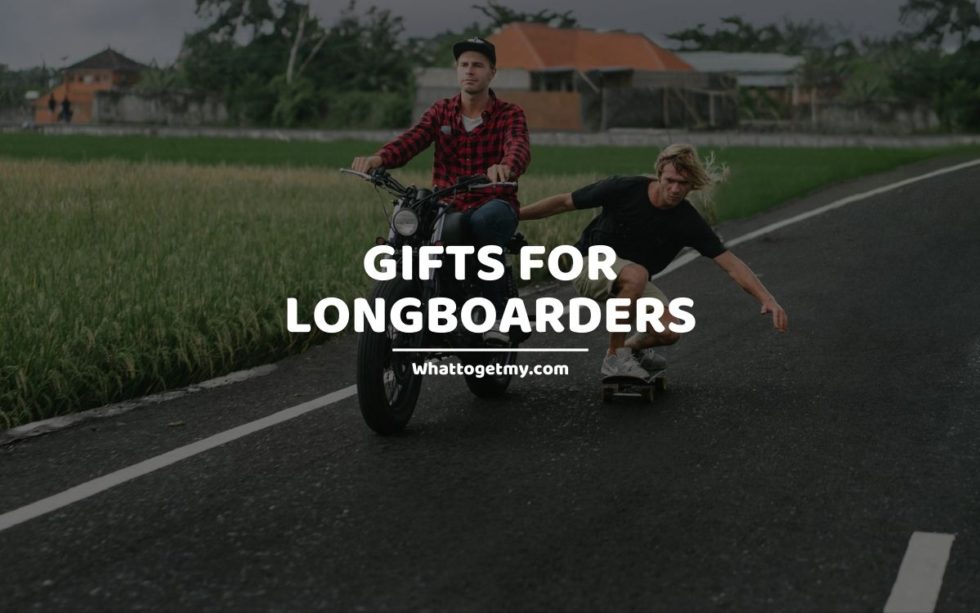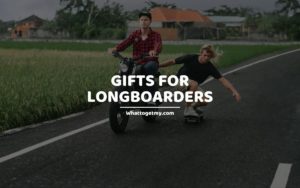 Do you need to pick a gift for a longboarder in your life? It's a difficult task we give you that, especially if you don't know a thing about longboarding. How's that different from skating, you may ask? Well, they use longer boards, but that's
Read More »