6 Alternative Christmas Ideas for Families
WhatToGetMy Instructional Article
Is it Christmas Time yet? Unbelievable, it's like we went on summer holidays yesterday, and we wake up today having to do all the Christmas shopping. Where did all those days go? The entire year just passed by, and we haven't even noticed. For things to be even more awkward, we haven't had any time to prepare, and think about gifts and stuff. How are you supposed to organize the entire event for your family in such a short time? Maybe you don't even want to do it? Even if you did think this through, you're maybe up for making things different this year.
We are all hooked up on those old traditions and customs saying we need a pile of gifts under the Christmas tree or a lot of food, drinks, and similar stuff. That's all enjoyable, of course, as you get to spend some time with family and friends, but sometimes it just becomes too much. Sometimes you only need a break for all those traditions, gifts, decorations, and exhausting parties. There's nothing wrong with that, and you're not the only one feeling this way. Therefore, we have some unique alternative Christmas ideas for families who want to step out of traditional rules and organize alternative ways to celebrate Christmas. All of them should help you plan and make the day special without too much effort. Here we go: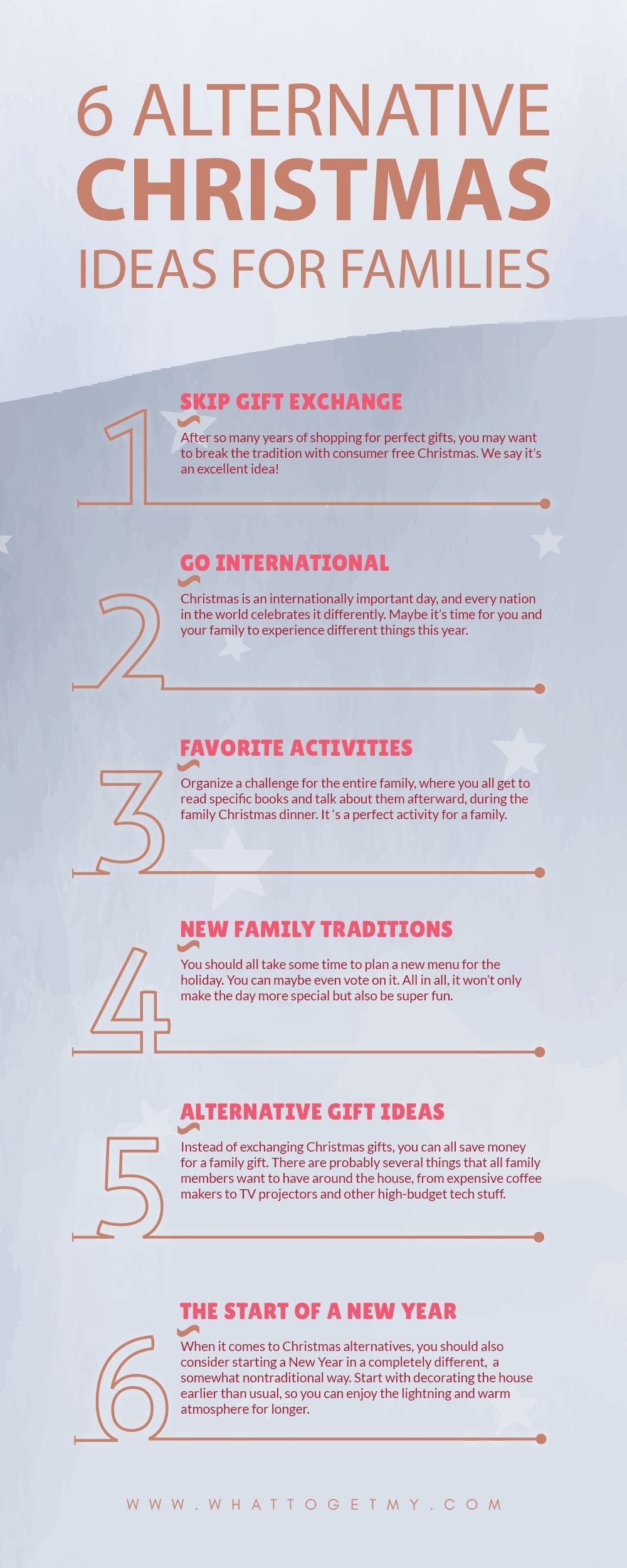 Source Link: https://whattogetmy.com/alternative-christmas-ideas-for-families/
1. Skip the Gift Exchange
It doesn't come as a surprise that some people find exchanging gifts out-of-date. After so many years of shopping for perfect gifts, you may want to break the tradition with consumer free Christmas. We say it's an excellent idea! There are so many ways you can spend Christmas with your family without buying gifts, and each one of them is incredibly fun.
2. Go International
Visit Another Country
Are you looking for family Christmas ideas instead of gifts? We wholeheartedly recommend organizing a family trip. We are not talking about a road trip to the nearby city. The magic is all about visiting a distant county you have never seen before. Christmas is an internationally important day, and every nation in the world celebrates it differently. Maybe it's time for you and your family to experience different things this year and see how other people celebrate Christmas.
Foreign Cuisine
Whether you find yourself in another country for Christmas or you stay snug at home, we recommend changing the menu this year and sticking with foreign cuisine. We know your family has its recipes and traditions, but if you want to do something different this year, you'll have to step out from comfort zone and try various meals. Who knows, maybe some of them become your new favorites and make it to the traditional list.
Take a holiday
If you had enough of winter and cold days, why don't you take a holiday and travel to a distant country? You know that there are places in the world where it's always sunny and warm, right? Some of them are quite budget-friendly, so you and your family don't have to spend a pretty penny to enjoy warm days at Christmas. 
3. Favorite Activities on a Different Way
Reading, Drawing, Singing
All these activities may sound boring as you do them every day, but things are different when you are with your family, especially for Christmas. For example, you would agree with us that there's nothing better than reading a book in a cozy room, with a Christmas tree nearby, and all those lighting decorations around. Now, imagine organizing a challenge for the entire family, where you all get to read specific books and talk about them afterward, during the family Christmas dinner. It sounds like a perfect Christmas activity for a family. Of course, you can do the same with other activities, and organize a singing contest, karaoke, a drawing challenge, and more. Just be creative with your alternative Christmas traditions!
Swim in the Sea
Have you ever went to the beach for Christmas? If the answer is no, pack your bags and throw a picnic for the entire family. A beach picnic is one of the most fun things to do on Christmas day with your family. You can even organize a swimming challenge with other family members. It will be super fun swimming in the sea for Christmas, and you'll most certainly have something to talk about for weeks. There are also a lot of Fun Things To Do At The Beach At Night. Be brave and give it a shot!
Walking Tour
There's nothing more beautiful in winter than taking a walking tour around the city during Christmas. Take your family members outside, so you can all admire the lighting and decorations. Stop now and then to have a donut, some cookies, and coffee, or even play games on the snow. The fun and memorable Christmas is guaranteed!
Movie Therapy
Movies, movies, movies. Christmas is all about movies, and you should take some time to enjoy it. There's something unique about watching movies during the winter holiday season. With all those snacks, food, drinks, decorations, and gifts, you just wish to stay inside all day long, snug in the blanket and watch your favorite movies. We say do it! You can set up blankets around the tree for the entire family, so you all get to enjoy a Christmas movie therapy.
Indoor or Outdoor Games
If the snow comes this year, don't miss to organize some outdoor games for your family. You can make a snowman or even organize a serious snowball fight. If you have children in the family, they'll most certainly enjoy every minute of it! For those who prefer staying indoors, we recommend a board or any other game type that engages a group of people, so you can all enjoy playing it during Christmas.
Local street festival
Instead of throwing a Christmas party for your family, you can all take a walk and check out a local street festival. Most cities organize unique Christmas festivals that are very fun to attend with family members. However, if you live in a small town and you're not so excited about visiting the same festival all over again, here are some things you might do instead: Fun Things To Do In A Small Town With Friends.
4. New Family Traditions
Plan the Menu
As we already mentioned above, if you want to make things different this Christmas, you should start with the food. You should all take some time to plan a new menu for the holiday. You can maybe even vote on it. All in all, it won't only make the day more special but also be super fun to choose new meals and desserts for the upcoming Christmas.
Cook Together
Once you all agree on the new menu, you should work on it as a family! There's nothing more enjoyable than cooking with your closest people. A lot of people in the kitchen, making all kinds of snacks and drinks, means a lot of fun. Talk to your family members, but we are sure that they'll be thrilled with the idea.
Decorations
Yes, it's already a common thing for the entire family to decorate the house together for Christmas. However, we recommend doing something a little different this year. Put away your old decorations and make new ones! Your family will spend hours drawing, cutting, assembling, and doing other DIY stuff. It won't be only super fun, but you'll also have a uniquely decorated house for Christmas!
5. Alternative Gift Ideas
A gift for the entire family
Instead of exchanging Christmas gifts, you can all save money for a family gift. There are probably several things that all family members want to have around the house, from expensive coffee makers to TV projectors and other high-budget tech stuff. You don't even have to stick with practical gifts, although they always come handy. With all those savings for gifts, you can organize a family trip and spend Christmas together in a unique location.
Food gifts
Those who are looking for gift exchange ideas will be thrilled with this alternative option: we recommend organizing a food exchange. It's rather simple, you only have to agree with other family members, set a schedule for using the kitchen, and the fun can finally begin! You can all secretly cook different things and then exchange food gifts. Everything can be on the menu, from cookies to homemade healthy bread.
White elephant exchange
If you have never organized a white elephant gift exchange, now might be a perfect time to do it. The game is rather simple, and it's quite popular. It allows for giving little, inexpensive, and even already used things for Christmas.
There are two ways to organize the exchange. You can set up an amount to be spent on a gift so that all family members have an upper and lower limit. Or you can set the exchange of items found around the house that are no more needed. In each case, all family members should pull out numbers from the hat. The one that pulls out number 1 gets to open a gift first, and then a second person gets to either 'steal' first gift or opens another one, and so on. Without a doubt, this game is super fun, and it will make Christmas way more enjoyable!
Secret Santa
Secret Santa exchange is perfect for families, especially those with little kids. Organizing a secret gift exchange can be so much fun. You never know whose name you're going to pull out from the hat, and it can be so exciting choosing things for family members.
For those with kids, we recommend taking a look at our article about Santa Gift Ideas For a 10-Year-Old. We included some unique ideas on how to surprise the youngest family members with secret gifts.
Give to Others as a Family
Christmas is all about giving and sharing the love with other people, and not only for family and closest friends. Therefore, your family can make other people happy this year and save some money to buy gifts for those who need them the most. As there are so many people who can't afford basic everyday things, you can also give the money away. Here are some useful suggestions on how to do it:  Creative Ways to Give Money for Christmas Present.
6. The Start of a New Year
When it comes to Christmas alternatives, you should also consider starting a New Year in a completely different,  a somewhat nontraditional way. Start with decorating the house earlier than usual, so you can enjoy the lightning and warm atmosphere for longer. You can even celebrate Christmas earlier than others or transform a holiday into the two-weeks event. Everything is possible, so don't hesitate to be creative and feel free to try new things this year.
Now that you have read all our recommendations, we can say that you're all set to organize a unique Christmas celebration with your family. It doesn't have to be a socially accepted holiday, with expensive gifts and big parties. Feel free to be creative, to ask your other family members for their opinions and suggestions. You can do whatever you feel it's suitable for the holiday, as long as you all equally enjoy it. Remember, it's all about spending quality time together, doing things that you all love. 
Frequently asked questions
1. Can you use some of these untraditional Christmas activities if you are celebrating Christmas without a family?
Yes of course, you can either plan a trip out of your country or choose from the other foodie or adventurous activities mentioned in this article that doesn't require a group of people. If you have a group of friends that are alone for Christmas too then you can organize any group activities mentioned above to enjoy your Christmas in a different way.
2. Can you mix and match different activities mentioned above?
Yes, if you have family members with different preferences, or you just want more activities to do on Christmas, you can definitely pick 2 or more activities to make sure everyone in the family is happy during the holidays.
Conclusion
Therefore, our main goal was to give you some creative, not so common ideas on how to spend time with your family on this holiday. We also tried to inspire you about which non-material gifts you can give to your family members. Hopefully, we succeeded, and these alternative Christmas ideas for families will make this year special for you.
ESTIMATED TIME DESIGNING AND UPLOADING THIS ARTICLE
ESTIMATED TIME RESEARCHING AND WRITING THIS ARTICLE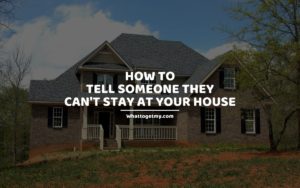 How to Tell Someone They Can't Stay at Your House
How to Tell Someone They Can't Stay at Your House WhatToGetMy Instructional Article Keeping relationships with family and friends is important, but not to the detriment of your personal space and privacy. Telling them no to staying at your house does not mean you value
Read More »