It is commonly said that sibling relationships are one of the most enduring relationships a person can have. Siblings touch our lives in so many ways that help us become better versions of ourselves and it's only right that we celebrate them as often as we can. If you are looking forward to celebrating your sister this Mother's day and making it a special one for her, we have just the right gift suggestions for you.
We have divided this article into two main subheadings
Best mother's day gift for a sister

Mothers day gifts for expecting sister
Although we've divided this article into two, we maintain that every gift suggestion in this article will make a perfect gift.
As an Amazon Associate we earn from qualifying purchases. We may earn a small commission for our endorsement, recommendation, testimonial and/or link to any products or services from this website. Thank you, your qualifying purchases help support our work in bringing you real daily gift ideas.
Quick Overview: Mother's Day Gift for a Sister
BEST MOTHER'S DAY GIFT FOR A SISTER
1. 

PINK HIMALAYAN BATH SALT GIFT SET
Being a mom and sister is such a huge blessing but it does not come easy. It takes a lot of work, dedication, and commitment to give their best to their family, and therefore it comes with stress too. It will be a great idea to spoil her with spa gifts. Let her pamper her skin this mother's day with this Pink Himalayan bath salt gift set by Green Cayon Spa. The products are said to contain 84 essential minerals that nourish body cells. This will keep her skin looking young, refreshed, and healthy.
Product summary
This is a well-put gift set for women. It is definitely worth gifting.
2. 

AROMATHERAPY CANDLE GIFT SET
What we love most about this candle gift set is its luxurious packaging that perfectly fits the "mother's day" occasion. You are probably looking for something unique and stylish. Something that speaks volumes to her. We think this Aromatherapy candle gift set by Suziejo is perfect. The package contains two 16oz bowls of scent soy candles and two hand-woven placemats, all in pretty black color.
Pros.
The packaging is excellent and the bowls can be used for something else after the candles have finished

The candles are not toxic and good for vegans

They have a good range of scents
Cons.
Customers have preferences for scent intensity. While the mild scent of these candles will be soothing to many customers, it might be enough for some other customers. However, this item will still win the heart of your sister.
Product summary
The best part about this product is its packaging. Whether or not you decide to wrap it up, it would not matter.
3. 

WILLOW TREE MOTHER AND CHILDREN FIGURINE
This sculpted figure depicts a loving mom and her children. Consider getting her this heartfelt statue by Willow Tree to tell her how amazing a mom she is.
Product summary
The statue is amazing. Do you wish to get a mother's day gift for a stepmom? This is perfect too.
4. 

MOTHER AND BABY BIRD FIGURINE
Motherhood can be depicted in various ways and this pretty bird figurine is one. The mother bird watching over her baby can be likened to how moms (humans) watch over their child(ren). Oftentimes, big sisters act like moms to their junior siblings. They take on responsibilities and step up in ways that moms might not be able to sometimes. This Figurine is also a lovely gift for your supportive sisters.
Product summary
This statue is absolutely beautiful. Another family bird figurine you might love is this Bald Eagle family unit. It depicts a bold family and will be the perfect mother's day gift for a sister that has everything.
5. 

LEATHER JEWELRY BOX
If she is a jewelry lover, this unique, sturdy-looking jewelry box will make a great gift. The spacious and well-sectioned compartments will allow her to store as much jewelry as she has without worrying about tangling. The box is fanciful and will be a good travel buddy.
Product summary
Customers rated this box high for thickness, craftsmanship, for traveling, giftable, and sturdiness.
6. 

LEATHER SATCHEL BAG
There is always an occasion for bags and that is why they make good gifts for ladies. If you are looking for a unique bag, consider getting your sister this hand-painted leather satchel bag by Anuschka. It is absolutely stunning. This bag comes in many other unique hand-painted designs. They look sturdy and spacious. Anuschka brand also has a good reputation for making pretty decent bags and purses.
Product summary
This bag is a good mother's day gift for a sister
7. 

ALMOND MILK AND HONEY GIFT SET
A good body gift set to get your sister this coming mother's day will be this Almond milk and honey 5 pack gift set by The Body Shop. The package includes a show gel, exfoliator, a soothing hand cream, moisturizing body butter, and a bathing sponge. This product is recommended for even people with sensitive skin.
Product summary
Great product, well-priced and beautifully packaged
8. 

ITALIAN CERAMIC ART SERVING TRAY
Get your sister this stunning Italian ceramic tray this mother's day; it is unique and would age well in her kitchen. The designs are pretty, and the tray is well-made. You can get this tray customized by the manufacturer by directly contacting him/her.
Product summary
This will definitely be a good pick for mother's day. You can add it to your list of what to get mom for mother's day.
9. 

SACRED LOTUS LOVE LEATHER JOURNAL
If your sister keeps journals, include this Sacred Lotus love leather journal on your gift list. The journal comes plain or lined depending on what you prefer. The journal comes beautifully packaged in a branded box which also includes a poem card and a pen holder.
Product summary
This is arguably one of the best journals on Amazon. We love that the manufacturers paid great attention to branding and presentation.
10. 

DEPHINI JEWELRY SET
Add a bit of glam to her style by getting her this jewelry set by Dephini. A jewelry set like this boldly expresses love, and the crystal does well to represent the strength and purity of the bond you share with your sister. This jewelry set is made with high-quality Sterling Silver and zircon crystals. It is safe to wear and durable too. This is a pretty mother's day gift for a loving sister
Product summary
Pretty jewelry set. If you are looking for amazing gifts to get your sister in law this mothers day, click on this article mother's day gift for sister-in-law
11. 

CHARLOTTE TILBURY EYE PALETTE
You can add a touch of spark to her natural look by getting her a quality makeup kit like this Charlotte Tilbury eye palette. The natural colors are amazing and they blend well with the skin. We are almost certain that she will love this eye palette.
Product summary
Great product
MOTHER'S DAY GIFTS FOR EXPECTING SISTER
12. 

OPEN SHOULDER MATERNITY DRESSES
Good maternity outfits are a big deal for expecting moms. Looking for something pretty and comfortable to wear can be exhausting. Well, you can make this mother's day exciting for your expecting sister by picking out a couple of cute casual maternity dresses for her.  It is a good way of showing support.
Product summary
These are perfect everyday dresses. It was not made for all functions but will definitely keep her looking great every other day.
13. 

FLORAL SILK SCARF
Scarfs are a versatile fashion accessory. A scarf like this floral silk scarf by Karl Lagerfeld can act as a perfect necktie, bun tie, bag decor, hand tie, or clothing accessory. The floral design and color of the scarf can work well with so many plain-colored outfits. For a pregnant lady, scarves like this one add a touch of warmth and gentleness to their overall outlook.
Product summary
This is a pretty silk scarf worth getting.
14. 

SISTER KEEPSAKE BOX
If you are planning to get your sister a jewelry gift, you can put it into this pretty keepsake box, wrap it up and present it to her. We love everything about this keepsake box, right from its design, down to the color and engravings. This little box is stunning.
Product summary
This will make a cute little mother's day gift.
15. 

MY WORDS SISTER MUG
Not only that this mug is pretty and has a beautiful sister message on it, but the size is also huge (20oz) and the mug is sturdy. This is a gift that will last a while.
Product summary
Lovely mug, a good mother's day gift for a sister.
16. 

MAMA BEE GIFT SET
This set is termed as the 'ultimate pampering gift for expecting moms'. It contains products that help nourish a pregnant moms' belly, soothe her aching feet, and keep her lips hydrated. The products contain a lot of natural ingredients that help to retain moisture and keep skin looking soft and rejuvenated.
Product summary
This is an amazing gift set for expecting moms and new moms.
17. 

BUMP BOXES PREGNANCY GIFT SET
Another cool gift for moms in their first trimester is this Bump Box pregnancy gift set. The content of this box is well thought out and will be helpful to moms, especially those still experiencing nauseated feelings. The 'No Mo Nausea' band helps to knock out morning sickness and the bath bomb helps with the feeling of relaxation to enable her to get enough rest.
Product summary
Nice mother's day gift for an expecting sister
18. 

FOOT MASSAGER
A common challenge that a lot of expecting moms face is heavy legs and sore feet. Sadly, it is difficult for them to even give themselves foot rubs and it is not a guarantee that their partners will always be available to help out. We recommend this foot massager by Cloud Massage as a relaxation gift to her this coming mother's day. This massager is able to target the foot, ankle, and leg to help with blood circulation and pain relief. Hey, do not leave out your mother-in-law in the gift-giving this mother's day. Check out what to get your mother-in-law this mother's day.
Pros.
A lot of customers consider the machine to be powerful and effective

It is easy to use
Cons.
Quite a number of customers have equally had issues with their foot massager. However, this is common with competing brands too. Thankfully, the sellers have good customers service and will be helpful in case you encounter a problem
Product summary
This is a really good massager although quite expensive.
19. 

CRYSTAL VASE
If you decide to get her flowers, it will be a great idea to pick out a really good vase that will make your gift look impressive. This crystal flower vase by Lorren Home Trends will add life to the overall presentation of the bokay you choose to get for her. The vase is well made and easy to maintain. Most importantly, it looks classy.
Product summary
This is a pretty vase for that pretty bokay you might decide to get your sister as a Mother's day gift.
FREQUENTLY ASKED QUESTION
What is the best gift for mother's day?
The best mother's day gift is relative. You can choose to get a mom something they've always wanted like a house, car, tablet, kitchenware, jewelry, a surprise visit, gift card, and many more; that becomes the best mother's day gift to them. However, there are many other lovely items you can get a mom for mother's day when she least expects any gift, like fashion accessories, relaxation gifts, household decor, and tech gifts. For more gift suggestions, check out our article titled Things to get your mom for mother's day and what to get my wife for mother's day.
What should I get my sister for Mother's day?
There are many amazing gifts a sister would appreciate this coming mother's day. It could be a gadget, decor, clothing, jewelry, and many more. We've listed 19 special gifts to get your sister and every item on this gift list is perfect and would make a sister happy.
CONCLUSION
We know that finding the right gift for any occasion isn't easy but we are pretty confident that our gift selections are pretty good and your sister would be appreciative of any item you decide to get her from our list. We hope that you found our gift list helpful.
ESTIMATED TIME DESIGNING AND UPLOADING THIS ARTICLE
ESTIMATED TIME RESEARCHING AND WRITING THIS ARTICLE
Try our AMAZING GIFT FINDER TOOL! Find GIFTS with 1 CLICK!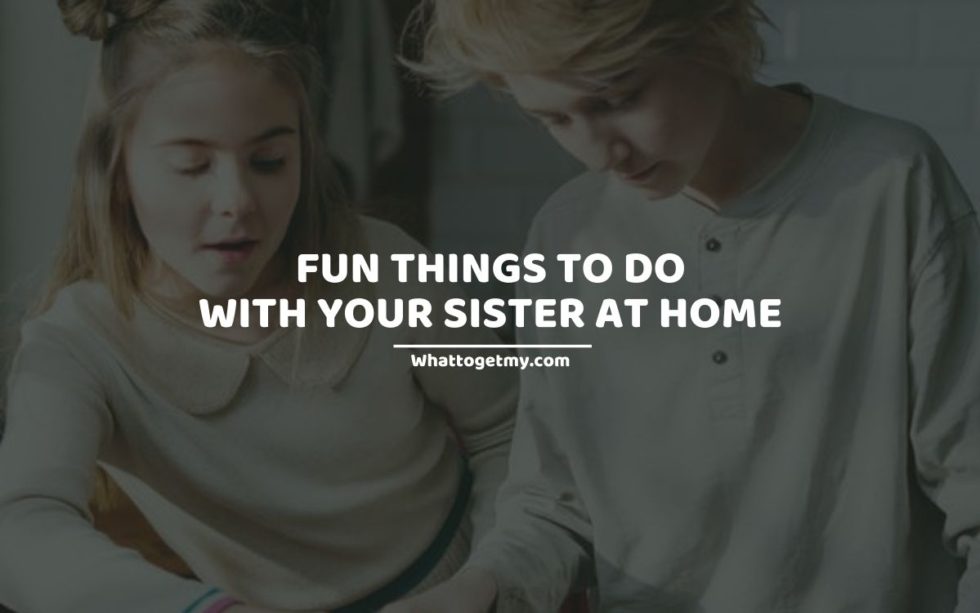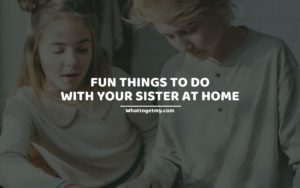 21 Fun Things To Do With Your Sister At Home
Fun Things To Do With Your Sister At Home WhatToGetMy Instructional Article This article shows you what to do with your sister at home, in particular, fun things to do with your sister at home. We will also show you some fun sibling team building
Read More »