GIFT BASKET FOR NEW MOM IN THE HOSPITAL
WhatToGetMy Instructional Article
Being a new mom is absolutely beautiful. It's also tiring, thrilling, and frightening sometimes. No one can actually point out what emotions or thoughts a new mom has after giving birth to her first child since there's no limit to the experience that it gives. It's one of the best moment in a woman's life, and the grand feelings she's experiencing is sure to be as great as her love for her new child.
After several months of carriage of the baby, the anticipation is finally over, but not the new anxiety and excitement of being a new mom. Her daily life will be changing day by day, and she will be experiencing feelings that she never felt before.
Now that her baby is in her arms, a lot of different things are coming to the new mom's mind: how should I take care of my child? What if I'm a bad parent?
These thoughts are normal for a new mom. As her friend or husband, give her support that will help ease her mind so that she will not be trapped in her own anxiety.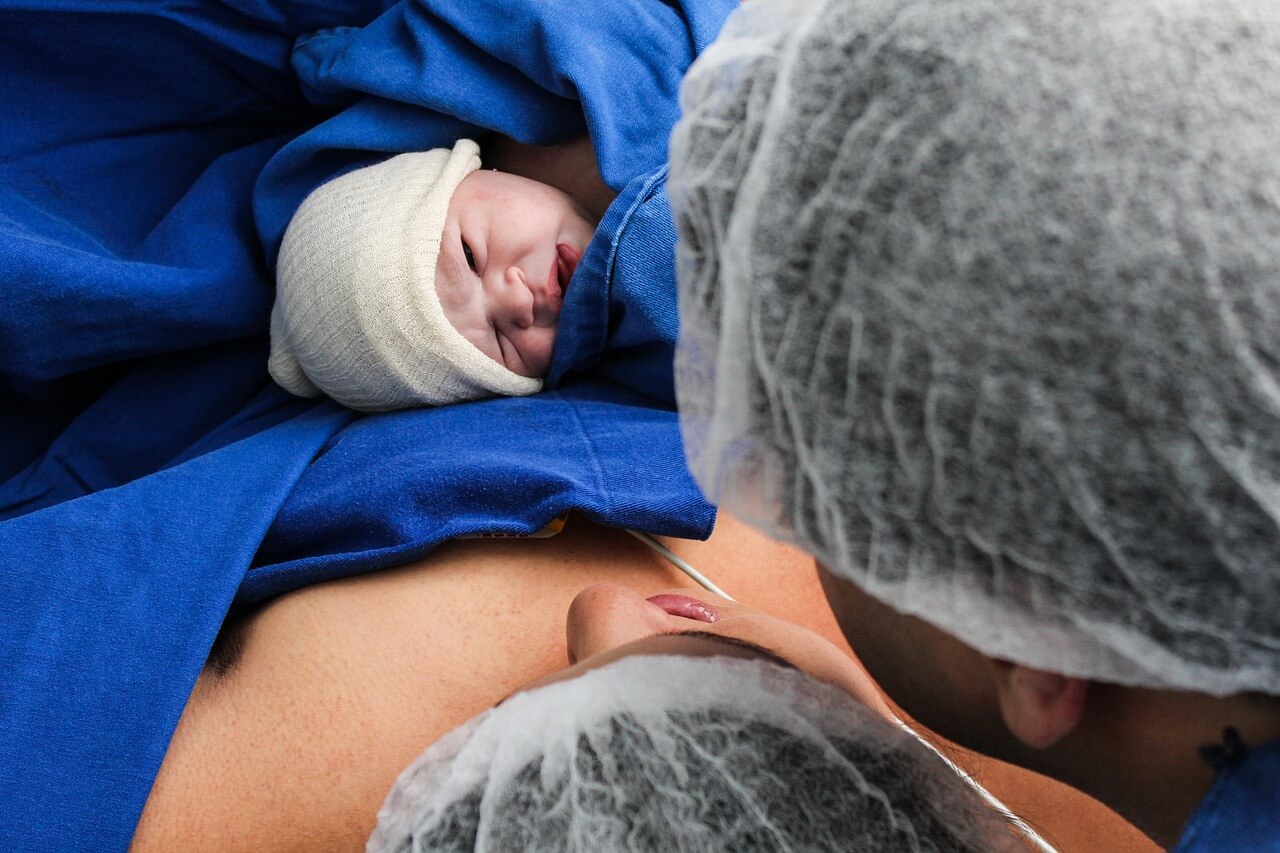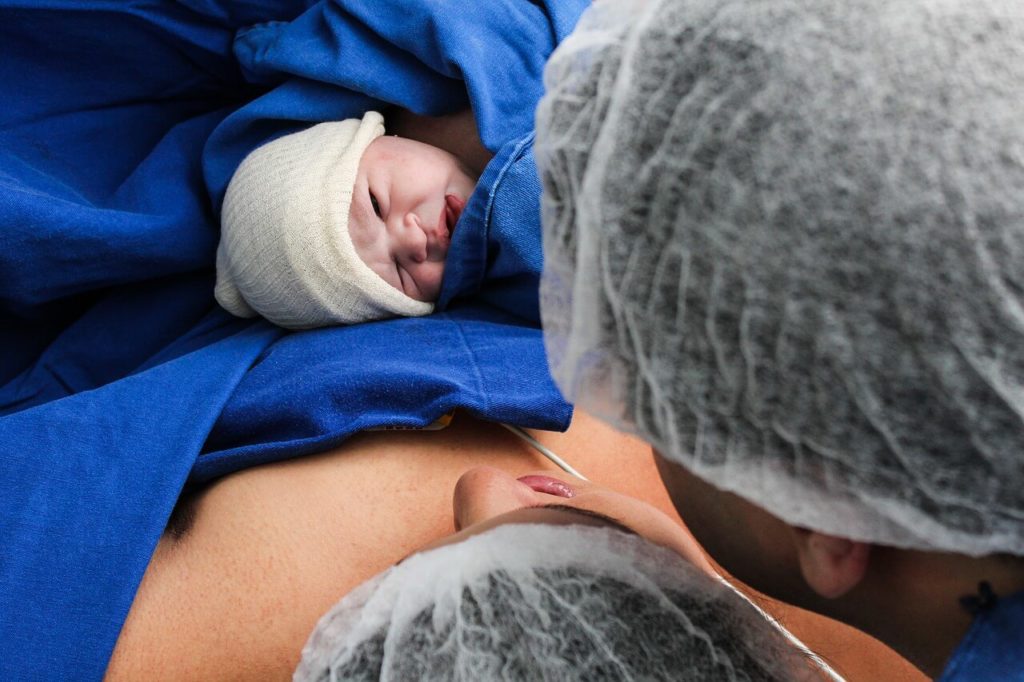 How can you support the new mom?
The best support you can give for a new mom is by giving her gifts that will help her take care of her newborn baby or things that will reduce her stress or provide her enjoyment.
Most people think that giving a pack of disposable nursing pads or diapers are not really worthy to be called a gift, but some moms appreciate it more than receiving gifts for their own. Useful things can be a choice of gift for new moms, as they are more focused on their new child rather than themselves.
Even with this said, there are gifts that new moms love to receive after giving birth. These may be things that will help them regain their youthfulness or nourishment that will help her stay healthy.
In this article, we will be providing you a list of things you can include to the gift basket for a new mom in the hospital.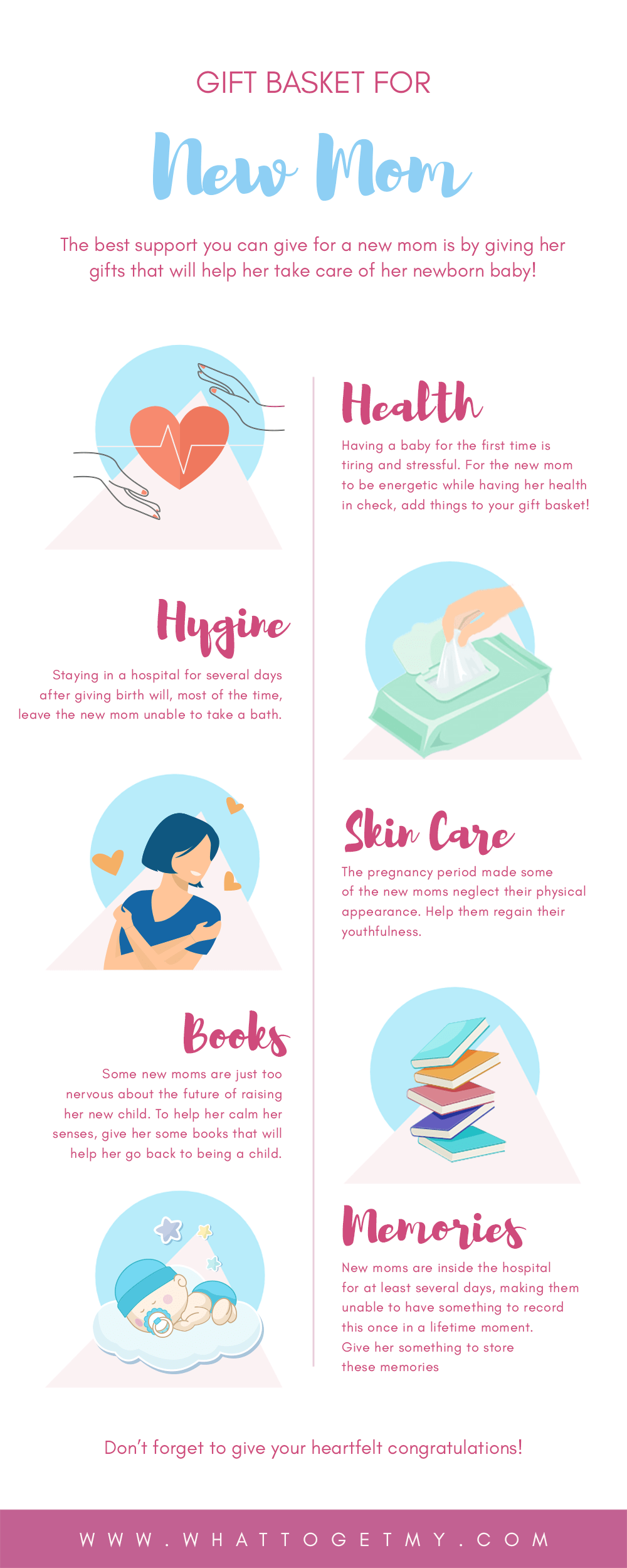 Source Link: https://whattogetmy.com/gift-basket-for-new-mom-in-the-hospital/
HEALTHY NOURISHMENT OPTIONS
Having a baby for the first time is tiring and stressful. For the new mom to be energetic while having her health in check, add things to your gift basket!
DRINKS FOR HER TO STAY AWAKE AND RELAXED
The process of giving birth is painful and tiring, but those feelings vanish immediately after seeing the baby. Even with that said, new moms still tend to be exhausted for several days, limiting her time to take care of her newborn.
For the new mom to be able to hold her baby longer, give her something that will help her stay awake and relaxed. Gifts such as a coffee or tea set are good choices. Breastfeeding experts said that lactating mothers can drink these in moderation.
Another choice, if you have the budget, is an easy-sip insulated tumbler, so that she can have a hot drink whenever she wants even if no one is around. Choose one with a cheerful design so that she can relax more.
FOOD TO KEEP HER BELLY FULL
Food is a common component of a gift basket for people in a hospital, moms included. This is because most of the food offered in the hospital to them are nutritious bland ones.
Adding a homemade food for the new mom is an excellent choice since it's pretty expected that she'll be missing some. Just make sure that the homemade food added for her gift basket is healthy and will not cause any problem for a hospitalized person.
Another choice is nutritious snacks.
Hospitalized people usually don't have an appetite to eat a whole meal. Giving them easy to eat snacks like snack bars, biscuits, or nutritional chips can be a fun alternative for them to eat. Not only will this be food for filling their bellies, but it will also give their taste buds a fun treat.
Of course, you can also add some fruits in your gift basket. They are healthy, easy to eat, and cheap. Every gift basket that has food always include fruits in it.
HYGIENE SIDEKICKS
Staying in a hospital for several days after giving birth will, most of the time, leave the new mom unable to take a bath. Add up some of these things from these gift ideas for your gift basket to help her stay clean and fresh, as well as her baby!
BABY WIPES FOR HER AND HER BABY'S SKIN
Most of the time, it's hard to clean up yourself while you're in the hospital. In some cases, you are not allowed to be wet. While most of the time, we just don't have a shower available in our rooms.
That's why adding things for wiping the skin of the new mom and her baby is a lifesaver. Since a baby's skin is delicate, the use of wet baby wipes is almost mandatory in every situation. This will be used for wiping off liquid spills, sweat, and other things that touches the baby's skin.
Not only is this for the baby's use, but for the mom as well. Some baby wipes are fragrant and with an alcohol solution, making it a good alternative for liquid alcohol.
There is actually no difference between a scented and unscented baby wipes in terms of effect to the skin. Some babies feel irritation with scented ones, while others don't. It comes down to the mom's preference in which to use.
If you are unsure, try including both.
BABY COLOGNE FOR KEEPING HER AND HER BABY FRESH AND FRAGRANT
Having alcohol as your body scent inside the hospital is not a pleasant feeling for some moms and babies. That's why for them to be fragrant and fresh, adding a baby cologne in the gift basket that you will give is a nice idea.
Most baby cologne is not only light-scented but also contain baby-friendly contents that will not irritate the skin of the baby. This will help keep the baby fresh and fragrant for the day.
And since most moms do not use perfumes during their pregnancy period because of inevitable hormonal changes, giving them this is a good way for them to start feeling fresh and fragrant again.
You can also add a bubble bath product for her to use with her baby when she gets home.
MAKE HER FEEL YOUNG AGAIN
The pregnancy period made some of the new moms neglect their physical appearance. Help them regain their youthfulness through these gift basket additions.
Gift Certificate to a spa or salon
Being a pregnant woman, a new mom most likely set aside taking care of her appearance for a healthier body. This is perfectly fine, but we don't want her feeling frustrated in a week or two after giving birth because her looks aren't great.
Giving her a gift certificate to use for an hour or two session in the spa is a good choice. Spa treatments are known for several good benefits like improving the blood circulation of the body, stimulating the body's lymphatic system to get rid of toxins, releasing serotonin for an enhanced good feeling, and many more.
Since the postpartum stage is the time most moms feel very self-conscious, giving her a gift certificate to a salon will get her a new look. New baby, new life, new style.
She may not use this immediately, but it will help her find a way to relax by setting up an appointment whenever available.
POST-PREGNANCY SKIN CARE PRODUCTS
In post-pregnancy, moms are experiencing some not-so-pretty changes. Examples of these are hair loss, puffy eyes, acne, etc. Most of them are temporary and will go away normally in due time, but having a new child means that she'll be meeting a lot of people. And we bet that she won't like to show herself to others without looking great.
Add beauty and skin care products in her gift basket for her to be able to take care of her skin even at home. Examples of these are the following:
Mild Cleansers – This is used to make the new mom's skin feeling clean and fresh.
Lightweight Moisturizers – This is for the new mom to keep her skin hydrated and graceful-looking.
Sunscreen – This is for the protection of the new mom's skin against the sun. This also helps to keep pigmentation and acne away.
Mild Face Scrub with Soft Granules – This is the removal of dead skin cells. This also helps lighten dark spots and reduce acne as well.
Anti-hair Loss Shampoo and Conditioner – This is to prevent further hair loss caused by post-pregnancy. Partner with conditioner for a silky, smooth hair.
RECORD MEMORIES
New moms are inside the hospital for at least several days, making them unable to have something to record this once in a lifetime moment. Give her something to store these memories from this gift basket items.
PAPER AND PEN SET
In today's generation, keeping pictures and videos of life's precious moment is part of an everyday routine of a person. And of course, having a newborn child is one of them.
The most unique way to give to the new mom for record keeping is a paper and pen set. You can also pitch in some crayons and stationeries for added materials.
Why bother with including this item in the gift basket if they already have a phone to keep memories? Wouldn't it be better if you include a camera instead?
Snapping a picture for memory keeping is indeed a great way to capture the moment, but writing it down is better at a whole level. Why though?
Studies show that using a pen and paper makes retaining knowledge easier. This means that you'll be able to savor the feelings you had at that moment in your memory better than just pictures.
Writing down the current feelings you have at the moment is a better way of recalling that memory rather than staring at a picture. Also, it's the cheapest method to store memories.
Even with this said, many people still find taking pictures less tedious than writing it down. If this is the case for the new mom you'll be giving the gift basket to, you can just add a portable camera that is just right for your budget.
BLOW OFF SOME STEAM
Some new moms are just too nervous about the future of raising her new child. To help her calm her senses, add this to your gift basket.
MOM BOOKS!
The new mom you know most probably already had researched a lot of things about being a new mom. This may be the cause of her anxiety.
To help her alleviate this, give her some books that will help her go back to being a child. A mom coloring book is the best choice for this, and it's gaining popularity as well.
Having an adult coloring book will her the new mom regain her creativity and artistic side, helping her relax and calm her senses by focusing on coloring the book. This will also prepare her in the future when it's time for her child to grab some art materials.
SOME FINAL WORDS
Even with all these wonderful item additions for the gift basket you will give to a new mom, there is just one thing that she will surely be ecstatic to receive. That is your heartfelt congratulations being paying her a visit at the hospital.
Being a new mom is both a challenging and fulfilling role. To be able to fully support them, we must not just give them gifts, but also learn about their current condition, their wants, and especially, their feelings.
You can also stay at the hospital with her for some time so that she can have a chat with the people she cares. Research some new mom tips on the internet and tell her about it so that her anxiety of taking care of her new baby is reduced.
With this said, have you prepared your gift basket for a new mom in the hospital?
Try our AMAZING GIFT FINDER TOOL! Find GIFTS with 1 CLICK!