Fun Things To Do With Your Sister At Home
WhatToGetMy Instructional Article
Watch the video version of this article:
The bond between siblings is a powerful connection that should be encouraged and fostered as early as possible. If done right, siblings can become a huge source of encouragement and motivation for each other, as this 2013 survey from across Great Britain shows.
Young people who are inspired by their siblings in Great Britain 2013, by age group. Source: Statista​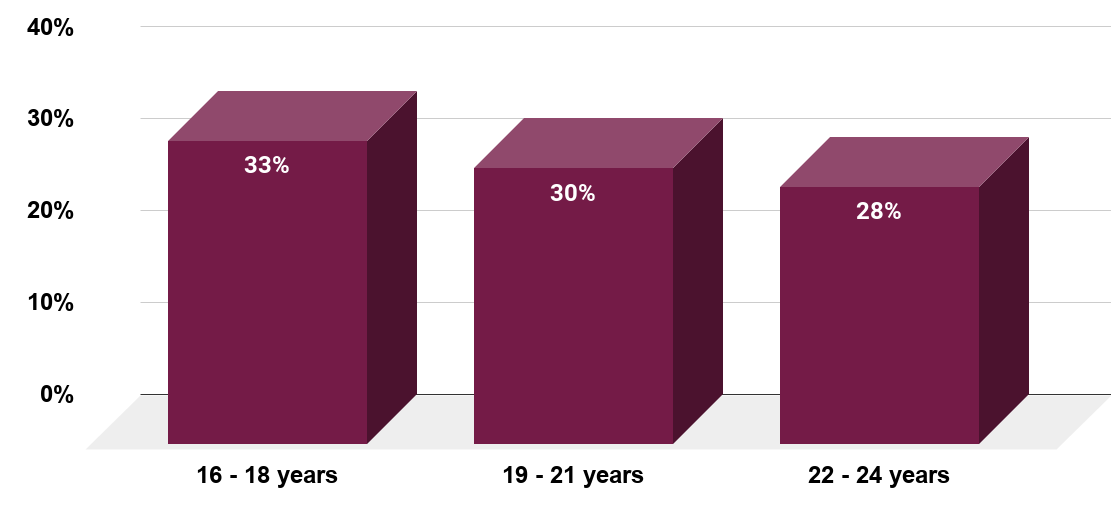 Living distances between siblings in the United States in 2011. Source: Statista​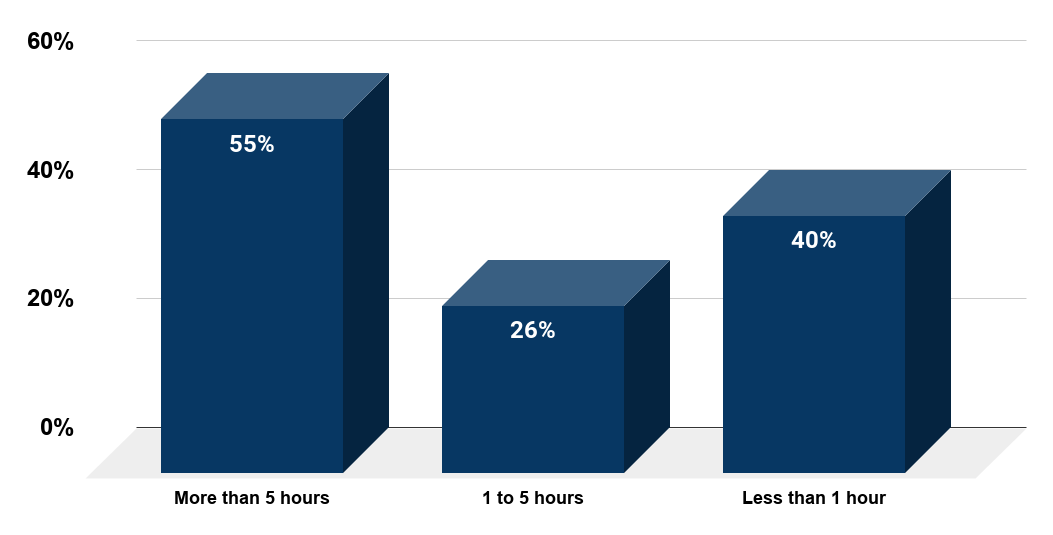 One of the quickest and easiest ways to build and encourage this bond is by spending fun, quality time together at home doing fun activities. And since the sisters are most likely at home together anyway, or not living too far from each other (as the second chart above shows), this should not be too difficult.
In this article, we show you how to spend fun quality time with your sister at home to strengthen the bond of love between both of you.
5 Fun things to do with your older sister at home.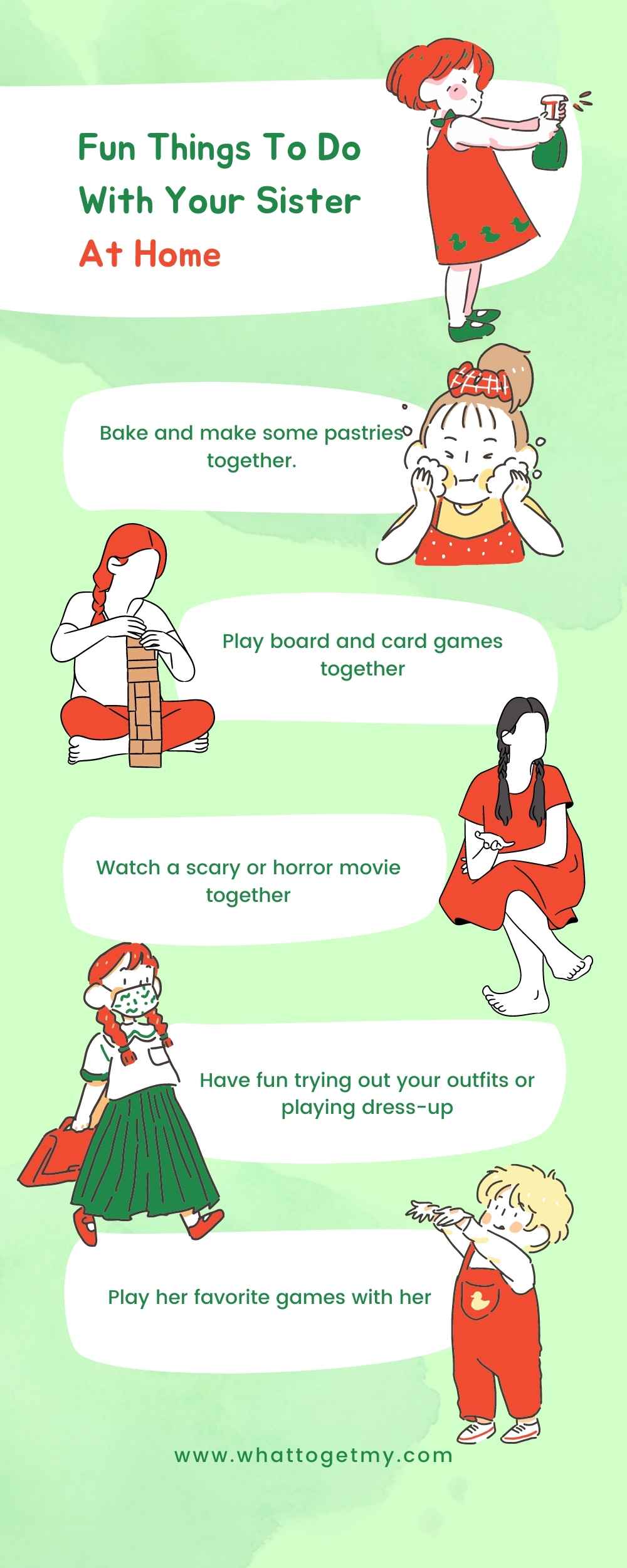 Source Link: https://whattogetmy.com/fun-things-to-do-with-your-sister-at-home/
Sometimes it is not easy knowing what fun things to do with your older sister at home, especially if the age gap between the two of you is quite significant. As the older sister, you may also not know what fun things to do with your younger siblings. These 5 fun activities would be both fun and great bonding activities with your older sister at home, and especially if it is the holiday season.
You may like this article on Fun things to do in the holidays at home.
1.
Bake something up.
Baking is a fun activity that every age group enjoys. Your younger sister will get a kick out of it and your older sister would also enjoy it too. It's a win-win fun activity for everyone. So, get the baking booklet(s) out and try out something extraordinarily delicious. And remember that the fun is not so much in the final product as it is in enjoying your older sister's company and bonding over the baking exercise.
If cooking is more your thing, you can instead opt to cook an exotic meal from other cultures of the world.
The laughter and joy that comes from working towards a meal (or confectionary) and the fulfillment that comes with seeing how the final product turns out, is one that strengthens any sibling bond and connection.
You may like these baking related articles – Baking set for teenager and Gift Ideas for Baking With Children.
2.
Play board and card games together.
Playing board and card games is another exciting and fun thing to do with your older sister at home. It's a great way to destress and get your competitive juices flowing. Check out our helpful article on 9 Fun games to play with two people for board and card game ideas to play with your older sister.
3.
Karaoke at home and/or lip sync battle.
Want to show your older sister that you can sing Taylor Swift as well as Taylor Swift? Then why not bring the karaoke on. Or even more exciting, make it a lip sync battle. Karaoke and/or lip-sync battles are pretty dope ways to have fun and your older sister will be impressed at how much game you've got going.
4.
Watch a scary or horror movie together.
Watching movies is another exciting way to spend time with your older sister. Scary or horror movies are nice movies to watch together because you can both get scared together and jump at the same time and have a good laugh at it.
Another alternative to getting the laughs going and bonding with your older sister is watching comedy movies or stand-up comedy shows. Check out this list of American stand-up comedy shows you can watch on Netflix.
5.
Have fun trying out your outfits or playing dress-up.
Have your own mini Project Runway with your older sister and the clothes in her closet, and your closet too. It is also a great excuse to get your closet and your older sister's closet cleaned out while having fun at the same time.
Check out this cool article on Sisters day out ideas for when you want to take the fun outside the house with your older sister.
5 Fun things to do with your little sister at home.
Still don't know what to do with your little sister at home? Here is a good selection of 5 fun things to do with your little sister at home.
6.
T-shirt walk game.
This is a fun game that would involve a t-shirt that has a big enough neck to fit both your little sister's head and yours too. Or, you can still cut the neck of the t-shirt to be able to accommodate both your heads without ripping it apart.
Get your little sister to stand in front of you and try to fit both your heads into the neck of the t-shirt. Once you have accomplished this feat, if you do accomplish it, try to walk in harmony without falling over or crashing into each other. It's a hilarious and goofy game to play with your little sister at home, and she will get a kick out of it.
7.
Watch her favorite cartoons and/or animation with her.
Little sisters love their cartoons and/or animation. She will be so thrilled that you could take out the time to sit with her to watch it. She would also be so glad to have a companion to talk about her favorite cartoon characters with.
8.
Play her favorite games with her.
By doing this with your little sister, you will make her day. You will be showing her just how special she is to you and how important the sibling bond between you two is to you. Ask her what her favorite games are and tell her you want to play these games with her. To make it even more special for her, pretend you don't know the ropes and ask her to teach you how to play the game(s). And even when you get the hang of it, you can let her occasionally win some of the games since the point of playing the games with her is not to win the games, but rather to bond with your little sister.
9.
Bring out her tea set and have an indoor picnic or tea party together.
Who says picnics only have to happen in an outdoor park somewhere. You can have your cute little picnic in your backyard at home. Little sisters almost always have a nice cute tea set that they love to use to play pretend tea parties with their dolls. Imagine how thrilled she would be to have a tea party with real guests. She would be so glad to have you indulge her in this way.
10.
Indoor camping.
Camping is another fun activity we enjoy regardless of our age. Little children especially love having their camping tents set up somewhere in the house where they can always have their camping experience. Set up the camping tent either in the treehouse or in the backyard and enjoy the thrill of camping with your little sister.
5 Big sister little sister bonding activities.
You can have a great big sister little sister bonding time with any of these 5 cute sisterly bonding activities.
11.
At home hair and spa treatment.
Spoil each other to a relaxing home spa treatment that also includes treating your hair together, giving each other massages, and a manicure and pedicure treatment. Not only is this activity very relaxing, but it is also a great way for sisters to bond together.
12.
Slumber party for two.
You don't always need a crowd for a slumber party. Stay up all night telling each other stories about your ups and downs. Laugh together, cry together, and make fun of each other. This is another activity that has a way of solidifying the bonds of love between family and friends. It gives the sisters a safe space to be vulnerable with each other and learn a lot about one another.
13.
Working on a jigsaw puzzle together.
Jigsaw puzzles are known to take considerable time to figure out and solve. And doing it together is known to also get the people doing it to bond together. This does not come as a surprise because usually when we team up to solve a problem, it creates a shared bond. In the same way, when the sisters work on the puzzle together they get to bond very well.
14.
Paint something together.
It could be water paint, crayons, or any other type of artsy painting that the little sister or older sister fancies. Why not choose an object to paint and get both your creative juices flowing by painting that object together. The end product does not have to be the next Mona Lisa, but you would have had a great bonding time with your little sister or big sister.
15.
Cook up a face mask or other beauty product together.
You can come up with some really exciting and adventurous at-home beauty treatments together. Check out this helpful list of easy to make home DIY beauty treatments that you can try out on your next little sister big sister at-home hangout.
An Exciting Challenge to do with your sister.
If you are looking for something a little out of the ordinary, this is a challenge you might love to try out with your sister.
16.
Wrap me like a mummy.
This challenge will need you to have a lot of toilet paper. The goal of this challenge is to try your best to mummify your sister like the Egyptian mummies. You might think it is an easy feat to accomplish until you get started on it. Then you realize just how much work it took the Egyptians to always mummify their Pharaohs before burying them.
2 Cool Games to play with sisters.
And if you still want to have more fun and games, you can enjoy any of these 2 cool games with your sisters.
17.
Freeze music game.
This very simple yet fun game will get you and your sister very energized. With this game, you have a playlist of your favorite music. You all get your dancing shoes on and while everyone is dancing and having the time of their life, the music is turned off.
Everyone must maintain the dance position they were in at the time the music was stopped. They have to maintain that position for as long as they can. The first person to shake from their position loses and everyone unfreezes from their position.
It can be really fun and goofy especially if one is caught in a very difficult twist or uncomfortable position. It's a cool game for laughs.
18.
Scavenger hunt.
This classic game is an all-time favorite that never gets out of fashion. You can make it more exciting by putting a spin on the items being hunted. Since it is being done at home, you can also use it as an excuse to get the house clean by listing all the items that are scattered all over the house as items to be collected in the hunt. It will be both exciting and useful at the same time – a perfect win-win.
Fun Sibling team building activities.
Want to teach team-building amongst siblings, this game is a winner for encouraging team building.
19.
Balloon walk game.
This activity will require a good number of balloons blown up to size. What you then do is have your siblings stand with their backs. Then place the balloons on their head, their back, and the bridge of their hip. They are to try and walk in sync without dropping any of the balloons. They are also not allowed to touch any of the balloons with their hands to stop them from falling. It can be a challenging activity, but it is loads of fun and encourages teamwork and team spirit.
2 Good Activities for siblings who fight.
The best way to get siblings who fight a lot to stop fighting a lot is to give them something to do that would get them to work together and forget their conflict. And with these 2 activities, you can't go wrong.
20.
House chores.
What we love about this activity is that it kills two birds with one stone, or maybe three. It gets the children to stop fighting and try to get something done together. Secondly, it gets the house clean in the process. And finally, it shows them that they are better when they put their differences aside and work towards something beneficial.
21.
Playing video games together.
Playing a competitive video game like Minecraft for example is known to unite even rivals. Video games have a way of channeling competitive energy in a good way. So rather than fight and brawl, they can channel all that energy into their video game and forget about the brawling and fighting.
Frequently asked questions.
What are some good brother and sister games you can recommend?
Brothers and sisters can still enjoy any of the fun 21 games and activities listed in this article.
What are some fun things to do with your siblings at home?
All the 21 games and activities listed in this article are activities you can enjoy at home with your siblings.
Conclusion.
Having fun at home with your sister is a great way to bond with your sister. With any of these 21 fun games and activities, you are sure to have a blast with your sister, whether she is your older sister or your little sister. And the best part of the fun is that you also get to bond and grow closer with your sister.
ESTIMATED TIME DESIGNING AND UPLOADING THIS ARTICLE
ESTIMATED TIME RESEARCHING AND WRITING THIS ARTICLE