Fun Things to do in the Holidays at Home
WhatToGetMy Instructional Article
You're tired of going out, speeding from one part of the town to another. Naturally, you want to enjoy holidays at home, on your own terms in the comfort of your living room. We researched and prepared ideas about fun things to do in the holidays at home. Scroll through the article and you can surely find an activity that suits your current mood. You can be alone or spend quality time with the family, be productive or just "hang out" – anything you want! Our role is to present you with the options, so that's exactly what we'll do.
Before you get further down the article, we'd like to mention a few things:
Don't make plans. Holidays give us a lot of free time and some people are trying to maximize it by making detailed schedules. However, if you're a spontaneous type of person, holidays will be much more enjoyable if you just let go and do what you want at the moment.

Reconnect with the family. Find an activity you can all enjoy together and use the holidays to bond with each other. Of course, if you feel overwhelmed, you should also have some alone time to relax.
Do what makes you happy
There are no rules about what you should do in your free time, so you can choose to spend it as you like. Treat yourself with some leisure activities and practice self-care. We need to relax from stressful everyday tasks and take care of our mental and physical health. The only way to do that is indulging in activities that make us happy.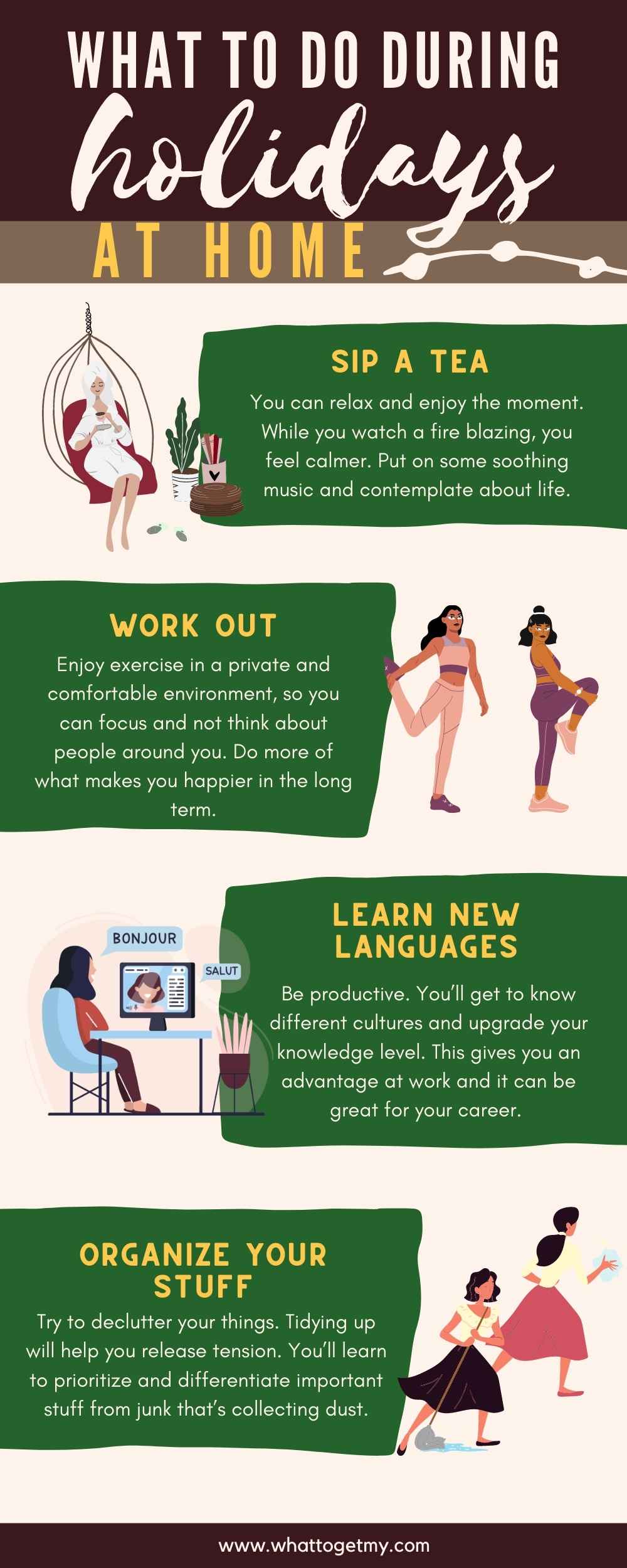 Source Link: https://whattogetmy.com/fun-things-to-do-holidays-at-home/
Sing and dance
Blast your favorite tunes and let yourself go! Sing as loud as you can, just like you would at a concert. Dim the lights and pretend you're in a club. You can even invite a few friends over for this mini party. Just make sure that your family and neighbors don't mind the noise.
You can even learn new moves with videos and dance tutorials. Practice one fun choreography and impress your family with the new moves. However, if following a strict pattern isn't for you, you can always just let loose and follow the beat.
Sip a tea or hot chocolate by the fire
This might sound like a cliché but it's actually one of the best things to do in the holidays by yourself. You can relax and enjoy the moment. While you watch a fire blazing, you feel calmer. Put on some soothing music and contemplate about life, hopes, and goals. Let yourself daydream a bit. Maybe light a scented candle too, so you can activate all your senses.
Play a video game
If you don't know how to have fun at home, you need to look into video games! With so many game genres on the market, you'll surely find something interesting for you. Remember, it's all about what makes you happy, so feel free to dive into that fantasy role-playing game you've finished three times already. If you're in the mood for a light puzzle game or serious strategy online, you should do it. There's nobody stopping you.
Watch a movie, or three
What are the holidays without movies like Miracle on 34th Street or Love Actually? Find the time to experience all the movie classics alone or with your loved ones. Wear something cozy, snuggle under a comfy blanket and the binge can start. Just make sure you have enough snacks for three movies straight.
Work out
Find some fun Youtube video on HIIT workout, or search for something slower like pilates or yoga. Enjoy exercise in a private and comfortable environment, so you can focus and not think about people around you. You can blast some music to make exercise easier, or you can even invite your best friend and encourage each other.
Screen-free activities
You don't have to use technology to have fun at home. Limiting screen time can be healthy for you. It reduces eye strain, prevents headaches, helps you focus, and it even improves your sleep. These are some of the things to do in the holidays at home that require zero screen time.
Playing board games
Everybody loves to play board games. What's the way to reunite and reconnect with the family than having a small game night? You can split into teams, arrange prizes for the winners, and, of course, make favorite holiday snacks. With so many types of games to choose, the fun is guaranteed.
Leave your technology devices behind and spend quality time with your children, siblings, and parents. Encourage competitive spirit but establish clear boundaries. You don't want to start siblings' fights in a joyful holiday period.
Reading a book
Reading is a great way to have fun while increasing your knowledge and boosting your imagination. A good book can also encourage your critical and creative thinking. Books are a gateway to another dimension. Exploring new places and worlds is the primary goal of each writer. Authors like to share their vision and the more you get into one book, the more you can connect with that vision.
You'll reach new levels of spirituality depending on the book you choose. If you open a fantasy novel, you'll discover many wonderful places and creatures, or if you opt for a spiritual book, you learn more about new perspectives on life. It doesn't matter which genre you'll choose, a classic novel or a new hit thriller. The most important thing is to sit in your comfy recliner, relax, and enjoy the moment.
Playing Indoor Mini Golf
Miniature golf is not exclusively an outdoor activity. You can find various sets that enable you to make a little course in the house. Keep it simple and have some lighthearted fun with your friends. There are always extravagant options for decorations and special effects if you opt to put some more bucks into it. Check out this video below to see how that might look:
Doing a puzzle
Give yourself a fun challenge with a complex puzzle. Choose one that has a thousand pieces, or more if you have a loved one to help you out. Doing a puzzle is a calming way to spend time at home. You can get lost in searching the right piece for hours. When you see the picture of the final product, you'll feel that you accomplished something huge.
This isn't a one-night activity. It requires devotion and care. If you're not in the mood for puzzles every day, you can set the frame aside. Maybe on a spare table that you don't use daily? Just be sure it's out of children's reach, so they don't lose something. You can't hang a wonderful picture on the wall if you're missing a piece.
Be productive
Most people use the winter or summer holidays to get rid of the stress and relax a bit. Some people like to be productive and do something useful too. It can be fun to do something meaningful with your time and see the products of your effort. We've found a perfect mix of fun and useful activities to do on holiday.
Baking
Nothing is better for holiday spirit than the smell of freshly made sweets. Fire up the oven and try to make all those wonderful cookies, cakes, and pies. You'll have fun mixing ingredients and trying out various recipes. On top of that, you'll be thrilled to hear praise of your baking skills. The best part is, of course, enjoying the delicious homemade treats.
Making tasty food might seem hard to you. However, if you have a good recipe and a cheerful spirit, you'll have no problems with baking at all! It's always better to choose an easier recipe, but if you're already experienced in the kitchen, be a little bold and try out some exotic recipes. We've found a simple recipe for chocolate chip cookies you can make for Christmas, Easter, or any other day! There are a lot more recipes online, so be sure to check them out.
Learning a new language
Learning a foreign language can be an exciting and fun thing to do on holidays. You'll get to know different cultures and upgrade your knowledge level. Learning a foreign language gives you an advantage at work and it can be great for your career. If you have a bit more time, don't hesitate to dive into the learning waters.
You can sharpen your listening skills, improve memory, and boost brainpower. All you need to do is choose a language according to your interests. If you like listening to Latino music, try learning Spanish. If you're a huge anime fan, check out Japanese. There are various sites and apps that help you start exploring this multicultural world and tackling a language.
Organizing your stuff
If you're looking for useful and fun things to do during school holidays at home, try decluttering. Go through your desk and remove unnecessary piles of mail, books, and school supplies. Give away the books and notes to your colleagues that might still need them for exams. Don't be afraid to throw away files you don't use anymore!
Clearing your desk, cleaning your room and tidying up will help you maximize your space. You'll learn to prioritize and differentiate important stuff from junk that's collecting dust. |That's what taking control of your home means! In addition, you can do some redecorating and freshen up your living space. Trust us, you will feel relieved and happy after it's done.
Making craft
Whether you're looking for things to do in the summer holidays at home or for Christmas time, making craft is the perfect way to pass the time. There's always joy in giving homemade gifts, using homemade decorations, etc. It's a fun activity for all seasons! You just need some materials, paper, glue, ribbons, pressed flowers, and other stuff depending on what you want to make. Also, don't forget to let loose your imagination!
You can easily find various DIY projects online. If you need help with stress relief, choose a simple option for beginners. Of course, you can always be daring and challenge yourself to partake in a new hobby like knitting, sewing, making jewelry, etc. Why not also invite some friends and make a crafting party? Instruct each friend to bring his/her favorite material and the fun can begin.
Frequently asked questions
What to do during the holidays?
Spend time with family and friends. Read a book, watch a movie, or maybe even do something new. The most important thing is to rest and catch up on some sleep.
How do students spend their holidays?
Most students are trying to find a good internship, temp job, or other useful activities for their resume. Some are even volunteering and participating in upgrading their communities. Of course, movies, games, and friends are also a priority.
What should a teenager do when bored?
When teenagers are bored, they can watch videos, play games, listen to music, and even read books. You can even encourage your teen to participate more in household chores or activities for the benefits of others.
Conclusion
We hope that you found some fun things to do in the holidays at home. As you can see, there are a lot of options out there. You can choose to spend afternoons in solitude or hang out with friends doing unusual stuff. The options are limitless. 
Things are especially fun and challenging if you have kids. You're always searching for more activities to do on holiday because the children crave attention. We're sure you can find something fun to do with your 10-year-old. If you need some more ideas, check out our article on kids' activities at home.
ESTIMATED TIME DESIGNING AND UPLOADING THIS ARTICLE
ESTIMATED TIME RESEARCHING AND WRITING THIS ARTICLE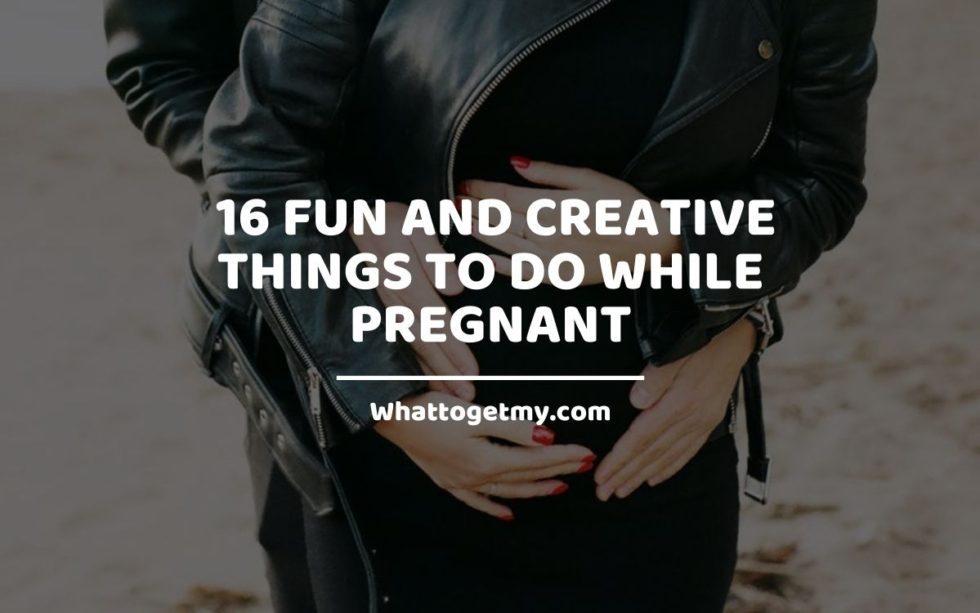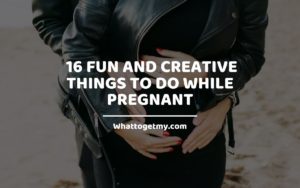 16 Fun and Creative Things to Do While Pregnant?
16 Fun and Creative Things to Do While Pregnant WhatToGetMy Instructional Article Pregnancy is a unique time. On one hand, you have limited options for having fun, but on the other, you've got plenty of time. While you can't partake in certain activities you once
Read More »