Quiet Activities for Toddlers in the Church
WhatToGetMy Instructional Article
You're probably asking yourself "How can I keep my kids busy in church?" You want to avoid making noise, so you're looking for quiet activities for toddlers in the church. Older kids can accept simple explanations about the sacredness of the church and the reasons why they should be quiet during service. Toddlers and preschoolers are the problematic ones. They are often very noisy and you need to entertain them with something if you want peace. We'll try to give you some options to keep them busy and a few useful pieces of advice.
Before you scroll further, we'd like to mention a few things:
We know you want to teach your kids about faith but younger kids might not be ready for that. If your children are making too much noise even when you occupy them with these activities, you might want to consider leaving them with a relative or a babysitter. You don't want to distract other people in the church, right?

Wait as long as possible before you give your kid something to do in church. Try to encourage him/her to sit still and listen. After five to ten minutes when your kid becomes restless, try to entertain him/her. As time progresses your child will be quieter for longer than ten minutes before he/she asks for something else to do.

The most important thing to remember is that every kid is different. Your kid might respond to activities that other children don't like and vice versa. Try out a lot of activities before you call it quits.
Fun and quiet activities
As a parent, you already learned that you should be prepared for unexpected situations. Keeping a few tricks in the bag to calm your kid is a necessity. All you need to do is adapt those tricks, so you can use them in church. Check out these activities and accessories that will help you get the quiet time you need.
Coloring
Coloring is one of the best quiet activities for kids. They can get lost in the pictures for quite some time. You might even need to remind them to stop. The church is a bit inconvenient in enabling your kid to color comfortably, so you need to adapt. Bring a wooden holder or get coloring books with hardcovers. Maybe you can even let your kid use the chairs as a holder for his/her coloring books and crayons.
Always give your kid crayons because they don't make much noise when he/she drops them. If you want to avoid judgemental looks from people, don't give your kid markers or pens. Be sure to have extra crayons and coloring pages with you in case other kids also want to play. Their parents will surely thank you.
Remember to let your kid choose the coloring books. You need to occupy him/her as long as you can. You won't be able to do that if you try to sneak in some Bible lessons, religious motives, or other pictures your kid might not find interesting.  
Reading quiet books
You probably heard of quiet books, but have you tried using them? These soft books are made of felt, so they don't make any noise. Just pack them in a bag and take them anywhere. A kid can easily use them in a church without distracting anyone!
Try giving your kid a different book every week to keep him/her entertained with a "new" thing to do. These books might be a bit bulky and you can't keep a lot of them in a bag. However, be sure to have at least one spare book with you in case your kid gets "tired" of the first one.
Choose a book according to your kid's age and liking. Every kid has something that keeps him/her occupied the most. Luckily there are a lot of various quiet books available, about farm animals, cars, etc. You can even make a quiet book yourself by decorating the pages made of felt. When you find templates and ideas online, we're sure you won't have a problem making your quiet book. For example, look at how this book is beautifully made:
Playing with toys
Although there aren't many quiet toys for the church available in the stores, you can get a little creative with what you already have. Make a "church box" out of cardboard and cover it with felt. Choose a certain amount of toys you'll use just for the church.
Be careful about your choice of toys. Stuffed animals are always a great option because they don't make any noise. You can even get some small cars that your toddler likes. He/she might drop them once or twice, but you can prevent that by letting him/her play on the floor. Barbies and action figures are also a nice option for the "church box".
Try to rotate the toys in the box and add new ones once in a while. You can keep your kid entertained because he/she will always have something new to play with. By limiting certain toys "just for the church" your kid will look forward to the Sunday service to get the "special" toys.
Drawing
Most kids like to draw which can keep them occupied for a while. Give your kid a small notebook with a pen and he/she will be thrilled. Your toddler probably loves pens and you don't let him/her use them because they are messy. Even if you have to spend 10 minutes washing his/her hands after the service, it would be worth the quiet church time that pens have provided.
Doodling and drawing might be one of the best quiet activities for the church if you have the right accessories. A magnet board, for example, provides a great option for drawing. Bringing a small board might be helpful to keep your kid entertained. However, markers might make some noise if he/she drops them. Some boards have a special pen attached with a cable which might be a better choice. Whether you opt for an old-school board or a new stylish one, you can be sure your kid will be quietly entertained the entire service.
Doing puzzles
Doing puzzles made of foam is a great activity for church. There wouldn't be any mess after and the kid will be entertained for a short period. There are puzzles for all ages and you can even find the ones with religious motives. However, you should probably choose something that your kid finds interesting.
Puzzles are great for a child's development. Your kid will learn shape, colors, and numbers while quietly playing. Foam puzzles are light and you can easily pack them in your bag. They are a simple and easy solution to your problems.
Playing with stickers
Every toddler absolutely adores stickers! Playing with them is one of the best fun church activities for kids you're looking for. Toddlers can play with them for half an hour without any interruptions. Just a pack of stickers and a notepad – that's all it takes to keep them quiet.
Playing games on a tablet
Bringing out electronics should be a last resort. When all other quiet activities for kids in the church fail, you should allow your kid to play games on a tablet or a phone. If you're limiting screen time for your kids at home, this is the best way to make them quiet in the church. If the church is the only place they can use electronics, they will look forward to the Sunday service because all kids love playing games.
The problem is that most churches forbid the usage of devices during service. However, if you're really having trouble with keeping your kid quiet, maybe you should talk to the priest and ask for his advice. Maybe he'll allow you to occasionally use the tablet or phone if you don't have anyone who can babysit your kid.
Useful tips
It's hard to take care of a kid during the service in the church. We've gathered some pieces of advice to try making this experience a bit easier.
Pack a "church bag"
A "church bag" is an upgraded diaper bag. You'll have all your essentials with you in addition to various accessories you'll need for the church. As you might have noticed a lot of church activities for toddlers require things you need to take from home. If you have a bag especially for that, you can pack crayons, coloring books, drawing boards, quiet books, etc. Then you'll have more options to entertain your kid quietly.
Make sure to switch accessories from time to time, so your kid won't get bored. Repack the bag every week to get rid of used papers, broken crayons, and other unwanted things. Some people even put snacks in the bag in case kids ask for something to eat. If you choose to do that, you should pack some soft cookies or fruits in a plastic container, so your kid won't make any noise while eating.
Sit closer to the front
We know that you're probably sitting in the back because you don't want to be in the spotlight if your kid acts out. However, you might want to try sitting in the front rows with your antsy kid. Why, you ask? It's simple – the reason for kids' noisiness is boredom. If you sit far away kids don't see what's going on. Toddlers can't pay attention to something happening far away from them. That's why some churches encourage families to sit closer to the preacher. Try this out and it might do the trick.
Practice at home
It might be a good idea to practice having "quiet time" at home. On the first try, set a timer to five minutes. Then slowly increase the timer until you reach your goal (the duration of the service). You can try reading a book while your kid sits calmly and listens. This would teach him how to control himself/herself. Toddlers are old enough to know the difference between the time to play loudly and time to be calm. Learning to sit still is also helpful in other occasions like graduations or weddings. This kind of "training" is difficult, so you have to be patient with your kid.
Frequently asked questions
How do I keep my 2-year-old quiet in church?
Make him feel comfortable, bring quiet toys and snacks. Sit in the front so he/she will pay attention to the service, or in the back if you think he/she would be a distraction for others.
How do you teach your kid to be quiet?
It's crucial to be patient with your kid and teach by example. Explain to the kid why he/she needs to be quiet in certain situations and have a bag of accessories for quiet activities by your side. Reward good behavior and be prepared that you won't succeed on the first try.
At what age should a child sit still?
Toddlers can sit still for 5–10 minutes if they are not occupied with something. Older kids should be able to sit still for 20-30 minutes.
How do I get my 2-year-old to sit still?
Practice sitting still at home. Have your toddler sit in your lap for a full minute the first time. Then, slowly increase the time, so you can challenge him/her to sit still as long as possible.
Conclusion
We hope that these quiet activities for toddlers in the church will help you entertain your kid. Going to church shouldn't be a chore, so you shouldn't punish your kid if he/she acts out. Encouragement with these kinds of activities will be more productive in the long run. If kids are happy while playing in the church, it's more likely they will continue going once they grow up.
When your kid starts behaving nicely in church, think about rewarding him/her with a gift. If you need ideas, check out our article on Personalized gifts for 2-year-olds.:
ESTIMATED TIME DESIGNING AND UPLOADING THIS ARTICLE
ESTIMATED TIME RESEARCHING AND WRITING THIS ARTICLE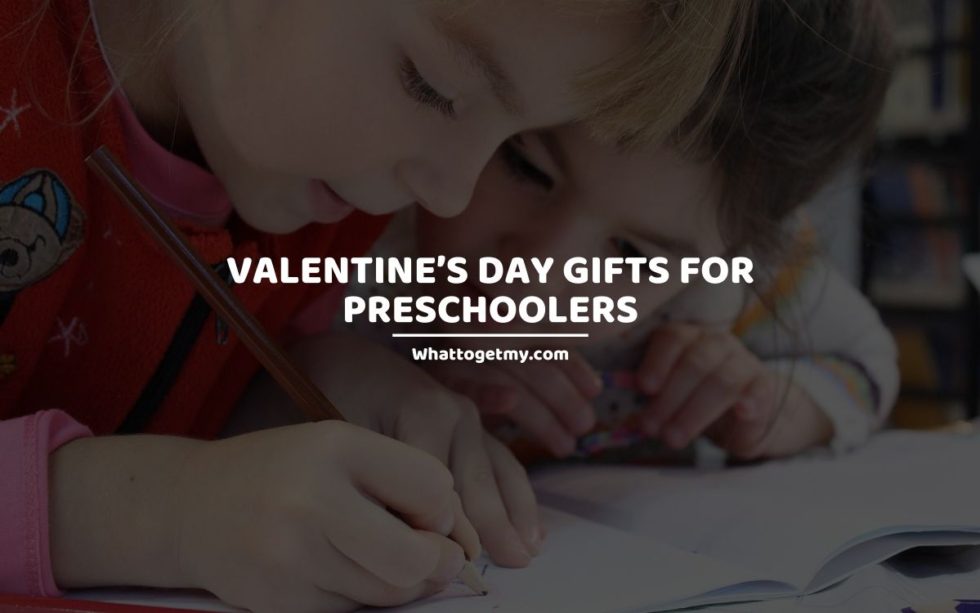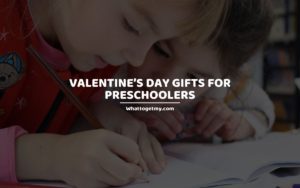 Valentine's Day Gifts for Preschoolers
Valentine gifts for toddler classmates have to be chosen carefully. Why is that, you may ask? Valentine's Day is the perfect opportunity to teach toddlers about sharing love and showing affection. That's why it's essential to encourage the joy of gift-giving. After all, nothing compares
Read More »