17 Things to Do with Toddlers on Long Island
WhatToGetMy Instructional Article
In this day and age where technology has taken over and both parents and children are preoccupied with it, it is important to set time apart and spend quality time with your children especially when they are young and developing. As much as technology can be used as a teaching and learning tool, it is also just as important to take your children out and give them real-life experiences of what they watch on screen – this way they will have a better understanding of what they watch and experience.
A study conducted by the pew research center in 2020 shows that 57% of children under the age of 2 watch videos on Youtube.
Title: % of U.S. parent of a child age 11 or younger who say their child ever watches videos on YouTube. Source: Pewresearch.org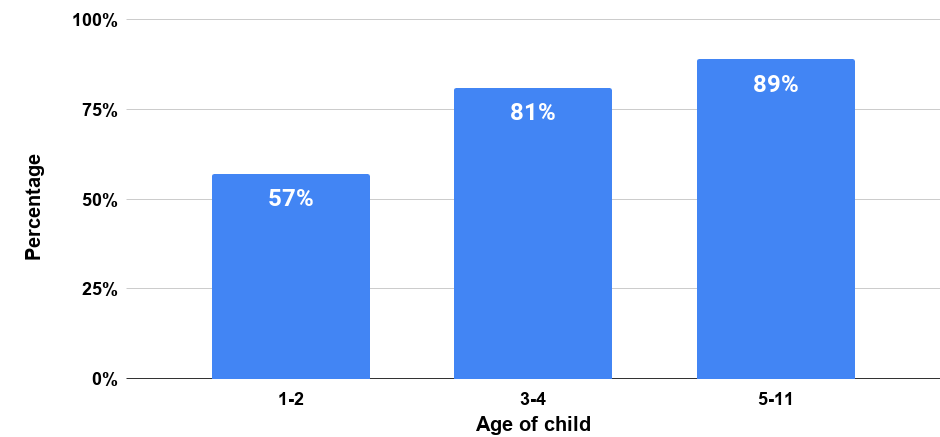 With this in mind, Long Island is one of the most beautiful Islands in the United States with some of the most fun, exciting, and prehistoric sites to visit. Taking your child out every once in a while will do them (and you) more good than harm. Here we have compiled a few things you can do with your toddler on the island.
THINGS TO DO WITH A TODDLER ON LONG ISLAND
1. Junior Jet Club
The Junior jet club is a place where your toddler can get to be creative and this is why it is one of the best places for toddler activities long island. The club allows children up to the age of six to explore, build, and occasionally sit and listen to stories in their book corners. For an additional fee, you can also enjoy the club's museum to further open up your child to a whole new world.
2. Long Island Children's Museum
This children's museum is great for kid entertainment in long island because of its beautiful features such as a lighthouse, post office, farmer's market, and train station. It is a great place for toddlers especially when they are active and crawling all over the place. The museum will give your toddler sufficient stimulation and they will have a good time learning about all the new and interesting things surrounding them.
3. Ikea
This Ikea in Hicksville that is next to Broadway Mall has an indoor play area for children and it is called smaland. Smaland is free so you won't have to spend anything to take your child there and have them play and interact with other children while you attend to other matters in Ikea for a period of up to one hour.
4. Lolli Bop Cafe and Play
The Lolli Bop Cafe and Play is arguably the biggest play space for kids in Long island that provides activities for kids. Aside from activities such as a sand table, American doll vanity area, reading nook, and baby crawl area, the cafe also offers a wide range of food such as; pizzas, sandwiches, salads, and more. If your toddler is 1-year-old or younger, then admission is free, for toddlers older than one, ask at reception how much admission will cost – parents and caregivers also enter for free – you will only spend money on the food you want to buy for yourself and/or your toddler.
5. Center for Science and Teaching
The Rockville Center for Science and Teaching is one of the few different and exciting children's activities on Long island. This is because the center has live animal exhibitions that happen all year long. They show off amphibians, reptiles, mammals, and more. They also have a makeshift farm outside that has honeybees and goats that the children are allowed to pet under supervision. You may also take a stroll down their woodsy trails which allow for strollers thus making the walk breezy and also safe for both parent or caregiver and toddler.
6. Tackapausha Museum and Preserve
Another one of the best things for kids to do on long island is to visit the Tackapausha Museum and Preserve in Seaford. The Museum and Preserve has live in-house exhibits, interactive learning displays, outdoor trails, and an outdoor play space for your toddler. The Museum and Preserve offers free admission for all children younger than 4 years old.
7. Long Island Aquarium
Visiting the Long Island Aquarium in Riverhead is one of the most fun things to do on long island with kids. There are numerous and colorful fish tanks, you can feed the stingrays, and watch sea lions and other aquatic life in either tanks or through the Aquariums outdoor exhibition. The aquarium is multi-level and it provides eye-catching entertainment for people of all ages. Note that children below the age of 2 are permitted free entrance and admission.
8. White Post Farms
The White Post Farms are located in Huntington and date back to over 100 years ago. The farms are kid-friendly with their bouncy castles, petting zoo, mini train rides, pony rides, and bird sanctuary. There are also tiny houses that allow kids to play in them making this a versatile experience for you and your toddler.
9. Long Island Animal Farm Petting Zoo
Another great kids activity on long island with your toddler is to visit the Long Island Animal Farm Petting Zoo. Here, they can pet goats and pigs, and as well as observe other animals such as monkeys and cougars. It is a fun-filled and safe zoo for kids who love animals and are learning about them. In addition, the petting zoo also has a picnic area and a puppet theatre.
10. Seal Tours
One of the most exotic and magical  things to do on long island today with kids is to go on seal tours. This is especially magical because you and your toddler will get to see marine animals in their natural habitat as opposed to a zoo or an aquarium. There are various groups that offer these tours such as the Coastal Research and Education Society of Long Island, and Captain Lou Fleet.
11. Adventureland
Let your kid go wild in Adventureland! There are many games and activities that will surely stimulate and entertain your toddler's mind. They also have snacks and resting indoor areas.
12. Splish Splash
One of the best long island summer activities is the Splish Splash for a water-filled fun day. They have a range of water slides from 8 stories tall to kiddie pools and lagoons. Additionally, they also have water slides, rides, and wave pools.
13. Belmont Race Track
This is a great place to have a family getaway. The race track offers breakfast buffets and a free children's playground where you can leave your children to play while you watch the track races of the day.
14. Fishing
This is a great activity to do with your toddler when you want to spend the day by the shore. Long Island is a stretch of 1,600 miles of shoreline, which makes it easy to find a place by the shore to fish. You can let your child help you with the bait and help them throw their line into the pool to "teach them how to fish.
15. Kayak Tours
Take a day to take in the beautiful scenery of the island via these kayak tours. You can rent equipment from places such as Long Island Kayak Rentals, and JK Kayak.
16. Ice Skating
Whether you like indoors or outdoors ice skating, Long Island has both options for you and your child. You can visit the ice rinks and have fun teaching your toddler how to skate and have fun while doing it, too.
17. Fire Island Lighthouse
And lastly, but definitely not least, you can take your child out to visit the Fire Island Lighthouse. The Lighthouse provides an immaculate view of the island and it is a great way to spend the day with your child and feed their little inquisitive mind.
FREQUENTLY ASKED QUESTIONS
1. How can I have fun with my 2-year-old?
There are many things you can do to have fun with your 2-year-old child, niece, nephew, or grandchild. The important thing to remember is that kids at this age are developing and so the activities that you choose to do with them should in one way or the other reflect this and help them grow and learn about themselves and their surroundings even more. You can introduce them to games such as building blocks and Jenga to improve their motor skills as well as learn about cause and effect.
Games like Simon Says will teach them how to follow instructions, object fine tracing will teach the toddler motor skills and also prepare them on how to write properly by holding the pencil a certain way which will ensure that they are tracing correctly and in line with the objects, obstacle course which will teach them motor skills and also hand-eye coordination, you can also give your toddler colorful balls and tell them to distinguish the different colors by telling them which color they should bring to you.
Playdough is another activity that you can do with them, it is fun and also provides a creative outlet for your toddler – it teaches them about shape, size, and colors all at the same time! And if you are feeling messy – which is good for the child – then you should try fingerpainting, it teaches them sensory skills and also just to have fun and freedom to do whatever they want.
You can also incorporate everyday activities such as pouring water into cups to improve their motor skills and hand-eye coordination.
Whatever activity you choose to do with your toddler, make sure to make it fun and engaging – you should be able to have fun and bond with the child while teaching them and helping them grow at the same time.
In case of special occasions such as birthdays, here is an article on places you can take your 2-year-old for their birthday.
2. What can I do with my 2-year-old indoors?
Finding activities to do with a 2-year-old indoors can be quite a task because they may not always want to be cooped up in a closed space and want to go out and play in the dirt, mud, grass, etc. the biggest issue is finding activities that will keep them occupied and also entertained at the same time. We have come up with a list of some of the activities you can do with your 2-year-old indoors;
Remember the goal is to find activities that are engaging and entertaining. You may feel free to add some games you make up on the spot as long as your toddler seems to be enjoying the activity.
CONCLUSION
In conclusion, there are many things you can do with your toddler on Long Island that are both indoor and outdoor-based. The best bet is to find things that you and your family enjoy doing together or would like to experience together and take a trip to go and chase that – open up your child to new experiences while spending time with them. It is a perfect balance between exploration and spending time with family.
ESTIMATED TIME DESIGNING AND UPLOADING THIS ARTICLE
ESTIMATED TIME RESEARCHING AND WRITING THIS ARTICLE