Places to Take 2 Year Old for Birthday
WhatToGetMy Instructional Article
Before they get used to the traditional at-home birthday party with a few friends and family, there are many fun places to take a 2 year old for their birthday. Your child can have a jol day meeting friendly faces, petting animals, playing with unique toys, tasting different goodies, and learning more about the world in fun ways.
The great thing about 2 year olds is that they are a curious and playful bunch. Many things get them easily excited. You do not have to go over the moon to make them happy, you just have to know the right places, and introduce the right stimulants to keep them engaged the whole day.
We've subdivided this article into two namely; 1) places to take a 2 year old for (his/her) birthday, and 2) places to have a 2nd birthday party. You will love our two year old birthday out ideas. Let's dive in.
PLACES TO TAKE A 2 YEAR OLD FOR (HIS/HER) BIRTHDAY
If you are looking for fun places to take a two year old for birthday, try to look for popular spots like;
1. A BIG TOY STORE
Has your toddler been to a big toy store before? No? Their second birthday is a good opportunity to take them there and see how bubbly they get. Toy stores have this spell-inducing feel. Walking into a big toy store feels like walking into a colorful and fun-filled world and this is why children love them. Every toy seems to be calling out and making attractive promises they can't resist. Some toy stores allow children to play with certain toys on display. The end game is to get children to love the toy so that they persuade their parents to get it. So, do not get worried if your children want you to buy the whole toy store for them. Rather, use this adventure to interact with them productively. Teach and test their knowledge of colors, and objects.
There are lots of toy stores scattered across the country. Depending on your location, you could visit
Did you know that toys are an 'important instrument in facilitating a child's development?'
2. AMUSEMENT PARK
You are probably asking "amusement park"? Really? Is it not risky and scary for toddlers? Can they have fun when they are not even permitted in most rides? We are referring to amusement parks that have been designated for little kids. These parks have age-appropriate playgrounds, swings, and rides for children of different ages. These amusement parks have also made provisions for convenience facilities and spaces that will help parents to attend to their children with ease. Places like;
3. BABY/ CHILDREN'S SPA
Spa treatment is a good way to spoil a 2 year old on his or her birthday. Being a toddler can be exhausting. After the daily, weekly, and monthly shouting, crying, playing, and exploring they do, their body gets stressed out and needs serious recuperating. Spa treatment for children is not just for trends. Studies suggest that spa treatment helps to increase the 'feel good hormone' and decrease stress hormone. It relieves tensions and improves the quality of sleep. Spa treatment will be great for a two year old.
You might be tempted to argue that toddlers go through self-induced stress and worse off, they stress other people, so why should they be given spa treatment hahaha. Please, let's ignore the gymnastics of who is at fault. Toddlers will win this argument.
There are great spas out there for kids and it will be a great idea if you allow professionals to give your little angel the best spa treatment they offer. Thankfully, the industry is booming and it might not be hard to find kids spas around you. Some spas also make provisions for kid's birthdays.
4. AQUARIUM
If you are looking out for one of the coolest places to take a 2 year old for (his/her) birthday, an aquarium should top your list. You will enjoy watching their expressions as marine creatures graciously glide through their habitat and interact with guests. Most toddlers look "mind blown". Aquariums usually have a chilling effect on children and indeed for every first-time visitor. Taking a two year old to an aquarium is not just about seeing fishes and pointing to them but also about getting acquainted with marine life and interacting with some of them. Aquarium exposes children to other forms of life. We believe that this will be a fun adventure for the family too.
There are a couple of aquariums that are family-friendly, kid-friendly, interactive, and educational. You might love to visit the
5. CHILDREN'S MUSEUM
Do you believe that early acquaintanceship to the museum sparks curiosity about history, broadens imagination, and encourages exploration? Well, researchers suggest it does.
You might be wondering if a visit to the museum will be an exciting adventure for a 2 year old on his/her birthday. It will be a good idea if you take them to the museum and allow them to be the judge of that. Children's museum is about fun, fun, and more fun while learning. They have age-appropriate materials that are entertaining to children. To help unpack the joy of museums, they have friendly and helpful staff that carry everyone along. Another thing we love about children's museums is the freedom given to children to explore and participate in their learning process. You and your toddler will surely feel at home. Some children's museum across the country are;
An interesting fact about children's museums; they are considered 'least welcoming' in comparison to other cultural organizations. Hmm, strange right? In an article by colleendilen.com, it was reported that children's museums had the lowest mean score when people were asked to rate how welcoming they perceived various social organizations towards people like them. But hold on, the statistic might not be a true reflection of children's museums for various reasons;
How welcoming different organization type are "for people like me"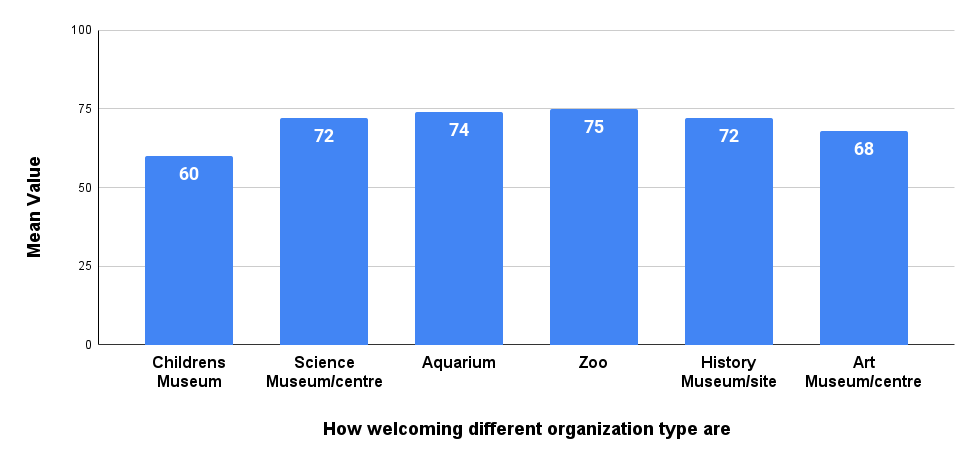 Source:  colleendilen.com
6. PET ZOO
Their second birthday pet a Giraffe, feed some ducks, brush a goat, chase a few chickens, and imitate zoo staff? There are various pet zoos that offer exciting opportunities for children to view and mingle with the wild. In addition, your toddler will get to meet other animal lovers and perhaps make a dozen friends before the days' adventure ends.  Some petting zoos across the country are;
PLACES TO HAVE A 2ND BIRTHDAY PARTY
In case you are looking forward to surprising your little angel at his/her 2nd birthday party, you might be interested in our article 'what to buy a two year old for her birthday'. Below are some interesting places to celebrate 2 years old's birthday.
7. RESTAURANTS
You could save time and stress by choosing a restaurant as your toddler's 2nd birthday party venue. It is a convenient and great birthday party option. Some restaurants are so kid-friendly and can go as far as giving discounts for a large get-together, inviting artists to sing for the celebrant, and organizing a surprise birthday cake. You only get billed which might be more reasonable than organizing a party from scratch. The only downside to using a restaurant is that you will be forced to be time conscious. It shouldn't really be a downside. Keeping the birthday precise might be in the best interest of your toddler and his or her guests. Children tend to lose concentration fast and get bored as quickly too.
8. BEACH
Beaches are excellent venues for birthday parties. The environment is free and relaxed for everyone. Your toddler and friends will have as much freedom to express themselves without you having to worry. They can build sandcastles, bury themselves in the sand, play ball, and do whatever it is children do. The good thing about beach parties is that it works well with so many themes. You could decide to make it a Moana/Hawaii-themed party, pirate-themed party, sea-world-themed party, and many more. Organizing a kid's beach party might be tasking but fun. You will definitely need a helping hand. You could also outsource the planning if you want a serious children's beach party for your child's 2nd birthday.
9. BOTANICAL GARDENS
If you are looking for an open/outdoor place to use for the party, botanical gardens are one of the best venues for birthdays. Some of these gardens offer a range of party services at a fee. A few other gardens offer their space and let you host your party your way. They only support clients with setting up and clearing the venue after use. Usually, botanical gardens are time-bound except a client books the venue for the whole day. It doesn't come cheap. However, the place offers a serene atmosphere for children and adults. The venue is equally safe since they usually have a staff or two hanging around the place to keep an eye on clients' activities.
10. LAKE
Lakesides are perfect for small family birthday celebrations. The atmosphere is serene and your 2 year old will have enough space to play. It will be fun to take a tour around the lakeside and perhaps teach him or her one or two tricks using a stone.
11. CHURCH
If you are part of a church, you could celebrate your child's second birthday with the children that attend the church. It is a good way to get other children familiar with your child. He or she might make new friends too. A Church is one of the best places to celebrate 2 year old's birthday.
FREQUENTLY ASKED QUESTIONS
How do you organize a two year old birthday party?
What are the best places to have a birthday party?
It could be your backyard, at a restaurant, church, botanical garden, beach, lakeside, firefighters, open field, or farm. These places have their unique advantages. It is always a great idea to expand a toddler's perception of the world and this is why we suggest that expose them to places and activities outside what they know.
CONCLUSION
There are many ways to give a two year old a blissful birthday. Start by taking them to places they have never been before and we have mentioned a couple of them. Two year olds are an adventurous bunch, they love to experience things. It will be a great idea to take them to a toy store, a playhouse, an aquarium, a petting zoo, an ice cream shop, or a recreational park. These adventures will expose them to objects and things beyond what they are used to. Plus they get to make one or two other friends. The good thing is that you do not have to spend so much to give a two year old an amazing birthday. We hope that this article will be helpful to you.
ESTIMATED TIME DESIGNING AND UPLOADING THIS ARTICLE
ESTIMATED TIME RESEARCHING AND WRITING THIS ARTICLE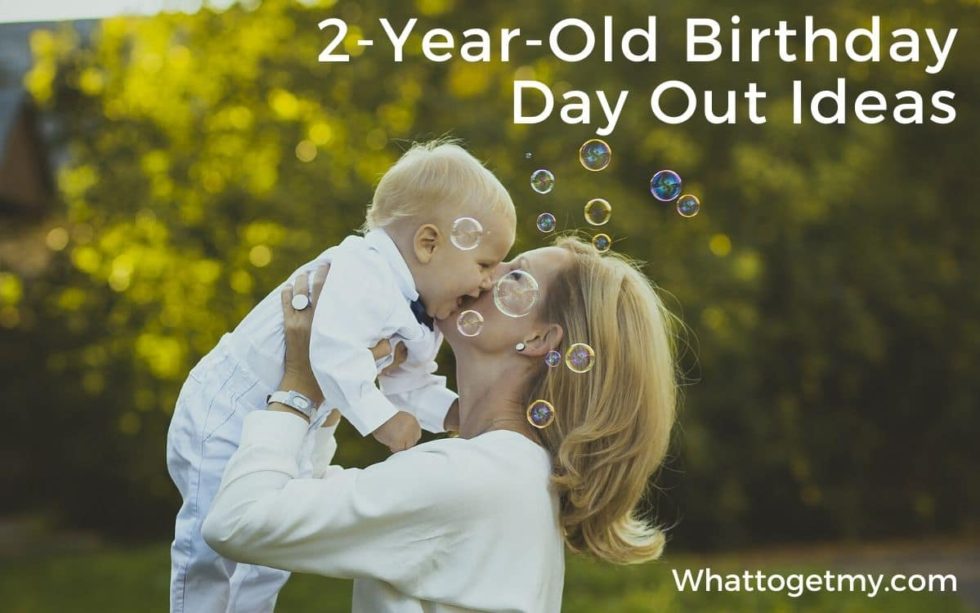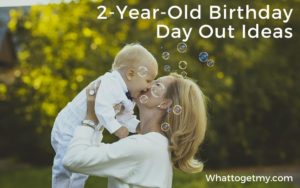 2 year old birthday day out ideas
2-Year-Old Birthday Day Out Ideas WhatToGetMy Instructional Article Your toddler's 2-year-old birthday is coming up soon and you want to celebrate by spending the day out. But you find yourself asking what can you do? One thing that you are sure about is that you
Read More »