Find the right things to send someone on their birthday in our gift list, as well as some birthday surprise ideas for your friends. In this list, you will also find birthday gift ideas for hand delivery and delivery by mail and great long distance birthday gift ideas.
Knowing what to buy someone for their birthday is not always easy because you want to give a gift that is both fun and fitting for the occasion. In this article, we give you the best selection of things to send someone on their birthday, whether you want to send birthday gifts by mail or have them delivered, our list has got it all covered for you.
Things To Send Someone On Their Birthday – Questions To Ask Yourself When Deciding On What To Send And Cool Gift Ideas For Each Question.
As an Amazon Associate we earn from qualifying purchases. We may earn a small commission for our endorsement, recommendation, testimonial and/or link to any products or services from this website. Thank you, your qualifying purchases help support our work in bringing you real daily gift ideas.
Quick Overview: Things to Send Someone on Their Birthday
Who Is The Person To You?
Is the person your significant other/partner, spouse, family member, or just a friend? The type of relationship you have with the person will often determine the type of gift you will send to them. Here are some great him and her gift ideas, both for your friend(s) and/or significant other.
Gift For Friend On Her Birthday.
1. Birthday Gift Baskets for Women.
This amazing gift basket comes with bath bombs, a leather journal, a stylish scarf, some socks, and ring holders for jewelry. It's a perfect gift for your friend on her birthday, with the right type of message to make her feel awesome on her special day.
Pros.
It comes with a good variety of birthday gift items.

It comes packaged in a gift box.

It is beautiful.

It can be returned.
Cons.
Some customers complained that a different color of scarf came in the box.

Another customer complained that the bath bombs had no scent.

No pen is provided with the journal.
Despite the few complaints on the contents of this gift box, the positive reviews on it are many and a good number of customers have commented on how cool it was as a gift.
2. Cheers My Beautiful Bestie Stemless Wine Glass.
This beautiful stemless wine glass says it all and is an easy way to convey your happiness with your friend on her birthday.
The printing on this glass is so bright and beautiful and your best friend will love this birthday gift very much.
Also, see our related article on What To Get Your Crush For Her Birthday.
Gift For Friend On His Birthday.
3. Men's Genuine Leather Dress Belt.
Men love their leather belts and will always welcome a new one. Your male friend is sure to love this classy dressing piece. It is made from Italian cow leather, and all the ladies who purchased it for the men in their lives have only great things to say about it.
This belt looks sleek and stylish and wears well. He will love it.
4. Bellroy Men's Leather Wallet.
Men also love wallets because they are both stylish and functional. And the right type of wallet always holds a special place in his heart. This Bellroy wallet is the right balance of class, quality, and functionality.
Overall, this is a beautiful and functional gift to give your male friend. They will love it very much.
5. All in one Beard Grooming Kit.
This complete grooming set has all the care items your male friend will need to keep his beard looking fresh and cool. Be sure though, that your male friend is the type who likes groom sets before purchasing this gift for them.
Every customer who has bought this set at the time of writing has only great things to say about it. If your male friend is into growing his beard, he will love this gift set very much.
What Type Of Things Do They Like?
Are they hip and trendy? Do they like fashion items, collector items, gadgets, books, and the likes? Ladies generally like fashion items and guys generally like functional items that they can use daily. Ultimately you know them better and know what works for them. 
Cool, Fashionable, and Functional Things To Send For Birthdays.
Here are some cool fashion and functional items that would be cool things to send for birthdays to say happy birthday, for both male and female.
6. Michael Kors Women's Fashionable Crossbody.
The female fashionista in your life will love this gift very much. And if she's not into the pink color, there are 11 other cool colors of the same bag to choose from.
The subjective views of the very few customers on this product is not a reason not to buy this beautiful and stylish gift for the friend/loved one in your life for their birthday.
7. Angella Women Sneakers.
This sneaker is hip and trendy for the woman that loves her sneakers. It will be well received as a birthday present.
These sneakers make a fresh fashion statement and every woman who has worn at the time of writing said it was a show-stopper.
8. Vera Bradley Women's Cotton Crossbody Purse.
This crossbody purse is for your female friend who loves a splash of color and loves floral themed fashion accessories.
The positive reviews on this bag are many, and the customers said they love how stylish it is and able to take a lot of their items.
9. Sperry Men's Washable Sneakers.
These sneakers are the definition of coolness and would be loved very much by the guy you give it to as a birthday present.
A stylish fashion accessory to complete a man's dapper look.
10. 6 Pack Neoprene Beer Bottle Holder.
The man in your life that loves his beer will be very grateful for this functional gift item that can hold 6 of his normal-sized beer bottles. Not only does it hold the beers, but it also has a handle for carrying it around easily.
This is one functional gift that the man you give it to will appreciate very much. With this gift, he can easily carry his beer over to hang with his squad.
11. Personalized Mini Hammer Multitool.
A multitool is one handy tool that men like to have in their daily DIY arsenal. This one is cool because it is personalized with a sweet message for your boyfriend to tell him how awesome he is.
The small size of this product is exactly what makes it perfect because it means he can carry it everywhere he goes, and the message on it will always keep you close to him.
12. Black Engraved Pocket Knife for Men.
Another sweet functional tool and birthday gift for the love of your life which he is sure to love.
A girlfriend who bought this for her boyfriend for his birthday said she is happy knowing that with this item her man was safer. She loved the quality and packaging too. Your boyfriend will love it too.
Where Is The Person?
How close is this person to you in terms of distance? Are they in the same city with you or are you separated across State lines or are in different countries. If you are in the same city, it is always easier to surprise them with a sweet gesture. 
Long Distance Birthday Gift Ideas.
If they are not in the same locale with you and you are separated by distance, the following are good long distance birthday gift ideas.
13. Personalized Long Distance Relationship Picture Frame.
This sweet picture frame is the sweetest gift you can send your significant other for their birthday if you're in a long-distance relationship.
Your partner is sure to love this gift even if your long-distance comes to an end. It is a very beautiful love gift between partners.
14. Personalized Long Distance Coffee Mug.
This is a cute and sweet mug for close friends and loved ones separated by distance. You get to customize it to reflect your relationship with the one you are giving it to as a gift. The illustration of the map showing your locations in the world is also ingenious and pretty.
Cute and thoughtful birthday present for your loved one separated by distance.
What Type Of Gift Do You Want To Give?
This is another important consideration. Do you want to give them something they'll always remember you with or something they'll use and quickly forget you gave them? And oftentimes, when the person is close to you, you want to give them something to remember you with. 
And for something to always remember you with, personalized gifts are always the best. Here are some good personalized birthday gifts to send someone on their birthday:
15. Personalized Photo Pillow.
Customize this cool pillow with your favorite picture of you and your friend/loved one and watch how happy they will be to receive this gift.
Despite the above cons, the number of happy customers with this gift item is many. It will be loved by the person you give it to as a birthday present and they will display it prominently in their living space.
16. Personalized Throw Blanket.
This is another beautiful personalized item that will have you always remembered by your friend/loved one. Since we all use blankets almost all the time, this will be their favorite go-to blanket all the time.
With this gift item, you remain unforgettable. Every time they feel cold, you will be remembered when it is used.
17. Personalized Glass Beer Mug.
For the man in your life that loves his beer, why not give him a beer mug that he will be proud to hold all the time. We must warn though that this may make him drink more beer than he usually does. And if he is the whiskey type then he will love this Personalized Whiskey Rocks Glass too, for his whiskey on the rocks.
The man you give this as a gift will be very grateful for it.
How Do You Want To Have The Gift Sent?
Do you want to deliver the present to them in person, or through a third party delivery option or the mail? Or maybe they are quite far away and you need to ship it out? Whatever option you choose, these are some cool gift ideas for each option.
Cool Things To Have Delivered For A Birthday.
18. Lavender Bath Gift Basket.
Your female friend will love this gift set to pamper her on her birthday. And what makes this spa gift set even more attractive is the fashionable tote bag it comes in, which can be used as a fashion accessory.
Overall, this is a sweet birthday gift to give a lady on her birthday. Have it delivered to her on her birthday for an extra special feeling.
You may try this Mens Sandalwood Spa Gift Set for the man in your life if he's into the spa gift sets, although some male customers did not find it masculine while others did not mind it.
19. Wine Tumbler Scented Candles Gift Set.
This is another beautiful gift item to deliver to a lady on her birthday, although in principle nothing is preventing a man from receiving it if they don't mind the contents. It comes with a wine tumbler that has a lid and a stainless steel straw, two scented candles, a cleaning brush, and a greeting card.
A beautiful and thoughtful birthday gift to deliver to a lady on her birthday.
20. Personalized Photo to Canvas Print Wall Art.
The concept of this wall art is fresh and cool. You send your best photo of your friend/loved one, and it is stretched on a 24-inch x 36-inch canvas, which is pretty big and will fit well in any living space. Tell them a happy birthday by having this canvas with a stunning picture of you and them delivered right at their doorstep.
You can be assured that this will be one of their favorite birthday presents. Every time they look at it they are reminded of you.
You may also like this Personalized Birthday Canvas.
Fun Birthday Gifts To Send In The Mail.
21. Personalized Leather Journal.
Your friend will be happy to receive this journal personalized with their name and any birthday message you want to include on it. And the journal is made of leather with 160 pages, and a strap for tying and keeping it intact.
Even for the person that does not journal a lot, this beautiful and thoughtful gift will get them started. When your friend or loved one receives this as a birthday present, they will be thrilled by it.
22. Personalized Camera Film Roll Keychain.
The concept of this keychain is great and makes it stand out from the rest. Use your best picture or pictures of you and your friend/loved one. You can include up to 10 pictures, but ensure that they are all rectangular so that they fit well without cutting out any portions.
There is no better keychain than this one to give your friend/loved one on their birthday. Have it mailed to them and watch them light up with delight at this genius piece of keychain work.
You will also like Cute Things To Send In The Mail To Friends.
Cute Things To Send To Your Boyfriend In The Mail For His Birthday.
23. Welly Merck Custom Engraved Watches for Men.
Men love good watches and this particular watch will warm your boyfriend's heart because it has a personalized birthday message for him behind it. Another feature of this watch is how minimalist it is and yet looks powerful and makes a fashion statement.
This classy man watch is exactly what you want your boyfriend wearing to complete his dapper and sexy look. He will love very much to receive this in the mail on his birthday. Given the cost, you may want to consider insuring it if you are sending it far.
You may prefer these inexpensive yet thoughtfully engraved watch pieces for your boyfriend – Men's Personalized Engraved Wooden Watch or the Personalized Engraved Wooden Watch for Boyfriend.
24. Customized Wallet.
This wallet is customized with a picture of you and your boyfriend and is a cute thoughtful birthday gift to send him in the mail. Every time he pulls out his wallet, he is reminded of the love between both of you.
With this gift your boyfriend carries you with him everywhere he goes even if you may not be physically present with him.
25. Personalized Flask Set.
This flask set has the sweetest message that will make your boyfriend fall all over in love with you again when he receives it. And the flask is encased in leather that looks good too.
Be ready to have a boyfriend who will melt in your hands with this very sweet and lovable gift set.
See our related article on Cute Sentimental Gift Ideas For Boyfriend.
Cute Things To Send To Your Girlfriend In The Mail For Her Birthday.
26. Bifold Multi Card Case Wallet with Zipper Pocket.
Spoil your girlfriend on her birthday with this fashionable wallet. She will love it. And if green is not her favorite color, there are 26 other colors to choose from. She can use this for anything she wants to, and it will fit easily in her handbag.
This is a sleek stylish accessory that your girlfriend will love very much.
27. Birthstones Flower Blossom Pendant Necklace.
Your girlfriend will be blown away by this beautiful fashionable three birthstones flower pendant necklace. You can include your birthstone and the birthstone for the month that you both met.
One customer who bought this gift item for his girlfriend was so happy with how stunning she looked in it. You will always love your girlfriend wearing this beautiful pendant.
See our related article on Cute Ways To Surprise Your Girlfriend On Her Birthday.
And if all else fails, you can simply just ask them what they want for their birthday.
Frequently Asked Questions.
What are some good birthday surprise ideas for friends?
Some good birthday surprise ideas for a friend that you can try out if you're both in the same locale are:
Have a bouquet delivered to them first thing on the morning of their birthday with a sweet thoughtful message. You can couple the bouquet with some chocolates and a birthday cake;

Surprise them with a gift. Our article on

How to surprise someone with a gift

will give you a step by step guide on how to do this;

Organize a surprise birthday get-together with the rest of the squad without their knowledge;

Surprise them with a ticket to their favorite shows that they've always wanted to see;

If there's a radio show they like, give them a shout-out on the radio show and dedicate a song to them on the show;

Take them out to their favorite restaurant and plan in advance with the restaurant to bring out a birthday cake for them and sing happy birthday for them.
To find out more on surprising your significant other/partner, check out our other relationship-themed surprise articles:
Conclusion.
When looking for things to buy to send someone on their birthday go with a gift that is both memorable and remarkable, and shows how special they are to you. And all the gifts in this article do just that
ESTIMATED TIME DESIGNING AND UPLOADING THIS ARTICLE
ESTIMATED TIME RESEARCHING AND WRITING THIS ARTICLE
Try our AMAZING GIFT FINDER TOOL! Find GIFTS with 1 CLICK!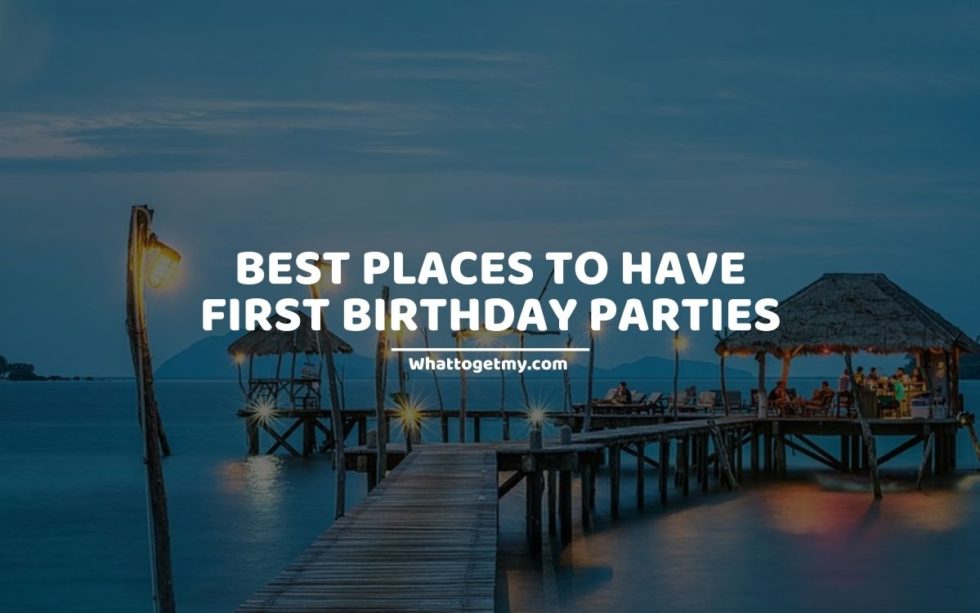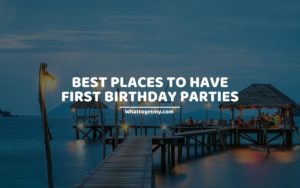 9 Best Places to Have First Birthday Parties
9 Best Places to Have First Birthday Parties WhatToGetMy Instructional Article A baby's first birthday party is a milestone that most parents celebrate. This is because, as of 2010 in the USA, 6.15 percent of every 1,000 births end up dying before the age of
Read More »