Cute Ways to Surprise Your Girlfriend on Her Birthday
WhatToGetMy Instructional Article
If you're here, that means your girlfriend's birthday is coming up. Are you nervous? What a silly question, of course you are! We understand completely. Thoughtful, romantic, and cute gifts are not easy to find. That goes both ways – girls have trouble finding the perfect birthday gifts as much as boys. Not that knowing this will help you out, but it's easier to relax when you don't think girls are naturals when it comes to picking gifts and organizing surprises. No, we all sometimes have difficulties finding uniquely special and creative things to do for our loved ones.
Okay, so we are not trying to freak you out. We only want you to realize that it's completely normal to seek help when looking for ways to surprise your girlfriend. You're allowed to explore options, look for inspiration, and consider other people's experiences. This way, you'll be able to come up with the ultimate idea that would be perfect for a very special person in your life. So, seeking for help online doesn't mean you're failing in romantic stuff and creativity. It means you're being thorough and eager to find the best possible way to surprise your girl!
Now that we sorted that out, it's time to get all serious. If you're to organize your girlfriend's birthday, you have to plan, organize, and execute. Yes, we actually used the project management reference. If you think about it, there are quite some similarities. The best surprise would be the well-thought-out one, and we are here to give you a hand. In order to boost your confidence and creativity, we composed an article containing many ideas for cute ways to surprise your girlfriend on her birthday. Don't miss to check it out, because some of these things will knock your girlfriend off her feet!
Things to Consider
Before we start with actual recommendations, let's take a second to consider the following things:
Birthday surprises give you an option to express how much you like your girlfriend. It's a great way to show her all your love and appreciation too.

Little romantic surprises are known to ease stress and make someone feel better. If your girlfriend has a busy lifestyle, a birthday surprise might be just what she needs.

Giving gifts is a classic, but what would truly leave your girlfriend speechless is the surprise that comes with it. Every gift is more valuable when given uniquely.

A birthday celebration is an excellent occasion to show and remind your girlfriend how you think she's a great person.
Birthday Gifts: Make Things More Interesting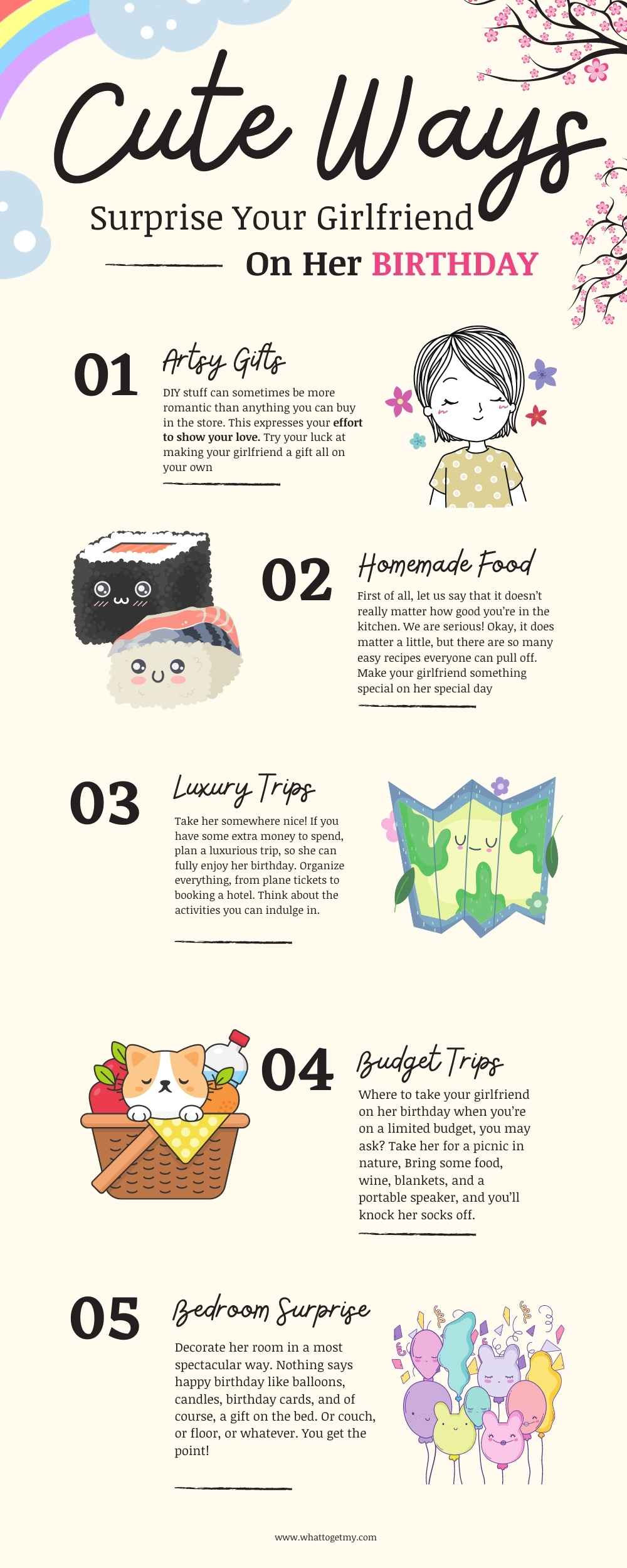 Source Link: https://whattogetmy.com/cute-ways-to-surprise-your-girlfriend-on-her-birthday/
How to come up with unique gifts
If you're not sure how to surprise your girlfriend on her birthday, you can always stick with gifts. What we mean is that you don't have to throw big surprises if you don't want to. It's enough to buy a unique gift that will make your girlfriend feel special and loved.
Gifts that every girl wants from her boyfriend are the well-thought-out ones. As long as you find something suitable for your soulmate, she'll appreciate it. It can be a small or big item, inexpensive or pricey, it doesn't really matter. What matters is that you find the one that will make your girlfriend happy.
Going for a craft gift
DIY stuff can sometimes be more romantic than anything you can buy in the store. In case you have the time to make it, of course. If you want to try your luck at making your girlfriend a gift all on your own, we have perfect suggestions.
Homemade Food
First of all, let us say that it doesn't really matter how good you're in the kitchen. We are serious! Okay, it does matter a little, but there are so many easy recipes everyone can pull off. You can make your girlfriend something special within a few minutes, without exaggerations. She'll appreciate the effort, that's for sure, especially if you're not that often seen in the kitchen.
We would suggest homemade fortune cookies or a birthday cake. Both are so convenient because you can slip notes inside! You can write inspirational or love notes and then slip them into the cookies. She gets to open a different one each time she reaches out for a cookie. Another option is to write a love letter and put it inside the cake. Your girl will be so surprised when she cuts a piece and discovers a love letter!
Here's a video with some of the easiest recipes you'll find online, and you can use all of them for your girlfriend's birthday:
Paper Crafts
Secret poets can finally express their creativity and write poems for their loved ones. Those who are not very good at writing poetry can borrow quotes and poems from famous writers. The idea here is to make paper crafts and fill them with meaningful notes to surprise your girlfriend. You don't have to be a poet to do that! You should write whatever is on your heart. Express your feelings and let you're your girl know how much she means to you. You can even write inspirational quotes. Write whatever you want, we have no doubts your girl will love it!
Now, what paper crafts to make? Cards are the simplest ones but you have so many other options! You can make origami, heart-shaped boxes, toys, and much more. Just take a look at this video and you'll get inspiration instantly:
Useful Stuff
Make her something useful! If you're a DIY enthusiast, you can indulge in a project to make something truly useful (and durable) for your soulmate. If she loves to sit by the fireplace, make her a cozy chair. If she's a bookworm, go for the bookshelves! Gardeners would love to get wooden plant stands. All these things make Little Surprise Gifts For Your Girlfriend To Show Her You Love Her.
Cute ways to give gifts
Although you can simply give a gift to your girlfriend, you might want to make things more interesting. There are many Creative Ways to Give a Gift to Your Girlfriend, starting with a treasure hunt! You can leave her notes all over the house, so she can have hours of fun searching for the presents. Another idea is to expand the game area and make her get out in the city looking for a birthday gift. Fun, right? Just keep in mind that you'll have to plan a big treasure hunt weeks ahead.
Memories: Planning an Adventure for Two
Luxurious Trips and Vacations
What to do for your girlfriend's birthday? Take her somewhere nice! If you have some extra money to spend, plan a luxurious trip, so she can fully enjoy her birthday. Organize everything, from plane tickets to booking a hotel. Also, think about the activities you can indulge in – maybe skydiving, bungee jumping, surfing, or jet skiing? If you're up for more romantic ideas, renting a yacht is a good way to go.
For more similar experience ideas, you can take a look at our article about What To Do On Valentines Day With Your Girlfriend.
Traveling on a Budget
Where to take your girlfriend on her birthday when you're on a limited budget, you may ask? Believe it or not, you have a lot of options. You can opt for a picnic in nature, for example. It's a simple yet incredibly romantic way to spend a birthday. Bring some food, wine, blankets, and a portable speaker, and you'll knock her socks off.
Other inexpensive options include camping, hiking, cycling, or any other activity in nature. Think of the things she enjoys doing and then opt for a particular sport or activity. You don't have to travel far away. Sometimes a day in another city can be as romantic as luxurious vacations.
P.S. If you want to add a little gift to your first-choice surprise, we have perfect suggestions here: Outdoorsy Gifts for Her.
Little Things: Surprises for Romantic Souls
A Social Media Trend: How to organize Instagram or Pinterest worthy surprises
If your girl is a social media influencer, you might want to consider organizing a surprise she can post later on and brag about on social media. What would that be? Decorating her room in a most spectacular way!
First things first, balloons! Get many of them, but make sure to balance the colors (you're not doing it for a little girl but for a woman). Then, candles. Nothing says happy birthday like balloons, candles, birthday cards, and of course, a gift on the bed. Or couch, or floor, or whatever. You get the point!
Home Decoration: Recreating and making memories
If you're not sure how to make your girlfriend's birthday special, we have another suggestion. Make her a photo album or a scrapbook. You can even use old tickets from concerts and shows and receipts from other special days you spent together. It's a cute way to remind her of all your special moments and how much you love her! Also, you can frame photos and hang them on the wall in her bedroom.
A Good Old Classic: Throwing a Birthday Party
Don't worry, we are not even close to running out of creative birthday surprise ideas for your girlfriend. This one is simple: throw a surprise party. That is, if she's a party girl, of course. If she's not, you might want to reconsider.
Call all of her friends, maybe even ask them for suggestions and help with the organization, and try to keep it a secret. Cake, balloons, and good music are a must-have too!
Other but Not Less Significant Ideas
There are other things to do for a girlfriend's birthday that we didn't get to include above. Here's a shortlist to give you an inspirational boost:
Give her a massage. Who doesn't love massages, especially after a long and tiresome day? Spoil your girlfriend to the fullest!

Cook her dinner. This is a classic that never gets old. There's nothing better than coming to a romantic home dinner. Here you'll find some similar suggestions: 

Romantic Anniversary Night Ideas

.

Make her a playlist. Use an old fashioned CD or USB or get to her iPod and fill it with love songs! Of course, pick the ones that remind you of her or perfectly describe your relationship.

Surprise her at work. Wait for her after work to take her to lunch, dinner, or a romantic town tour! You can even make a quick stop during a lunch break or send her flowers!

Draw her a bath. If you're dating a busy girlfriend, maybe she would appreciate a bath after a long day at work. Just don't forget to put on some music and bring the wine!

Recreate the first date. It's a simple yet most romantic thing you can do!
Conclusion
Do you like our ideas? We hope so! There are a lot of romantic things to do for your girlfriend on her birthday, but it's not always easy to make a choice. You have a lot of things to consider if you want to do things right, from her personal preferences to your budget limitations. You might be a match made in heaven, but things can get really complicated. Don't let that discourage you! We are sure that at least one of these cute ways to surprise your girlfriend on her birthday is perfect for you. Just don't forget to plan ahead and pick the one according to your girl's personality, and you'll make her birthday the best one ever!
ESTIMATED TIME DESIGNING AND UPLOADING THIS ARTICLE
ESTIMATED TIME RESEARCHING AND WRITING THIS ARTICLE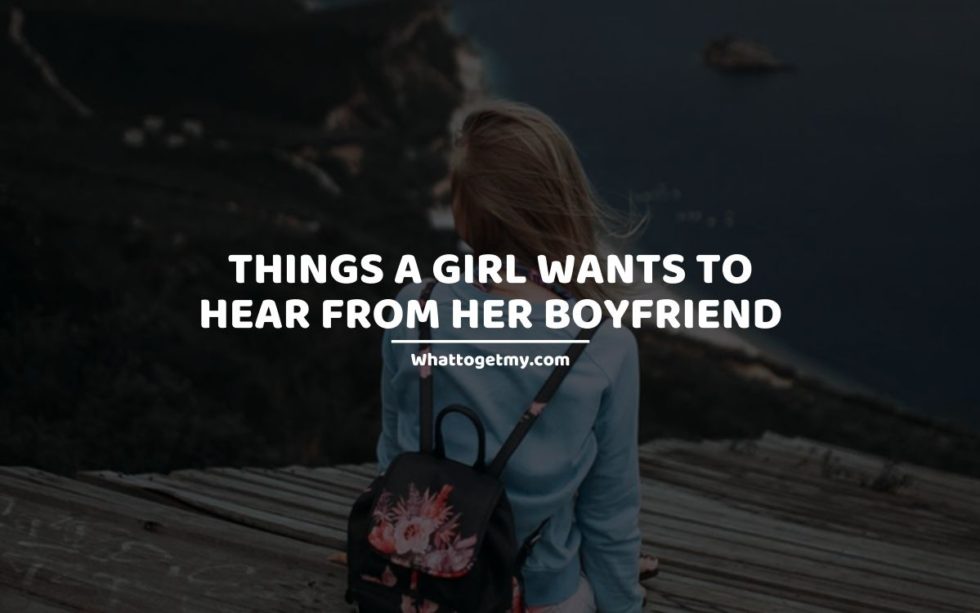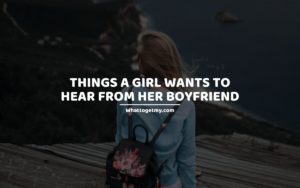 Things a Girl Wants to Hear From Her Boyfriend
Things a Girl Wants to Hear From Her Boyfriend WhatToGetMy Instructional Article Words women like to hear from their boyfriend are words that give them reassurance in their expectations in the relationship, and as well assuages their worst fears in the relationship. This article lists
Read More »