You want to do something special or get a little surprise gift for your girlfriend to show her how much you love and appreciate her, but you're not sure where to start? If you want to let her know that you are head over heels in love with her, but you don't want to bore her with the norm of flowers or chocolates, then keep reading!
One thing for sure is, if you give your girlfriend a gift for no particular reason, she will be really surprised, it will put a smile on her face and make her day so much brighter. She will also feel special, loved, and cherished by you.
All this sounds great, but you have no idea where to start looking, never mind what to look at as there are millions of things and ways a guy can surprise his special girl.  This is where most guys panic and might drop the idea of surprising their special girl altogether.
But don't be one of those guys, if you love and adore your girlfriend, you will make an effort to surprise her and show her how much you care about her.
Guys might think that throwing a surprise for their girlfriend is too difficult and complicated, but the truth is it's not difficult at all. Girls appreciate cute gestures and gifts mainly because it shows them that their man appreciates them and is thinking of them constantly. So the gift can be anything from a simple card or a well-thought dinner or picnic to precious jewelry.
Next, you should plan on whether you want the surprise to be romantic, something funny to make her laugh or something special to show your affection. You will also need to think about what type of things your girlfriend would like and love.
One thing to remember is that a little surprise gift for your girlfriend does not have to cost a fortune either. If she loves you, she will appreciate the thought and effort you have put into the gift.
In this article we have gathered a list of sweet and romantic surprises for your girlfriend.
As an Amazon Associate we earn from qualifying purchases. We may earn a small commission for our endorsement, recommendation, testimonial and/or link to any products or services from this website. Thank you, your qualifying purchases help support our work in bringing you real daily gift ideas.
Quick Overview: Gifts For Your Girlfriend
Our Gift To You: Find out how to download This Free Printable I Love You Card For Your Girlfriend at the End of This Article.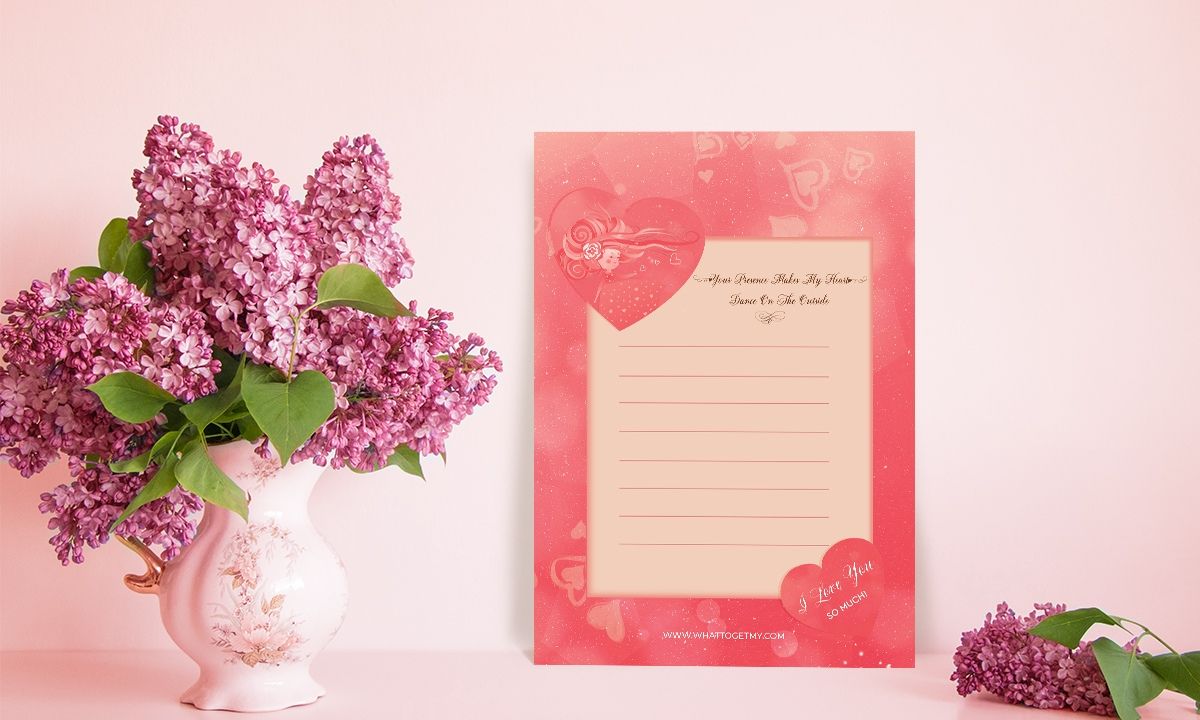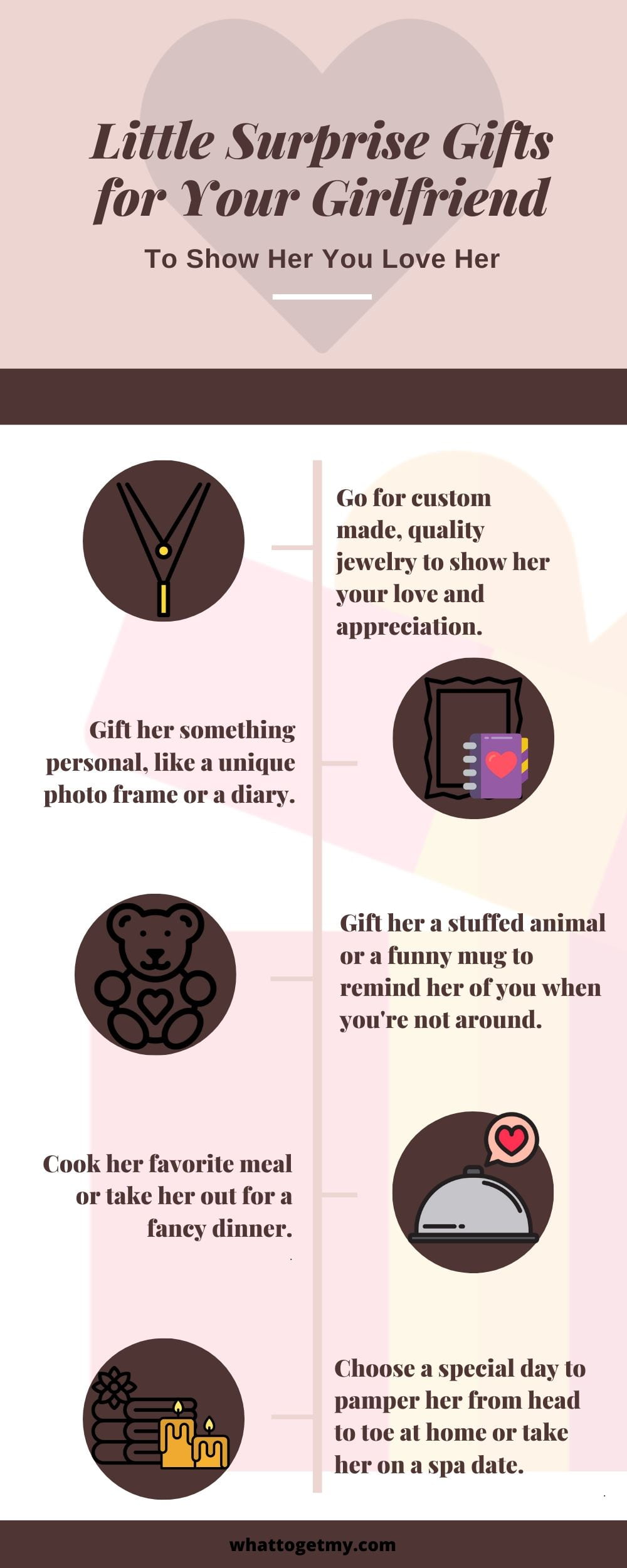 Source Link: https://whattogetmy.com/little-surprise-gifts-for-your-girlfriend-to-show-her-you-love-her-2/
Romantic Little surprise gifts
Planning to do something romantic or coming up with a great
romantic
gift for your girlfriend
is one of the
best ways to show her how much you appreciate her and think about her
.
An idea for a
great romantic gift
could either be a gorgeous special heart necklace that she can wear and think of you every day, a necklace bracelet couple set or a personalized photo frame with a place for a photo of the two of you on one side and a romantic quote or poem on the other side
Heart Lock Bracelet and Key Necklace Jewelry Set for Couple
This jewelry set is the perfect gift to show your girlfriend that you are devoted to her and you will be thinking of her when she is away. Your key necklace is the only key to the bracelet that she wears. This gift is definitely one of the most
romantic ways to surprise your girlfriend
. It can also be a
perfect valentine gift for your girlfriend
as it shows commitment to the relationship.
Reviewers who purchased this bracelet and necklace set were very satisfied with the quality of the pieces and considered it to be a very meaningful gift for their girlfriend.
IDOXE Queen of Hearts Necklace
This is one of the most lovely gifts you can get for your girlfriend. The Queen of Hearts necklace features the heart-shaped red pendant that is absolutely beautiful. The necklace is perfect for every occasion, from casual to formal ones, and suits every outfit. Nothing says I love you like a well crafted and beautiful piece of jewelry.
This necklace has a 4.3 /5 rating on amazon and customers who purchase rave about the high quality they got for a relatively affordable price ( It's just $10 !). They are also extremely satisfied with how it complements every style. This is a perfect present If you're looking for cheap romantic gifts for your girlfriend.
Custom Poetry Gift- Custom Poetry with a Photo Frame
You can win your girlfriend's heart with this beautiful photo frame packaged with an elegant gold I LOVE YOU label on the white box. Then the photo frame itself has a romantic poem on the left-hand side confessing your love for her and a place to insert your favorite photo of the two of you on the right side. This is a perfect gift for her display cabinet.
Plenty of buyers are extremely satisfied with the frame, especially with the wording and size. However, Others have complained about the broken frame glass upon arrival.
Funny Little surprise gifts
If you want a light-hearted gift for your girlfriend to make her laugh or smile every time she sees it, consider getting her a coffee mug with something funny written on it, she will smile and think of you every time she has a cup of coffee. You can also get her a teddy bear with a funny saying on its t-shirt that she can hold onto at night when she is all alone and thinks of you.
Kissing Mugs Set- Carefully Crafted Large Mugs with Matching Spoons each
This set comes with two mugs for both of you to use. One mug is colored in white, while the other one is red. They are joined in an incredibly romantic kiss! Your girlfriend is going to love the meaningful message of this set as well as the overall design. She will not be able to resist smiling and remembering you every time she sees it.
Customers that have purchased and used this great mugs set have only positive things to say because the quality and color options are great.
Super-Soft, Funny 8 Inch Teddy Bear for Couplemal
This hilarious plush teddy bear is a perfect gift for her as it is very soft and fluffy, which makes it really comfortable for her to hold onto at night while she sleeps and dreams about you.
Customers that have purchased this funny bear have only positive things to say and are extremely satisfied with it as the teddy bear size and feel was exactly what they were expecting.
Little surprise gifts to show love and affection.
We always hear that just saying "I Love you" is not always enough. Women feel that words are easy to say and never know if you really mean them, so they want a little bit of proof. Sometimes doing something a little extra that is creative and original can go a long way, and it also makes your relationship more interesting. Learning how to show and express your love and affection will make her feel special and will let you conquer her heart.
Some great gift ideas for the woman you love can be a sweet and inspiring pillowcase with a nice saying on it that she can see every night when she goes to bed or a notebook that you can personalize by writing in it all the reasons for why you love her.
Luxury, White Standard Sized Pillowcase with "You are My Sunshine You Make Me Happy When Skies are Gray" Writing
This pillowcase is a great gift to give your girlfriend to place on her bed as a just because gift to remind her how much she means to you. With its super-soft, top quality material with an inspiring message printed on it, it is with no doubt one of the cutest surprise gift ideas for your girlfriend.
Customers that have purchased this inspiring pillowcase have only positive things to say and are extremely satisfied with it as they are happy with the material used and print quality of the pillowcase.
"Reasons I Love You" Book Journal- 5-inch x 7-inch Hardcover Linen Notebook
With this hardcover linen notebook for couples, you can express your love for your girlfriend by sharing deep and intimate reasons why you love her. It is a unique, personal and special gift for any girl which they will cherish for the rest of their lives.
Customers that have purchased this love journal have only positive things to say and are extremely satisfied with it as they say that the love journal is well made with a great linen cover.
Spice Up your little surprise gift for your girlfriend
Have a little fun by spicing up the "Gifting part" by leaving a little trail of handwritten notes with sweet little messages on them all over the house or come up with clues that she can follow, that will finally lead her to your perfect little surprise gift. It will make giving your girlfriend a gift far more interesting than walking up to her and saying "Honey I love you so much, I got you a little something".
Non-Gift little, Sweet surprises for your girlfriend
Sometimes expressing your love for your girlfriend does not have to be a physical gift that you actually bought her, but it can be something you do for her. Making an effort of doing something simple that she does not expect will not only affirm your love for her but will also make her feel very special and appreciated by you. You can do things like:
Take her to her favorite place
Surprise your girlfriend with a trip to the place you know is her favorite place to go, where she feels happy and relaxed. It could be a park for a romantic picnic while spending some quality time together or a show or concert that she has been dying to see for ages and just has not got around to attend it. She will realize that you have been paying attention which will make her love you even more for it.
A romantic dinner or meal
You can surprise her by cooking her favorite meal yourself and setting up a whole romantic candle-light scene, which will really pay off as every girl loves a man that makes an effort to make her happy.
But if you do not have any cooking skills, then it would be best to make a reservation at her favorite restaurant for a romantic dinner for two.
Plan a day of pampering for her
Give your girlfriend a day of relaxation and self-care by treating her to a massage, a facial, manicure or a pedicure. You can either pamper her yourself which is obviously the more romantic options, but you do need a few ingredients to help, like creams and essential oils. If that sounds too complicated you can book a day at the spa for her. Whichever one you choose, she will love it.
Plan an Impromptu weekend away
Surprise her with a weekend away for the two of you by organizing everything without her knowing, like house sitters, babysitters and the packing of her bags. Wake her up the morning you want to leave and let her get prepared for the trip without spoiling the surprise of where the destination will be. Girls love unplanned romantic getaways especially when they don't have to worry about the planning and booking part.
You see guys, coming up with a little surprise gift for your girlfriend to show that you love her is not all that difficult to do and can be a lot of fun for you too. All it takes is a little effort on your part to pay attention to what she likes, loves and talks about which will give you plenty of ideas for something unique and special for her. These loving gestures will surely do wonders for your relationship.
Related Articles:
Get This and So Many More Free Gifts on Our New Marketplace, Spark Resort!
ESTIMATED TIME DESIGNING AND UPLOADING THIS ARTICLE
ESTIMATED TIME RESEARCHING AND WRITING THIS ARTICLE
Try our AMAZING GIFT FINDER TOOL! Find GIFTS with 1 CLICK!