Romantic evening ideas for married couples
WhatToGetMy Instructional Article
Romantic evening dates are very important to maintain a healthy and happy relationship. A couple can spend that time to fully focus on each other and talk about their life and catch up on everything that they weren't able to talk about due to their busy schedule. 
So now, you decide to plan a romantic evening for you and your spouse but need a little help because you're not sure where to start? There are so many things out there that you can do, so many options to choose from but still, you find yourself struggling to come up with some romantic evening ideas for married couples? Then keep reading! We have listed down different romantic evening ideas for you to choose from.
To help you come up with some ideas, think about what does being romantic mean to you? Think about why it is so important to be romantic after you get married to stay happy? 
Then finally, you can get to decide if you want a romantic evening that is fun, a romantic evening out and about or a romantic evening at home.
Let's look at what does it mean to be romantic
When people think of being romantic, they think of planning or going to a nice dinner by candlelight, buying flowers and chocolates shaped in hearts with a beautiful card that says "I Love You".
These are some nice but quiet common things that you can do to be romantic. They have become worn out and boring if compared to all the other things that are available out there to do. 
Romance is about taking the time to slow down, take notice and be fully present in the moment. It is the small things you do that will help you feel connected and will convey your affection, love, thoughtfulness, and adoration for your husband or wife.
Romance should not be something reserved for a special occasion. It should be used to express your love and how much you care about your husband or wife daily.
Why is it so Important to plan and execute romantic evenings
Married couples need to plan and execute romantic evenings together because these days, people live increasingly busy lives. Often our relationships are put on the back burner as some automatically assume that their spouse will always be there no matter what, but this is where they are so wrong.
If you do not invest the time and effort needed to nurture your relationship and spend alone time together, it can be really easy for the two of you to grow apart without even being aware of it. 
Before you know it, you have allowed small issues like feelings of being taken for granted slip through the cracks. It becomes easy to focus on your spouse's negative attributes, which causes even more stress, and that tends to bring out the worst in everyone. 
You then lose the connection you once had with each other and find yourself getting in a bumpy situation because resentment has taken over the love that you once felt for each other. 
Some of the main reasons we must make time for each other are: 
Below are plenty of date night suggestions for married couples for you to pick from!
Romantic Evening ideas for Married Couples
Romantic evenings do not have to be predictable because predictable can be boring and gives the impression that not a lot of effort and thought went into the evening..
A romantic evening does not have to cost a fortune or involve a grand gesture of some sort either. A romantic evening not just about what you do, it's how you treat your husband or wife while you're on it. 
So it does not mean that you have to act all serious all the time, but with a little creativity and knowing what your partner loves, it can be an evening filled with passion and a lot of fun which adds joy to any relationship.
Here are some great ideas to choose from: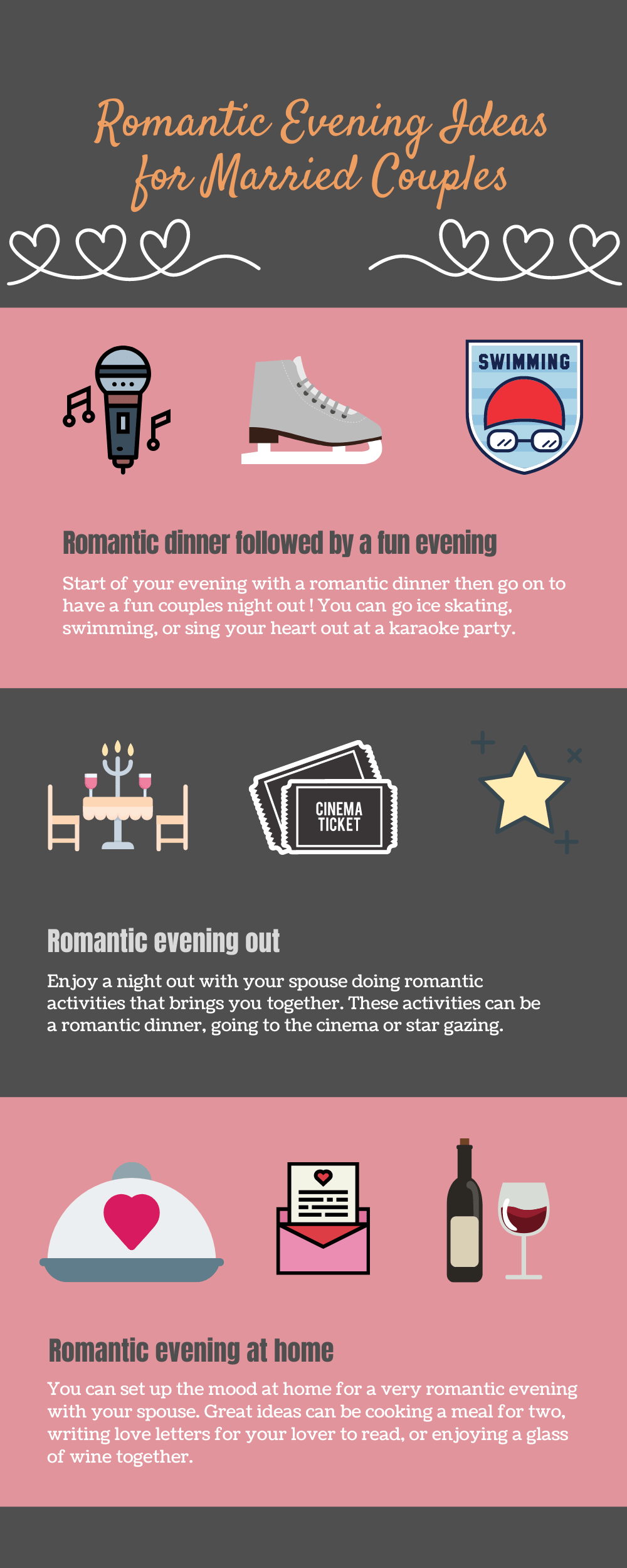 Source Link: https://whattogetmy.com/romantic-evening-ideas-for-married-couples/
Romantic Dinner Followed by a Fun Evening
To keep it romantic, you can always start off with dinner by candlelight and then move onto a fun couple's night out. But make sure that the fun things that you choose to do are fun for your husband or wife too.
A Romantic Evening Out
Some couples love romantic evenings out. They love to be out in the town where they are surrounded by many other people, it is their way of getting away from all the stresses of everyday life.
Some ideas for a romantic evening out:
Go to a romantic and intimate restaurant.
Not only will the dim lighting and candles help to set the atmosphere that you are looking for, but this creates the perfect opportunity for you and your husband or wife to really get dressed up for the night, adding a touch of elegance to your typical meals together. This idea would be even better if you find a place that has some live romantic music for the two of you to enjoy.
Go to the cinema.
Going to the movies is one of the most romantic things to do after dinner hard to beat because it will always be at the top of the lists for romantic evenings out. People still enjoy having a great romantic dinner and then relaxing at the cinemas, watching the movie in silence but still feeling connected by holding hands.
Sunset Stroll
In the summer months when the sun goes down later in the day, you and your husband or wife can go for a stroll enjoying the scenery of wonderful parks and trails, then stop to admire the beautiful sunset with a packed picnic basket and blanket. This would be a great idea especially if you live close to the beach there is nothing better than a stroll along the beach at sunset.
Go Stargazing
There is not much more romantic than laying back on a blanket with your husband or wife and looking up at the stars. It doesn't even matter that you haven't got the first clue when it comes to the constellation. All that matters is that you are spending some time together under the stars which can be done in your own back yard for complete privacy.
Get a Hotel Room
A romantic evening out can include going to an expensive hotel, but you can also choose someplace nice, cheaper and simple to spend some quality time together. Just the change of scenery will help both of you to relax more and focus on each other.
Take them back to the place you first met
If the place you met was a great place then go to it, if it was not then you could go to the place where your marriage proposal took place it will bring back some really great memories for both of you.
Book a Boat cruise Dinner
If spending money is not a problem and you would really like to do something special, then this is for you. You will have a great meal, the moonlight and the open waters for you and your husband or wife to really spend a romantic evening.
A Romantic Evening at Home
Quiet romantic evenings at home can be convenient, comfortable and are practically free date night ideas for married couples. It can remind you that home is a place where you can be intimate and romantic. The best part is that you can clean up and set the scene to exactly how you want it to be with just a little creativity, instead of running around town looking for the perfect spot for your romantic evening.
Some ideas are as follows:
Never Been Kissed

Message in a bottle

Can't Hardly Wait

Must Love Dogs

Love Actually

The Wedding Planner

She's All That

27 Dresses
With the help of a little creativity, and knowing what yours and your husband or wife's interests are, you can set up the best impromptu romantic evening for the two of you to enjoy, This is guaranteed to make your spouse love you even more and appreciate your marriage even more.
ESTIMATED TIME DESIGNING AND UPLOADING THIS ARTICLE
ESTIMATED TIME RESEARCHING AND WRITING THIS ARTICLE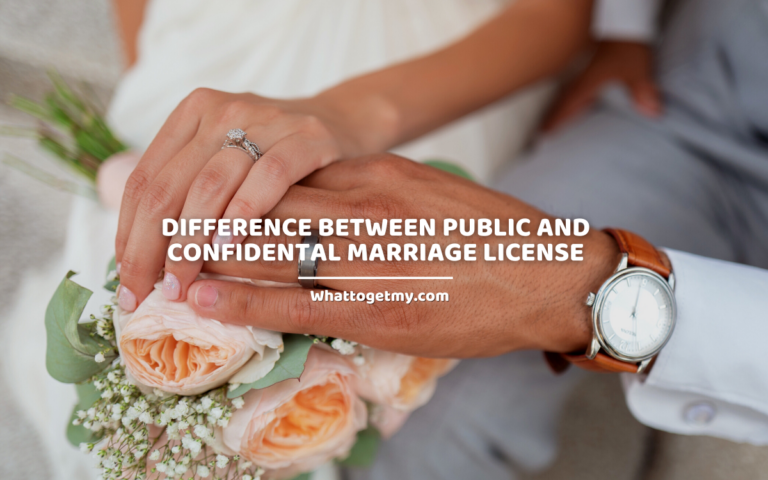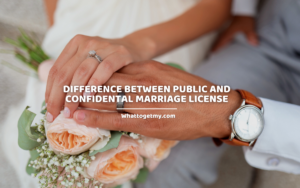 Difference Between Public And Confidential Marriage License.
Difference Between Public And Confidential Marriage License. WhatToGetMy Instructional Article You don't need to walk into a lawyer's office to find out all you need to know about marriage licenses. This article provides a detailed and useful insight into marriage licenses and the benefits and
Read More »