What to get my mom for her 80th birthday is not an easy question because there are so many good ideas out there! We've made a selection of 9 great gifts, so you can pick the one she'll absolutely love.
Remember that the 80th birthday is an important one. You need a gift for the milestone that will appreciate her and make her life a bit easier. This combination of both useful and personal is a bit tricky to find, but don't worry. We thought about everything! Sit back, scroll through until you find the perfect gift.
When you need a gift for the elderly, consider these things:
Think about the lifestyle of elderly people. What does your mom need to make her life comfortable? If you don't have an answer, don't hesitate to 

ask her indirectly

.

You don't have to be gender-specific. There are lots of 

gifts that both an 80-year-old man

and an 80-year-old woman would like.

Try to avoid gag gifts. They're there just for laughs and most of the time they're too tacky for anyone older than 30. Having said this, 

there are lots of creative funny gifts

you can get if your mom has a great sense of humor.
Don't get gift cards. We think that gift cards are amazing gifts for lots of occasions, but the elderly won't appreciate them as much.
As an Amazon Associate we earn from qualifying purchases. We may earn a small commission for our endorsement, recommendation, testimonial and/or link to any products or services from this website. Thank you, your qualifying purchases help support our work in bringing you real daily gift ideas.
Quick Overview: 80th Birthday Gift Ideas for Mom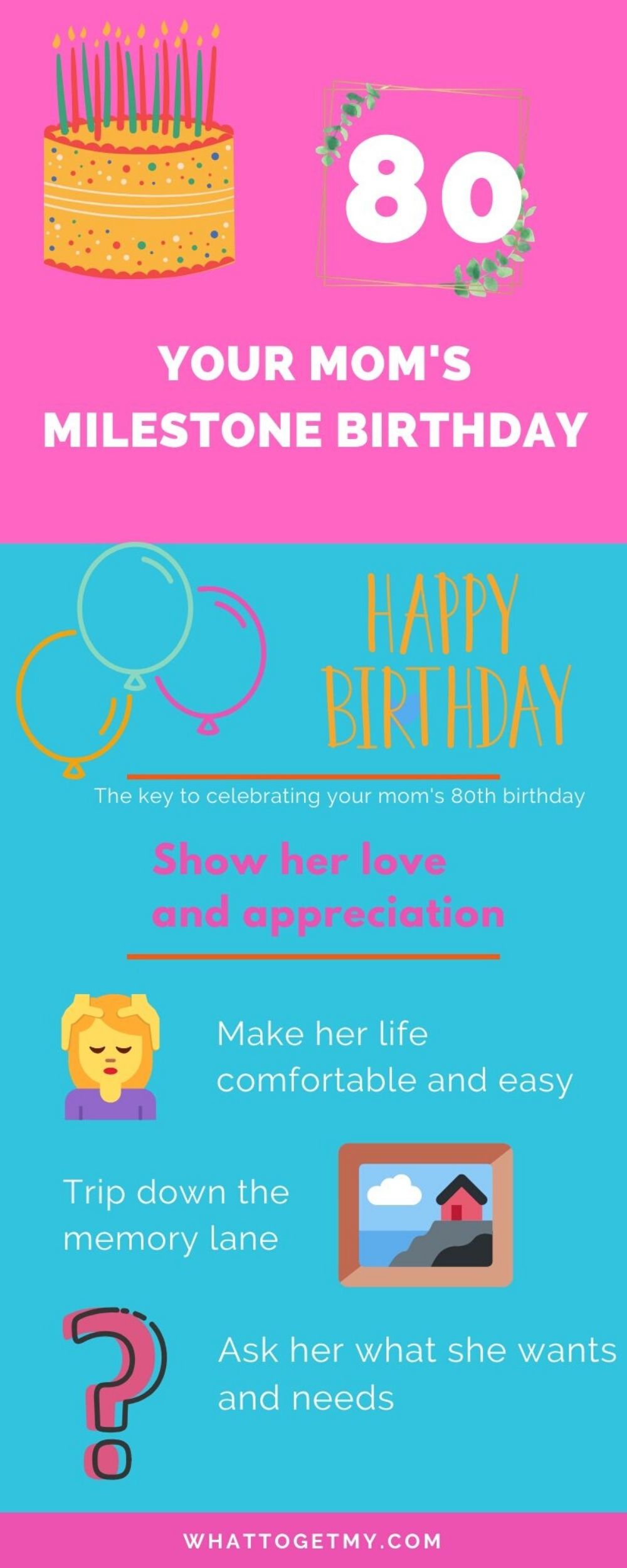 Source Link: https://whattogetmycom.bigscoots-staging.com/gifts-for-mom-for-her-80th-birthday/
Foot Massager Machine
What's a better birthday gift for someone turning 80 than providing a way to get relief from the pain and cramps in the legs? This foot massager can offer your mom the perfect deep kneading massage with the amazing rollers and airbags. They'll provide a gentle pressure around the feet and ankles. It's possible of course to control the speed and pressure levels. The massager is very easy to clean and comes with a 1-year warranty!
Etekcity's massager is very simple to use! It's controlled with the touch panel and you can even manage it with a phone app. Just set the speed and the warmth, touch the button, sit back and relax. The blood circulation will improve and the cold feet will be the thing of the past.
Who wouldn't love a deep kneading foot massager with an adjustable heat feature? This is an excellent product and an even better gift that would improve your mom's life quality.
Biddeford Electric Blanket
Is your mother complaining she's always cold? Then it's time to get her an amazing electric blanket! Biddeford blankets are super comfortable and cozy! Made of 100% polyester, how can they not be. It's very lightweight, so we're sure your mom can carry it around the house with ease.
This blanket is very easy to wash – it won't be damaged in the machine. On top of this, you'll receive it in a reusable zipper bag, so the storage won't be a problem either. Your mom can easily control it with two remote controls. Just choose one of 10 heat settings and let the blanket do its magic.
Electric blankets are just amazing – they'll keep you warm and snuggled all the time! This one has 10 heat settings, 5-year warranty, and 6 colors available. What more do you need from a blanket?
Massage Mat
If you're looking for a birthday present for an 80-year-old mom with severe back pain, you should definitely consider this massage mat. She'll be able to get a full-body massage that will eliminate the pains, aches, and tension built up in her back. Note that this is not shiatsu but a vibration massager. That can actually be a better gift for an 80-year-old mom because a lot of people find shiatsu massage too intense.
This mat has 5 massage modes and 3 intensity levels, so she can adjust it according to her needs. It's equipped with heating pads that target four zones in the upper and lower back, as well as thighs and calves. The soothing sense will loosen the muscles, improve blood circulation, and help her relax anywhere she wants! It can be placed on the bed, couch, recliner, or even on the floor because it's very flexible.
A very comfortable and convenient massage mat is the perfect 80th birthday idea for your mother. It will help her relieve the back pain and relax anytime she wants!
Neck Massage Pillow
One more gift to improve comfort on our list is a massage pillow! This powerful neck massager can provide a great release for anyone who enjoys a quality deep-kneading shiatsu massage. Your mom just needs to relax and let the massager do its magic.
The Viktor Jurgen massage pillow has a very comfortable ergonomic design. You can use it for the neck of course, but it can also be used on relieving shoulder, back, and abdomen pain. It's made of high-quality eco-friendly materials that are very easy to clean.
Convenient and easy to use, this neck massager will be the perfect 80th birthday gift idea for your mom. She can turn it on with just one click and enjoy an amazing and relaxing massage.
Tea Kettle
Your mother would adore this stylish tea kettle. It's made of iron and has a stainless tea infuser that helps separate the tea leaves from the water. This means it can be cleaned with ease. As you can see, the material is sturdy, so her tea kettle would be safe from damage.
This tea kettle is a modern diamond pattern design. It has 30 oz capacity and provides an amazing flavor from the tea leaves. With an ergonomic handle, the kettle provides an easy grip, so she won't have trouble with making delicious and amazing tea.
Every household should have a quality kettle such as this stylish teapot. If your mom doesn't have one, you shouldn't think anymore! Choose one of six colors and wow your mother on her birthday.
Natural Spa Gift Basket
Surprise your mom with this wonderful gift basket. It contains amazing rose bath salt, goat milk soap, lavender soy candle, vanilla lip balm, and delicious dark chocolate! You can organize a sweet mother/daughter spa day and pamper your mom a bit. She would love it!
This spa set provides deep relaxation due to the wonderful scents. Everything is handmade with high-quality natural ingredients and the set is wrapped amazingly! A twine & pink rose flower decoration gives a nice ending touch to provide an exquisite gift-giving experience.
A gift basket with a cute sentimental note can be a wonderful gift for your elderly mother. She'll feel appreciated when you pamper her with the home spa experience this gift provides.
Vintage Candy Gift Box
A unique 80th birthday gift is this blast from the past. Old-time candy will wow both of your elderly parents. All you'll hear for an hour is "Oh my God, do you remember these". Encouraging nostalgia and enjoying reminiscence of the old days is the perfect experience for a milestone birthday.
This vintage candy box includes over 50 pieces of candy that were sold in the 1940s. It's even stylized with the special newspaper design. Not only your parents but everyone will enjoy unwrapping this amazing gift.
Unique vintage candies will take your mom down the memory lane. She'll be spending the entire afternoon remembering the tastes of her childhood sweets and will enjoy it very much.
80th Birthday Coffee Mug
Your mom did "Aged to perfection", so this coffee mug will be an amazing gift for her 80th birthday. Not only is this mug handy and convenient for daily life but it will boost your mom's self-esteem. It's great to have such an amazing reminder of how strong she is and how much she's been through.
A milestone birthday is a great opportunity to remind your mom how much you appreciate her. You can plan a great day together and end it with a nice hot beverage from this cute and meaningful coffee mug. It's made of durable high-quality ceramics and it has a convenient handle that makes the mug safe to hold without risking burns.
Surprise your mom with a cute milestone mug and let her know how much you appreciate and love her. The sturdy and handy mug will enable you to enjoy hot and cold beverages anytime you want.
Grandma & Me Engraved Leather Picture Frame
What can be a better symbolic gift for the 80th birthday than this picture frame? You'll be making a connection between your daughter and your mother, so you can be sure she'll love it. Just make sure to choose a perfect picture that can go great with this leather frame.
This picture frame is made of high-quality leatherette. It can be hung on the wall or you can place it on the table because it has a back stand easel. Overall it's a very cute and stylish gift you won't regret getting.
A picture frame with a sentimental photo will put the cherry on the top of your mom's milestone birthday. The frame is very cute and the engraving looks beautiful, so we're sure your mother will love it.
Frequently asked questions
What do you get a woman for her 80th birthday?
You should get something that will make her feel special and appreciated. The gift can be personalized or useful. Our list provided both options, so you can choose the one your mother would like the best.
What does the 80th birthday signify?
Milestone birthdays such as this one represent the unifying experience of someone's life. You'll be celebrating everything he/she achieved in family, career, etc. You should spend the day surrounded by friends and family, so you can all enjoy the rare special moments.
How do you celebrate your 80th birthday?
There are lots of ways you can celebrate this special birthday. You can have a small gathering with friends and family or you can throw a huge garden party with music and barbeque. You can also make it special by having a vintage or rock n roll theme, etc.
Conclusion
We hope this list answers your question about what to get my mom for her 80th birthday. Just remember that it's all about showing your love and cherishing her years and experience. We know you love your mom, but does she know? Show her your love just as she gave you unconditional love when you were a child.
ESTIMATED TIME DESIGNING AND UPLOADING THIS ARTICLE
ESTIMATED TIME RESEARCHING AND WRITING THIS ARTICLE
Try our AMAZING GIFT FINDER TOOL! Find GIFTS with 1 CLICK!