Questions to Ask Someone for Gift Ideas
WhatToGetMy Instructional Article
Don't spend countless hours browsing online shops or going from store to store in search of a perfect present. If you don't know what you're looking for, the chances you'll find the ideal gift are very slim. That's why you need to organize and start the search prepared. The trick is to ask the right questions before you even start shopping! You need to narrow down the options and find the best questions to ask someone for gift ideas, so you wouldn't waste time.
We know that you want to find a unique gift that will make your friend smile, the one that would be perfect for them. How will you do that? By asking the specific questions, of course. This way, you can visualize the most amazing gift ever, and then start with your shopping spree! This way, when the ideal gift shows itself, you will instantly see it!
Sure, you can always ask direct questions like "What would you like to get?" or "Is there something you need?". But giving away your intentions will probably ruin the surprise. You'll take away half the fun! That's why we propose indirect questions which are especially asked a few months in advance. Your friend wouldn't know you are looking for a gift and he/she will be pleasantly surprised when he/she receives one! If you are still wondering, there are a lot of ways how to surprise someone with a gift, but they all take into account giving your friend exactly what he/she wants or needs. To figure out what should that be on your own, as we said, you'll have to ask the right question! To help you with that, we composed the article below. Check it out, and you'll most certainly become a skilled gift-giver!
Before you dig deep into the article, stop for a second to hear some extra tips we have for you:
Don't wait for the last possible moment for shopping. The more time passes, the chances to find something amazing are getting lower. Instead, try to think ahead of time. Let's say your friend's birthday is in July. Don't wait for the start of the month and begin your research as soon as possible (read: shop in May)!

Personal gifts are the best ones! For example, only you can know what your friend or family member might need. When shopping for the closest people in your life, even generic gifts like scarfs or scented candles can be amazing, as long as you know that's the exact thing a person needs. Here we come to the big point: careful listening is crucial.

Try reaching out to someone who's closer to gift-recipient like a spouse, a roommate or a child. Most people will appreciate the effort and there's a big chance you'll get quality information on the perfect gift!
Presents are about others, not you.
Were you ever shopping for gifts and you saw something wonderful? Instant thought was: "it's perfect", so you, of course, bought it. Hours later you found out your friend doesn't like "the perfect gift" at all! That's because the gift was perfect for you and not for them.
You're shopping for your sister who loves teddy bears. You're in the store and you see the cutest stuffed bunny and you think "my sister will love it". Yes, she likes teddy bears, but bunnies are cute too, and you like it! Well, she doesn't. If you are looking for a gift for her you need to think about what she likes. So bunnies are out of the question in this case! Think wider, open your eyes and observe. She might have told you a hundred times what she likes. You just need to be sensible to hear what she says. It's not just a sister thing; it applies to everyone. Don't project your wishes and likes onto gifts for other people, that's all.
As figured, question number one is what do you like. You can drop it now and then in casual conversations with a gift recipient. What do you like watching, eating, etc? Do you love chocolate and why not? You get the picture, small talk all the way!
Learn the don'ts
Try to find out what the gift receiver doesn't like to avoid the awkward situations. You don't want to get a sour smile after someone opens your gift, right? It's just as important to rule out the thing a person doesn't like as to find what he/she likes, so be sure to ask what do you dislike. For example, if you find out the person doesn't like bright colors, you shouldn't buy him/her that bright yellow sweater that caught your eye. Someone's dislikes determine what type of present you should get, whether it's clothing, food, home appliances, or any other stuff. Maybe the technology isn't his/her thing, and you learn that while discussing the new brand of phones, laptops or something else. Once you've learned that, you'll avoid giving him/her tech stuff, right?
It doesn't hurt to mention one important thing: allergies! You should find out if your friend has any allergies or other health issues to take into consideration. Maybe it's not that they detest fresh flowers like you thought all along, but they have a pollen allergy! So if you give them something they are allergic to, you would not only fail to impress them but might even hurt them! Think about everything, from cookies with nuts to the polyester shirts. Ask frankly do you have any allergies, so you can modify your shopping ideas if needed. This is one of the most important questions to ask before giving a gift because it affects someone's health!
Gift for needs
There's nothing better than getting the present which you'll actually use! To provide that for your friend you need to ask yourself, what do they really need. Better yet, ask them the same question! If some items really need to be replaced, chances are, your friend will tell you. Try to avoid making it obvious, so don't ask this question two days before his/her birthday. Just drop it in casual conversations and you'll keep the surprise effect.
Think about your friend's lifestyle and try to buy a suitable gift. If he/she has a hobby, you could buy something to help him/her out. Perhaps your friend is an artist who's always short on paint. Get more paint! It's that easy. Or he/she started a cooking class. Well, a book of recipes or kitchen appliances fills the need in that case. You get the pattern, right?
Get to know him/her better
Ask questions about your friend's free (or not so free) time. Is there something he/she always talks about doing but never manages to? Maybe he/she wants to learn something new. So why not enroll him/her in a class or webinar about a topic he/she mentioned?
Simple questions like what's your favorite snack will take you a long way. Firstly it will bring you closer together. When you learn more about each other you're more likely to bond over similar interests. And then you won't think how to find the perfect gift over and over again, because you will know enough about the person to know what to get. We're sure you'll have no problems finding gifts that say "I know you" when you actually get to know the person!
As we mentioned, think about your friend's style. Look around their house (but don't snoop, just observe). What do they have on display? You'll easily get the necessary ideas from their home about what they like, so you might not need to ask them at all! Maybe you can find something to complement the home décor! Or observe him/her more carefully. For example, see what they wear every day. Do they prefer suits or jeans? Would a briefcase be a better gift than a backpack? Fit your gifts into their style and you can make no mistake!
Shared experiences as gifts
What if you give your friend something you can do together? Ask him/her about which concerts, plays, movies he/she would like to attend and you just get the tickets! Maybe there's a cause or charity you could both support? Make a donation in his/her name and start volunteering together! The possibilities are endless!. You only need to ask him/her: "What is your perfect day?" and make it happen!
Speaking of sharing, there must be something the two of you share that has a special meaning. Make a memory a gift in the form of a picture frame, music compilation, or a coffee mug. Don't be afraid to get a little sentimental! You don't have to follow strict gift-giving and receiving etiquette, just go with what you feel is right.
Gift questionnaire
Ever heard of those? A questionnaire is used to collect various information on different topics. Naturally, someone thought, why not collect informations about interest, hobbies and favorite things. Soon it developed into a game of its own about getting to know the other person. Once you've learned all about someone, gift shopping is a breeze! Questionnaires became very useful, especially when large groups are taken into account. Secret Santa is way better, though, if the participants of the game fill out some kind of gift questionnaire. Even if you are on a first name basis with the person you've got to shop for, once they fill out the questionnaire, you can wrap something up. It's fun to answer questions in the questionnaires; you can also find out more about yourself, because they make you think about some stuff you usually don't think about. What is your favorite drink or a song, for example, isn't something you usually think about, right?
Conclusion
We know how hard it is to find the right questions to ask someone for gift ideas, but we hope you've got a few ideas after reading this article. If you are still in doubt we have a detailed guide on How to pick a gift for someone, so be sure to check it out! Don't worry, although it will take some time,once you've sharpened the senses, you'll become more aware of what your friend likes. You'll pick things up on the way and look for gift ideas without even realizing it!
We said it once, and we'll say it again: do your research on time. If you enter the holiday season prepared and driven by ideas, you'll have no trouble finding the perfect gift. It can happen, of course, that you've got caught up in daily responsibilities and just forget about someone's birthday coming the next week. We've thought of everything and have your back in this case as well. There are a lot of last-minute gift ideas for someone who has everything, so don't panic!
ESTIMATED TIME DESIGNING AND UPLOADING THIS ARTICLE
ESTIMATED TIME RESEARCHING AND WRITING THIS ARTICLE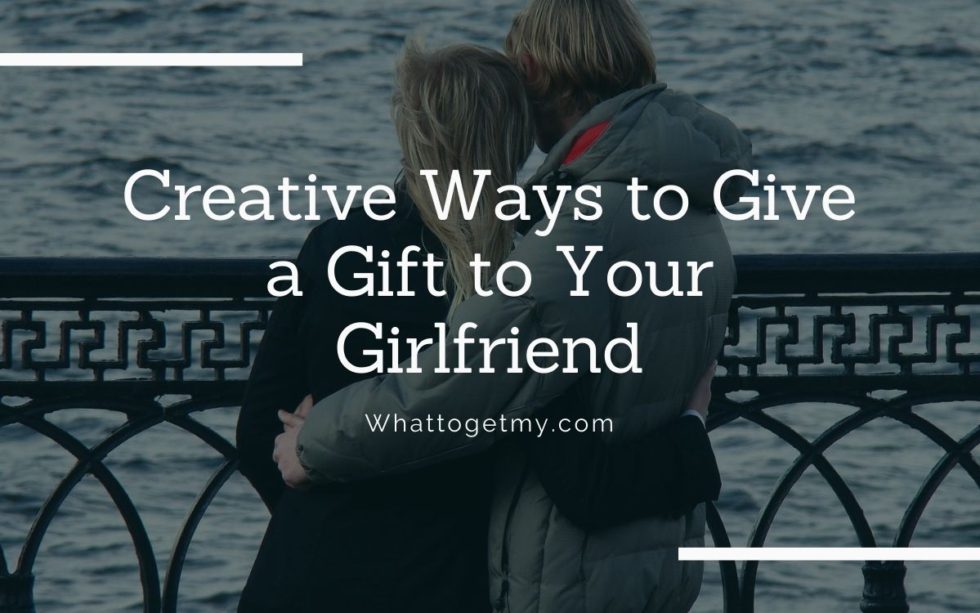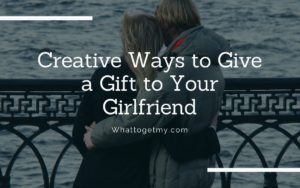 Creative Ways to Give a Gift to Your Girlfriend
Creative Ways to Give a Gift to Your Girlfriend WhatToGetMy Instructional Article You know that there are creative ways to give a gift to your girlfriend, but you can't think of any at the moment? Don't worry, we are here to help you out! Sometimes,
Read More »