Picking gifts for elderly people can be quite a challenge. They probably have everything they need by now, so it's hard to come up with something unique. Even if they don't, you might want to add a fun little thing to the first-choice gift, just to make them laugh. Elderly people have a hard time adjusting to the new lifestyle, which is completely natural. The idea of entering the "golden years" is truly frightening. The best thing you can do is to make them laugh and relieve everyday stress, even for a little bit. Additionally, you can also read our article about Finding Purpose In Life After 50. It could help you understand this difficult period and provide support for your loved ones in the best possible way.
How should you know which gag gifts are the best? Truth to be told, it's mostly a personal call. We all have a different sense of humor, and you have to think about the person who is receiving the gift and what he or she would find funny. Here are some useful tips for buying fun gifts for the elderly:
You don't have to find it funny, but they do. You want to satisfy their sense of humor and not your own. Carefully determine what should that be, and then opt for particular jokes and funny gifts.

Thin is the line between a joke and an insult, so try not to overstep it. Even if you have the purest intentions, this could happen because seniors could get a little sensitive. 

Don't buy just one small funny gift on big and important occasions. It's a great idea to get them regularly, but make sure that they follow some important and meaningful gifts on birthdays, retirements, and other significant days. For more ideas, you can follow

Present for 60-Year-Old Mom That Is Well Thought Out

.

The last and most important thing is to be creative and have fun! You want your loved one to be happy and laugh at your gifts. To be successful, you'll have to participate too! 
Now that you gave this a quick read through, you're all set to look for actual funny gifts for old people. We have some very creative things in mind! Let's give it a try:
As an Amazon Associate we earn from qualifying purchases. We may earn a small commission for our endorsement, recommendation, testimonial and/or link to any products or services from this website. Thank you, your qualifying purchases help support our work in bringing you real daily gift ideas.
Quick Overview: Funny Gifts for Old People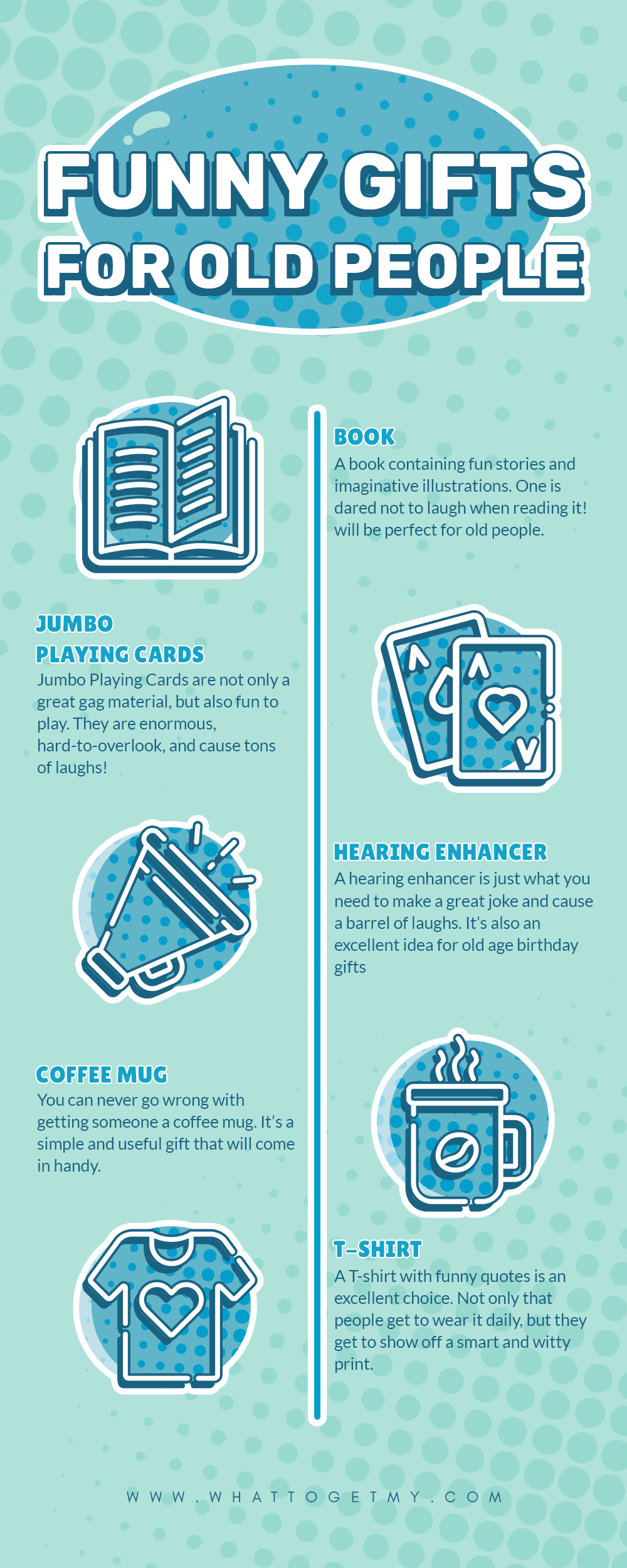 Source Link: https://whattogetmy.com/funny-gifts-for-old-people/
You're Only Old Once!: A Book for Obsolete Children
If you are looking for gag gifts for old guys and girls, dr. Seuss book is an excellent choice! It contains a lot of fun stories and imaginative illustrations. One is dared not to laugh when reading it! It's perfect for all people who are advancing from one personal milestone in life to another, especially for seniors. Those who have health problems, and are spending a lot of time in waiting rooms, getting ready for medical examinations, will have so much fun while reading this book!
As a book summary and a small glance to its content, we offer this short paragraph: "I take three blues at half-past eight to slow my exhalation rate. On alternate nights at nine p.m. I swallow pinkies. Four of them."
Prextex Jumbo Playing Cards
What things old people use anyway, you may ask? Glasses, of course! As we age, our vision changes, and we need more light to see things. If you want to make a gag for an elderly person in your family, make a joke about bad vision, it never fails! For example, Jumbo Playing Cards are not only a great gag material, but also fun to play. They are enormous, hard-to-overlook, and cause tons of laughs!
The deck includes 52 standard cards and 2 jockers. It comes in an oversized box, of course, and wrapped with some extra material for more safety during shipping. The cards are made of quality material and prove to be quite versatile. Not only that you can play with them for fun, but they can be used for decoration as well.
Most buyers are highly satisfied with these playing cards. They use it to play with an entire family, and kids are also thrilled with them. Some of them even took a chance to decorate kid's classrooms!
"Over The Hill" Hearing Enhancer
Do you have an elderly person in your life who you always tease about not hearing you well? We have a perfect gift idea for you! A hearing enhancer is just what you need to make a great joke and cause a barrel of laughs. It's also an excellent idea for old age birthday gifts, as this particular hearing enhancer is multicolored and printed with a lot of funny phrases. What surprises the most is that this little thing works! You just need to point it toward the source of the sound while holding it next to the ear canal.
We heard from seniors that they love this hearing enhancer. Some of them even brought it to doctors' appointments and made them laugh!
This Wear Coffee Mug
You can never go wrong with getting someone a coffee mug. It's a simple and useful gift that will come in handy. Now, when it comes to elderly people if you're about to give them a mug, at least make sure that it will be printed with fun quotes! 
This Wear offers a mug that combines codes for old people's language, and it will cause lots of laughs. Besides, it's a ceramic 11-ounce mug with C-handle. It's easy to grip, durable, and looks great. Additionally, it's microwave and dishwasher safe for easy use. Who could ask for more?
Coffee lovers enjoyed this mug so much! Some even didn't understand code phrases, so it was even more fun to explain and decrypt it.
Grumpy Old Man Club T-Shirt
If you want to get something funny yet useful, we recommend buying a piece of clothing. A T-shirt with funny quotes is an excellent choice. Not only that people get to wear it daily, but they get to show off a smart and witty print. It's also an excellent choice for those who are searching for retirement gifts. For more ideas, you can look up into our article about Gifts for Retired Dad With no Hobbies.
This particular T-shirt has a fun print and comes in four colors. It's made of cotton and polyester and proves to be rather comfortable. It fits perfectly thanks to the classic design, and you can get it for men of different ages.
People low how classy and funny this T-shirt looks. Most of them even came back to get several more pieces. Therefore, we highly recommend giving it a try!
Game Hats Senior Discount Cap
If you wondered What To Get a Man Who Wants Nothing we have an answer – a senior discount cap! It's a useful and funny gift at the same time, and elderly people love it. The cap is made of high-quality cotton. It's easy to maintain, and also very comfortable. It has an adjustable closure for a perfect fit and comes in different colors.
People who got this cap as a gift told us that they never take it off! They are so thrilled with its fun quote and amazing look that they enjoy bringing it along wherever they go. How's that for a funny gift?
DayClocks Classic Day Clock
So you're looking for an inexpensive accessory to surprise and make an elderly person in your life smile? Here's a super cute one! Classic Day Clock is designed to show days in the week. It doesn't show hours at all, so it's also a perfect retirement gift. If you want to tease someone about forgetting stuff, there's no better gift than this clock!
Classic Day Clock is well made, with a pine wood frame and a glass cover. It's not only a gag but also a very classy item, so it will make a great decoration on every wall. From RVs and camp trailers to house use, it matches every interior design.
Almost every single person who got this clock as a present enjoys having it around! It's an excellent inexpensive option. If you're on a tight budget yet want to get a little something for an older man in your life, you can also check out Gifts for Men Under 1000.
Other Ideas to Consider
In our guide, we included some useful and funny gifts you can easily find online. However, if you want to make things even more interesting, you can always opt for additional homemade gifts. Here are the things you can try out:
Posters
Never underestimate the humorous power that a poster can have! Some people find giving posters as gifts too silly. We don't agree with this! They are funny and creative, and they make people laugh. When posted on the wall, they cause smiles and laughs all day long! 
We recommend getting a personalized poster. Many online websites allow you to do it within a few moments. Poster My Wall is one of the easiest to use. You get to play with different designs, colors, papers, and much more. It will be fun for you as well as for the person who is receiving the gift!
Pro Tip: For a successful poster about elderly people, you can research and include interesting and funny facts from their lives. For example, you can write about the things that happened in the year they were born. 
Cards
Don't give up on giving cards, regardless of the occasion. It doesn't have to be somebody's birthday for you to write a funny, creative card. Write about the adventures you had with that particular person, note gags and other jokes you two shared over the years. After barrels of laughs, that person might even shed a tear of joy!
Warning Signs
Did you know that you can customize warning signs? Yes, you can make a custom sign to give it as a gift. We think it's a great idea, and most people are thrilled with getting a funny sign! You can either go to the store or do it online on websites such as Build a Sign. 
Games
We all love playing games, and old people are no different. They might be even more enthusiastic about playing creative and fun games. Therefore, consider organizing a group of people for the occasion. You can opt for puzzles, playing cards, and chess, but you can also organize other interactive games such as Simon Says, Spin the Bottle, and more. It's always a great joy to see old people having fun and acting like children! 
After giving this article a read-through, we think you're all set to pick a gift for an elderly person in your life. You can't go wrong no matter which one you choose, as long as you guess the type of humor of that particular person. You can even get several items from our list and make a full-basket of funny gifts! When giving a gift for elderly people, it's important to think about what will make them happy. They are all coping with the new period in their lives. Giving them a reason to laugh is the best thing you can do! For that reason, we hope that our list of funny gifts for old people helped you with choosing the perfect one for your needs.
ESTIMATED TIME DESIGNING AND UPLOADING THIS ARTICLE
ESTIMATED TIME RESEARCHING AND WRITING THIS ARTICLE
Try our AMAZING GIFT FINDER TOOL! Find GIFTS with 1 CLICK!