Get the senior citizens excited about the prizes for bingo night you have lined up for your bingo game with them by planning an unforgettable bingo game night/event for them. Let us tell you how.
The event will not be much fun without fun and exciting bingo prizes for the seniors. Our round-up of the best bingo gift ideas for seniors gives you those bingo prize ideas that would have your senior citizens very engaged and active throughout the bingo game.
There are other ways you can help senior citizens aside from organizing a bingo game for them. We give you few ideas of other ways to help them that would be as rewarding as having a bingo game night with them.
You are thinking of organizing a bingo game for the senior citizens at a senior's facility or nursing home near you and you are wondering what kind of bingo prizes for senior citizens you can give. Maybe you are planning for a Christmas bingo game for the senior citizens around you and thinking of appropriate Christmas bingo prizes for the seniors and you have no clue what to give. Worry no more. This article gives you the best bingo gift ideas for seniors. 
Check out our other articles on other types of occasional gift ideas for senior citizens –
BINGO GIFT IDEAS FOR SENIORS – TIPS FOR GIVING PERFECT AND MEMORABLE BINGO PRIZES.
Now that you've gotten them all excited about the bingo game night. You don't want to disappoint them by giving just about any gift.
Bingo gifts given to seniors tend towards generally either being too small or of little value to them. And this is another reason why most seniors don't look forward to bingo game nights. They are not exactly thrilled about getting candy or chocolate bars or the same types of lotions they get all the time. And that is why your gift/prizes need to stand out. These gifts are appropriate for all occasions, whether it be a Christmas bingo party or just a bingo party on a Friday night.
Three things would make your gift stand out.
First, it should not be too big.
You want your gifts to fit nicely and well on your gift table set up for the night.
Secondly, the gift should be useful and have some form of luxury to it at the same time.
Giving the usual uneventful gifts would not get them excited about the bingo night. And this means that the usual gifts like chocolate bars should not be a consideration. Give them something they can get to use even after the bingo night is over. Remember that in a home, the seniors do not have all the luxuries they may want or need. Giving them a luxury item would get them excited and stoked. When they see that there are luxury items to be won/up for grabs, watch them light up at the prospect of playing bingo to win that luxury prize.
Third, structure your prizes in such a way that everyone is a winner.
At the end of the day, you want all the seniors to feel like they were a part of the game and that they had fun. And you won't get that feeling if some of the seniors leave the game feeling like they didn't even get anything while some of their colleagues got something.
We understand that there may be budgetary constraints so here's our suggestion on how to best structure the prizes and still not break the bank.
Have three categories of prizes as follows.
The grand prize for the overall winner(s).
You can have three grand prize winners if you can afford it. This can be the most pricey item in your gift pantry. Not to worry, we have selected the top ones for you to choose from.
Behind this gift category, you can then have the Runner-up gifts.
You can have up to three runner-up prizes. If your budget is friendly, you can have up to 10 runner-up prizes so that you give as many participants as possible gifts in this category. We also have the perfect items for you.
And then the last category could be the Participation Prizes.
In this category, you can have as many items depending on the number of senior citizens at the home. This category is for everyone who participated but may not have won in the first two categories. Even those who have won in the first two categories should be encouraged for participating and winning by also getting a participation prize.
BINGO GIFT IDEAS FOR SENIORS – 25 PERFECT AND MEMORABLE BINGO PRIZES FOR SENIORS.
Now that you know how to give the best bingo gift for seniors, below is our selection of the best bingo gift ideas for seniors under our listed three gift categories. You can buy them any or all of these gifts for your bingo night. And don't forget to follow our tips above in both organizing the game and giving the gift. Our selection of gifts is both the perfect size and useful and luxurious.
As an Amazon Associate we earn from qualifying purchases. We may earn a small commission for our endorsement, recommendation, testimonial and/or link to any products or services from this website. Thank you, your qualifying purchases help support our work in bringing you real daily gift ideas.
Quick Overview: Bingo Gift Ideas for Seniors
Grand Prize Bingo Prizes.
Some of the gifts in this category are a little pricey. But ultimately all of them are a perfect size and luxurious and importantly useful. Your senior citizens will be clamoring to get any of these for a bingo prize.
1. Interactive Golden Pup Stuffed Toy.
This stuffed plush puppy is the cutest thing and is designed especially with senior citizens in mind. The toy makes puppy-like motion and sounds and is designed to respond to the voice of the owner.
Pros.
It is easy to care for.

It has the same feeling as having a real puppy.

Seniors love this cute puppy.

It is plush and snugly.

It needs normal AA batteries to operate it.

The puppy can bark.
Cons.
It is pricey.

One customer complained that it did not last long.

Another customer complained that the sensor motion did not work too well.

Another complaint is that it sheds fur.
Every customer that has bought this for their senior parent or loved one cannot state enough how much this has helped them. And it is found especially helpful for seniors with Alzheimer's and dementia. Having this as a grand prize would be so special for the seniors.
(If you want to mix it up with the cat version for lovers of cats, you can check out the Interactive Cat Stuffed Toy)
2. Fur Fleece Blanket.
Fleece blankets are very plush and warm and help very much in winter. The nursing home may not have fancy warm ones and that is what will make these luxury warm ones made of fur delightful to win.
Pros.
The size is big.

It is warm and cozy.

It is made from quality fur and very soft.

It can be machine washed (recommended at the cold wash setting).

It is perfect for both the couch and the bed.
Cons.
Some customers have complained that it is not very durable.

Some customers found it too heavy and hot.

One customer said it shed.
The positive reviews on this blanket are many compared to the very few negative reviews it has reviewed. Overall we think it's a great blanket to give as a bingo gift for a senior citizen. The size has been said to be big, so it may be best to order a size smaller. Also, be sure to find out the bed sizes at the home in question so that you order the right size.
3. Cucumber Melon Spa Gift Basket.
This spa set is another perfect luxury gift item to give away as a bingo gift. Nursing and retirement homes hardly have luxury bath items and this would make any senior very happy. This particular scent is both fruity and not too strong and should be suitable for both males and females. It comes with a back scrubber, mitts, and slippers. Talk about the perfect spa treatment in a basket.
We will recommend this as a gift because of the other cool goodies it comes packed with and the considerable number of positive reviews it has. The good thing about this product is that it has a money-back guarantee. It is therefore advisable that immediately after giving it as a gift, find out from the recipient if they like the fragrance or would prefer another one and exchange it for their preferred fragrance.
4. 5-Piece Comfort Combo Set.
This lovely combo set comes with a warm plush blanket with encouraging words on it, neck pillow, eye mask, and socks all packed in a nice tote bag gift package. It's a less heavy but luxury alternative to the fleece blanket mentioned earlier.
Pros.
The blanket is warm, soft, and cozy.

It comes in a nice packaging.

It comes with a neck pillow.

The blanket has encouraging messages on it.

It is easy to wash and take care of.
Cons.
Some customers said the packaging smelt of plastic and affected the smell of the contents.

One customer complained that they did not get all the items listed.
The great majority of positive reviews of this product convinces us that it is a good gift to have in your bingo gift items. The neck pillow is a big plus.
5. Pill Dispenser with Timer.
Taking medication and taking them on time is very important for seniors and this gift would ensure just that. It is a 28-day medication organizer that comes with compartments for medication to be taken at each hour of the day. It comes with alarm reminders and uses only batteries.
Pros.
It comes with alarm reminders that work on time.

It comes with a 28-day carousel/slots.

It dispensers drugs automatically.

It does not need electricity to work.

It comes with a 1-year warranty.
Cons.
It is pricey but worth the purchase.

It can be easily accessed/opened.

The compartment sizes are small.
Despite the above cons, all customers at the time of writing said that this is the best pill dispenser with a timer in the market. All also agree that it is a great companion for senior citizens and their caregivers, and especially if the senior citizen has difficulty remembering to take their meds. You can be sure that it would be appreciated as a bingo gift.
6. Echo Show Tablet.
This is a cool tech gift for a senior. It would help them have all their favorite memories in one place. It would also allow them to be able to make facetime calls with their loved ones, have their favorite music in one place, and also read their favorite books, all in one nifty device. It comes with the Google Assistant, Alexia which means they can always have answers to any questions they may have.
Pros.
It is easy to set up and use.

The sound is amazing for music.

The Alexia assistant also works very well.

It allows for video calling.

The screen size is 10-inches.

It comes with recipe suggestions.
Cons.
Most customers have complained about Alexa's functionality.

The time font is small.

It is not easy to customize.
The Echo Show may not be for the tech-savvy as most of the reviews found it annoying for tech-savvy people. And this is what makes it a good gift for the senior citizen because it is good for doing the minimum they need to do on a tech gadget, which is to read, listen to music, interact with loved ones and have access to recipes.
7. Foldable Walking Cane.
This adjustable walking cane is foldable and easy to carry. It also comes with bonus accessories like LED light that lights up the path when walking and a free cane for the car.
Pros.
It is sturdy.

It comes with LED light.

The handle is comfortable.

It is foldable and easy to carry.

It comes with a free cane for the car.
Cons.
It cannot support a heavy person.

Some customers complained that it does not stand on its own when kept down.

Some customers have also complained that it is not very durable.
The LED light that this cane comes with means that walking in the dark should not be a challenge anymore for the senior who needs the support of the cane. It is however a pity that it cannot support someone who is heavily built.
8. Tea Kettle Set.
Senior citizens like to enjoy a nice cup of tea and they like to have tea parties with their friends. This would be a lovely luxury addition to their items at the home. This classy set comes with 4 double wall glass teacups, a tea infuser, and 12 flowering teas.
The only downside with this very classy and elegant gift is the fact that it is very fragile because it is made out of glass. You will need to get the assistance of the home staff in helping the seniors use it in a way that won't fall, break, and harm them. But overall it is a dainty and luxury gift to give a senior to admire and enjoy.
9. Armrest Pocket Organiser.
This is great for keeping all their items organized when they settle on the couch.
This armrest organizer means that your senior can enjoy their time on the couch without worrying about having too much on their hands or losing anything.
10. Crossbody Cell Phone Purse.
This very fashionable looking purse is just the right size for your hip female senior citizen. It would glam up whatever outfit she wears and yet very functional.
The positive reviews on this item at the time of writing leaves one in no doubt that it is a very good purchase to make and gift to give. The small size is perfect because it was never built to take heavy items.
11. 16GB Simple Music MP3 Player.
This is a great set for putting on all the favorite music for your senior citizens. The 16GB memory means that it can take a lot of music. The aesthetics and size also make it perfect for a senior.
The size may be a challenge if the senior has arthritis and therefore has difficulty holding big and slightly weighty objects. The lack of a shuffle function may also mean more time getting to specific music otherwise the aesthetics make it a good gift.
12. Weather Flashlight Radio.
This top of the range gadget comes with an emergency weather flashlight for any emergencies that may arise. It also doubles up as a radio and it can charge phones too.
This is the perfect radio gift to give because of the extra features it comes with, especially the emergency lights.
13. Wireless Key Locator.
With this key locator, misplacing and finding it difficult to find keys will be a thing of the past for a senior citizen. This is an especially important gift for a senior who is prone to losing keys and other small things. Simply pin the 4 receivers onto the items that he/she easily misplaces and then give them the main transmitter to use for locating them when it is misplaced.
Almost all customers have found this a very helpful gadget to have especially if one is prone to misplacing keys and wallets and other small things. It would be a great bingo gift for a senior.
14. Walker Bag for Seniors.
This is perfect for a senior citizen who makes use of a walker. It comes with the necessary compartments for carrying all that he/she would need to carry on his/her person while going for a walk.
This is a quality carrier with the sole purpose of making life easy for persons who use walkers.
Runner-up Bingo Prizes.
These make for great prizes for the winners who are close seconds to the grand prize winners.
15. Electric Jar Opener.
This is perfect for seniors who have arthritis and may therefore struggle with opening jars. They don't have to do much except click on the button and it does the magic of opening the jar.
Opening a jar does not have to be a nightmare anymore for senior citizens. This gadget makes their life so much easier. The very many positive reviews on it say that it is a good product to buy.
16. Bottle, Can and Tin Opener.
This opener does not have the restriction that the electric jar opener has, and can open both plastics, cans, tins, and metals. The only limitation it has is that it does not have all sizes especially fairly big-mouthed containers.
This is the perfect opener for cans and other containers with smaller covers than jars.
17. Seniors Resistance Exercise Kit.
Senior citizens must stay active as much as possible. This simple exercise kit designed specifically for seniors comes with a resistance band and a booklet with simple exercise routines for them to engage in. It's a fun way to keep them engaged and fit at their nursing home.
Aside from this con, every customer who purchased this for their elderly loved one at the time of writing, said it is the best exercise gift to give them as it comes with simple exercise routines and is very safe and easy to use.
18. Large Screen Display Digital Clock.
One challenge a lot of seniors face is failing eyesight. This gift helps them with this challenge especially with regards to keeping time.
This gift is perfect for every senior citizen.
19. Magnifying Reading Glass for Seniors.
This would help with making reading a lot easier for a senior. It comes with an LED light to aid when the lighting is poor.
Seniors with arthritis have said that this is not very user-friendly if the senior has arthritis and that makes it a risky purchase.
20. Women's House Slipper.
Warm slippers to move around comfortably in a nursing home is one essential accessory for every senior to have and these particular ones do not disappoint. They are soft and cozy.
These slippers are lightweight and good for moving around the house without worrying about wearing heavier slippers.
21. 3-Piece Fingernail and Toenail Clipper Set for Seniors
This firm grip fingernail and toenail clippers are what every senior needs to handle their own grooming needs by themselves.
The difficulty in using this product is what makes it not so ideal for seniors especially those with arthritis. But it would be good for a nursing home to have so that the caregivers can use it.
Participation prizes Bingo Prizes.
These are gifts to encourage every senior for participating in a successful bingo game night.
22. Funny Senior Texting Code T-Shirt.
This is a funny t-shirt with a funny message that every senior would have a good laugh at.
A funny and nice t-shirt to give all the bingo night participants.
(Here is another cool t-shirt to also consider)
23. Funny Senior Texting Code Mug.
This is another cool funny gift for a senior because of the funny message on it.
This mug is a great conversation starter and would make taking hot beverages a very enjoyable activity to look forward to by the seniors.
24. Waterproof Adult Bib.
This bib would help them with enjoying their food without worrying too much about making a mess. It is also extra-long meaning that it can cover more areas on the upper body.
This makes mealtime all the more enjoyable.
25. Jumbo Word Puzzle Set for Seniors.
This gift would keep their minds engaged and active.
Activity books are fun and stimulating and these are a hit for seniors because of the big fonts they are printed in.
ORGANISING THE BINGO GAME NIGHT/EVENT – TIPS FOR MAKING IT ENGAGING, MEMORABLE, AND SUCCESSFUL.
Getting your senior citizens excited about the prizes you will give them starts with building up to the prize-giving moment by organizing a memorable bingo game. Remember that these senior citizens most likely have not so exciting days at the retirement/nursing home. This bingo game night is therefore perhaps one of the few times they get to do something exciting. And that is why it is all the more important to make every minute of it count and make it one of the most unforgettable nights of the year for them.
Here are a few tips for making it engaging, memorable, and successful.
1. Psyche them up about it in advance.
Get them excited in advance. This would make them look forward all the more to it. You can print nice big colorful flyers with something along the lines of "A Memorable and Unforgettable Bingo Night Not To Be Missed" or something along those lines. Remember to make the poster in big and bold prints because of the seniors with challenges with their eyesight. Make it colorful to get their attention. Then ask the permission of the nursing home/retirement home staff in distributing these in advance.
2. Make the Bingo Night and Game a themed one.
This is another important factor in making it exciting. Chances are they play their bingo games sometimes and are probably tired of the usual monotonous type of bingo game. Make it more exciting and spice things up with a themed bingo game. You can go with themes around the year they were teens, the happening music of their time, celebrities of their time, the popular culture of their time, a casino theme, or even a human bingo game to get them to interact more.
3. Get them to dress up.
This is also another fun way to get them excited about the bingo night. In your poster, indicate that it would be a themed bingo night and give out what the theme would be. Then tell them to dress up according to the theme. If the theme is a 60's theme, for instance, you can get them to dress up in 60's attire. If it is a jazz music theme for example, then the same thing. Or whatever other themes you choose but you get the idea.
4. Consider helping them dress up for the occasion.
This could be fun and part of the excitement. Chances are the senior citizens may not have many ideas about how to dress up for the theme you choose. You can add a makeup and dress-up component to the bingo night.
For this, you can consider teaming up with a charity that gives out clothes for charity to help dress them and also teaming up with a youth group or organization who would not mind volunteering some time to help dress up the senior citizens to glam them up for the night. The senior citizens would be so excited and thrilled at the prospect of being dolled up and all for the night.
5. Make it a fund-raiser.
You can even take it a notch higher by turning it into a small charity fund-raiser. Ask the home what arrangements you need to put in place. Then sell charity tickets to small organizations and individuals in your community who would not mind supporting the event. People may perhaps be reluctant to give money or buy tickets so you can instead have them buy the gifts you have identified as a way to give to the charity. This is because the prizes you will be giving will not just be any ordinary prizes and we will show you this in the next section.
6. Decorate the venue a little.
Don't make it the usual table and seniors gather around. You can glam it up a little with things like balloons and other party decorations. The decorations will create a fanfare that would get the seniors thrilled and excited.
7. Have other activities, good music, and good refreshment.
This is also very important. Look for music that resonates well with the age group in the home where you are organizing the bingo night and have your playlist for the night lined up with music they can relate with. Build up to the actual bingo game itself with small side activities and icebreakers before the final grand finale of the bingo game. And good healthy food or snacks and beverages should also be present.
Remember that senior citizens need love, care and attention. And even these themes need to come out in your bingo game night. When you go this extra mile to put all the above effort in the bingo game night you are organizing for them, you show them that more than just trying to have a bingo night, you care for them and want them to have a wonderful time. We can assure you that if you do all the above, you will be the most loved bingo night organizer for senior citizens.
(There are specialized Bingo game sets for senior citizens and persons with Alzheimer's such as this Animal Audio Bingo for Seniors with Alzehmiers on Amazon. You may want to consider it if your seniors have Alzehmiers. 
If you don't have a Bingo Set for the Bingo Night and would want a good one, consider this Bingo Set from Amazon which is big and would make for a fitting bingo set to use for the night you've planned following the tips we've given above)
OTHER WAYS TO HELP SENIOR CITIZENS THAT THEY WOULD APPRECIATE.
Having the bingo night you are planning on having with the seniors is great, noble, and admirable. In case you are still looking for other ways to help the senior citizens around you that may not be as demanding and costly as having a bingo game night, consider doing any or all of the following:
1. Cleaning out their house if they stay at home and not in a home.
2. Mowing their lawn or taking care of their garden if they stay at home and not in a home.
3. Pet Sitting or walking their dogs.
You can check out our article on Fun things to do with your dog outside for fun ways to make the walk with the dog exciting.
4. Spending time with them.
You can spend time with them by doing any of the following: 
Taking them out to a restaurant, 

Taking them out to the movies, 

To see a concert or musical; 

For a manicure, pedicure or spa treatment. 
If the senior is however bedridden and unable to go out, there are other fun ways of spending time with them and our article on Fun Things To Do When Bedridden has just the right list of fun activities for you to do with them.
5. Throwing a seniors social gathering every once in a while.
The bingo night is one such social gathering. You can also have a game day/night with them where the focus is on all types of card and board games that can stimulate their mind. Keeping their mind actively engaged is very important for senior citizens.
6. Taking them for their medical appointments.
You can find out from them how often they have to see the doctor for their appointment if they need to go for medical check-ups. Or if they have to take their medication at home, you can buy them the pill timer in this article to help them take their medication when they need to take it without missing it. And also occasionally check up on them to see that they are keeping up with their pills.
7. Helping them with their laundry.
If you are unable to do so yourself, you can help them take it to the dry cleaners and help them pay for it if you're able to.
8. Helping them with grocery shopping.
Making the trip to the grocery store can be quite daunting for seniors because with age comes mobility challenges. You can help them with this challenge by offering to do the grocery shopping for them, or find a grocery delivery service that would deliver the grocery to their doorstep.
9. Volunteer at their nursing home.
Nursing homes are usually understaffed or have just enough to get by. They could always do with an extra pair of helping hands. Consider volunteering maybe two or more hours of your time once or twice a week at a nursing home. The senior citizens and the nursing home would appreciate it greatly.
10. Helping decorate their house during festive seasons.
During Christmas and Easter or any other festive occasion, you can help decorate their home or a nursing home.
When you help the senior citizen around you in any of the above ways, you still show them love, care and attention. They would be sure to appreciate any of these gestures because more than gifts they want time, love, care and attention.
FREQUENTLY ASKED QUESTIONS.
What are some bingo prize ideas you know of?
This article is not your typical bingo prize idea article because it deals specifically with senior citizens. If the bingo prize ideas you are in search of are bingo prizes for senior citizens, then the gifts in this article are perfect bingo gifts for seniors.
What are some Christmas gift ideas for senior citizens you can suggest?
All the bingo prizes for seniors listed in this article would also be great Christmas bingo prizes for a Christmas bingo game or just a Christmas gift for a senior citizen.
How about bingo prizes for adults and bingo prizes for college students?
This article is not your usual bingo prize article and does not, therefore, cover bingo prize ideas for adults and college students. You can however check out our article on College graduation gifts from parents for good bingo prize ideas for college students.
CONCLUSION.
Bingo gift ideas for seniors for the bingo game night you are planning should not be too difficult and this article gives you all the answer. The key is to organize an unforgettable bingo game night and then give unforgettable and memorable bingo prizes for seniors. And in this article, all the answers for both have been provided.
And remember, even if you are unable to organize a bingo game night and give bingo prizes for seniors, there are other ways you can still spend time with the senior citizens around you to show them you love and care for them. By helping them out through any of the activities listed, they will still appreciate it because more than gifts they value spending time with them and helping them.
ESTIMATED TIME DESIGNING AND UPLOADING THIS ARTICLE
ESTIMATED TIME RESEARCHING AND WRITING THIS ARTICLE
Try our AMAZING GIFT FINDER TOOL! Find GIFTS with 1 CLICK!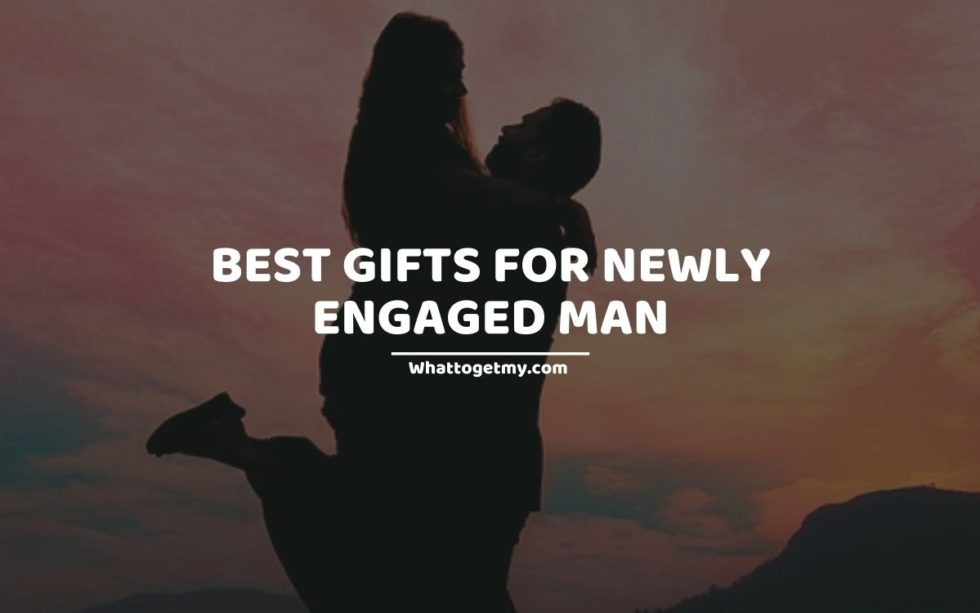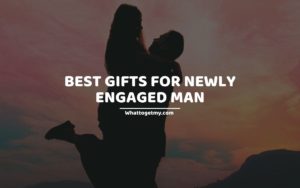 11 Gifts for Newly Engaged Man
Shopping for a gift for the newly-engaged couple can be hard especially when you are shopping for the groom to be because men are hard to shop for in general. Although an engagement gift is not required, it is a nice gesture and a great
Read More »