He is turning a year old! How time flies. It's such a joy to see him grow, isn't it? His birthday is upcoming and you want to make him happy. If you are looking for what to get him for his first birthday, we can help. We know how important first birthdays are, this is why we've prepared 15 gift ideas for first birthdays.
To pick out a good gift, it is important to remember that;
He weighs more now

He is attracted to bright colours 

He has very active motor skills 

He is filled with curiosity

He picks up anything he can find from the floor and puts it in his mouth.
Remembering these points will help you;
Choose appropriate sizes 

Choose attractive colours

Identify fun toys and comfortable outfits

Consider his tender teeth and gum before picking any item. You don't want to pick items that have sharp or rough edges
Now we've gone through these important tips, let's dive into the cool gift ideas we've carefully selected for his first birthday.
As an Amazon Associate we earn from qualifying purchases. We may earn a small commission for our endorsement, recommendation, testimonial and/or link to any products or services from this website. Thank you, your qualifying purchases help support our work in bringing you real daily gift ideas.
Quick Overview: First Birthday Gift Ideas For Nephew
Source Link: https://whattogetmy.com/first-birthday-gift-ideas-for-nephew/
COOL GIFTS FOR BABY NEPHEW
1. Baby Bath Toy
Make bath time more fun for him. We know how difficult bathtime can be sometimes but that should no longer be a problem with Disney baby bath toys. Imagine how happy and comfortable he will feel when his favorite cartoon characters bath along with him. This Disney Baby bath toy set comes with three cartoon characters that are soft, colorful and squeezable.
Pros.
Fun to play with 

Colorful which makes it attractive to kids

Good distraction for kids while bathing
Cons.
With time, moisture develops in

to mould

. This can be avoided by washing these toys regularly or completely close any hole in them before use.

Few customers consider the toy smaller than they expected.
Most customers that have purchased this toy consider it user friendly. They also love the size of the toy. This Disney Baby bath toy set rates high for features like durable, easy to hold and giftable.
2. Fisher-Price 3-in-1 Smart Car
A fully packed play-time toy to get your nephew is this Fisher-Price 3-in-1 smart car. He can drag this car as a walker, sit and bounce on it while still static and pretend to steer the wheel in whatever direction he pleases. This car comes with a horn, turn-on key, press buttons and an interactive dashboard that have light, song and sounds. We think that this is a great gift for your nephew's first birthday.
This smart car has a lot of positive reviews. Customers rate it high on sturdiness, easy to assemble, giftable and value for more.
3. Sommer Toy Cell Phone
Have you seen how cute babies look when they try to mimic a phone conversation? They see adults make and receive calls and wish it were them. Happy moments! We recommend that you give your nephew a Sommer toy cell phone, he will love it. This phone has cute colorful buttons for different sounds. It is also soft and drool-proof. Now he can join the conversation by picking up his phone, ha ha ha.
Customers that have purchased this toy are happy with it. They love the thickness and fun sounds that comes with pressing each button. Lastly, customers love the adjustable volume of this toy phone which makes it good for indoor and outdoor settings.
4. Tikes Rocking Horse
Another cool indoor and outdoor toy to get your nephew as a birthday present is a rocking horse and we recommend Tikes Rocking horse. This toy is well designed to give him a good grip while riding. The design will also prevent him from falling off the ride.
Pros.
Durable

Lightweight

User friendly

Perfect height that allows him to get on and off by himself

Easy to hold 

Easy to clean
Cons.
A few customers complained about the joining of the rocking horse having excess plastic which gave the horse sharp edges and made it unsafe for their child. It is important to check the rocking horse for sharp edges before they play with it
Most customers consider this product fun and safe to play with. This product is also loved for its durability.
5. Toppy Toddler Large Bibs
At his age, he is probably learning to eat on his own. He will try to pick one or two things from his plate even if mummy or daddy feeds him and this is often messy. We think that adding Toppy Toddler large baby bibs to the list of birthday gifts will be a good idea. This waterproof polyester bib is long and has good body coverage, comes with a snap button and is easy to clean.
This product has a lot of positive reviews. Customers that bought this bib are happy with the quality and how easy it is to clean.
6. Rodger Priddy's First 100 Board Book Set
Kids love pictures and learn better with them. Introduce your little guy to new words by getting him Rodger Priddy's first 100 board book set. This board book is filled with names of animals and things and colorful pictures of them. This will help with his cognitive development. We think that this will be good for your nephew's first birthday. Check out gifts for children who love animals
Pros.
The hard board design gives the book a longer

life span. 

It is affordable

Mentally stimulating

Attractive pictures

Safe for kids to nibble on
Cons.
A few customers felt that some items listed in the book may not do justice to children of this century. For example, a customer felt that instead of using an old model phone which children of today may not know how to operate, they could instead use pictures of cellphones. However, they loved this book collection.
Customers found this book helpful in the speech development of their kids.
7. Daniel Tiger Cutlery Set
This beautiful cutlery set comprises of a bowl, cup, plate, spoon and fork. Each item is designed to fit each meal. He will love enjoying eating his meal in matching cutlery. It will be a great idea to add Daniel Tiger cutlery set to his collection of cutlery. Who knows, it might turn out to be his favorite.
Pros.
Beautifully designed. 

The colorful cartoon characters on the plate gives it a happy vibe.

It is easy to wash

The fork and spoon are safe to use for tender teeths and gums

Durable
Cons.
Few customers felt that forks were too blunt. This could be a pro or con for some customers especially when trying to consider safety.
What customers love most about this product is its durability, bright colors, fun drawings their children love and how easy it is to wash.
8. Mega Building Blocks
We understand that the little adventurer is always active. He is up and about looking for something to do or chew on. We recommend that you get him a Mega building block to keep him occupied. This creative toy will keep him busy trying to build the perfect house for mom and dad. What's more fun is that everyone he loves can build with him too.
Reviewers love how easy it is to hold the blocks and how fun their children consider the toy to be. They rated this toy high for features such as durable, easy to hold, easy to clean, age-appropriate and giftable. Mega building block bag is also a preferred birthday gift to give to kids by grandparents and godparents.
9. Infunbebe Rock N Roll Guitar
If you want to see him dance to catchy melodies and tunes, Infunbebe Rock N Roll Guitar will make that happen. This guitar has colorful buttons that light up the body of the guitar when songs are played. We think that you can add this guitar to your list of 'what to get my nephew for his first birthday'.
Pros.
Fun music

It has colorful buttons and lights which makes it attractive to children

It is user friendly
Cons.
In the product description, it states that the child can manipulate the buttons to equally create his own music. However, few customers that purchased the products noted that children were unable to do that.
Infunbebe Rock N Roll Guitar has a lot of positive reviews. Customers that bought this toy noted that their children loved it and this made them satisfied with their purchase.
10. SOMALER Toddler Winter Hats
Perhaps it's winter and you are looking for adorable outfits to get him, SOMALER winter hat is a good winter outfit you can add to your list. This double-layered hat of cotton and wool will keep him warm and cozy.
Customers that purchased this hat love how cute it looks on their children. They love that it equally keeps warm.
11. T-Rex Dino Toddler Hoodie
Another cute outfit to get is this Dino hoodie. The cotton fabric used in making this outfit gives it a little stretch and makes it comfortable to wear. The red spikes on the shirt makes it cute and fashionable for little boys. Lastly, the cap extension on the hoodie will be a good sun shade for the boy.
Customers mostly had positive things to say about this shirt. They love the detachable sleeves, fabric texture and design of the hoodie. A few customers also felt that it was a bit too pricey.
12. Stuffed Puppy Dog by X & O Baby
A good traditional first birthday gift to get him is this stuffed puppy dog. We know how babies love soft cuddly things. This Peek A Boo puppy will be a good company for him. A  touch to the puppy's paw will cause it to sing to his delight.
Customers that purchased had only positive things to say about this stuffed puppy dog. They loved how cute, soft and cuddly it was for their child and grandchildren.
13. Tombik Toddler Beach Shoes
This easy to wear Tombik toddler sandals is a good shoe for babies. The colorful designs on it makes it suitable for many occasions. It is good to wear in wet and dry places.
Pros.
It is cute on baby's feet

It has a soft upper lining  

It has thick soles that are made from quality materials to make the sandals durable.

It is easy to wear

Comfortable to wear
Cons.
A few customers had issues of size. They noted that the size of the sandals were a bit bigger than standard sizes.

It was also noted that the back strap gets loose with continuous use and this makes the sandal slips off easily for babies.
Most customers that purchased this shoe only had positive reviews for it. They loved how gorgeous it looked on their children's feet. Also the extra coating in the sandals to ensure that they are comfortable for their children.
14. Simple Joy by Carters Pajamas
This cute ankle to chin zipper pajamas is made from polyester. It is loosely fitted to allow a child feel comfortable and move freely. This set of pajamas will look good on your nephew don't you think? He will love the beautiful designs on them too.
Customers love the quality of these pajamas. Female customers that purchased this nightwear considered it soft, warm, cute and durable.
15. Tiny Captain Sock Set
A set of Tiny Captain Socks will be a good addition to your nephews outfits. This sock has been designed to help toddler have a good grip while walking or playing. The beautiful animal designs on each socks makes it fashionable.
Customers rate Tiny Captain Sock set high on comfort, value for money and giftability.
FREQUENTLY ASKED QUESTIONS
What can I get a boy for his first birthday?
At this stage of his life, he will be very adventurous. We recommend that you get him toys that are engaging, attractive (because children his age are attracted to bright colors) and filled with lots of catchy sounds or songs. You can also get them personal items with a lot of bright colored characters.
What gifts can grandparents get for a baby's first birthday?
All first birthday gift ideas for boys listed in this article are great gifts for a baby's first birthday from grandparents. Items such as Tikes Rocking horse, SOMALER toddler winter hat, Mega building block bag, Disney Toddler baseball cap and Fisher-Price 3-in-1 smart car were mostly given to grandchildren by reviewers.
What traditional first birthday gift can I give a child?
Toys such as Tikes Rocking horse, stuffed puppy dog by X & O Baby and Fisher-Price 3-in-1 smart car are common traditional first birthday gifts gotten by customers
CONCLUSION
Make their day special by getting them fun items to keep them busy and learning too. However, it is important to make safety and comfort a priority while picking out any gift. This is why we have carefully selected these items and have recommended them to you to make his big day special. For more gift ideas, check out our article on Inexpensive cool gifts for nieces and nephews.
Try our AMAZING GIFT FINDER TOOL! Find GIFTS with 1 CLICK!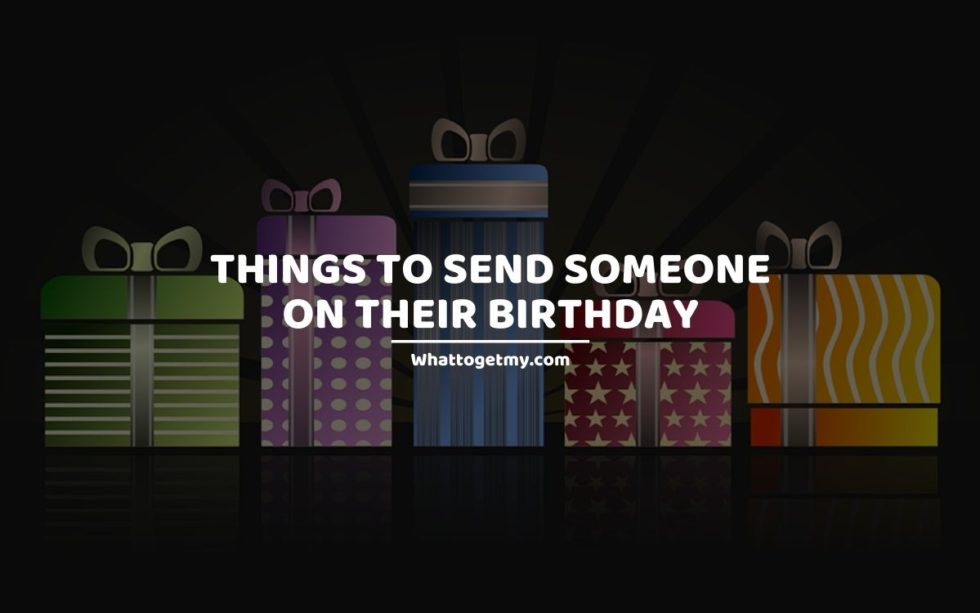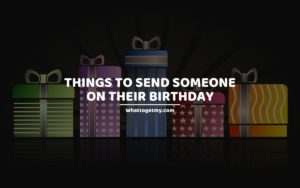 27 Things To Send Someone On Their Birthday
Find the right things to send someone on their birthday in our gift list, as well as some birthday surprise ideas for your friends. In this list, you will also find birthday gift ideas for hand delivery and delivery by mail and great long distance
Read More »