The big day is finally coming – your dad is retiring! After so many years of hard work, your dad gets to enjoy some free time. A new era in his life is about to begin, and you want to give him something special to celebrate. That's a great idea! Parents love getting gifts from their children, and retirement ones are of a special kind. They get to show all the love and affection towards the most favorite person in the world. Then, what should you buy for your dad? Through the years, you gave him so many gifts that you probably lost count. You perhaps even run out of ideas by now. Besides, you must give him something unique – not everyday someone retires from years of work, right? Of course, there are so many general gifts you can find on the market, but you want something different, something related to the future free time he'll have.
We listed some of the things you might find useful when searching for retirement gifts for dad from daughter: 
Think about his hobbies, his habits, personal needs, and wishes. You want to give him something useful and enjoyable for the new period in his life.

If your dad is an adventurer yet he never had a chance to travel, you should give him something travel-related. 

Consider getting him stuff for potential hobbies as well. With a lot of free time, he'll probably enjoy different things that he never had the chance to try before.  

Lastly, think about his personal needs and wishes. Getting a perfect gift is all about fulfilling the needs of the person who is receiving it. Your dad must have a secret wishlist you can follow to bring him joy in life!
With all these things in mind, you're ready to pick a perfect gift for your dad's retirement. Here are some of the things that we think will be ideal for every dad out there:
As an Amazon Associate we earn from qualifying purchases. We may earn a small commission for our endorsement, recommendation, testimonial and/or link to any products or services from this website. Thank you, your qualifying purchases help support our work in bringing you real daily gift ideas.
Quick Overview: Retirement Gifts for Dad from Daughter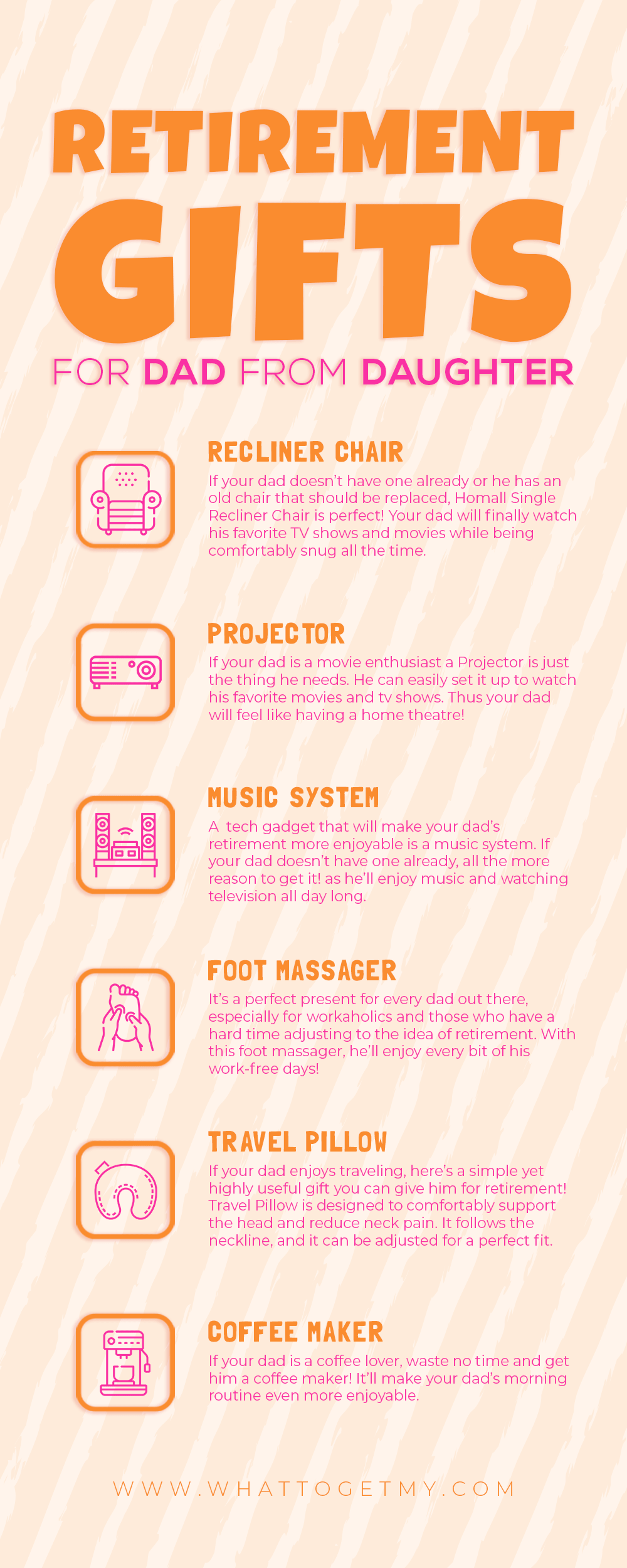 Source Link: https://whattogetmy.com/retirement-gifts-for-dad-from-daughter/
Homall Single Recliner Chair
So, are you thinking about giving a cozy piece of furniture to your dad? Great idea! We recommend a recliner chair. If your dad doesn't have one already or he has an old chair that should be replaced, Homall Single Recliner Chair is perfect! Your dad will finally watch his favorite TV shows and movies while being comfortably snug all the time.
The chair is made of high-quality leather and feels nice on the skin. The push-back recline design makes it super cozy. You get to adjust the positions easily and according to your needs. The chair also has wide armrests with a curved shape and padded footrest for more comfort. All in all, it's an amazing chair, and your dad is going to love it!
Every single buyer that tried this chair is thrilled with it! It's comfortable, easy to adjust, and makes the lives of sedentary people a lot more comfortable. We recommend it as a gift for every occasion!
VANKYO LEISURE 3 Mini Projector
If your dad is a movie enthusiast, Vankyo Leisure 3 Mini Projektor is just the thing he needs. He can easily set it up to watch his favorite movies and tv shows. The projector is lightweight, compact, and portable. It can be placed anywhere and anytime. With a mini projector, your dad will feel like having a home theatre! The image it produces is clear and in high-resolution. It's projected on a big screen once connected to the TV, phone, or other electrical devices. The projector also comes in a convenient storage bag and a tripod.
The projector is a perfect gift for the movie enthusiast. Most people find it irreplaceable. How wouldn't they? The device is portable, easy to set up, and plays favorite movies on the big screen. It's just perfect!
Bose Wave SoundTouch Music System IV
Another tech gadget that will make your dad's retirement more enjoyable is a music system. If your dad doesn't have one already, all the more reason to get it! With Bose System, he'll enjoy music and watching television all day long. For more luxury gifts like this, you can check out our article Luxury Gifts for Men Who Have Everything. 
You can use this system to play online music, internet radio, CDs, and AM/FM radio. With it, you can listen to everything you want, from your music list on your CDs to Spotify! The speaker provides clear sound and deep bass. It features user-friendly design for easy operating and works with Alexa voice control. Also, we like that it comes with Bluetooth features, so it plays music from phones, tablets, and Ipads too.
Bose Music System is one of the most popular on the market. People love its design, and the quality sound it produces. For home purposes, you won't find a better music system.
Miko Foot Massager
This one is our favorite! Who doesn't love having a massager at home? It's a perfect present for every dad out there, especially for workaholics and those who have a hard time adjusting to the idea of retirement. With this foot massager, he'll enjoy every bit of his work-free days!
Miko Foot Massager relieves pain and stress with deep shiatsu and heat massage. It eases discomfort from different medical conditions and general daily tension. Your dad can enjoy its features while reading, watching TV, or relaxing. The massager is easy to use and fully adjusts for ultimate comfort. It also features removable covers that are easy to clean.
Those who struggle with back and leg pain are super excited over this device. It relieves pain and makes hard days more bearable. If you want to give your loved ones comfort as a gift, Miko Foot Massager is what you need!
MLVOC Travel Pillow
If your dad enjoys traveling, here's a simple yet highly useful gift you can give him for retirement! MLVOC Travel Pillow is designed to comfortably support the head and reduce neck pain. The material is soft, breathable, and very comfortable. It follows the neckline, and it can be adjusted for a perfect fit.
All in all, we think this pillow is perfect for every traveler, and your dad is going to love it! For more ideas, follow our article Unique Gifts for Someone Who Likes to Travel.
Those who travel a lot love this pillow. It's a budget-friendly option so everyone can get it. Although it lacks some support for chin, if you're traveling by car or via plane, you won't feel any less comfortable. Also, people love that it follows the body lines for a perfect fit.
Vetelli Leather Toiletry Bag For Men
When considering retirement gift ideas for parents, you should focus on the things they might need daily. Giving them essentials is always a smart decision. For example, you can get your dad a classy Vetelli Leather Toiletry Bag.
The leather bag is elegant and perfect for every style. It's made of high-quality leather and features nylon inner lining. Thanks to these materials, the bag is sturdy and durable. It's waterproof as well. 
The bag has 2 big compartments, inner zippered pockets, and mesh pouches. It's quite spacious, so your dad can put all his stuff inside. You'll also like the fact that it comes with a lifetime warranty!
Vetelli Leather Bag is one of the most popular and best-rated bags on the market. It's incredibly stylish and features high-quality materials for more durability. People find it's a perfect gift for every man out there!
Veken French Press Coffee Maker
If your dad is a coffee lover, waste no time and get him a coffee maker! Veken offers a handy and stylish device for coffee making. It'll make your dad's morning routine even more enjoyable. Thanks to the borosilicate glass used for the construction, he can monitor the entire procedure of coffee making. The glass also prevents noise during the process. How cool is that? Your dad can finally enjoy his first-morning coffee in total silence. He also gets to enjoy pure coffee without residual grounds. It's also important to mention that the maker is shatter-resistant and durable. It can withstand accidental drops from a big height. The package includes a 2-year warranty as well.
A coffee maker is an excellent idea for those who are not sure what gift to buy for a dad that already has everything. Veken offers just the coffee maker that everyone wants. It's made of quality materials, durable, easy to use, and safe. For more ideas of this kind, you can check out What To Get a Man Who Wants Nothing.
Scuddles Garden Tools Set
Is your dad into gardening? Does he enjoy spending Sundays in his backyard, surrounded by his beautiful plants? Look no further, we have a perfect gift for him! Scuddles Garden Tools Set might be the thing your dad always wanted to have.
The Scuddles set includes all kinds of tools and a pair of work gloves. All the stuff comes in a stylish and handy tote bag. The tools are made of stainless steel. They are sturdy, durable, and easy to use. The gloves are useful as well and quite comfortable. They'll protect the hands while gardening. All in all, your dad will enjoy having this set, and it won't break the bank!
This is one of the most popular garden sets on the market. Truth to be told, we weren't surprised! Scuddles set includes all the necessary tools for gardening, and they are all made of high-quality materials. The set is sturdy, durable, and looks classy. Every home could use it in its equipment!
If your dad is having difficulties to adjust to the idea of getting retired and doesn't have any hobbies for the time, here's a useful guide for you: Gifts for Retired Dad With no Hobbies. It should help you find the perfect gift for your dad and motivate him to endure into some everyday activity.
More Ideas for Your Dad's Retirement
Now that we got through the list of the best potential retirement gifts for dad from daughter, we have a few more suggestions for you. Here are some more ideas for unique retirement gifts:
Gifts for Adventurous Dads
If your dad loves to travel, you should consider organizing a trip for him. No matter whether you can afford a three-day trip or a two-week holiday, your dad would love to spend some time on the road. Furthermore, if you go with him, even better! Every dad would enjoy spending some time with his daughter, and what's a better idea than traveling together?
Current or Future Hobbies
Don't forget to consider your dad's hobbies. If he loves books, you can get him a set of books he hasn't had a chance to read before. Getting Kindle is also an excellent idea because it allows reading everywhere. If your dad loves painting or drawing, get him something to upgrade his art supply. The list goes on and on, but you see the point. Consider his needs and wishes and then opt for a particular gift.
Personalized Gifts 
If you're looking for somewhat personalized retirement gifts, you can always make a memorable, meaningful note all over it. For example, you can get your dad a mug with a print that says Retirement Plan: Rest, Relax, Repeat. You can do this with T-shirts and other pieces of clothing as well. This is also an excellent idea for those looking for a funny retirement gift for dad.
Wrapping it Up
Lastly, regardless of your final choice of gift, don't forget to include a note, card, or any other sentimental little thing. You must tell your dad how much you love him and that he means the world to you. Think of something meaningful for your relationship, and then write it down. Don't be surprised if you even make your dad shed a tear!
Along with all these recommendations, we have one even more important advice to give. Always keep in mind that this might be a rather difficult time for your dad, even if he doesn't admit it. Research shows that most retired people have a hard time figuring out what to do with their time. They are also vulnerable to depression. Their life is changing a lot, and the best gift a child can give them is support and love. Therefore, pick a unique gift for one of the most important people in your life and be there for him! We hope our list of the best retirement gifts for dad from daughter helps you find what you're looking for.
ESTIMATED TIME DESIGNING AND UPLOADING THIS ARTICLE
ESTIMATED TIME RESEARCHING AND WRITING THIS ARTICLE
Try our AMAZING GIFT FINDER TOOL! Find GIFTS with 1 CLICK!