Valentine's Day Activities for High School Students
WhatToGetMy Instructional Article
It's not easy to organize Valentine's Day for high school students, especially considering their age. You have to be creative enough to make things interesting for them yet to teach them something through the activities. The educational part is crucial, and every teacher wants to make learning easier and more fun. When it comes to Valentine's Day, high school students can be really difficult. The reasons for this are various. First of all, some of them are terrified of the day because they worry a lot about not receiving a gift at all. Others might feel too obligated to celebrate the day. You know how high school students tend to be rebellious when it comes to widely popular things!
So, organizing activities that would be fun and educational at the same time might be quite a challenge. Still, good teachers never give up trying! They are courageous and eager to make things better for the students, and consequently, the entire educational system. We don't have a doubt you're one of them, and we wanted to participate and make a difference. That's why we tried to help you find the best Valentine's Day activities for high school students and made the following list. We hope you like our suggestions and find something that would inspire your students, be fun, and also educational!
Activities for All Classes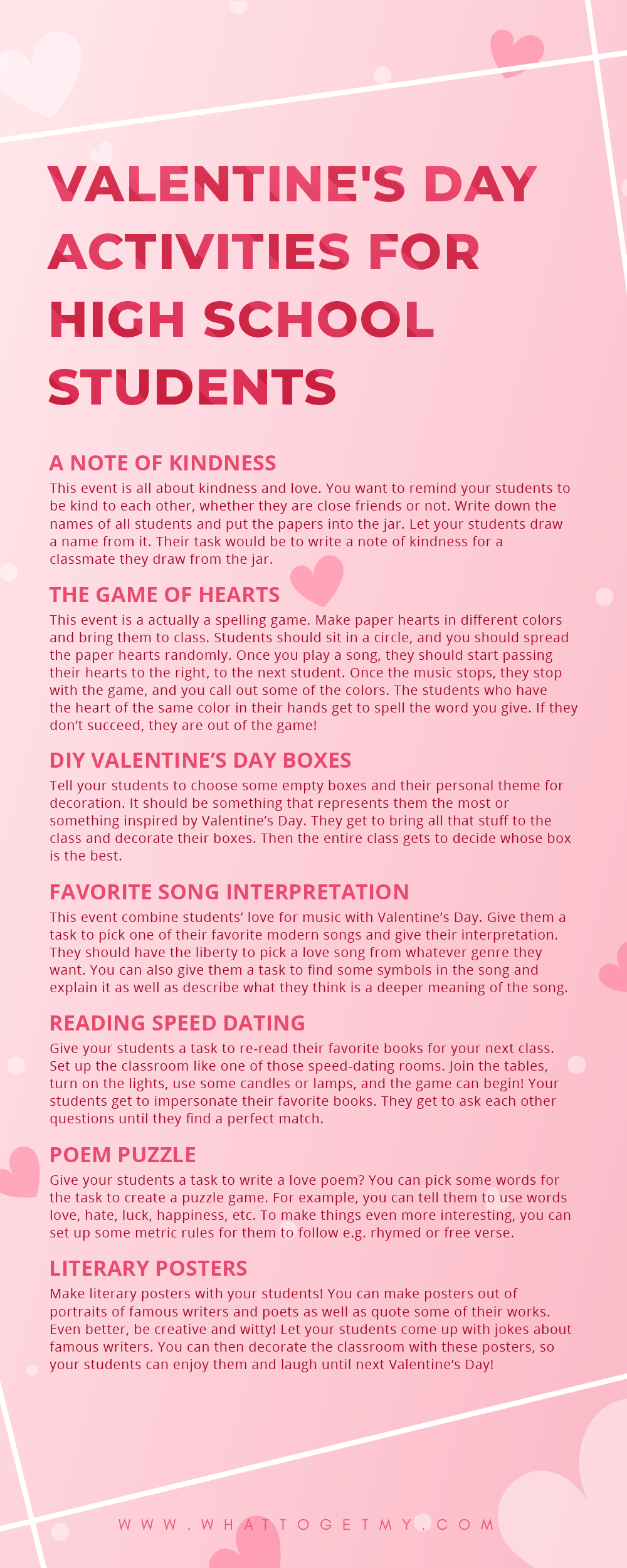 Source Link: https://whattogetmy.com/valentines-day-activities-for-high-school-students/
A Note of Kindness
No matter which class you teach, you'll find this idea ideal for Valentine's Day. This event is all about kindness and love. You want to remind your students to be kind to each other, whether they are close friends or not. You can do that by organizing a simple game. Write down the names of all students and put the papers into the jar. Let your students draw a name from it. Their task would be to write a note of kindness for a classmate they draw from the jar. They can write anything that reminds them of the person they got, from personal opinions to famous inspirational quotes. It's fun, don't you think? Later on, you can collect all the notes and put them onto the wallboard. You can even make a DIY kindness three out of the notes and leave it in the classroom for the entire year. That would always remind your students about how they should be kind to each other, and how there are people who think great things about them.
The Game of Hearts
If you're looking for Valentine's Day ideas for high school, we have another super fun activity in mind! We call it a Game of Hearts, and it's actually a spelling game. It's simple to organize and play, and it would make Valentine's Day in the classroom perfect. Make paper hearts in different colors and bring them to class. Students should sit in a circle, and you should spread the paper hearts randomly. Once you play a song, they should start passing their hearts to the right, to the next student. Once the music stops, they stop with the game, and you call out some of the colors. The students who have the heart of the same color in their hands get to spell the word you give. If they don't succeed, they are out of the game!
What do you think? We think it's a fun, creative, and educational game suitable for students of all ages. It will make Valentine's Day more special and enjoyable, that's for sure.
DIY Valentine's Day Boxes
If you lack middle school Valentine's Day ideas, we recommend sticking with good old DIY projects. What does that mean? It means you get to inspire your students to be crafty and creative. They get to make something on their own, be proud of their work, and make someone else happy with the gift!
For example, they can make their own Valentine's Day boxes. Tell your students to choose some empty boxes (of the same size, so they all participate equally) and their personal theme for decoration. It should be something that represents them the most or something inspired by Valentine's Day. They get to bring all that stuff to the class and decorate their boxes. Then the entire class gets to decide whose box is the best. The winner should get some kind of reward, such as a free-homework day.
This is also convenient because students get to save their boxes for all their Valentine's Day gifts. They can store cards, notes, little gifts, and more. It's also a great reminder of a well-spent day in class when they got to make something by themselves!
Other DIY Projects and Games
DIY projects are a great way to make Valentine's Day more interesting for students. They can make a lot of stuff to surprise their classmates and loved ones for Valentine's Day. From DIY cards, paper hearts, and boxes to little figurines, there are a lot of Cute Things to Send in the Mail to Friends. Let your students express their creativity and make their Valentine's Day perfect this year!
You can also organize many group activities that would make your students bond even more on Valentine's Day. If possible, depending on the school working policy, take your students to see a classic love movie or a concert. You can even take them all into the local cafe where you can talk about the class, play games, and drink tea together! Even if you don't live in an urban setting, there are a lot of Fun Things to Do In a Small Town With Friends, and you should show that to your students. Valentine's Day is, after all, about love and friendship!
Activities for Literature Class
Favorite Song Interpretation
Teenage Interests and Hobbies shift all the time. It's really hard to keep track of all of them. Still, there are a few constants and music is one of them! Teens are in the years when they love to experiment, especially with new genres. Adults are different. They might experiment and listen to new things, but they know where they stand most of the time.
So, what activity would allow you to combine students' love for music with Valentine's Day, while also allowing you to teach them something? You can organize an interpretation event! Give them a task to pick one of their favorite modern songs and give their interpretation. They should have the liberty to pick a love song from whatever genre they want. You can also give them a task to find some symbols in the song and explain it as well as describe what they think is a deeper meaning of the song.
Reading Speed Dating
Dating! Valentine's Day is all about love, dating, and romantics, and so are most of the high school students. With that being so, turn it to your advantage and use it in your class. How can you do that? It's simple. Give your students a task to re-read their favorite books for your next class. Set up the classroom like one of those speed-dating rooms. Join the tables, turn on the lights, use some candles or lamps, and the game can begin! Your students get to impersonate their favorite books. They get to ask each other questions until they find a perfect match. Here's a conversation example:
When and where were you born?

I was born in Italy, in 1320.

Are you a novel?

No, I'm a narrative poem!

Oh, you're my favorite! You're Dante's Inferno!
Do you see what we mean? Your students get to ask questions to find out more about their dates, and they also get to learn new stuff. It's fun, educational, and with the dating theme, perfect for Valentine's Day!
Poem Puzzle
If you're looking for Valentine's Day writing activities for high school students, we have just the perfect suggestion for you! What do you think about giving your students a task to write a love poem? You can pick some words for the task to create a puzzle game. For example, you can tell them to use words love, hate, luck, happiness, etc. To make things even more interesting, you can set up some metric rules for them to follow e.g. rhymed or free verse. Sounds fun, right? It will also help you teach your students more about metric rules. We all know that versification isn't that interesting for students, so it's a great idea to turn the lesson into the fun game.
Literary Posters
Here we come with another DIY ideas for Valentine's Day. Make literary posters with your students! You can make posters out of portraits of famous writers and poets as well as quote some of their works. Even better, be creative and witty! Let your students come up with jokes about famous writers. If they don't know any jokes about them, they'll google it, which will make them learn new stuff. It's super fun and useful too. You can then decorate the classroom with these posters, so your students can enjoy them and laugh until next Valentine's Day!
T-Shirts, Accessories, and More
Here's an idea for Valentine's Day activities for middle school students, although you can also use it in high school. Get your students to design T-shirts, caps, hoodies, and other accessories. The theme should be inspired by literary classics. They can quote writers and poets such as Shakespeare, Dostoyevsky, Milton, Emily Dickinson, and others. The idea is for your students to pick favorite quotes from their favorite books, so they can print them on their clothing. You should do this one week before Valentine's Day, so you can wear them all day in school. Of course, you get to join the game too!
This is a fun way to motivate students to read and think about books more while also doing something cool. Besides, they'll get to keep a piece of clothing or an accessory you made together. That will always remind them of high school and that cool teacher that make classes more fun!
If you want to get some gifts for your students for Valentine's Day, you can take a look at this article: Gifts for a Kid Who Loves to Read. Although we wrote it for the youngest ones, you can still find some useful ideas about what book-related gifts to give to children of different ages.
Conclusion
Sometimes it's hard to come up with new ideas when it comes to organizing events in the classroom. Students can be difficult to reach, especially in high school. They are restless, with hobbies and preferences that change daily. You have to find a way to teach them things while also making them interesting and fun. Otherwise, they might lose interest rather quickly. It's a challenging task for teachers, that's for sure. For that reason, we wanted to help you out with some new, fresh ideas.
Hopefully, you find our suggestions for Valentine's Day activities for high school students helpful and fun! Our main goal was to give you some basic ideas on what you can do with your students on Valentine's Day. We wanted to be part of your beautiful idea to motivate students to spread the love and kindness of this widely recognized day of love.
We wish you a happy Valentine's Day! Your students will most certainly recognize your efforts and be thankful for all the things you're doing for them. One day, they'll remember Valentine's Day spent in your classroom with joy and love!
ESTIMATED TIME DESIGNING AND UPLOADING THIS ARTICLE
ESTIMATED TIME RESEARCHING AND WRITING THIS ARTICLE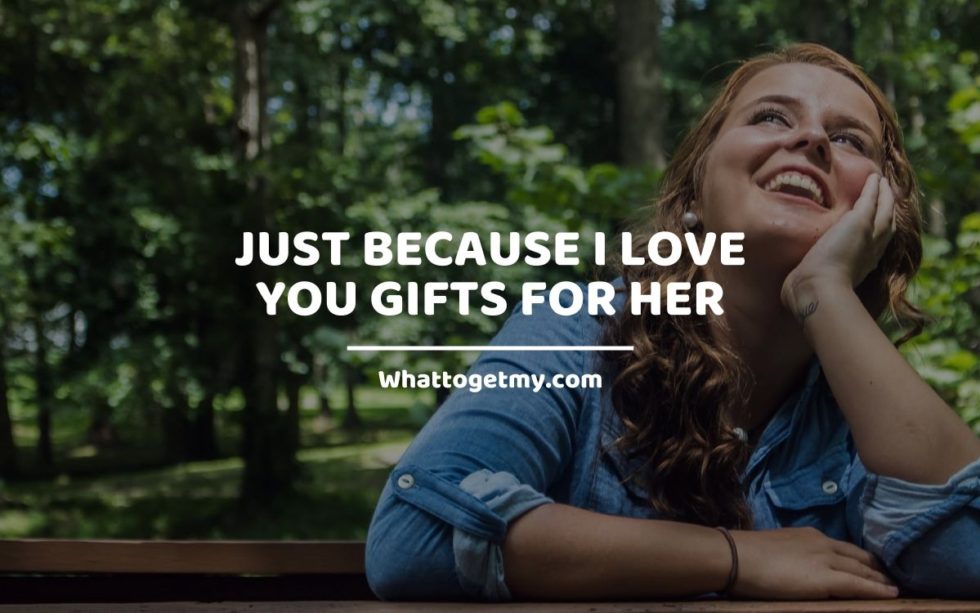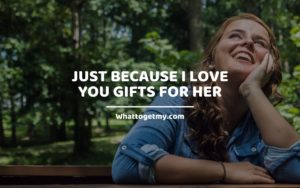 Just Because I Love You Gifts For Her
Some men find it very difficult to find the right words and actions to properly express their feelings to the special girl in their lives. If you feel like you're that man and you think you're not expressing your love enough to your girlfriend and
Read More »