How to Ask for Gift Cards Instead of Gifts for a Baby Shower
WhatToGetMy Instructional Article
A baby shower is a unique event that celebrates the arrival of a new life. It also opens a new chapter in every mom's life. The event is all about spending time with the closest friends and having fun. Eating some high-calorie snacks. Fulfilling your guilty pleasures without any remorse. Relieving stress and letting people tell you how you'll be a wonderful mother. An enjoyable event, one would say. However, until you get to the enjoyable parts, you'll have to make many preparations. Some of them can even be quite challenging. New moms find that the gift-giving part is the most stressful one.
Nowadays, most moms-to-be prefer getting gift cards for baby showers. The reasons are various, starting with the fact that they get the opportunity to buy just the right things for the new chapters in their lives. The problem is, how to tell guests you want gift cards not gifts?
It's a tricky question because some guests might get offended by the request. If you do manage to ask for it. Most moms feel too shy or afraid that their requests would be perceived as rude or unwelcome in some other way. However, if gift cards are what you want, don't get that easily discouraged. We are here for you, and we can help! You'll find many suggestions on how to ask for gift cards instead of gifts for a baby shower in this article. All you need to do is to sit back, relax, and let us take care of the issue!
Planning and Organizing a Baby Shower: A Few Important Tips for the Hosts
Some future moms look forward to celebrating a baby shower with friends and family, while others not so much. Like with any other party, it's a matter of personal preference. Those who don't like the idea of a baby shower mostly have issues with the organization. That's completely normal. With so many things in mind during pregnancy, the last thing a future mom needs is to bother with organizing a party.
The good thing is, a baby shower is to be organized by friends and family. One of the main purposes of this event is to relieve stress for future moms and take their minds off all the challenges they're soon going to face. Basically, new moms get to enjoy the gifts and hang out with people, while others get to deal with party organization. We bet now a baby shower sounds way better than before!
Of course, you still get to make all the important decisions, from choosing gifts to banning decorations you don't like. So, if you want to make sure everything goes right or you want to participate in the organization, here are some things to keep in mind:
Picking a Perfect Time
When Hosting A Baby Shower, it's important to pick a date months before the event. The reason is simple – you want to avoid picking a date that is close to your labor day. Most experienced moms and doctors recommend organizing a baby shower 4 to 6 weeks before the due date. Another reason concerns the guests – you want to give them enough time to set up their schedule, help with the organization, pick some gifts, and more.
Also, keep in mind that you won't be pushing anything by setting up the date so far ahead. Friends and family members love to be included in the activities and help as much as they can.
Sending Invitations
Consider who you want to see at your baby shower. Make the guest list one month ahead (the sooner the better). Although there's no rule of who you should invite or not, we do recommend sticking with the closest people. If you do invite somebody who isn't that close to you, make sure he/she is comfortable with the entire baby shower idea. You don't want your guests to feel obligated to attend or be uncomfortable for any other reason.
Kindly reminder: Don't forget to send invitations at least 3 weeks before the event. People should have enough time to make plans and get you some gifts.
Food, Drinks, and Snacks
It takes quite some time to pick food, drinks, and snacks for a baby shower. Maybe it doesn't seem that way, but a baby shower can be more challenging than most other parties. You're going to celebrate the new chapter in your life with your friends, so super tasty food with cute decorations is a must-have! Consider asking someone for help when picking the menu as well as for decorations if you're planning to do everything on your own.
Here's a super cute video that could help you with snacks preparations:
Setting Up a Theme
Yes, you can choose a theme for your baby shower! Don't feel obligated to stick with regular party schemes. Feel free to express your ideas and creativity. It's your party, after all, and you should be free to celebrate a new chapter in your life the way you want!
Decorating
Don't let the party get dull! You're about to welcome a baby in your house, and a baby shower is a perfect occasion to prepare yourself. You can either buy some luxurious decorations or indulge in DIY projects with your friends. The second option sounds super fun!
We have another video you might find useful:
Making Choices: Material, Monetary or Experience Gifts
If you're considering making a gift request for a baby shower, there are some things you should ask yourself first. The answers might help you decide on a particular gift type.
What will you need in the new life chapter?
Soon you'll be taking care of a little being that needs all your attention. Consider the things you'll need to welcome the baby in your house. A lot of diapers, for sure, but we have other things in mind too. We provided a newborn checklist for you. All of these things can also be on your baby shower checklist, so guests can help you gather up everything you need.
Newborn Checklist
Lots of bibs

Burp cloths

Breast pump

Milk storage containers

Nursing pillow

Nursing bras

Breast pads

Lotion for sore nipples

Thermal bottle carrier

Sleepers

Pants

Newborn hats

Socks or booties

Laundry detergent for infants

Baby soap or cleanser

Baby soft-bristle hairbrush

Blankets

Towels

Infant safety car seat

A stroller

Change table

Rocking chair

Sling or baby carrier

Diaper bag

Baby toys
What do you want to have or get?
Is there anything outside the newborn checklist you want to get? Maybe you want to start with the savings for a future academic in your family? Or you want to save money to buy him/her a flat or house? The options are endless, so think about the alternatives, and don't restrict yourself to regular baby shower gifts.
What would be the smartest option?
We can't tell you what would be the smartest option because it mostly depends on your plans for the future. As you know, all parents have different visions and plans, so it's hard to find a general consensus. Consider what you have and what would you like to get, and then ask for gifts that seem most useful for you and your baby.
The Big Question: How to Ask for Gift Cards?
Subtle Hints: For Those Who are Too Shy to Ask
We heard a lot of moms say they are too shy to ask for specific gifts, especially gift cards, so they just leave everything to the guests. The truth is, that's the most common approach to all gift-giving events, and not only for baby showers. People are afraid of being perceived as rude if they ask for the stuff they want. That fear is actually well-founded in most cases. We are all close to at least two people who are known to be oversensitive about gifts they bought and other things they have done for us. It's sometimes hard to make a suggestion without them being offended or hurt.
Still, you shouldn't give up on asking for things you want just because some people in your life won't like the idea. They'll make a fuss out of your choice and forget about it within a few hours. You, on the other hand, won't be able to go back and do everything again. You'll be stuck with the gifts you don't need or even worse, the ones you can't return!
Therefore, be courageous and ask for gift cards! You don't even have to do it directly if you're too shy to open up or too afraid of being seen as rude. Here are a few things you can do to give a hint about gift cards:
Ask one of your friends (the one that is helping you with the organization if possible) to spread the word among the other guests. He/she can give them the necessary guidance for picking the right gifts without you even being involved in the matter.

Talk about your future plans when hanging out with the guests. Make sure to address you lack some money to buy things that will make your life easier.

Tell your guests how you already have so many baby items, accessories, clothes, toys, etc. They won't be so eager to buy you duplicates once they hear this. We all want to give unique gifts!
P.S. If you feel like you could use more similar suggestions, take a look at this article How to Give Hints About a Gift. It might prepare you even more for the action of giving hints about gifts!
Direct Approach: For Fearless Moms-to-Be
Are you all about honesty and straightforward approaches to life? Good for you! You must be the INTJ type of personality in Myer Briggs tests (if you haven't done it yet, hurry to check it out, and let us know the results!). If that's so, you won't have issues with asking the guests to bring gift cards on your baby shower. Still, we do have some suggestions for you, as we know how honest people can be easily misunderstood.
The main reason why people get offended by these types of requests is that they think you don't like their gift ideas. Make sure to let them know you have other reasons for wanting gift cards (e.g. I already have so many baby items… I already collected tons of diapers… etc.).

Let the guests know what you're intending to buy if you get gift cards. Although you don't have to give this type of information, it's a good way to show them why you prefer gift cards over gifts.

Give your guests the room to buy you a little something they want. It will assure them that you don't prefer gift cards because you don't believe they'll make the right choice when choosing gifts.
In Between: Safe and Painless Option
There's another option on how you can ask for gift cards instead of gifts. You can include your request on the baby shower invitation. It's a safe and painless option, and you even get to make it cute with some poems or funny quotes.
If you're not sure how to ask for gifts on a baby shower invitation, here's an article that could help you out: How to politely ask for gifts on an invitation.
The wording and Other Useful Tips
Don't worry too much about the wording for gift cards instead of gifts. Make the invitation cute or funny. Include sentences such as 'Monetary gifts and gift cards are welcome but don't feel obligated to contribute'. You don't want your guests to feel obligated to give a certain gift. Although we don't think your friends and family will get your request in the wrong way. As long as you keep in mind all the things we listed above, you'll be just fine.
Baby Shower Etiquette: Should I Follow the Rules?
Social events such as baby showers often require following some rules. You'll hear other moms reminding you of what's socially acceptable and what's not. We tried to review a few of these things in the next section.
Traditional or Non-Traditional Party
No, you don't have to stick with traditional party ideas for your baby shower. You can choose to celebrate the day however you want, from taking your friends to the fancy restaurant for dinner to ordering pizza at home. It's completely up to you!
Gift Cards and Monetary Gifts: Rude or Not?
Is it tacky to ask for gift cards for a baby shower? It shouldn't be, but people can't reach consensus over the topic. Some think it's rude to ask for monetary gifts or gift cards while others think that's an old taboo we should overcome in modern times. We believe you should do what's best for you and your baby. If you think that's asking for gift cards, do it! There's nothing wrong with asking for contributions that will let you pick the things you need for the new chapter in your life.
Appreciation and Gratitude
Whatever option you choose, don't forget to express your gratitude toward people who gave you gifts. It doesn't matter whether they gave you money, gift cards, or material things. They spent some time and effort, and you should thank them for that.
We even suggest sending thank you cards after the baby shower. It's a nice gesture and your guests will love it!
Conclusion
We hope you find our suggestions useful, and you manage to implement them when organizing a baby shower. This event can be rather stressful, especially when you have so many things to think about with your due date around the corner. We wanted to make things easier for you and take at least one stressful thing off your list. Without having to think about the ways of how to ask for gift cards instead of gifts for a baby shower, you can focus on other things and have more fun. We wish you a great baby shower and enjoy shopping with all those gift cards you're going to get!
ESTIMATED TIME DESIGNING AND UPLOADING THIS ARTICLE
ESTIMATED TIME RESEARCHING AND WRITING THIS ARTICLE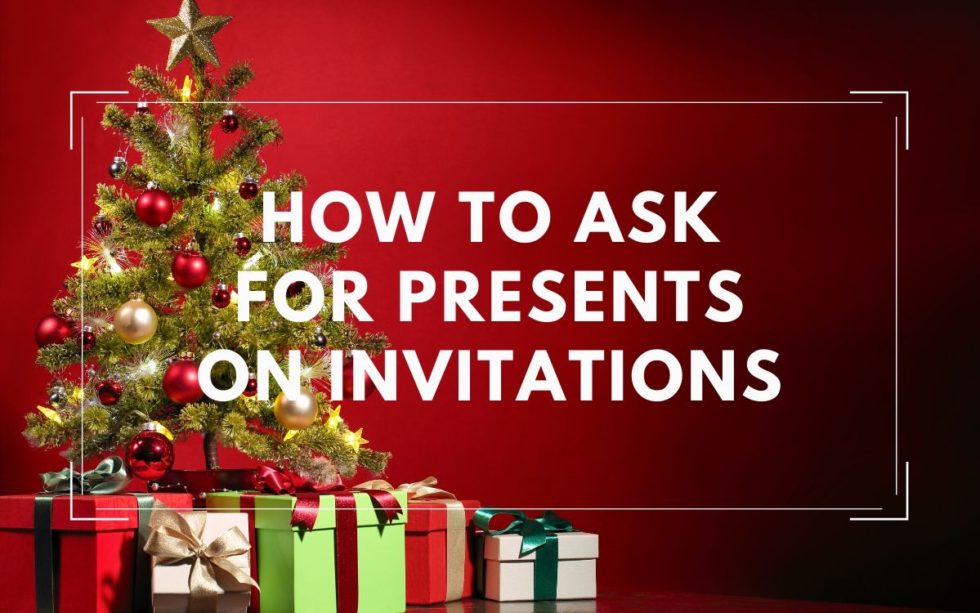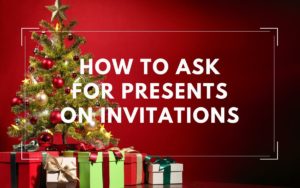 How to Ask for Presents on Invitations
3 Polite Ways on How to Ask for Presents on Invitations WhatToGetMy Instructional Article Whether you should ask for gifts or not is a delicate question. Some people think it's rude, while others think there's nothing wrong with doing it. In most cases, people have
Read More »