Hosting A Fall Baby Shower
WhatToGetMy Instructional Article
Although having a new baby in any season is the greatest blessing, celebrating a mom-to-be in the fall is really something special. With the days getting cooler, the leaves changing colors, and cozy food, makes hosting a fall baby shower all that more memorable.
You can specify a fall baby shower idea for a boy or girl, but it also can easily be left as a gender-neutral option if need be. When coming up with a baby shower plan you will have a choice of so many exciting fall themes and colors by focusing on the warm colors of fallen leaves of brown, yellow, and red, the spicy nutmeg and pumpkin orange colors.
But before you jump into the exciting part of planning the fall themed baby shower with themes and colors, it is essential to understand how to host a baby shower and know waht is the flow of the baby shower and all the items needed for a baby shower.
If you have decided that you will be the one hosting the fall baby shower, it will your responsibility to ensure that everything on the special day is perfect and that it all runs smoothly. The baby shower needs to impress not only the mom-to-be but also her guests. They would expect a few things, like some good food or treats, drinks, and fun activities to do while they attend.
You don't need baby shower event planners to plan and host a successful baby shower.. However, you should be well organized right from the start. The best way to do this is to have a checklist which will help you stay on track with your plans and to ensure that you have remembered to arrange everything that needs to be arranged. We'll try to give you our baby shower planning checklist to help you out.
Fall Baby Shower Checklist
Your list of things needed for a baby shower should include every little detail from start to finish. You would also need to check some of the details with the mom-to-be to make sure that she will be happy with your plans. Here is a basic list to use as a sample: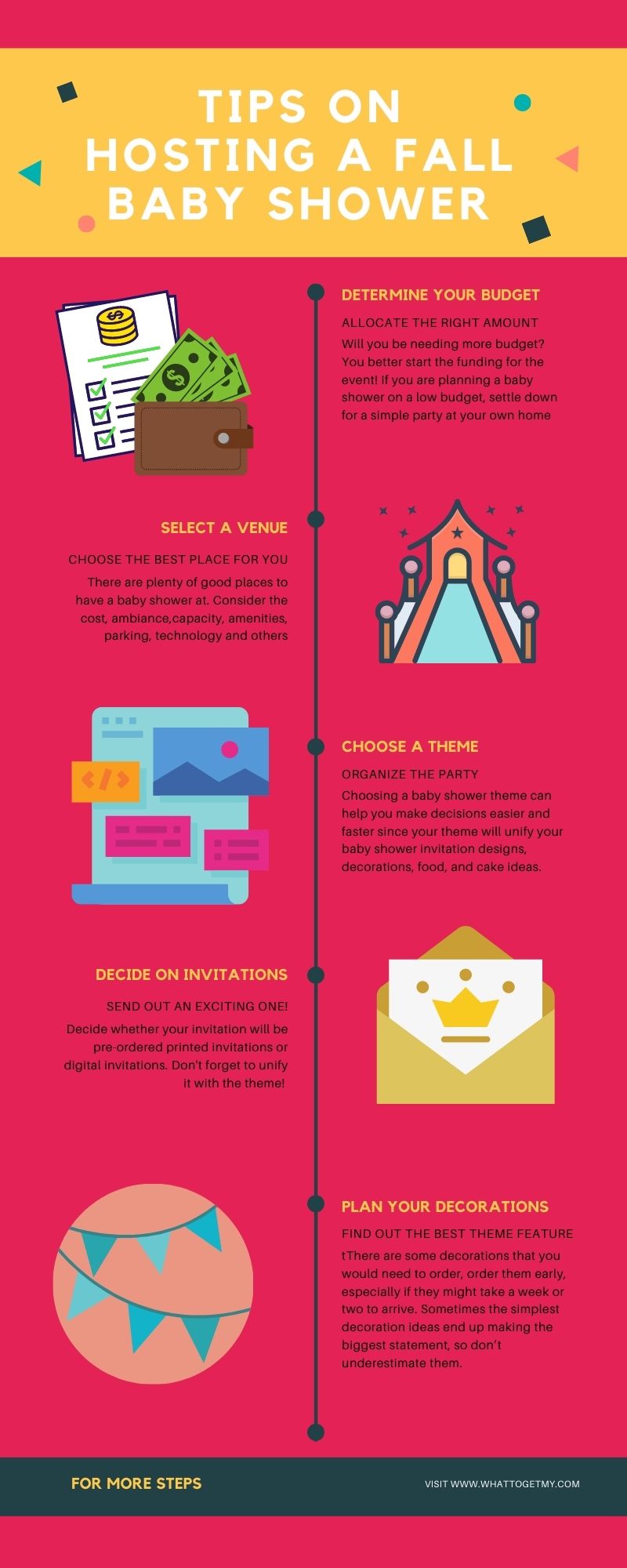 Source Link: https://whattogetmy.com/hosting-a-fall-baby-shower/
Select a date and time.
A baby shower is usually held a month or two before the birth of the baby. It is best to check with the mom-to-be as well as important family members of which date and time would suit them.
Determine your budget.
If you may need a little help covering the costs for a fall baby shower, you can always ask for donations from the mom-to-be close family, like her mom, dad, sister, or even her brother. If you are planning a baby shower on a low budget, settle down for a simple party at the house of the mother to be.
Select a venue.
There are plenty of good places to have a baby shower at. However, traditionally baby showers are held at the  house of the mom-to-be or the hostess. If your guest list is a rather long one, then it is best to rent a local venue to accommodate all of your guests.
Setup the guest list.
Your guest list will be mainly close friends and family members. You should also consult with the mom-to-be on the guest list to make sure that she is happy with the people you are inviting, and if there are any other guests that she would like to add.
Choose a theme
Choosing a baby shower theme can help you make decisions easier and faster since your theme will unify your baby shower invitation designs, decorations, food, and cake ideas.
Decide on invitations
Now that a theme has been chosen, it is time to design the invitations because sending out invitations is a must. You will need to decide whether you will be sending out pre-ordered printed invitations or digital invitations.
Digital invitations are a great way to save money, and they can be personalized to fit any design, colors, or theme that you would want.
If you decide to create the invitations yourself, make sure you have all the necessary information listed on them, like:
Name of Mom-To-Be as well as the host

The theme 

Name of Location and address

Date and Time

Phone number of host

RSVP details

Registry information for the baby shower

Dress code (formal or casual)

Specify if the guests need to bring anything

Specify if the baby shower is for all or adults only
Your invitations should be sent out to all your guests at least 4 weeks before the big day. Remember to take into account any family or friends who may need to travel from out of town to attend the baby shower, give your guests enough time to check their calendars, and RSVP.
Start planning your decorations
Start brainstorming some decorations that you can use that will feature the chosen theme. If there are some decorations that you would need to order, order them early, especially if they might take a week or two to arrive.
If you are looking for more fall baby shower decorations idea, then check out your local craft store for decor, which you can easily customize to use at a fall baby shower. Sometimes the simplest decoration ideas end up making the biggest statement, so don't underestimate them. Some good examples could be:
Fall leaf garlands

Pine cones

Pumpkins

Woodland creatures

Wooden accents

Rustic centerpieces

Flowers

Balloons

Confetti or Potpourri
Begin with your menu planning
When planning the menu for your fall baby shower, it can vary depending on the time of day that the event will take place. This could be a mid-morning brunch or a late luncheon. Keep in mind that the most important part of any good party is the food.
You should try and stick to your fall theme as much as possible which is easy if you have fun incorporating rich fall flavors into your menu, like
Pumpkin.

Apple.

Squashes.

Pears.

Bacon.

Carrots. 

Tomatoes.

Broccoli.

Corn, and

Different color cheeses.
Remember, many guests love colorful treats and prefer a selection of a couple of different finger foods as they are easy to make and easy to eat. There are so many delicious fillings that you can make that will go well with your theme.
Some examples of finger foods that you can make are:
Pinwheels.

Pastry Puffs.

Pastry Bites.

Mini Pizzas.

Fall inspired sandwiches.
A great idea would be to add some height with a tower of some kind when it comes to desserts. It will give you extra space on your dessert table and draw your guest's attention to them.
Some ideas of desserts that you can place on a tower display are:
Strawberry Mousse Cups

Blueberry Glazed Earl Grey Donuts

Pecan Pie Truffles

Apple spiced cupcakes

Mini pumpkin pies

Strawberry Lemon Cream Tartlets

Pumpkin Pie Cream Puffs
Then there are the drinks for the baby shower, which you can offer your guests a selection from alcoholic or non-alcoholic, hot or iced, creamy, or sparkling beverages. Decide whether you will keep your drinks simple by providing straight forward store-bought beverages or if you would like to give them a fall twist.
Fruity Sherbert Punch

Lavender Lemonade

Autumn Harvest Punch which is a delicious apple punch

Sparkling fruit juice.

Flavored Seltzers
Plan out your baby shower games
Make the baby shower interesting for your guests by setting aside some time to play fun baby shower games that are interactive to keep your guests entertained.
You can choose to create and print some games yourself, or you can print some from the many free printable ones available on the internet.
Some baby shower game ideas to help you get started are:
Baby items in the diaper bag 
Take a diaper bag and put at least ten to fifteen common useful items inside it. You can put in items like a bottle, a bib, a rattle, a dummy and few other essentials that a new mom would usually carry around with her in the bag and let your guests try to guess what is inside.
Baby bucket list 
Ask your guests to write down one thing that the mom-to-be would need to do in her baby's first year.
Decorate a bib 
Give each of your guests a plain bib and some fabric markers and ask them to decorate, embellish, or write a quote in it.
Nappy change speed challenge
Have a couple of dolls ready. Your contestants then would need to undress, change the nappy, and re-clothe the doll as quickly as possible.
Baby shower onesies 
Buy enough onesies (multiple sizes) to give one to each guest. Supply your guests with some fabric paint and miscellaneous baby-safe decorative elements. Then ask everyone to decorate a onesie specifically for the bundle of joy.
What flavor is that? 
Take about seven to ten unique flavors of baby food, remove the labels from each jar and number each jar. Ask each guest to grab a spoon and start sampling! The guest with the keenest taste buds wins a prize for getting the most correct.
Organize a couple of game prizes
Games are a classic part of a baby shower. And while these games are fun on their own, if you want to get your guests really excited about them, you will need some prizes to reward the winners. A few ideas are as follows:
Flower Crown with leaves and dried flowers which goes perfectly with the fall theme

Bath salts

Cute soap set

Lotion gift set

Potted plants

Baked Goodies

Candies/ Jelly Beans/Chocolates in a Jar

Potpourri Mesh Bags

Scented Candles
Plan and order baby shower favors
The last thing in the list of things needed for a baby shower is Baby shower favors. They are different from the game prizes and are usually cheaper because every guest who attended your fall baby shower should receive one as they leave. Some ideas could be:
For a fall baby shower, you can bring the woodland creature by handing out animal cracker favors. For another wild touch, use an animal print ribbon.

Chocolate covered pretzels on a stick are tasty baby shower favors, and they can easily be customized to match your shower's color scheme.

Give your guests tea candles in beautifully patterned tins.

For a sweet treat, create rattles using marshmallows and toasted coconut or that are dipped in chocolate. Then, tie fun ribbons around your treats.

Add some sparkle to your baby shower by handing out glittery red, yellow, green or gold candle holder favors. Use colors that go well with your fall theme.

Your guests will love whipping up a sweet treat for themselves using this chocolate cake mix in an interesting bowl with a thank you note.
Hire or assign someone to be the official photographer for the day
Book a photographer for the special day, it can be a professional or someone that you know or is in the family that takes awesome photos.
Thank You Notes
The mom-to-be should send thank you notes to her baby shower guests two to three weeks after her baby shower to thank them for the gifts that she received. If you didn't make a gift registry yet, hurry up and do it. Be careful with the planning, and don't put the stuff you don't need on the baby registry. Thank you notes for gifts you received should stick to the fall baby shower theme too.
Hosting a fall baby shower requires a lot of planning, some organization, and interaction with the mom-to-be. The best way to keep on track is to make a baby shower party planning checklist. Your checklist should include everything from start to finish, from the invitations to fall baby shower favors that the guest will leave with. Remember, a baby shower is one of the most memorable events that the mom-to-be will take part in. It is a special occasion that allows the mom-to-be not only to be showered with gifts for her new baby but also to celebrate with her closest friends and family and reflect on becoming a mother.
The most important thing about these kinds of gatherings is for the mother to be to spend time with her friends and family. Even if she has the essentials for the baby, you should still host her a party anyway, and maybe just asking for gift cards instead of gifts for your baby shower.
ESTIMATED TIME DESIGNING AND UPLOADING THIS ARTICLE
ESTIMATED TIME RESEARCHING AND WRITING THIS ARTICLE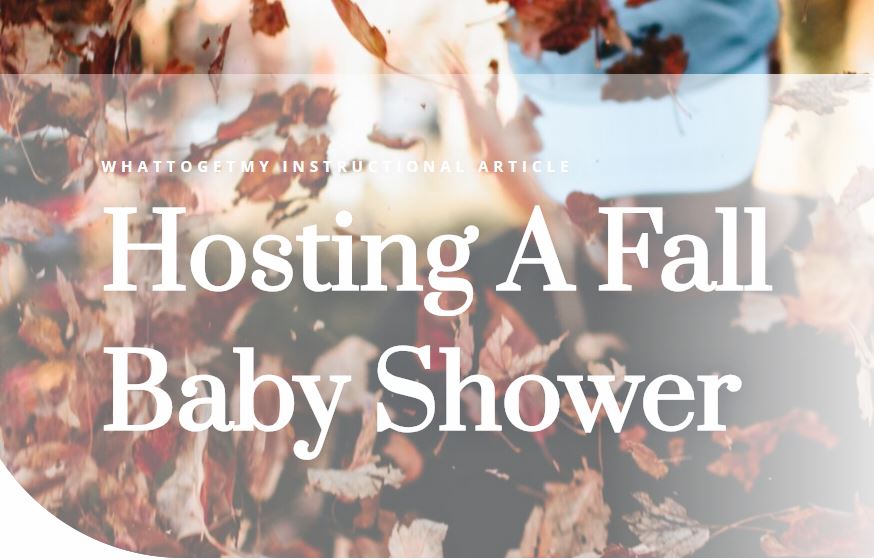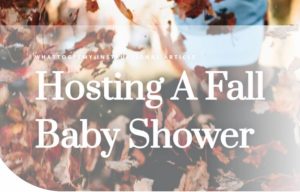 Hosting A Fall Baby Shower WhatToGetMy Instructional Article Although having a new baby in any season is the greatest blessing, celebrating a mom-to-be in the fall is really something special. With the days getting cooler, the leaves changing colors, and cozy food, makes hosting a
Read More »